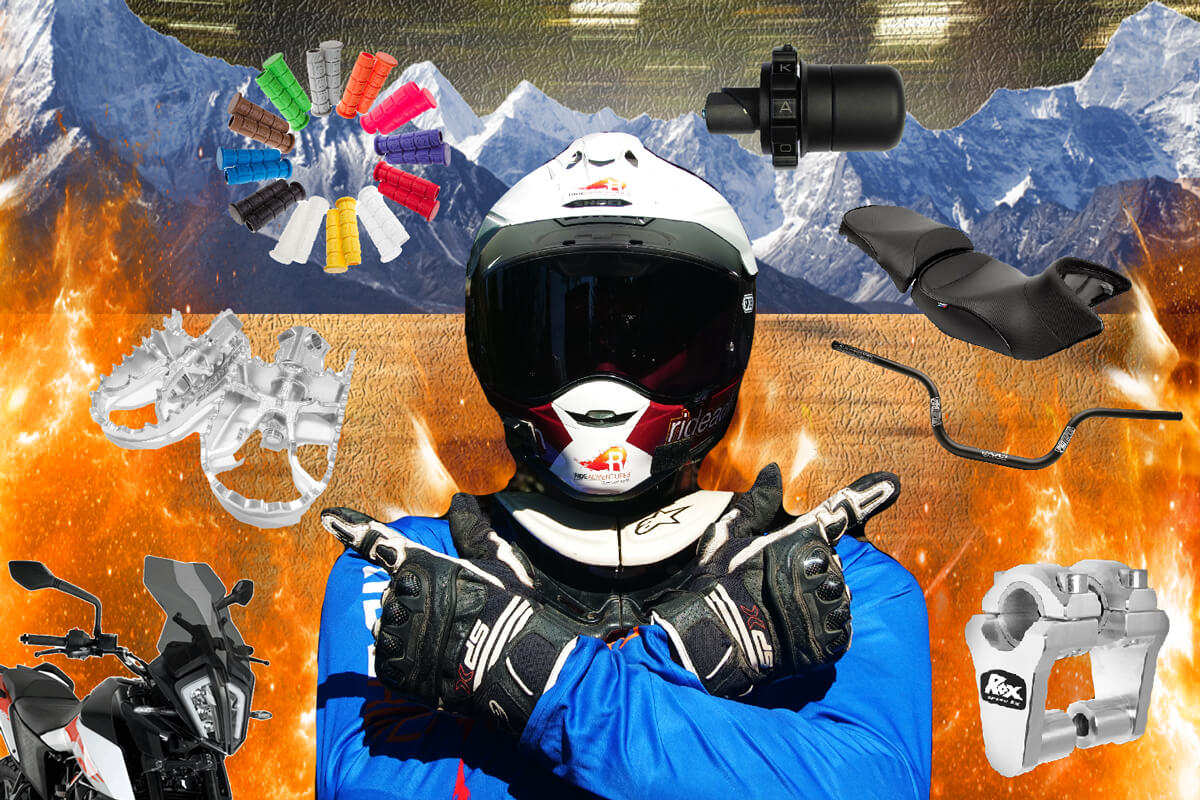 Disclosure: RIDE Adventures is a participant in the Amazon Services LLC Associates Program as well as other affiliate programs, designed to provide a means for us to earn fees by linking to Amazon and affiliated sites at no extra cost to you. Please see our Disclosure for more details.
It's one of the oldest mysteries in motorcycle history. Scholars and philosophers have debated it for decades, but the truth continues to elude us all: Which came first, adventure motorcycles or adventure motorcycle accessories?
Consider the dilemma: No adventure bike has ever been witnessed outside of the showroom floor without some degree of farkling.
It seems almost instantaneous. The paperwork is signed, the keys exchange hands and then…
The changes begin to appear.
Crash bars materialize out of thin air… A friend's bike you saw just last weekend sprouts a headlight guard, skid plate, and waterproof luggage in the blink of an eye…
The world may never know the truth, but the fact remains: Farkles, upgrades, bling, bolt-ons — whatever you want to call them. They're synonymous with adventure motorcycles.
Upgrading, modifying, and personalizing your bike is a right of passage in the ADV community, but serious farkling isn't just about making it "yours" or making it faster.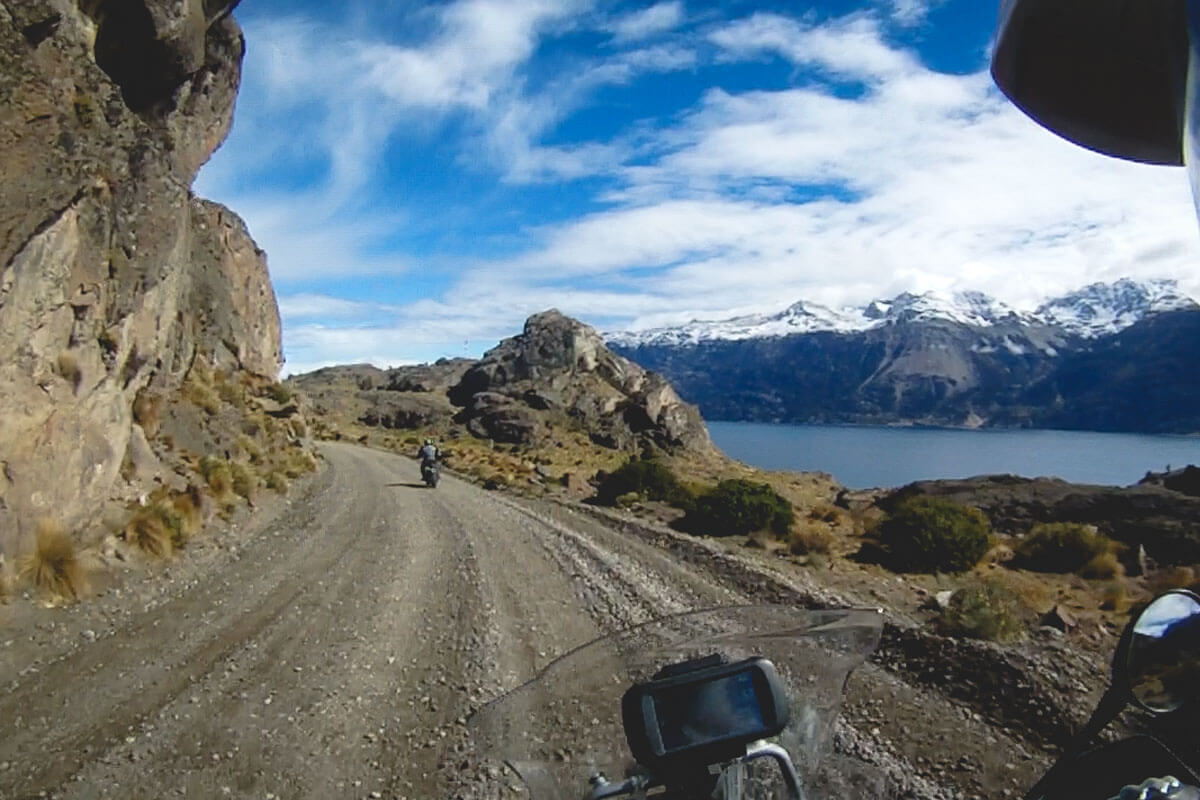 While we all love the feel of dialed-in suspension and the sound of a nice throaty exhaust, some of the most important adventure motorcycle accessories you buy are those that make your bike more comfortable.
We've polled our team and put together a list of the most important upgrades that make an adventure bike better suited for logging serious miles.
If you love your bike but it's been leaving you limping after a long day in the saddle, consider this your roadmap to all day comfort.
Our Favorite Adventure Motorcycle Accessories For Long Rides
One of the first things we do when we get a new bike in our fleet is get the ergonomics dialed in.
Adding some adjustability to the rider triangle only takes a few simple parts, but makes a bike more comfortable for riders of every size and description. Many of the items below focus on dialing in that rider triangle.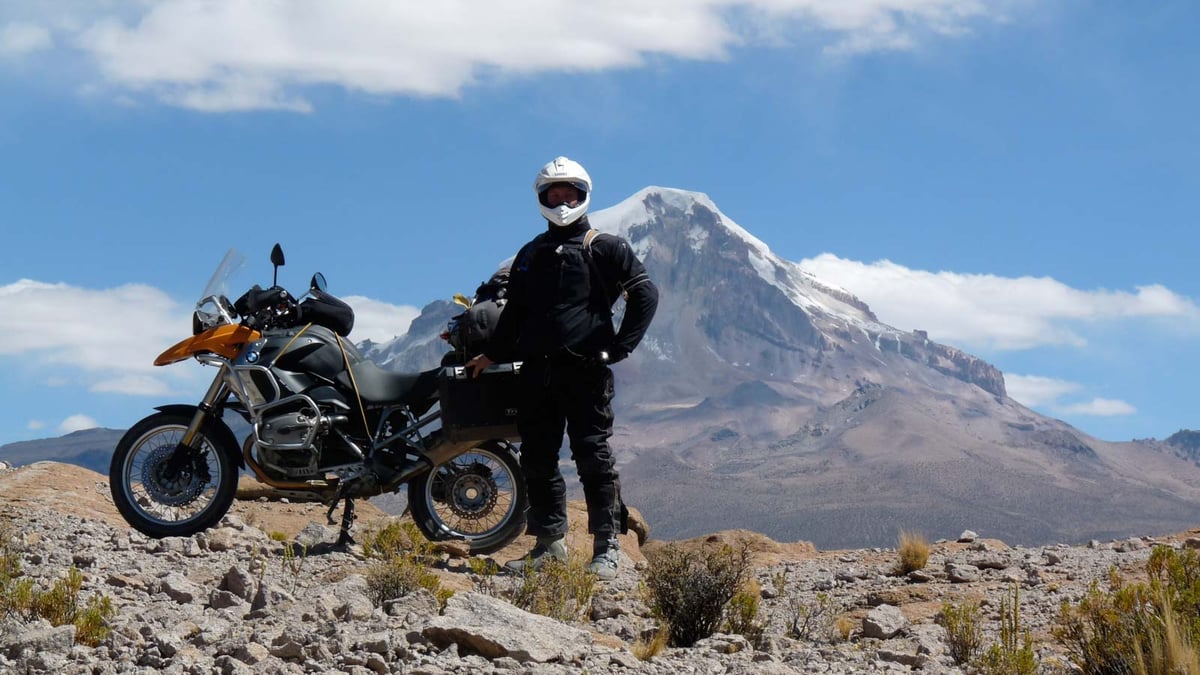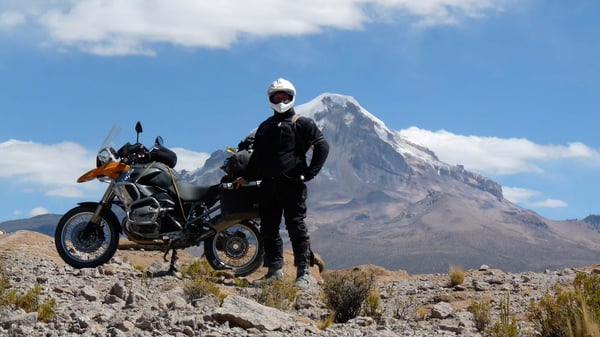 "Good posing posture is essential to conquering long motorcycle expeditions 😎"
Once we dial in the ideal sitting/standing ergonomics, we can start focusing on fine tuning the riding experience itself, which includes everything from wind protection to electronics.
Handlebars And/Or Risers
Getting your handlebars dialed in is the single most impactful upgrade for your rider triangle.
Since we spend time in both sitting and standing positions on adventure routes like the "Best Week In Oregon" group ride, being able to adjust both the vertical and horizontal location of a handlebar is huge for finding that "sweet spot" that works great in either scenario.
Our favorite one-size-fits-all solution by far is the Rox pivoting handlebar riser system.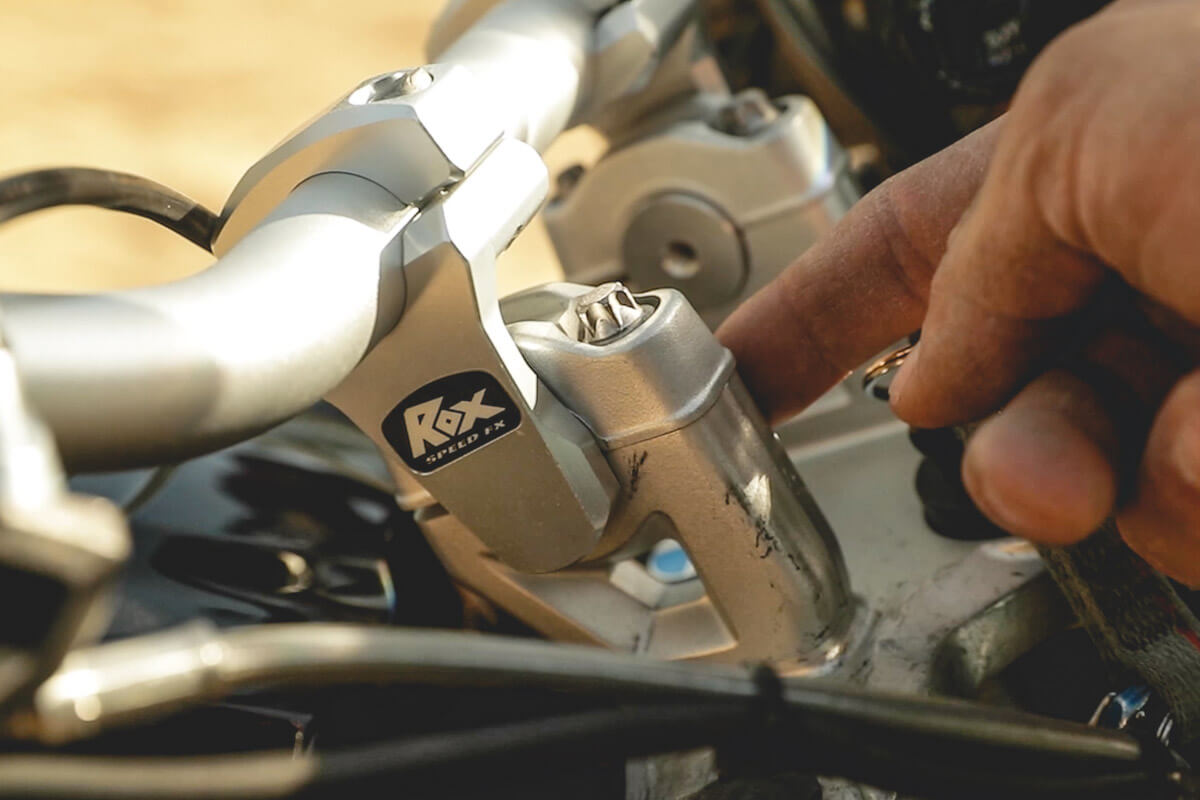 "Rox Bar Risers on Eric's BMW R 1200 GS Adventure"
The Rox system adds extra height to your bars like a traditional riser, but also features a "pivot point" of adjustment allowing you to move your bars forward and backward without impacting their sweep angle.
That means you won't need to swap out a bunch of different bars to find the perfect set up. Most riders are actually able to keep their stock bars with good results, as long as they're high quality aluminum bars.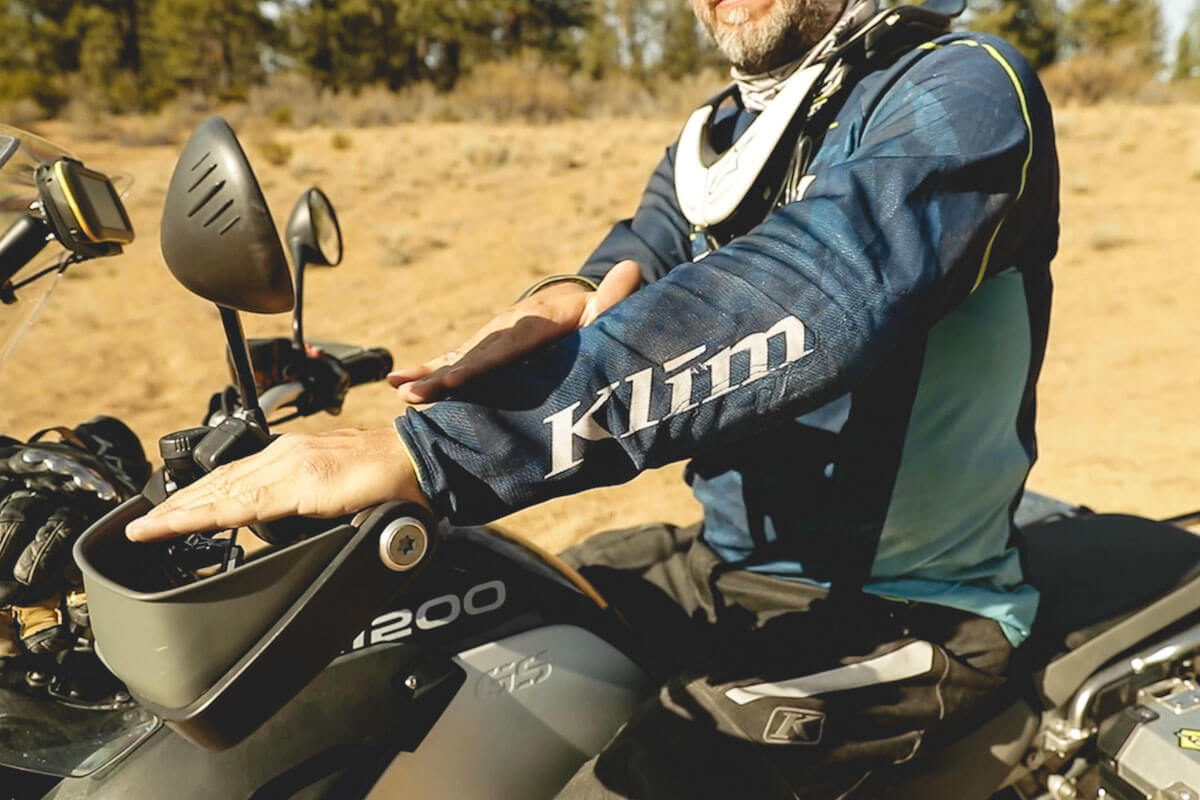 "Eric making sure the angle is right"
Of course if your bike is still running a bend-prone factory handlebar, aftermarket bars from Renthal or Pro-Taper are essential adventure motorcycle accessories.

CHECK PRICE:
Rox Bar Risers
Pro Taper Evo Adv
It's also worth mentioning if you're riding a big thumper like the Kawasaki KLR or Suzuki DR650, Rox also makes a version of their riser system called the "Anti-Vibration Elite" that keeps the buzzing and vibration from the engine from reaching your hands.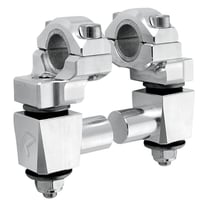 Rox Anti Vibration Elite 2
Aftermarket Seat
Most stock seats are way too soft for long days in the saddle.
That might sound counter intuitive, but there's a reason aftermarket seats focus on more support rather than more cushion.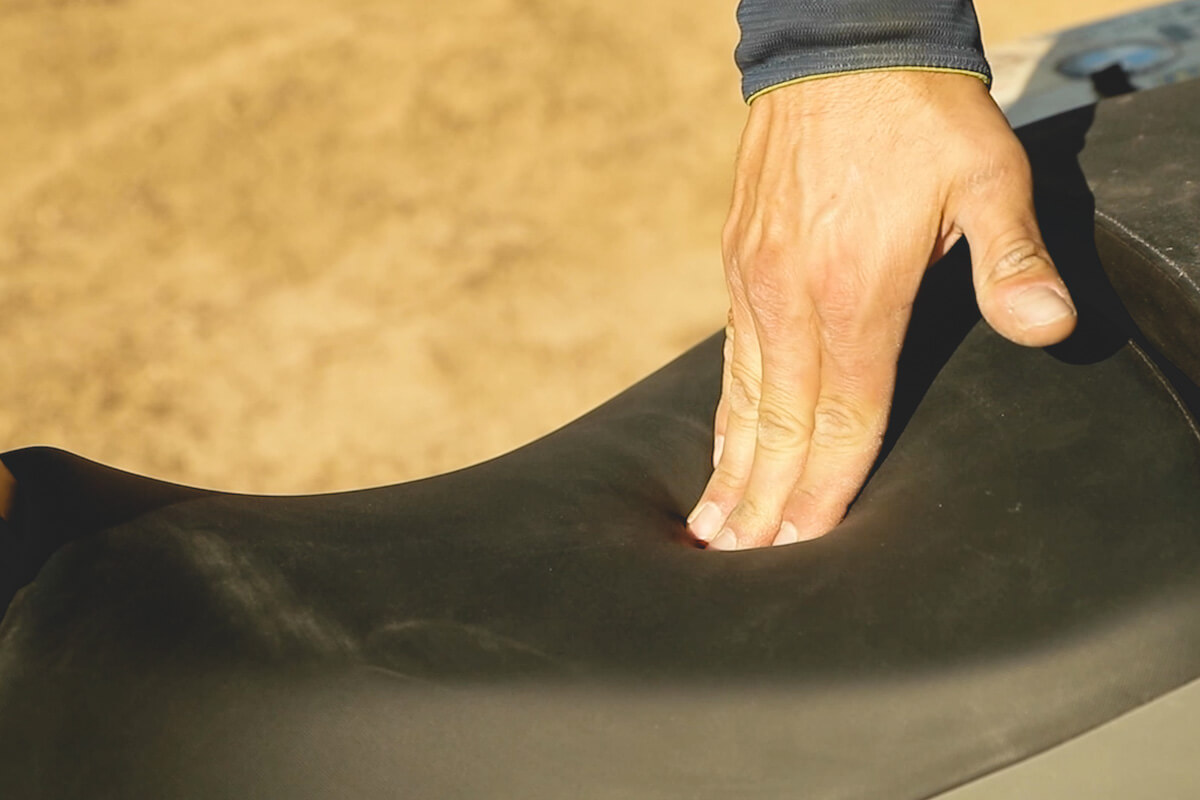 "Comfortable yet firm enough for a long days ride"
The key to avoiding chafing (or what we affectionately refer to as "monkey butt" in the motorcycle world) is to get your body weight onto your "sitting bones" rather than spread out in a sweaty mess across your "butt cheeks."
There's a lot of brand loyalty out there when it comes to seat selection, but the three main competitors are Corbin, Sergeant, and Seat Concepts.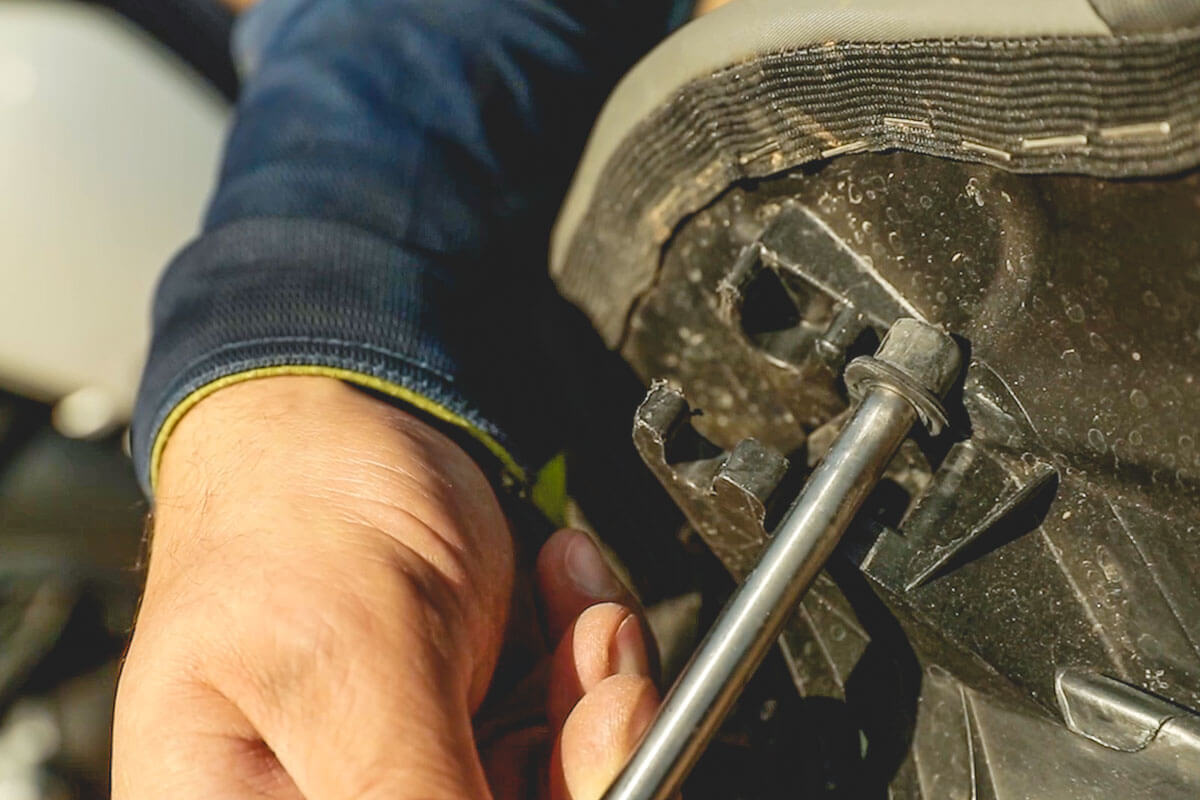 "Most aftermarket seats are also adjustable"
I've owned all three, and all three are good enough to completely transform even the most hardcore dual sport machines into all-day comfortable motorcycles.
If I had to give the nod to one it would probably be Sargent. Sargent seats are almost as comfortable as a Corbin if not equally so, but they're lightweight (like a Seat Concepts) because they don't use heavier gel layers.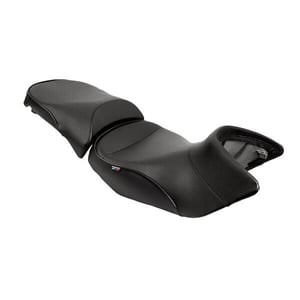 CHECK PRICE:
Sargent Seats
PivotPegs/Adventure Motorcycle Foot Pegs
When it comes to foot pegs, off-road riding requires a larger platform with a little more "teeth'' to keep your boot in place on challenging terrain.
Most OEM foot pegs are too small and narrow for real off-road work, and utilize rubber surfaces that get dangerously slippery when exposed to mud or other wet conditions.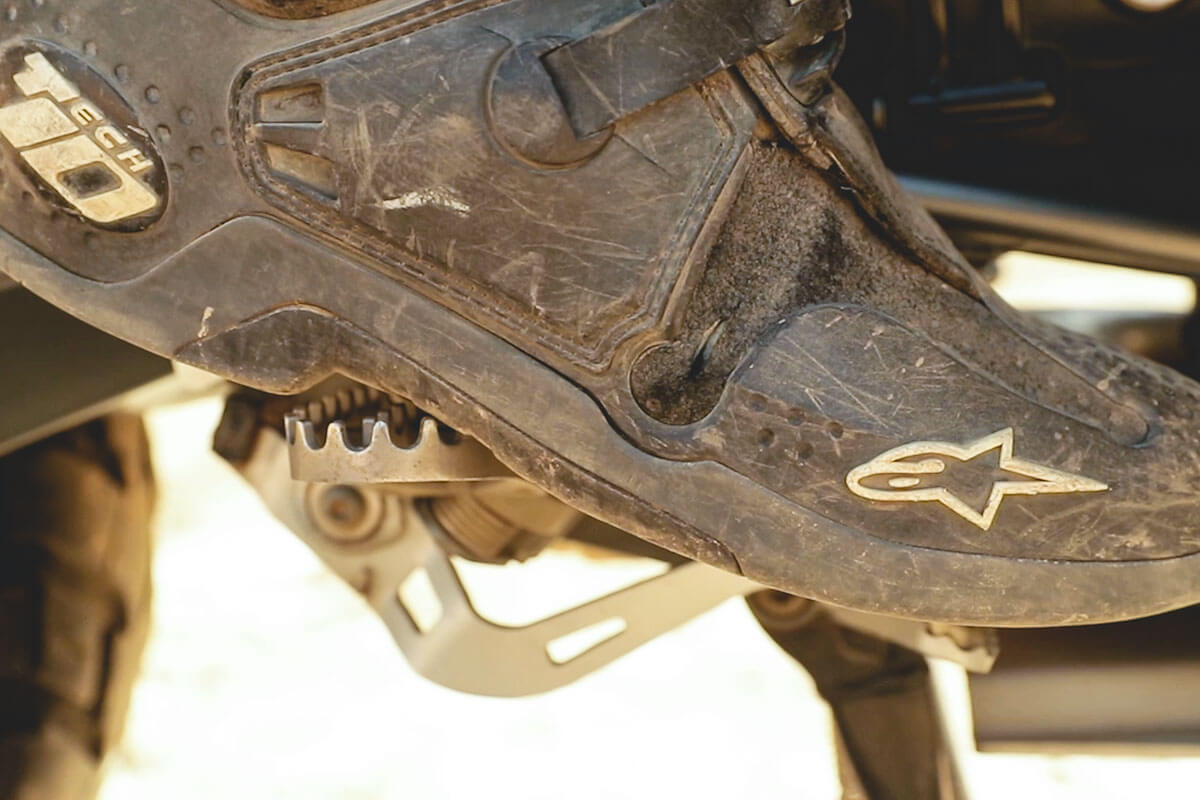 "Stay planted and make sure to add wider footpegs to your ADV motorcycle accessory list"
Replacing stock pegs with larger "platform" style pegs vastly improves the grip and feel at the bottom of your boots, and also gives you an opportunity to further tune your rider triangle.
For taller riders, combining a slightly lower footpeg with the higher handlebar mentioned above allows you to "stretch out" whether sitting or standing.
We're fans of Pivot Pegz for their huge 60mm wide platform, ample grip, and spring-loaded pivoting action that moves with your boot as you shift around on the bike.
The IMS Pro Series is a great budget alternative that can often be found for well under $100 depending on the model.

CHECK PRICE:
Pivot Pegz
IMS Pro-Series
Aftermarket Windshield
Now I'm not suggesting anyone run out and buy a Vetter Windjammer here (although you'd be a lot cooler if you did), but upgrading your stock windshield plays a huge role in reducing rider fatigue.
Windshield shape and quality differs widely between makes and models, but the most common complaint is that OEM screens aren't tall enough.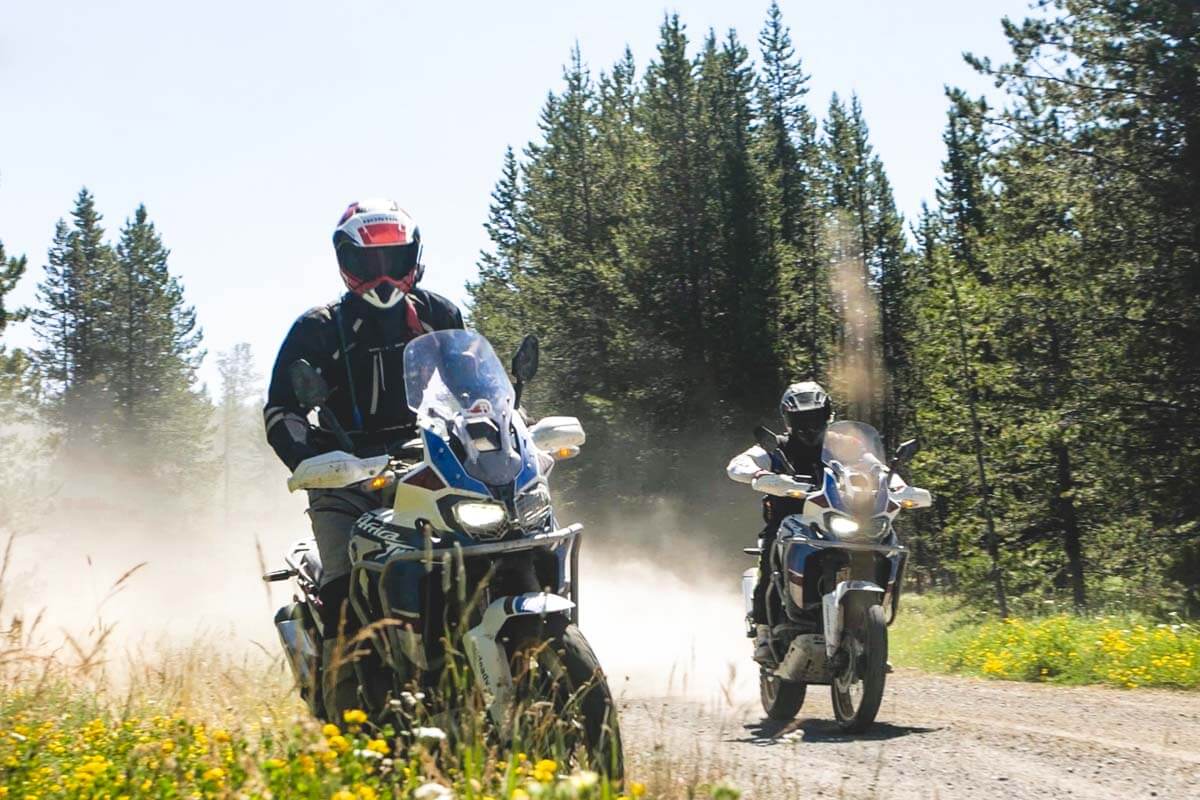 "Two riders blazing through Oregon Backcountry on our Best of the Southwest self guided route"
Motorcycles with short or non-existent windshields don't get your body and/or helmet down under the slipstream. You might not feel it at first, but over the course of the day your body spends a ton of energy fighting the wind to keep your head and back upright.
Larger adventure motorcycles suited for touring should consider an adjustable windscreen like the Givi Airflow. We like the Airflow because it's both adjustable for height and angle, which allows you to quickly drop it down and out of the way for extended off-road sections.
For riders who like keeping their adventure motorcycle accessories fast and light, the Puig "touring" windscreen is a super simple windshield upgrade that works well on everything from small thumpers to 1200cc behemoths.

CHECK PRICE:
Givi Airflow
Puig-Touring
GPS Mount
KTM is on to something with their factory GPS mounting hardware.
The OEM attachment point sits above the TFT dash/speedometer, putting the GPS itself as far up into your field of vision as possible. Yamaha did something similar with the Tenere 700 and the mounting bar that sits above the dashboard.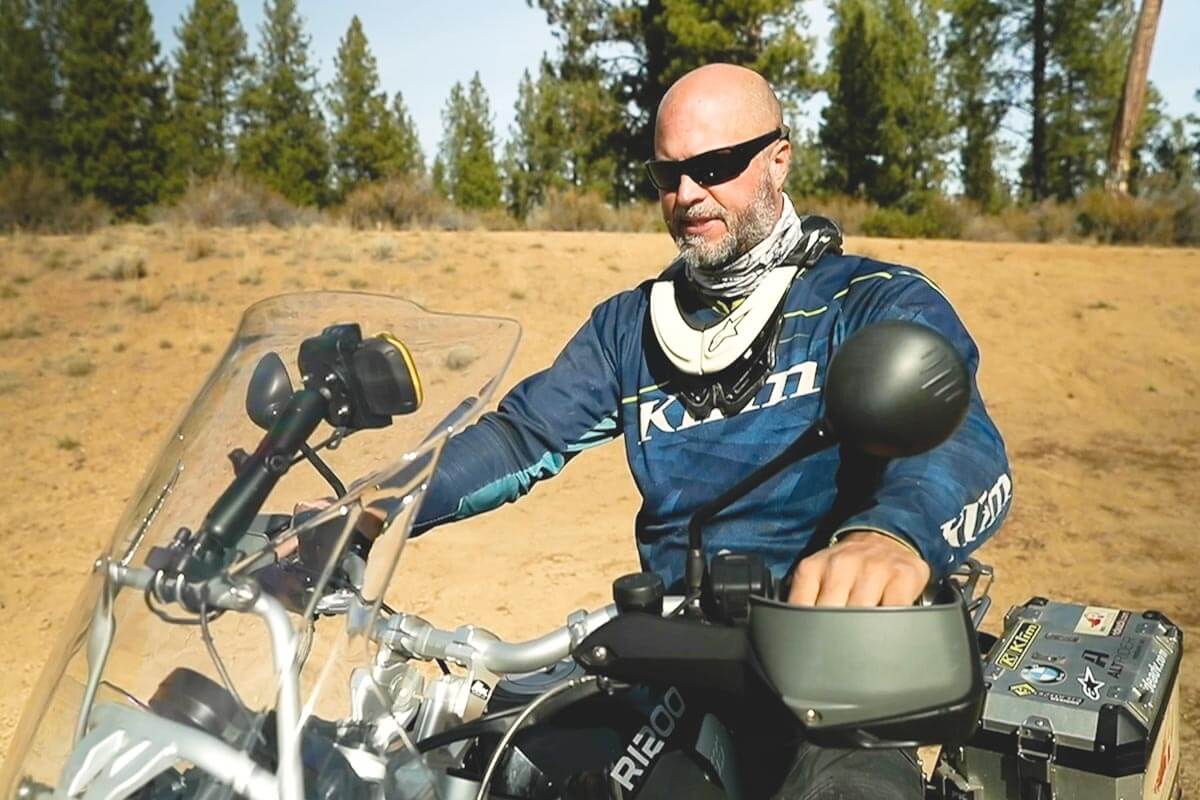 "The closer the GPS Mount is to your line of sight the less time your eyes are off the road"
While handlebar-level mounts certainly get the job done, they force us to look away from the road for longer than we probably should. Having a higher mounting point is a game changer in that regard.
If your bike didn't come with a high mounting point, don't fret. Adding a simple RAM mount extension arm allows you to move your GPS up toward the top of your windshield and closer to your natural line of sight. The closer your screen is, the less time you spend with your eyes off the road, and the less likely you'll be to crash because of it.

CHECK PRICE:
Ram Long Socket Arm
Ram U Bolt Mount
Hand Grips
Hand grips are another one of those adventure motorcycle accessories with no one-size-fits all product out there for everyone.
Grip preference varies from rider to rider. Some folks like super firm, long-lasting grips. Some like tackier, softer compounds under their gloves.
Smaller handed riders tend to prefer narrower grips, while folks with bigger mitts usually opt for fatter grips that fill their hands better.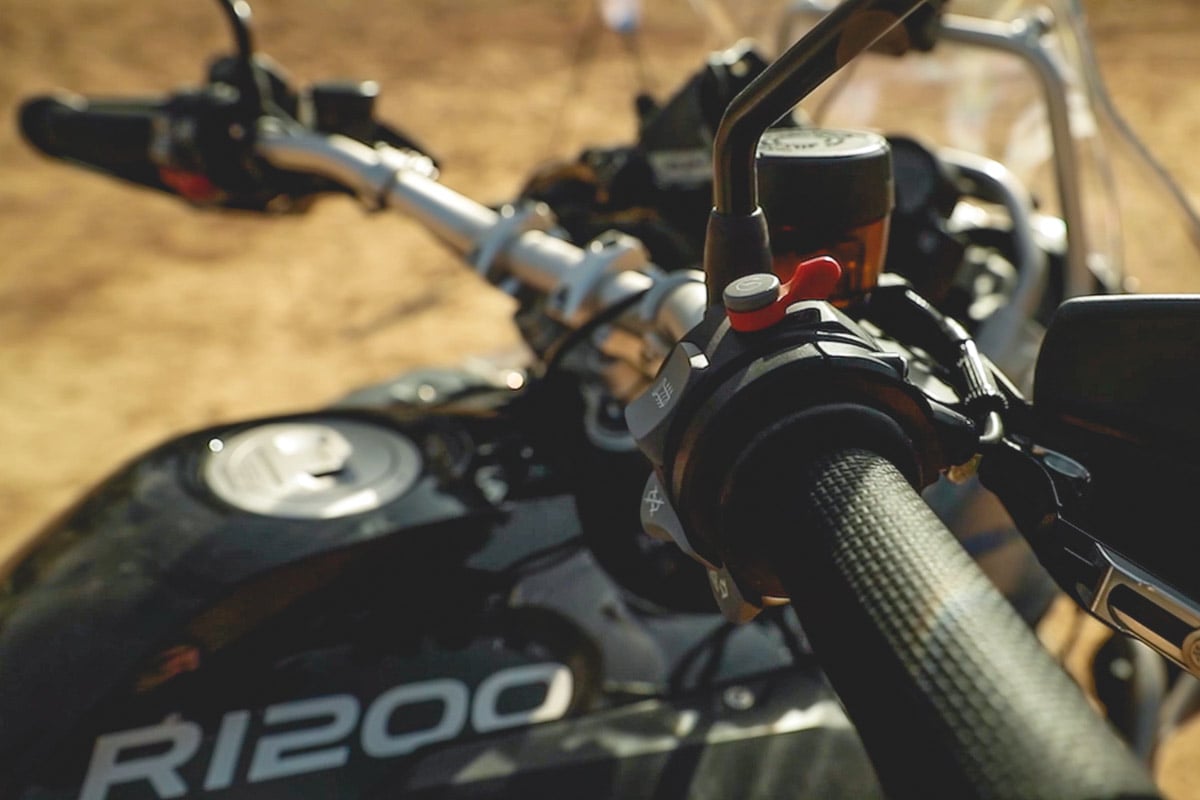 "Reduce the vibrations from trail and road with this motorcycle accessory"
On top of that, there's also different materials to choose from like rubber, foam, leather, and (if you're an absolute psychopath) chrome. Finding the best one out there takes a lifetime of trial and error.
With that being said, I can make a few recommendations from experience if you're not sure where to start your search for the perfect grip.
For larger hands: Oury Grips Road/Street grip is a bit thicker than your average rubberized grip, and does a great job of reducing vibrations as well. They're particularly useful if you're riding a single cylinder bike or a big twin that gets a little "buzzy" on the highway.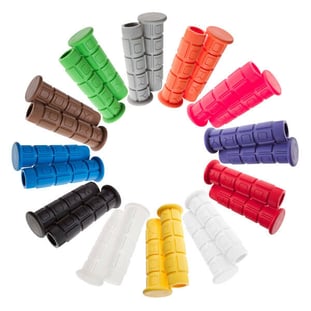 CHECK PRICE:
Oury Handgrips
I'm also a huge fan of the Pro Grip 737 Rally grips on anything outside of a dedicated track bike. They're not super thick, but still do a great job of absorbing shock and vibrations at any speed. These are a widely-loved upgrade in the adventure motorcycle crowd, and an inexpensive one to boot.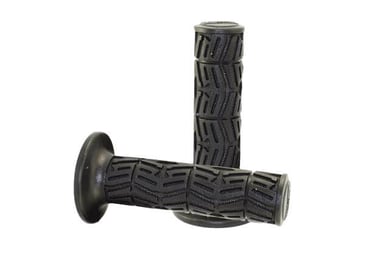 CHECK PRICE:
Pro Grip 737
Cruise Control
More and more bikes are built with cruise control nowadays, but it's still a premium feature that even premium manufacturers often overlook.
Having your throttle hand go numb halfway through a long day of riding is a special kind of torture. I find myself wishing for cruise control the hardest after a long day in the dirt that ends with a solid hour or more of freeway time on the way back home.
Adding an aftermarket "throttle lock" cruise control completely changes the riding experience on long highway stretches.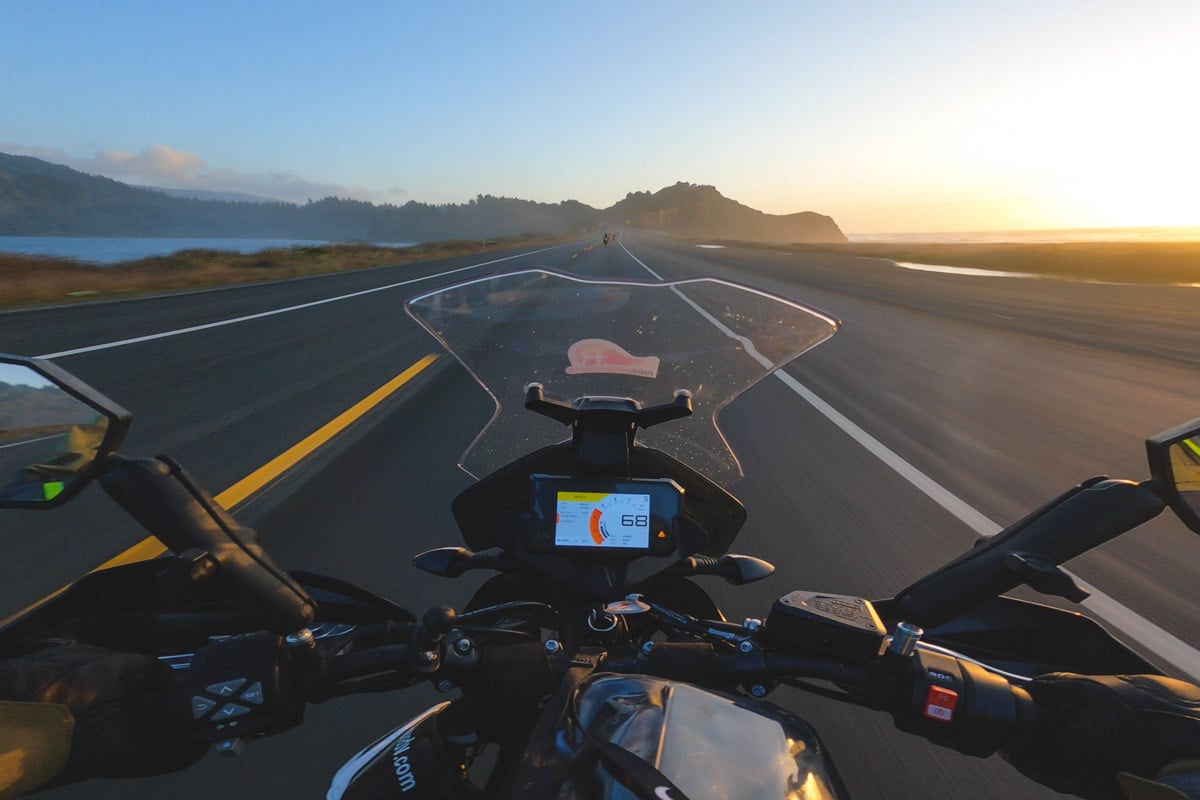 "Throttle lock comes in handy during those long sections of our Pacific Coast Highway Trip"
Our favorite aftermarket cruise control by far is the Kaoko throttle lock, which is super simple yet super effective.
Installation takes all of ten minutes (if that) as the Kaoko unit simply threads into the end of your bars like a handlebar weight. Once it's screwed in you're good to go. Just twist it in to lock the throttle in position, and twist it back out when it's time to change speeds.
Kaoko's products also get my vote because they make slim versions specifically for motorcycles with hand guards. If you're currently running Barkbusters or other closed aluminum handguards you know handlebar real estate can come at a premium.
If "barkbuster-friendly cruise control" doesn't scream adventure rider, I don't know what does.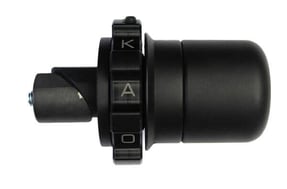 CHECK PRICE:
Kaoko Throttle Lock w/o Barkbusters
Kaoko Throttle Lock w/ Barkbusters
Adjustable Clutch/Brake Levers
The ideal length and/or pull of your clutch and brake levers differ wildly depending on both your riding style and the size of your hands. Unfortunately, OEM levers rarely offer the level of adjustability you need to really dial them in.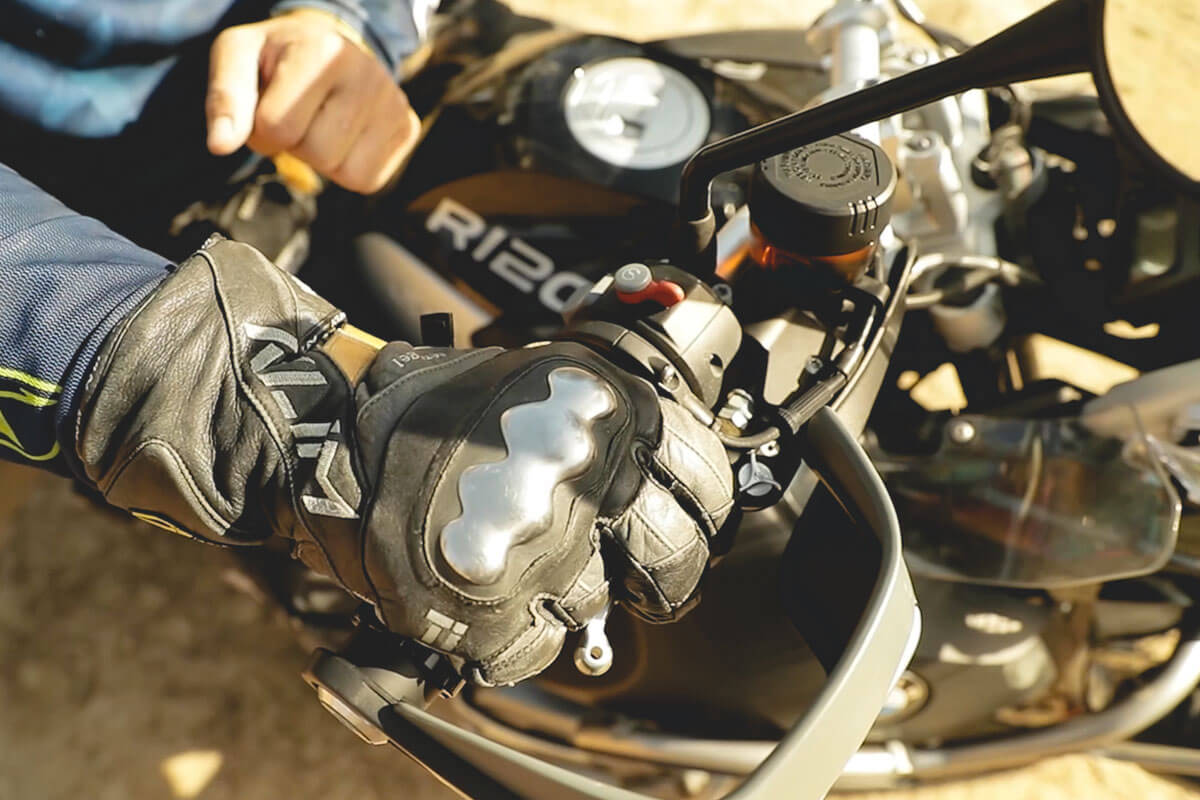 We love to swap out a set of levers that allow you to adjust the distance from the handlebar, the engagement point of the clutch/brake, AND the length of the lever itself.
Whether you love shorty levers or full length, there's always the possibility that a change in gloves, hand guards, or your cockpit setup will require an adjustment of the lever length.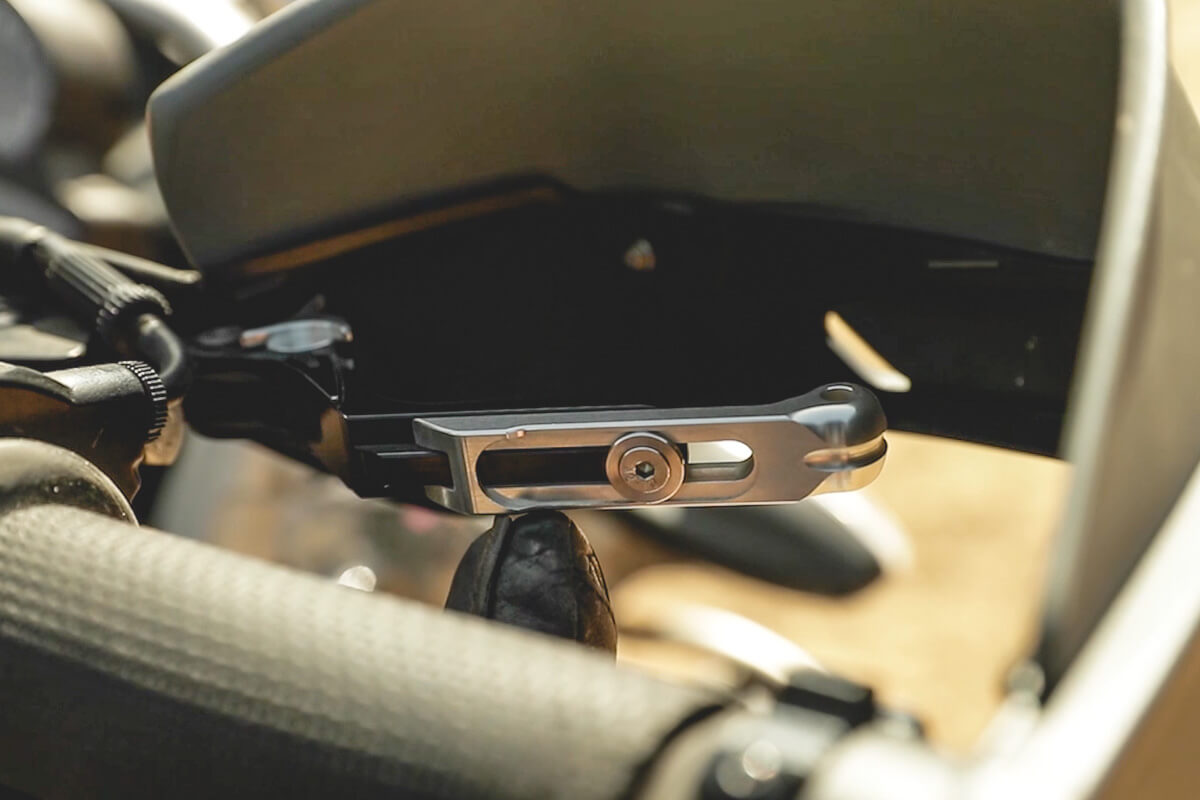 Three-way adjustable levers like the Puig 3.0 are essentially future-proof in that regard, and come in a variety of colors too if you want to add a little "bling" to your bike.
As an added bonus, these are also "folding" levers, which makes them much less prone to damage with or without handguards when you drop the bike.

CHECK PRICE:
Puig 3.0 Brake Lever
Puig 3.0 Clutch Lever
Final Thoughts On Adventure Motorcycle Accessories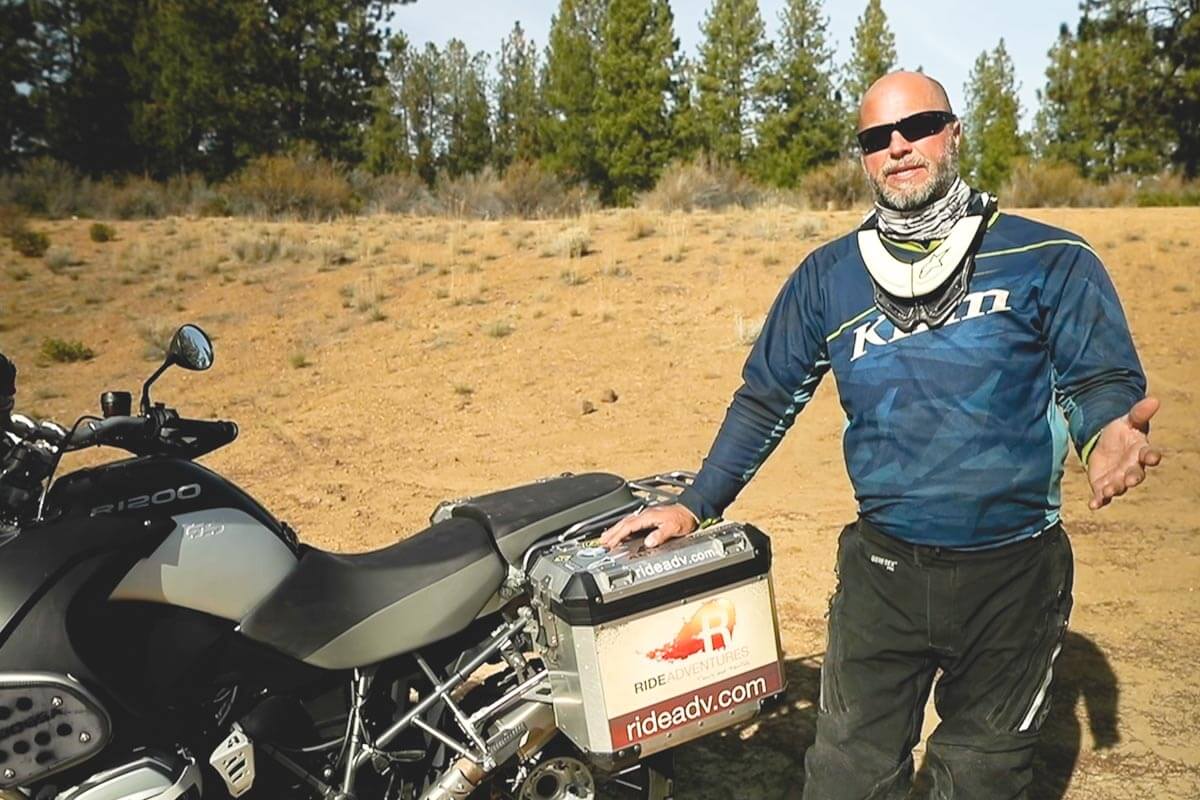 As any adventure rider will tell you, there's no such thing as a "definitive list" of aftermarket farkles for our bikes.
Adventure motorcycle accessories are as numerous as they are varied. You could spend your entire life trying to chronicle orange anodized parts alone and have barely scratched the surface.
Still, you've gotta start somewhere, and for us that's going to be making your motorcycle a comfortable place to hang out for hours on end. After all, that's what we're all here to do anyways, right?
As always, if you've got a favorite upgrade for comfort or ergonomics you don't see here, drop us a comment below and let us know!