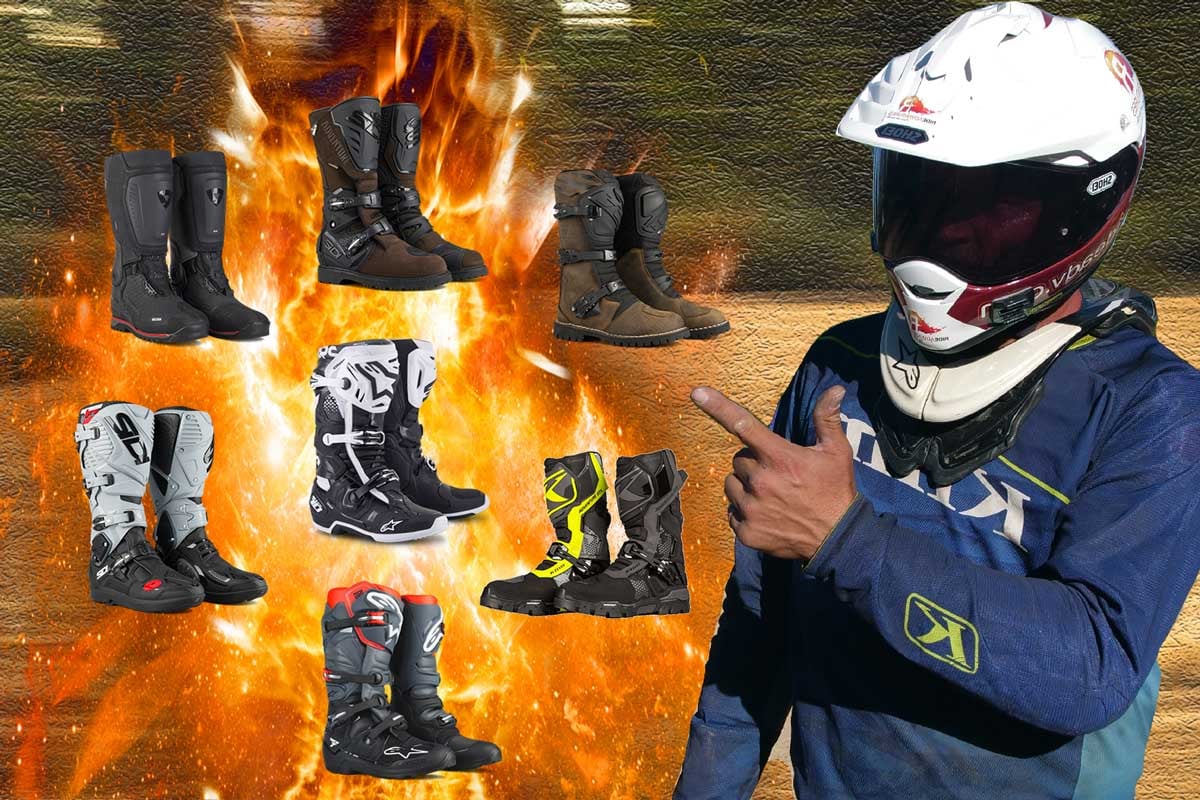 Disclosure: RIDE Adventures is a participant in the Amazon Services LLC Associates Program as well as other affiliate programs, designed to provide a means for us to earn fees by linking to Amazon and affiliated sites at no extra cost to you. Please see our Disclosure for more details.
I don't know about you, but when I used to hear the term "adventure motorcycle boots" I'd have some pretty gnarly flashbacks to the kind of gear my old man wore on his 1100 GS back in the day.
You know the kind I'm talking about: Boots that look right at home with a one-piece Roadcrafter and a Schuberth Helmet. Not that there's anything wrong with either of those pieces of gear, of course. They're both high-quality brands on the cutting edge of geriatric style.
Thankfully nowadays, when we shop for adventure motorcycle boots, we're looking at some of the most stylish, protective, and well-rounded motorcycle footwear on the market. But where do we even begin to decide on the right boot for our riding style?
Dedicated Adventure Motorcycle Boots vs. Full Motocross Boots
Generally speaking, when we talk about boots for adventure riding, we've got two styles to choose from: Purpose-built adventure motorcycle boots and full motocross-style boots.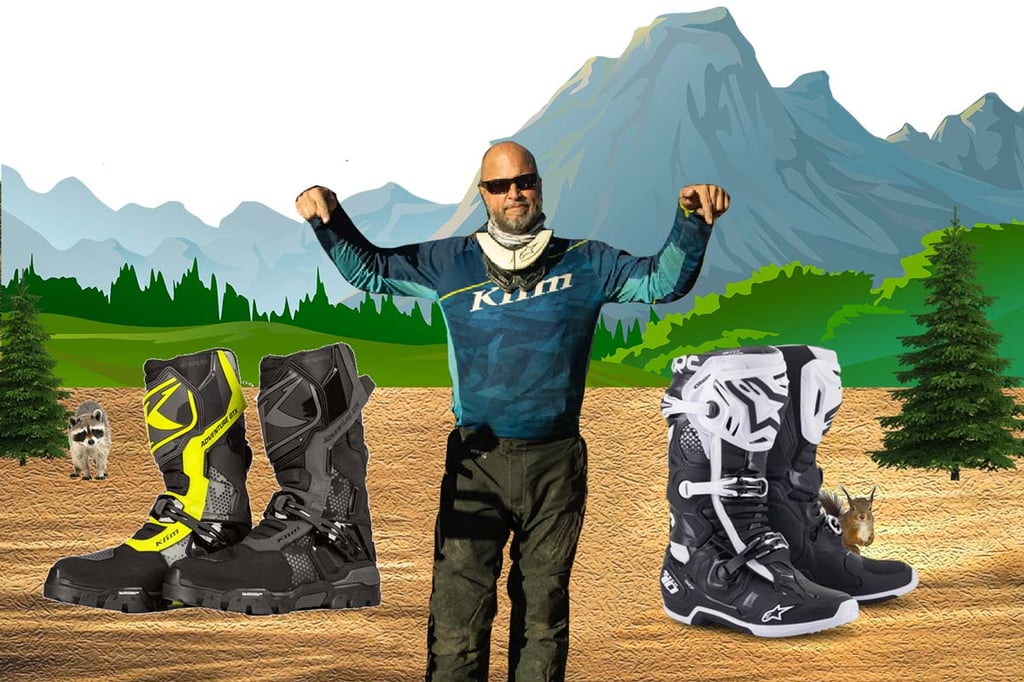 While the degrees of protection between models will differ, dedicated adventure motorcycle boots will offer more comfort and touring-friendly features than their motocross-style brethren, but they also won't provide the same level of protection.
We've broken down our favorite picks from both categories to help you decide which boot will best fit you as a rider, both for the terrain you'll be riding and the amount of money you're willing to part with.
Purpose-Built Adventure Motorcycle Boots
Boots in this category are a relatively new option on the market, but the segment has exploded in the last five years or so.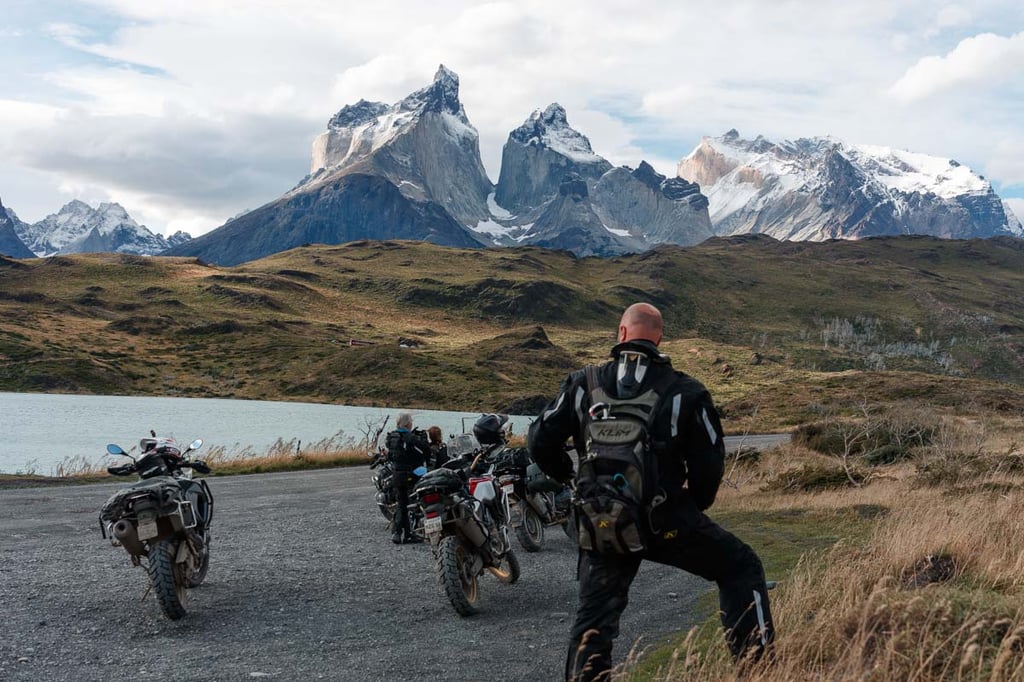 "Senior Tour Guide Eric taking a moment to soak in Los Cuernos while guiding our Patagonia RIDE"
That's great news for ADV riders, because we get more great boots to choose from on any budget. As we mentioned above, adventure motorcycle boots will have a few notable perks over their motocross siblings.
Waterproof liners, smaller sizes, lighter weights, and better ergonomics for hiking and walking around town are a few of the major ones.
These are almost perfect boots, with one notable trade-off: Comfort, flexibility, weight, and convenience come at the expense of some safety features. Which is not to say that any of the boots on this list are unsafe.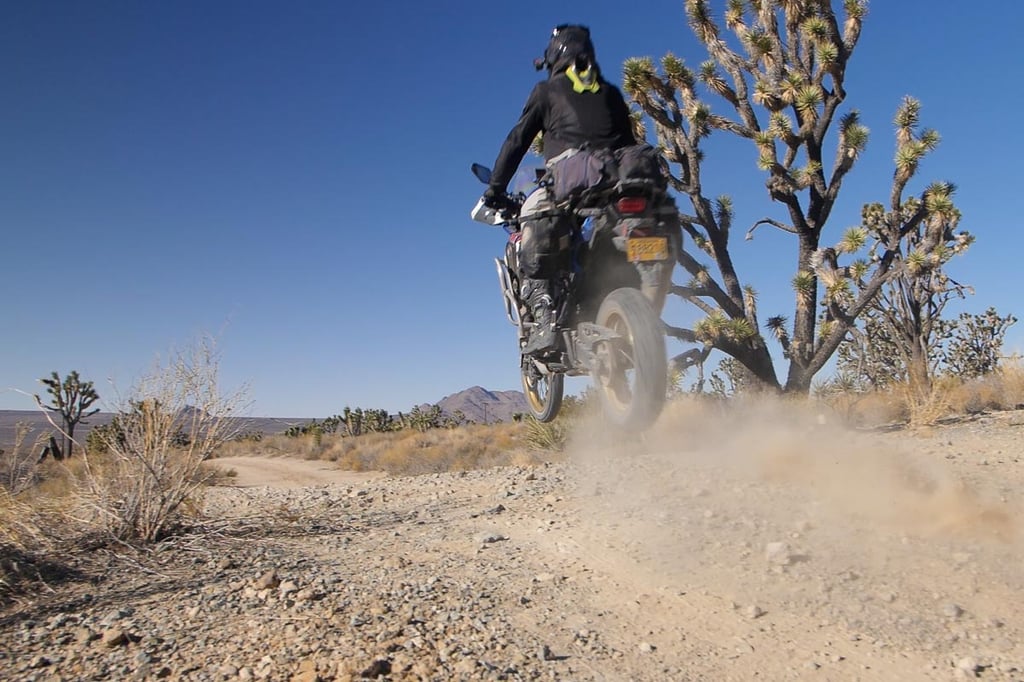 "Tour Guide Tyler catching some air out in Joseph Tree National Park"
On the contrary, every boot we've selected below includes an impressive amount of safety features right out of the box, or it wouldn't be on this list to begin with. However, there's just no beating a well-made motocross boot for its "safety-over-all" construction.
Let's take a look at a few of the adventure motorcycle boots we've been able to test recently to see how they stack up.
Our Top Adventure Motorcycle Boots of 2023
Here is our list of top moto boots straight from the experienced crew here at RIDE Adventures.
1. Sidi Adventure 2 Gore-Tex
The Sidi name brand has been synonymous with top-quality boots for decades. Their products fit well, are thoughtfully designed, and are built to last for so long that you may want to consider writing them into your will.
That being said, it should come as no surprise that Sidi's flagship ADV boot, the Adventure 2 Gore-Tex, is widely considered to be the benchmark all other adventure motorcycle boots are compared to.
And why wouldn't they be? With a sturdy ankle-flex system borrowed from road racing, double (replaceable) buckles borrowed from motocross, and the same Gore-Tex liner and sturdy non-slip rubber sole Sidi uses for their popular touring boots, the Adventure 2 is a hell of a contender.
Add to that feature-rich package a stout list of safety features like a polyurethane shin plate, hinged plastic ankle supports, and shock-resistant heel protection and you've got the perfect package for adventure touring.
Well... just about.
While it's tough to nit-pick at a boot this good, we wouldn't mind seeing it an inch or two taller for added protection along the shin and calf. That's going to be a common complaint for most adventure motorcycle boots, as the closer a boot gets to "over the calf" style, the less comfortable it's going to be to walk in by default.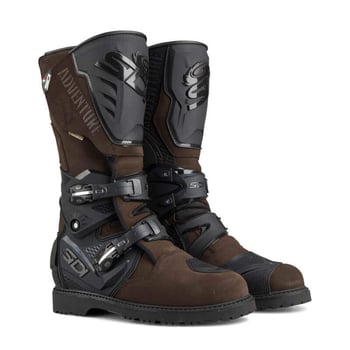 CHECK PRICE:
Sidi Adventure 2
2. Klim Adventure GTX
If there's one adventure motorcycle boot on the market that might dethrone the Sidi Adventure 2, it's going to be the Klim Adventure GTX.
The Klim Adventure was just released at the end of 2020, so it's one of the newest ADV boots on the market. We picked up a pair shortly after launch, and after thousands of miles riding on and off pavement, we've been hearing great feedback from our team.
Not only are these boots built with the top-shelf materials you'd expect from Klim, but they also feature a premium BOA main closure system that makes it easy to dial in a perfect fit and also super fast to get in and out of.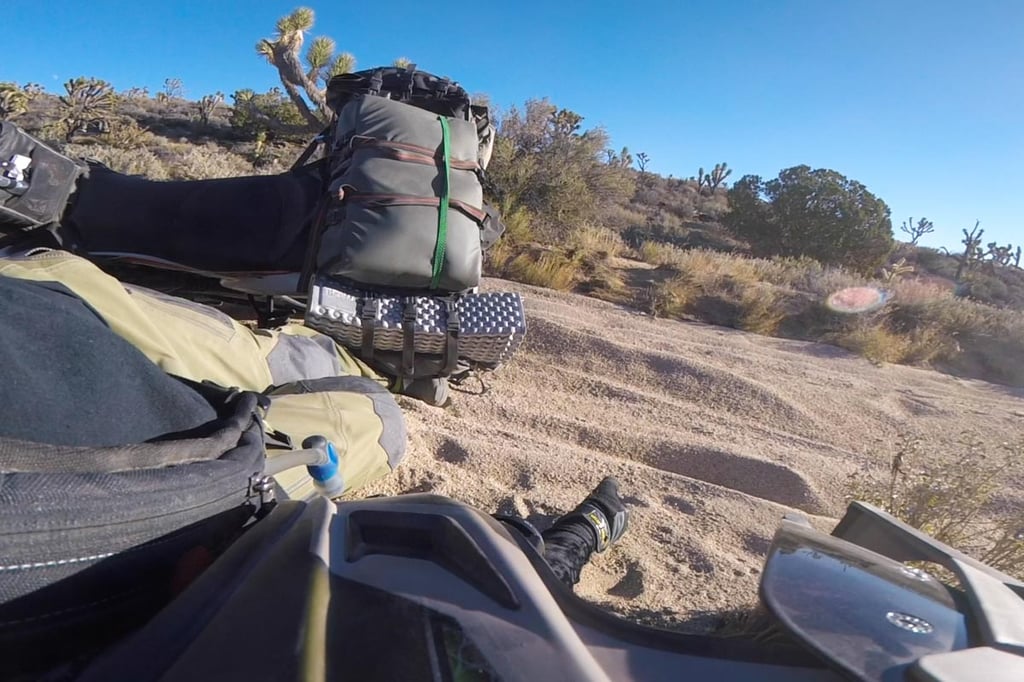 "Video dude Garrett eating s@#! like usual and getting his boot wedged. Really putting those Klim Adventure GTX's to the test here lol"
Our guides give these adventure motorcycle boots high marks for their super grippy tread, all-day comfort, and high-performance Gore-Tex waterproofing. The Klim's also have a ton of safety features including a sturdy shank to limit lateral flex and a reinforced toe box and shin plate.
It's also worth noting that although they don't have the same degree of ankle protection as a motocross boot, we did have one rider pin his ankle underneath his bike in an offroad crash without sustaining any injuries, so the well-padded and reinforced ankle areas seem to hold their own.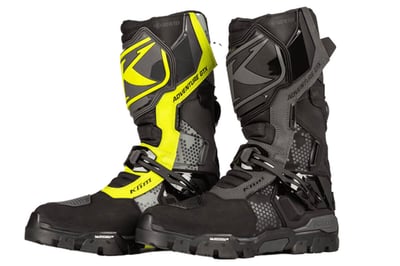 CHECK PRICE:
Klim Adventure GTX

3. Rev' it Expedition H2O
The Rev'It Expedition H2O was introduced in 2018, and was by far the most technologically advanced adventure boot on the market at the time (and it still is). It was also hands-down the most expensive adventure motorcycle boot on the market (and it still is) at a whopping $770.
Make no mistake here though: The Rev'It Expedition H2O is the closest thing to motocross-level protection money can buy in an adventure boot style, and features outstanding protection from top to bottom including ankle armor and hyperextension defense from the Dynamic Support Frame system.
And while we think anyone would be happy to own a pair of these Robocop-inspired ADV touring boots, ultimately they aren't our personal favorite for two reasons:
First, it's almost unforgivable for a boot this expensive to use proprietary waterproofing rather than a Gore-Tex liner. The Hytratex system works well, but Gore-Tex is the industry standard for a reason.
Second, although the Expedition has a high-quality Vibram rubber sole, it isn't repairable or replaceable like other boots on this list that cost half as much.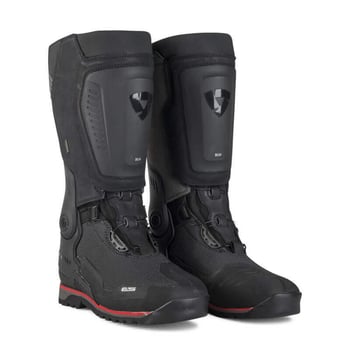 CHECK PRICE:
Rev'it Expedition H2O
4. TCX Drifter
The TXC Drifter is a comfortable boot with vintage motocross-style that packs a decent amount of protection at a budget-friendly price point.
While the Drifter doesn't deliver the kind of rigidity and ankle support we'd prefer for technical offroading, it does get high marks as an adventure motorcycle boot for its reinforced heel and toe, solid ankle protection, and replaceable sole.
Another feature of the Drifter worth noting is the waterproof liner, which isn't as breathable or bomb-proof as Gore-Tex, but it is a nice touch for an already well-rounded package around the $300 mark.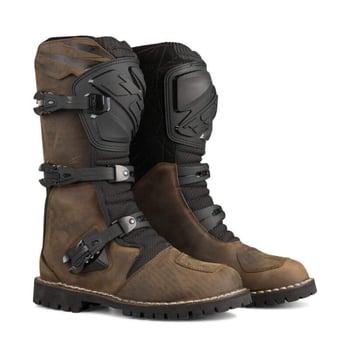 CHECK PRICE:
TCX Drifters
5. Forma Adventure Boot (best budget option)
The Forma Adventure Boot is one we've seen on a lot of customers, and it's a popular option for good reason.
Much like the TCX Drifter above, the Forma Adventure has enough protection for light off-roading thanks to internal TPU protection at the toe, heel, and both sides of the ankle.
We like that the Forma comes in a full-height option for added protection at the shin, and also includes a proprietary Drytex waterproof liner, which is about as much as you could ask from a boot that only costs $279 brand new.
The Forma adventure is surprisingly lightweight and comfortable to walk around in as well, but has no serious lateral protection on either side of the boot, so if you like to keep your offroading to the occasional forest service or gravel road, this is going to be the best boot for the money.
CHECK PRICE:
Forma Adventure

Using Motocross Boots as Adventure Motorcycle Boots
When you want the utmost in safety and protection, there's nothing else on the market quite like a full-on motocross boot.
You'll sacrifice a degree of comfort and around-town style with the boots we list here, but they provide the lateral and torsional protection you want to protect your lower body from injuries resulting from hyperextension, lateral impacts (like your bike landing on your shin), and a wide assortment of foot and ankle injuries.
Of course there are some drawbacks to wearing motocross boots on your adventure bike.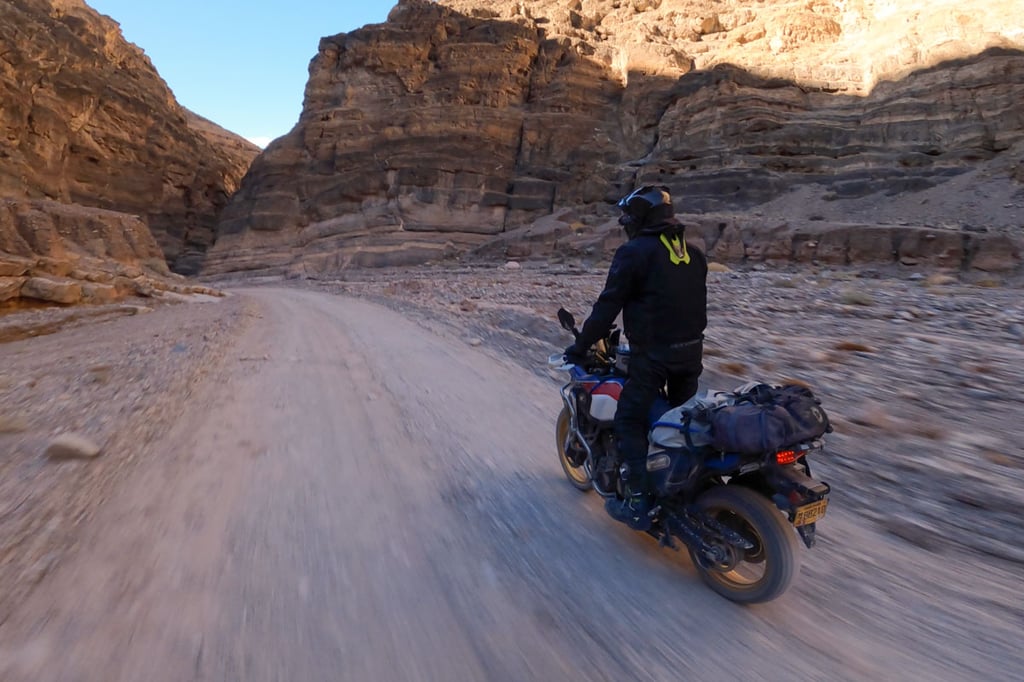 "Tour Guide Tyler ripping through Titus Canyon down in Death Valley"
For one, they're going to be stiffer than any of the adventure motorcycle boots on the list above. That's the price we pay for top-shelf protection, but knowing your feet and ankles are well protected won't make them any more comfortable.
Motocross boots are also just larger and "clunkier" overall. They weren't built to be walked in for long distances, and you'll notice that the first time you have to do a little hiking to see that great mountain view just over the hill.
Still, a motocross boot is indispensable if you're considering taking a route with seriously technical offroad features, especially if you're planning to take them on at speed.
Let's take a look at some of our favorite MX footwear to use as adventure motorcycle boots.
6. Alpinestars Tech 10
Pound for pound, the Alpinestars Tech 10 may be the most protective boot on the market. It's the go-to boot for motocross pros and hard-core dual sport riders alike, and is one of the most bomb-proof, long-lasting boots we've ever worn.
The fit is spot on, and the Tech 10 is surprisingly all-day comfortable on the bike. We've put well over 100,000 hard miles on a single pair of these and never even managed to break a buckle.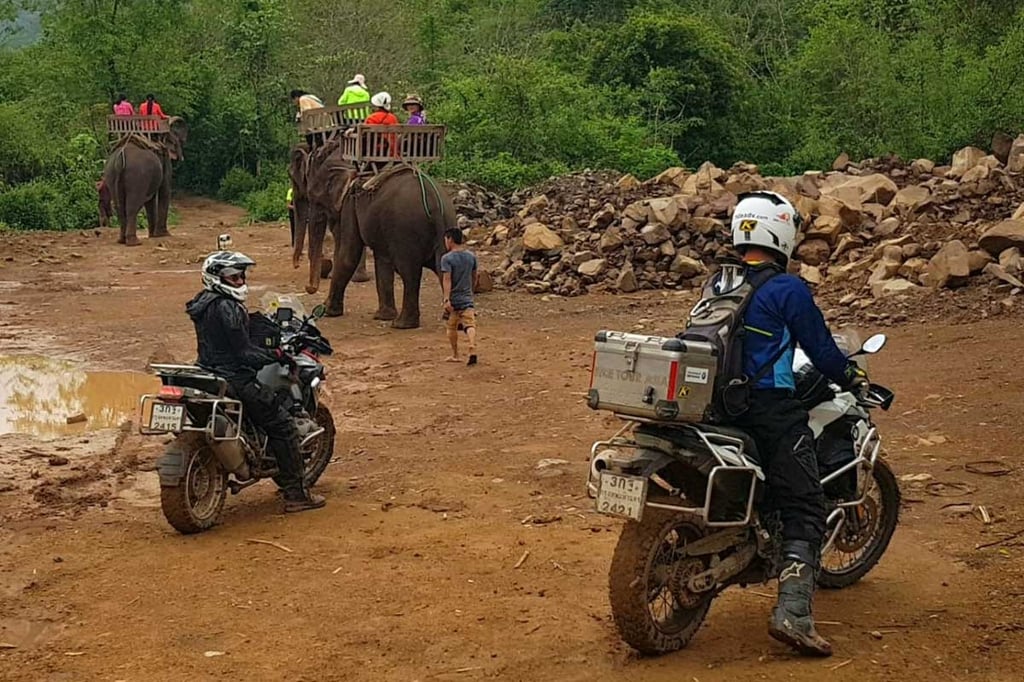 "Senior Tour Guide Eric putting the Alpinestars Tech 10's to proper use while guiding our Thailand RIDE"
As for cons? Well, the Tech 10 is a full-sized boot. And we mean it isn't even pretending to be compact or slim in any regard.
The Tech 10 is a safety-over-everything boot, and "everything" includes walking, fitting into your carry-on bag, or being anywhere near the lightest boot in our list (although Alpinestars did manage to shave some weight off the new 2021 model).
And as with the other motocross style boots on our list, the 10's aren't waterproof or even water-resistant, so you'll want to check out our article on all-weather adventure gear for how to weather-proof boots like these.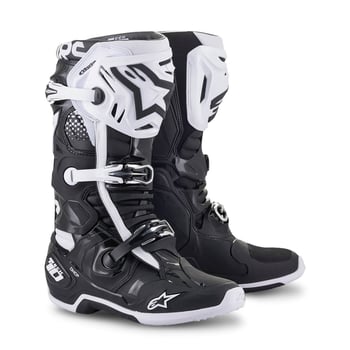 CHECK PRICE:
Alpinestars Tech 10
7. A
lpinestars Tech 7
The Alpinestars Tech 7 is a popular MX-style adventure motorcycle boot among our tour guides, and they've all been impressed by the features and longevity that Alpinestars managed to pack into such a reasonably-priced boot.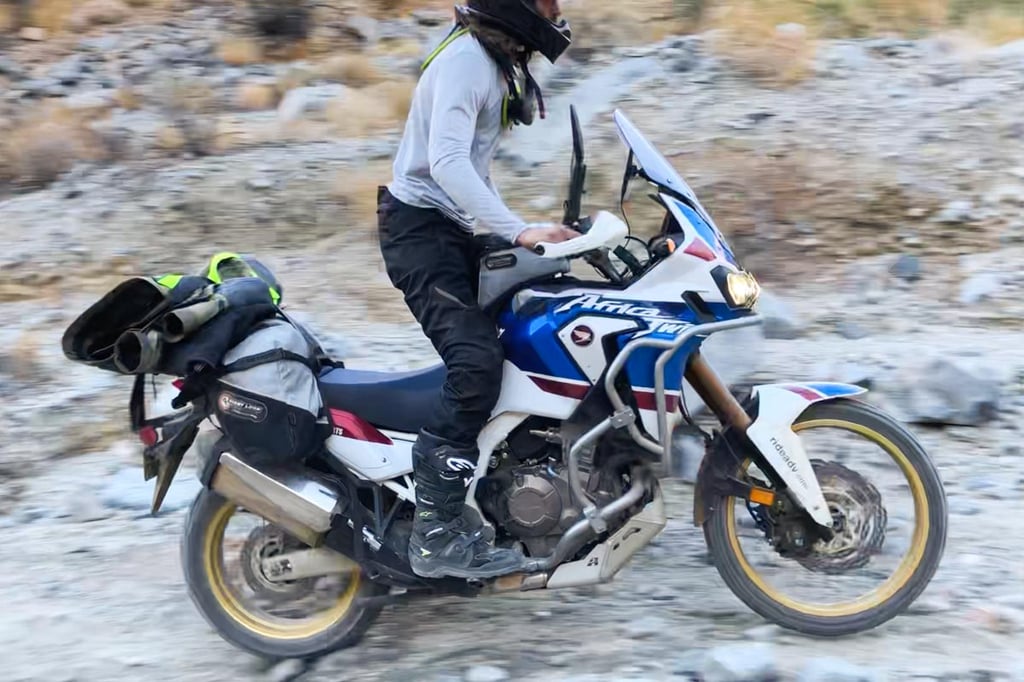 "Tour Guide Tyler putting the Alpinestars Tech 7's to the chunk test on our Pacific Coast Hightway+ RIDE"
The Tech 7 gets high marks from our staff for having a great mix of protection from both twisting and hard impacts, while still remaining flexible enough for fluid movements on the bike and decent manners when walking around town or off the beaten path.
All of the A-Stars 7's we've tested have lasted for several years, which adds even more value at this price point.
The Tech 7 does have its faults though. Most notably it's a notoriously squeaky boot to walk in. Obviously that's not a deal-breaker or even a particularly serious complaint, but just know that you won't be sneaking up on anyone in a pair of Tech 7's right out of the box.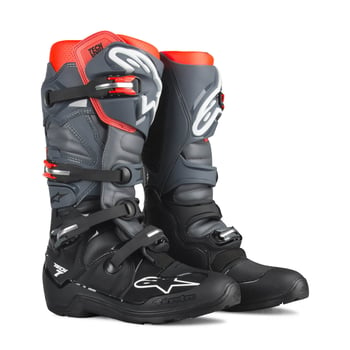 CHECK PRICE:
Alpinestars Tech 7

8. Sidi Crossfire Series
No adventure motorcycle boot list would be complete without the Sidi Crossfire series of off-road boots.
The Crossfire is now on its third iteration as the Crossfire 3 SRS and TA models, but there are plenty of Crossfire owners that still have their original Crossfire 1's in service.
That's because not only is this boot built to the highest level of motocross-racing spec, but it's also 100% rebuildable. Every part of the upper boot as well as the entire sole can be replaced with just a couple screws. You don't even need to take them to a cobbler.
Drawbacks to the Crossfire? There aren't many but one of the common complaints we hear from riders with wide feet is that the toe box is a little more on the narrow side than some other MX boots.
Of course some riders love the slimmed-down toe because it helps them get under the shifter that much easier, but just know that you'll want to try a pair of these on before committing to a long trip for that reason.
And naturally the Crossfire isn't any more water-resistant than the other MX boots on our list, so a separate Gore-Tex liner will be at the top of many rider's wish lists that choose to go with the Sidi.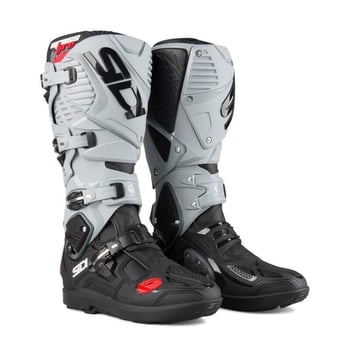 CHECK PRICE:
Sidi Crossfire
Final Thoughts On Adventure Motorcycle Boots
At the end of the day, choosing the right boot for your ride is going to come down to two factors: Safety and comfort.
Safety is our top priority at Ride Adventures, both for ourselves and for our customers, which is why we've never shied away from recommending a full motocross boot for anyone looking to develop their offroad skills.
Dropping your bike is just part of riding in the dirt, and should you happen to find your bike riding you, swapping a little walking comfort for extra protection isn't something you'll likely regret.
With that being said, it's worth pointing out that adventure-style boots keep getting better every year. If you're willing to drop $700+, you can pretty much have it all with a boot like the Rev'It Expedition.
So ultimately, buying as much boot as you can reasonably afford is going to be your best bet. And with boots like the TCX and Forma coming in under the $300 mark, you won't need to sell a kidney to add a ton of safety and comfort to your ride.
Just be honest with yourself about the kind of riding you aim to do, and make sure that the boot you buy won't cost you any peace of mind on your next adventure.