It may have been all the rage bouncing around farm tracks in a woolen sweater with your cap turned backwards 100 years ago, but heading off-road on one of today's 500lb-plus dual-sport motorcycles is slightly more demanding on your clothing, thus the need for this adventure boots review.
So, why not take the weight off and join us for some serious soul searching (that's a clue by the way)?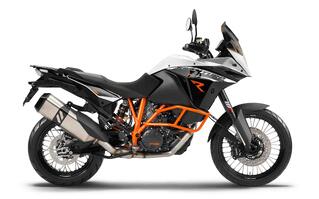 The adventure bike market is incredibly buoyant, and virtually every motorcycle manufacturer on the planet has at least one dual-sport model in their lineup.
While sales figures for the likes of 600cc race reps have nose dived dramatically across Europe, sales of continent-crossing ADV bikes, like the KTM 1190 Adventure R pictured here, have doubled in the last decade.
And that's had a knock-on effect on motorcycle clothing too. At one time, there was dirt gear and road gear, and they rarely crossbred.
Now, thanks to the age-old laws of supply and demand, manufacturers have realized that there's a huge market for dual-sport specific clothing—suppliers are finally paying close attention to the demanding nature of taking the rough with the smooth.
So, looking at ADV boots in particular, what is it that makes them the real deal rather than some glorified MotoX boot in a re-labeled box?
Well, by the very nature of the sport, it has to check off three basic boxes:
All-Day Comfort - First, we spend a lot of hours in the saddle, so a boot has to be all-day comfortable. That means it needs to have a high degree of waterproofing. Soggy feet make long journeys suck, and nothing says cheap boot like a case of trench foot.
On the opposite end of the scale, boots should also contain some inner technical fabric that wicks moisture away, for when things heat up. Like when you're on a RIDE through the Andes Mountains and jungle terrain of South America on our Top 7 Highlights of Bolivia Tour.
Foot/Ankle/Leg Protection - Second, they have to provide sufficient protection to cope with branches, boulders, and berms. Sturdy toe boxes, instep, sole, ankle, and shin protectors are a must, but not so thick that you can't feel anything.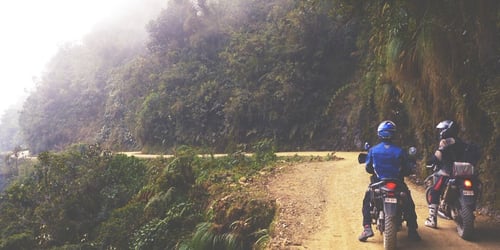 Footrest grip and feedback from the brake and gear lever are important. Not only will you be standing on the pegs but also, you'll be dabbing on the loose stuff, as well as trickling through traffic. At any time, loose items can pop-up off the road beneath us, and of course there are other dangers inherent in motorcycle riding that we need to protect ourselves from. Even a surprise tip-over when parked can land the weight of a motorcycle on a rider's leg, and while a motorcycle boot can't be expected to protect against 400+ lbs of metal and plastic, the most rigid & protective boots have been credited plenty of times with saving a rider from broken bones (see this article about the Alpinestars Belize Drystar boots saving Lesley from almost certain injury.)
Off-Bike Adventures - Third, and perhaps contrary to popular belief, ADV riders can stand unaided and have even been known to walk on occasion. In fact it could be said that it's the off-bike adventures that really make the best "overall" motorcycle adventures come together. As such, a good dual-sport motorcycle adventure boot needs all of the protection mentioned above but must be engineered to bend sufficiently and give excellent flexibility such that your walking and exploration needs are not limited. (Having to walk around like an early 20th-century deep sea diver is seriously uncool.)
Therefore, armed with all this information, let's take a look at what's on offer in the vast world of adventure riding boots.
W2 4 Dirt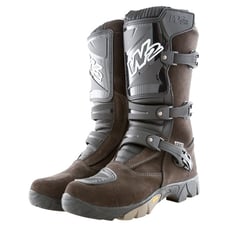 W2 boots have been around since the mid-1980's, and the Italian company always tries to add a little pizzazz to their footwear. The full-height W2 4 Dirt Adventure Boot comes in brown suede and features a Vibram sole and three quick release buckles.
According to W2, they are wind and waterproof and have a breathable interior. The suede is 3mm thick, and primary protection is in the shin area, thanks to an inner plastic guard. Flexibility is good, and they also come in black.
Forma Cape Horn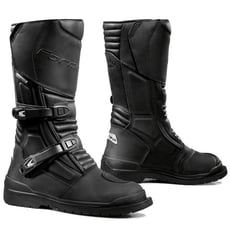 Italian boot company Forma fields an eight-strong line up of adventure boots. The full grain leather upper, Cape Horn, is one of their budget models. A Drytex lining keeps them waterproof and breathable, while shin protection is taken care of by reinforced moldings.
Forma classes them as a 'street oriented' adventure boot, but that doesn't stop them having a reinforced nylon sole, stainless steel shank, and an optional steel toecap.
You can even get replacement anti-bacterial insoles, which is never a bad thing. Two lower buckles and a Velcro top fastening should mean they'll be a flexible fit around the calf.
TCX X-Desert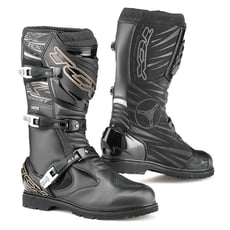 TCX has been producing off-road boots and sponsoring every kind of dirt racing imaginable for quite some time now. Their Infinity series are best sellers, and the X-Desert looks set to do the same. It's clear to see you've stepped up a notch and the X-Desert are very purposeful off-roaders.
Heel, shin, and ankle protection is abundantly apparent, and the three buckle fasteners are all adjustable. An Enduro-style sole gives plenty of grip.
Plus, the treated full grain leather outer and Gore-Tex liner keep the weather out while still letting your feet breathe. An elastic cuff around the top of the boot also adds to the adjustability.
BMW Gravel Boot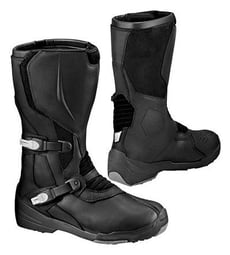 You won't find any flashy logos or streaks of contrasting colors on these boots. What you see is what you get, and just like the first GS motorcycle range, the Gravel just gets on with the job without making a song and dance about it.
These all black, full grain leather boots have a waterproof coating on the outside and a full Gore-Tex waterproof/breathable membrane inside. Located above and below the ankle are two aluminum quick release buckles with a large Velcro wrap around flap at the top.
The sole is good and robust with plenty of grip, foam padding covers the shin and ankle, with reinforced areas at the heel and toe. It's nice to see a gearshift pad on both boots too. A no-nonsense, comfortable touring boot with green lane capabilities.
Alpinestars Toucan GTX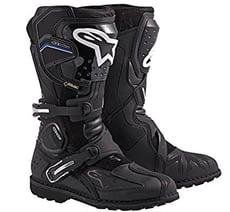 Heading towards the top of the range, the interestingly named 'Toucan' comes with some serious off-road credentials. The leather and suede construction has a Gore-Tex membrane and features a lateral protection system.
This system not only gives great crush and twist protection to the ankle, but also links the top and bottom of the boot for maximum flex and fit.
Beautifully engineered, the sleek looking, spring loaded, self-aligning buckles are easy to flick open with gloves on.
Contoured polymer protectors cover shin, ankle, and heel, and the sole has a deep tread pattern for maximum stability on the slimy stuff.
Despite their substantial MotoX style look and heavy-duty external armor, these boots are full of cleverly designed technical features. These give excellent off road protection without compromising their street usability. (Maybe on one of our African motorcycle tours that combines both, like The Southern Africa Experience?)
They're also one of the lightest boots on the market and features like that make you realize why they demand big money.
Daytona Trans Open GTX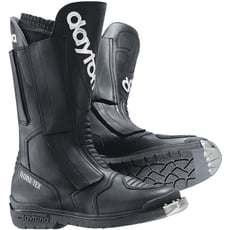 In the same vain as the Gravel, this is another boot for riders who go for function over flash. Understated to the point of looking staid, but if your adventure boot choice is fashion oriented, it's probably safer to stick to the tarmac.
These boots are hand made in Germany, and it shows. Every part of the leather uppers has been thought through and designed for maximum efficiency and a hard knock life.
Constructed from Kangaroo leather, the flex points on the front and rear are guaranteed to put a spring in your step. And, as you would expect in a top of the range boot, 100% waterproof Gore-Tex goes right to the top.
With the exception of metal toe tips, the Daytona boots have safety features concealed within their design, without the need to make a song and dance about them.
High impact plastic ankle and shin guards come backed with open cell foam, and there are steel inserts in the sole that allow the foot to move freely but protects from twisting.
The biggest difference, however, is the boots' triple zip opening system. Inner and outer curved zips open the boot fully, while a rear zip allows for extra expansion to accommodate larger calves. Full-length Velcro flaps cover all zips.
Whether your two-wheeled adventure sees you on the back of a BMW R1200GS, or one of the new Honda Africa Twins on a motorcycle trip in the Atacama Desert, you'll arrive at the same destination. However, there's bound to be a difference in just how much spring you've got left in your step when you get there.
Adventure Motorcycle Boot Safety Features
You need to have as many safety features, weather protection, and comfort as you can afford. Okay, it's a fact of life that you do get what you pay for, but that's not to say that there aren't great feature packed budget boots out there too.
Just take your time, do your research and be honest in your appraisal as to the percentage of on/off-roading you'll be doing.
Incidentally, if you're ordering online, be sure to look at the boot's country of manufacture. As a rule of thumb, Italian boots are usually narrow fitting, while German boots tend to run wide. Just check return policies and shipping costs.
You've got 52 bones in your feet, they're on the frontline in the war against gravity, so kit them out properly and give them the backup they deserve.
RIDE on!
WHAT TO READ NEXT: Take a look at another adventure riding boot review from our blogger Sarah Williams.
Or, learn how to pack your new boots with our free guide: