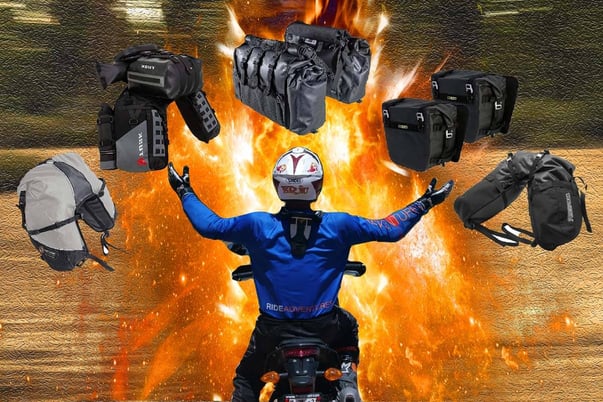 Disclosure: RIDE Adventures is a participant in the Amazon Services LLC Associates Program as well as other affiliate programs, designed to provide a means for us to earn fees by linking to Amazon and affiliated sites at no extra cost to you. Please see our Disclosure for more details.
More and more ADV riders are opting for a lighter way to carry their luggage around. Hence the introduction of adventure motorcycle soft luggage.


What To Look For When Shopping Adventure Motorcycle Soft Luggage
If you're planning on doing any serious amount of off-road riding on your adventure bike, soft luggage is really the only serious choice. The right set of soft bags provides the same (if not better) protection from both water and dust, but won't break your heart/wallet when your bike inevitably hits the ground.
There's no shortage of adventure motorcycle soft luggage options out there nowadays, but some are significantly smarter buys than others.
Before we get into our specific favorite picks, let's address two simple questions to help narrow down the ideal soft luggage for your bike and riding style.
How Much Capacity Do You Need With Your Adventure Motorcycle Soft Luggage?
Capacity is an important factor in the soft luggage equation. The ideal capacity (aka volume) you need varies dramatically depending on how much stuff you plan to carry, so while we can't provide a one-size-fits-all answer here, we can share some general guidelines that work for us.
If you're interested in doing day trips, but have little interest in packing for overnight excursions (moto-camping or otherwise), you can get away with a pretty light kit.
Fast-and-light types who carry little more than tools, food, and water can get away with as little as 25 liters of storage, while that one friend with the portable saw, first aid kit, and air compressor may need double the space (50 L) for a single day.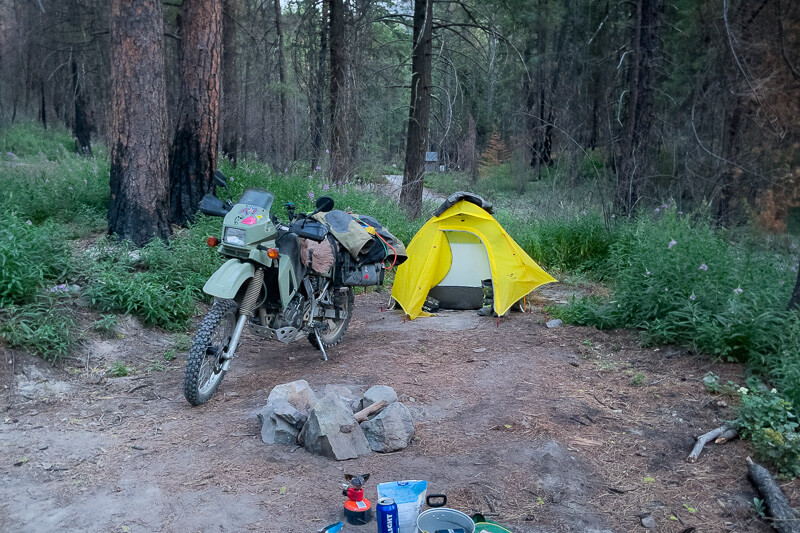 "Avid moto camper? You might need some extra capacity muchacho"
For overnight/multiday adventurers who don't need to carry camping gear, we've found 50-80 liters is a sweet spot.
This gives you room for all the things you'd normally travel with (extra clothes, electronics, snacks, etc) plus all the motorcycle specific gear you'll need for the journey (tools, tubes, first aid, extra gear, waterproof gear, etc).
If you're planning on adding camping gear to the mix, your ideal capacity varies greatly depending on the type of gear you're bringing.
We've seen moto-campers toting ultralight backpacking gear and minimalist camp amenities get away with as little as 50 liters, while those who prefer the comforts of home often pack well over 100 liters of gear.
To Rack or Not to Rack...
Adventure motorcycle soft luggage comes in two main flavors, rack-mounted and rackless. Both options are worth considering, so let's take a moment to weigh the pros and cons of each.
For many adventure riders, rack-mounted soft luggage is the ideal compromise between rackless soft luggage and traditional hardshell panniers.
It's extra stable over rough terrain, allows you to carry weight lower on the bike for better handling, and helps keep your bags away from hot exhaust pipes.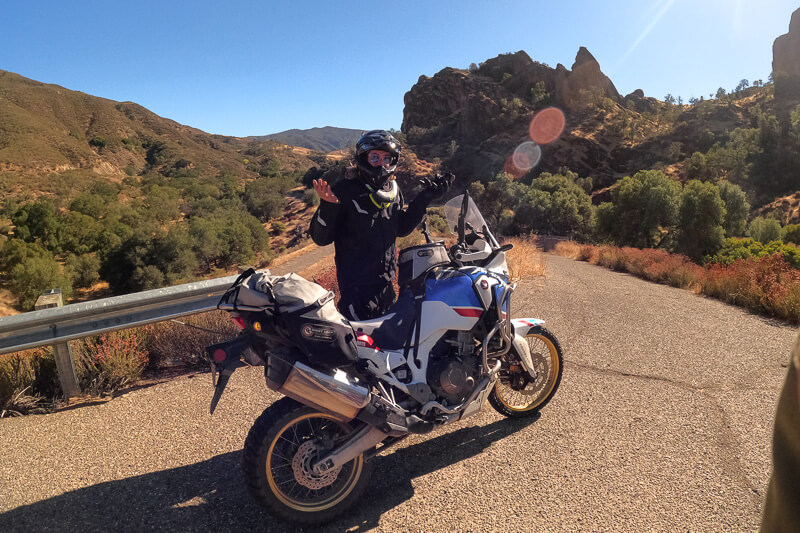 "Tyler the guide making sure he's not being rackless on the motorcycle while heading down south on our Baja on Down Tour"
We've had good experiences with these systems in the past, but they have a few key drawbacks. First, there's the added time, effort, and expense of buying and installing the rack system itself.
The second drawback to keep in mind is weight. Even a fairly minimalist set of aluminum racks typically weighs somewhere in the neighborhood of 15-20 pounds.
That's light work for big adventure bikes, but for fast and light dual sport rigs, every pound counts.
Rackless adventure motorcycle soft luggage, on the other hand, is all about convenience and simplicity. Most rackless systems will fit just about any bike under the sun, and typically require little more than smart positioning and a heat shield or two to protect them from your exhaust.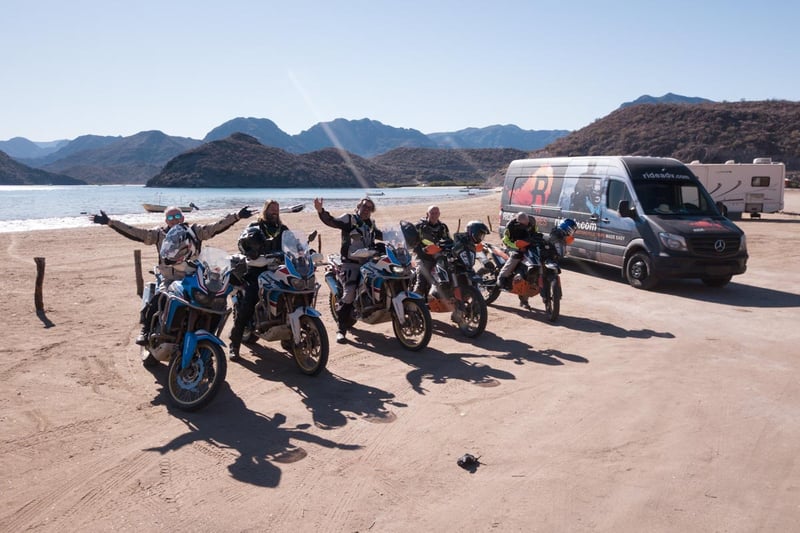 "We fit each of our rental bikes with Giant Loop's Great Basin soft luggage"
They're also less expensive, easy to swap between bikes, and weigh next to nothing. The Giant Loop Great Basin system below, for example, packs a healthy 68 liters of space yet weighs just 6 pounds altogether.
The main drawback to rackless bags is that they have a tendency to shift around more when things get bumpy, and they run the risk of getting burned by hot exhaust pipes when installed improperly.
Our Favorite Options for Adventure Motorcycle Soft Luggage
We've tried countless adventure motorcycle soft luggage options over the years, and we've got to admit: You've got no shortage of high-quality options at your disposal nowadays.
With that being said, different riders look for different things in their ideal luggage system.
Some folks want to keep it fast and light, others want enough space to haul all their worldly possessions, and some riders just want something that gets the job done without having to refinance their home.
Regardless of where you fall on that spectrum, we've got a bag (or two) in mind for you. Here are our favorite options for adventure motorcycle soft luggage that we've used over the years.
*(luggage number order is random)
1. Giant Loop Great Basin
First on our list is the Giant Loop Great Basin, and there's a good reason for that. This is our go-to option for adventure motorcycle soft luggage on all of our adventure tours, and we've put millions of miles on these things without a single failure.
We love the Great Basin's simple roll-top design and bulletproof construction, which uses Giant Loop's trademark "Bomb Shell" vinyl-coated polyester with ballistic nylon reinforcements in high-wear areas.
With up to 68 liters of capacity, the Great Basin is the perfect "Goldilocks" size for our hotel-to-hotel trips, but there's also plenty of room in there for the folks who prefer to sleep outdoors.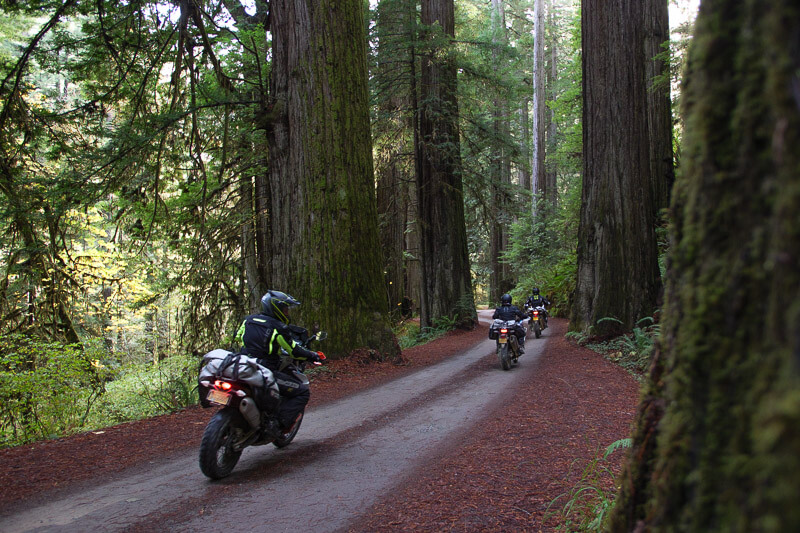 "One of our customers on our Pacific Coast Highway + Tour through California's Redwoods"
Our main gripe with the Great Basin is that although its Bomb Shell polyester is highly water-resistant, it isn't 100% waterproof.
Every Great Basin ships with three roll-top bags (with purge valves) to handle waterproofing duty, but that means you've got up to three total interior bags to fiddle with to access your gear, assuming you need everything to be 100% protected.
There's no denying the outright quality, durability, and versatility of the Great Basin though, and if you're looking for a do-it-all storage solution that's built to last a lifetime, you just can't go wrong here.
Pros:
Goldilocks 68 liter capacity
Tough, stable, and completely waterproof
Entire setup weighs just 6 pounds
Cons:
Dry bags required for 100% waterproofing
Pricey for a rackless system
Eats your entire passenger seat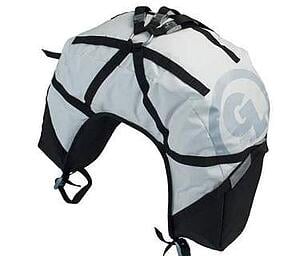 CHECK PRICE:
Giant Loop Great Basin Soft Luggage

2. Tusk Highland X2 Rackless Soft Luggage
Tusk is Rocky Mountain ATV's in-house brand, and they have a well-deserved reputation for delivering high-quality components and accessories at outstanding prices. The Tusk Highland X2 is a prime example, and is virtually indistinguishable from "premium" or "boutique" systems that cost twice as much.
Each side bag packs 25 liters of space, landing the base system at a healthy 50 liters of storage.
Tusk also includes waterproof inner bag liners for both compartments at no extra charge, so this system is right at home in anything from thunderstorms to water crossings.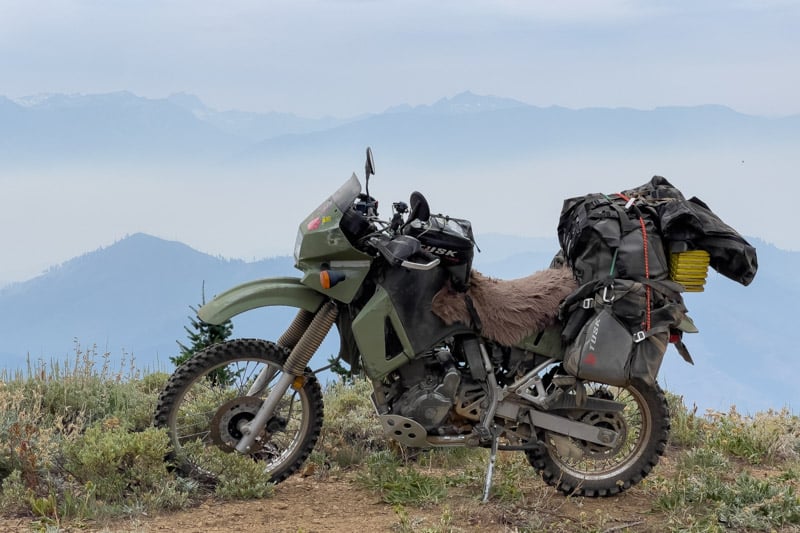 "Garrett's KLR equipped with the tusk highland x2 adventure motorcycle soft luggage while on the WABDR"
We're also fans of the Highland X2's modular design, which means you can add an additional top bag/duffel as needed for extra storage, or make use of the Highland's MOLLE attachment points for things like fuel bottle holders or accessory tool/tube kits.
We've got two main complaints with Tusk's flagship rackless adventure motorcycle soft luggage.
First, if you want to maximize your capacity with their large duffel and auxiliary bottle holders (for 87 total liters of space), it'll set you back an extra $120 bucks.
You're still looking at a smoking deal for a bottomless pit of storage, but there are definitely cheaper ways to go about it. Our other gripe here is that the mounting system takes a little more time to set up than others on our list.
Once it's on, you're good to go, but it takes a good bit of fiddling to get everything securely in place.
Pros:
Great price for a modular rackless system
MOLLE system is easy to build onto as needed
High-quality materials and construction
Cons:
Only 50L included at base price
Install can be a little tricky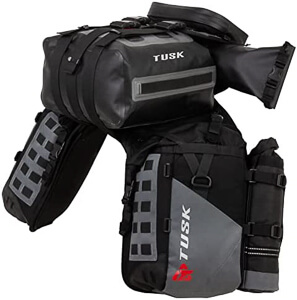 CHECK PRICE:
Tusk Highland X2 Rackless Soft Luggage
3. AltRider Hemisphere Adventure Motorcycle Soft Luggage
If you're digging the Great Basin bag above but don't need 60+ liters of storage, the AltRider Hemisphere saddlebags are our favorite alternative for adventure motorcycle soft luggage.
With 45 liters of space in the main compartment, these bags are ideal for anything from day trips to overnight adventures, and are versatile enough to stash minimalist camping gear with room left over for trailside essentials.
The Hemisphere saddlebags are our first choice for fast and light dual sport exploits and technical woods riding. They're light, tough as nails, and carry their weight lower on the bike than most wrap-around systems, which makes them ideal for more spirited off-road exploits.
They aren't just limited to small bikes though, and their universal fit system works on pretty much everything from little 250cc dual sports to big honkin' KTM 1190s.
What sets the Hemisphere apart from most rackless systems is that the wrap-around roll-top bag isn't hard-mounted to the bike.
The main storage compartment sits inside of two ballistic nylon "holsters" on either side of the bag, so it's easy to take all your gear on and off the bike as needed.
Your main drawbacks here are the aforementioned 45L capacity, plus the fact that neither the storage bag nor the hoster can be locked to the bike.
Altrider products are some of the highest quality, made-in-America stuff money can buy though, so if you can live with fewer creature comforts out on the road, the Hemisphere system is money well spent.
Pros:
Mounting hosters double as utility pouches
Premium quality, American made
Exterior stash pockets for tools, tubes, and fuel
Cons:
No integrated lock
Less capacity than GL Great Basin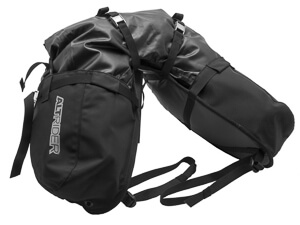 CHECK PRICE:
Altrider Hemisphere Soft Luggage

4. Nelson Rigg Deluxe Adventure Motorcycle Soft Luggage
If you're looking for adventure motorcycle soft luggage on a budget, the Deluxe Adventure Dry bags from Nelson Rigg are tough to beat. For under $200, you're getting nearly 60 liters of waterproof storage that mounts up easily to pretty much any rack system on the planet.
What's even better is that if 60L isn't enough capacity for you, both of these adventure motorcycle soft luggage saddlebags also include extendable compression straps on the top of the bag, enabling you to bump up your capacity by another 60L or so for about $50. 90L for $250? Good 'ol Nelson Rigg just became the best deal in town.
As you might expect, a set of soft luggage at this price is bound to have a few shortcomings, and these saddle bags are no exception.
The main one here is that the Nelson Rigg Deluxe Adventure Dry Bags mount to your rack using a pair of webbing straps and cam buckles, which means they lack the security and sophistication of something like the Giant Loop bags below.
Still, a set of one-size-fits-all adventure luggage for pennies on the dollar is tough to beat. The fact that these budget-friendly bags are also backed by Nelson Rigg's lifetime warranty is just icing on the cake, adding peace of mind to a deal that already seems too good to be true.
Pros:
Dirt cheap waterproof storage
Lifetime warranty on a budget-friendly product
Compression straps allow additional capacity as needed
Cons:
Crude mounting system
Not lockable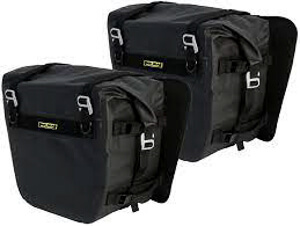 CHECK PRICE:
Nelson Rigg Deluxe Soft Luggage
5. Giant Loop RTW Racked Soft Luggage
The Giant Loop's Round The World saddlebags were our weapon of choice on our last CABDR Tour, and if you're looking for rack-mounted adventure motorcycle soft luggage, these might be our favorite to date. Packing over 90 liters of waterproof storage and weighing in at just 13 pounds, they've got the performance and capacity you need to go damn near anywhere on the planet.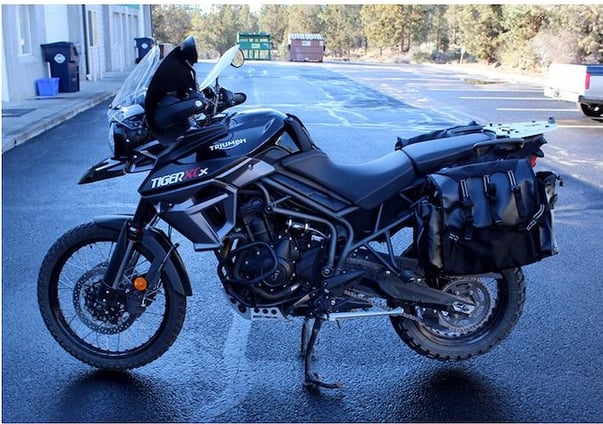 "The high capacity on Giant Loop's RTW can take you to some far out there places like our CABDR Tour"
The RTW bags have a lot going for them, but the main standout feature for us is here is weight. These Giant Loop bags weigh considerably less than other popular large-capacity systems like the Mosco Moto Reckless Revolver, yet still leave the passenger seat available for a second rider (or even more luggage).
They're also super easy to take on and off (you can do it with one hand), and also include barrel locks to secure both bags to your rack for security purposes. Granted, there's no way to protect your gear inside the bags, but we also love that the waterproof inserts can be pulled out separately, allowing you to carry your gear into the hotel room at night without having to remove the bags themselves.
Drawbacks with this system are few and far between, and apart from the security issue mentioned above, we're hard-pressed to find a serious complaint here. We're not in love with all the webbing straps on the outside of the bag (you'll want to make sure everything is tucked away before riding through narrow trails or thick brush), but all things considered, this is a bulletproof set of bags at a fair price that delivers everything you need to travel the world for years and years.
Pros:
90+ liters of waterproof storage ready to go anywhere
No need to add additional luggage or storage pouches
Adjustable mounting points work with any rack system
Cons:
Lots of straps to tuck
Bags lock, but no way to secure your gear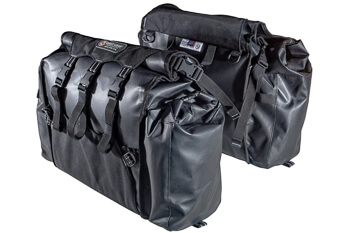 CHECK PRICE:
Giant Loop RTW Saddlebags

Our Final Thoughts On Adventure Motorcycle Soft Luggage
At the end of the day, adventure motorcycle soft luggage is the only serious option for folks who spend a fair amount of time in the dirt. Soft bags cost less money than hard panniers, protect just as well from the elements, and are built to handle the constant abuses of off-road riding without the fear of damage or outright failure.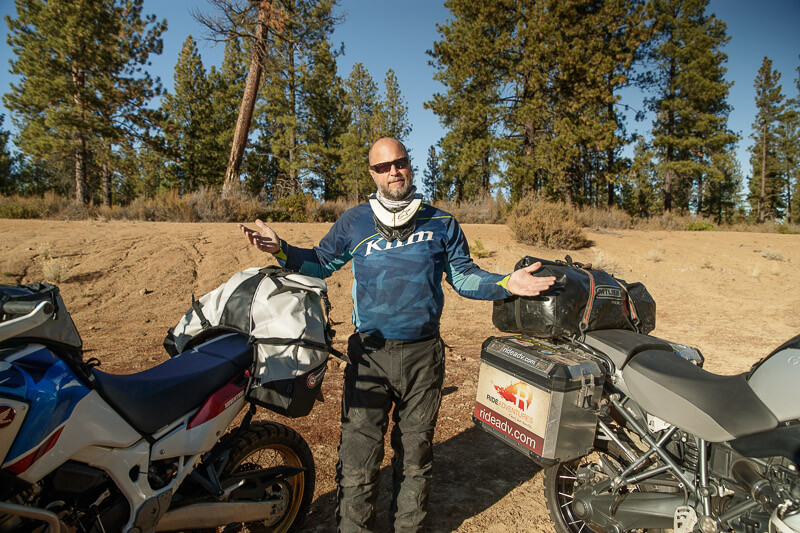 We believe all of the options above are built to go the distance, which means you really can't go wrong here. Figure out the capacity you need, decide whether or not you want to fool with adding racks to your bike, then hit the road there and start logging some miles. We'll see you out there.
→Read More: 5 Rugged Motorcycle Backpacks for ADV Riders and Best ADV Motorcycle Tires in 2023.