"It's like catching up with an old friend," I said with a big smile on my face the other day when I put my Alpinestars gear on for a local ride near home in Central Oregon.
It's been a few weeks since I returned from my adventure down in Patagonia. My husband and I rode two-up, along with six other rider friends, approximately 2,200 miles from Villarica, Chile down to Punta Arenas, Chile. We were fortunate enough to experience an amazing trip, with rental bikes provided by RIDE Adventures, as well as the gamut of weather and terrain.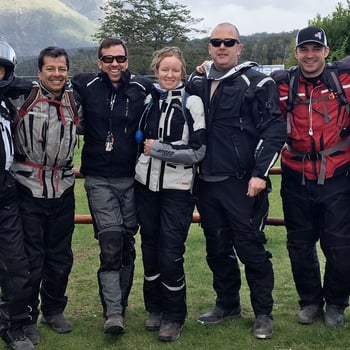 Along for the experience, and my comfort, were the Alpinestars Stella Andes V2 Drystar® Jacket, Alpinestars Stella Andes V2 DryStar® Pants and the Belize Drystar® Oiled Leather Boots.
Let's start with my frame: I am 5' 6" tall, 135 lbs, small chested and a pretty standard, off-the-rack size 6 in women's clothes. The Alpinestars jacket and pants that I am reviewing run small. I ended up wearing a size Medium jacket and size Large pants.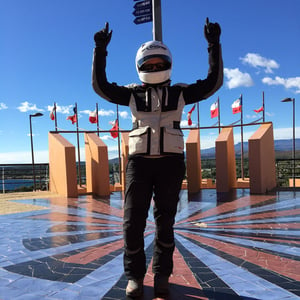 Once I figured out my correct sizes, everything fit appropriately. The Alpinestars Stella Andes V2 DryStar® Jacket has the perfect collar, especially the pin-back feature that it offers; I used that most days. The jacket is not too bulky and features adjustments just where you need them. It kept me warm and dry. For the pockets, the taped zippers and velcro pocket flaps were definitely noted and nice to have for my gadgets.
The Alpinestars Stella Andes V2 DryStar® Pants are long enough, not too high-rise or low-rise, and not too bulky or baggy. They are the kind of pants that you are comfortable being in morning till night, which is the case on a trip like Patagonia. Again, I stayed warm and dry in these.
The one thing that I would add to the pants is a stretch panel in the waist. For many reasons, I felt it would have been beneficial to my comfort.
The boots: Belize Drystar® Oiled Leather Boots. Oh, how I love thee. I wore a Men's size 7 in these beauties (I normally wear a women's size 8.5). They are warm, dry as-a-bone, comfortable right out of the box, and they SAVED my ankle one day, for sure. We had a muddy day in Argentina and our bike stopped dead from the buildup of mud under our fender.
My husband nailed it handling our 600 lb (with gear) Honda Africa Twin in the situation, but as I was on the back, and higher up in position, I took a fall. My left ankle got caught under the panier as I went crashing to the ground. The boots didn't even flinch – I didn't even feel the weight really. I then got up, shook it off, and proceeded to walk approximately three miles in these boots. Again, totally comfortable even to walk a good distance in. They are awesome.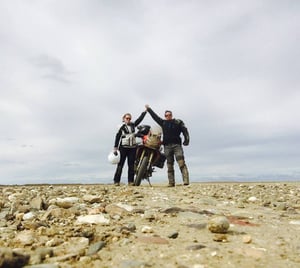 All-in-all, we had warm sunny days and cold, sideways pouring rain and 60 mph wind days. The Alpinestars gear was everything I had hoped for. I was dry, warm, and comfortable the whole trip.
I would purchase the Alpinestars Stella Andes Jacket, Pants, and Alpinestars Belize Drystar® Oiled Boots again and happily recommend to others. The price point is excellent as is the performance.