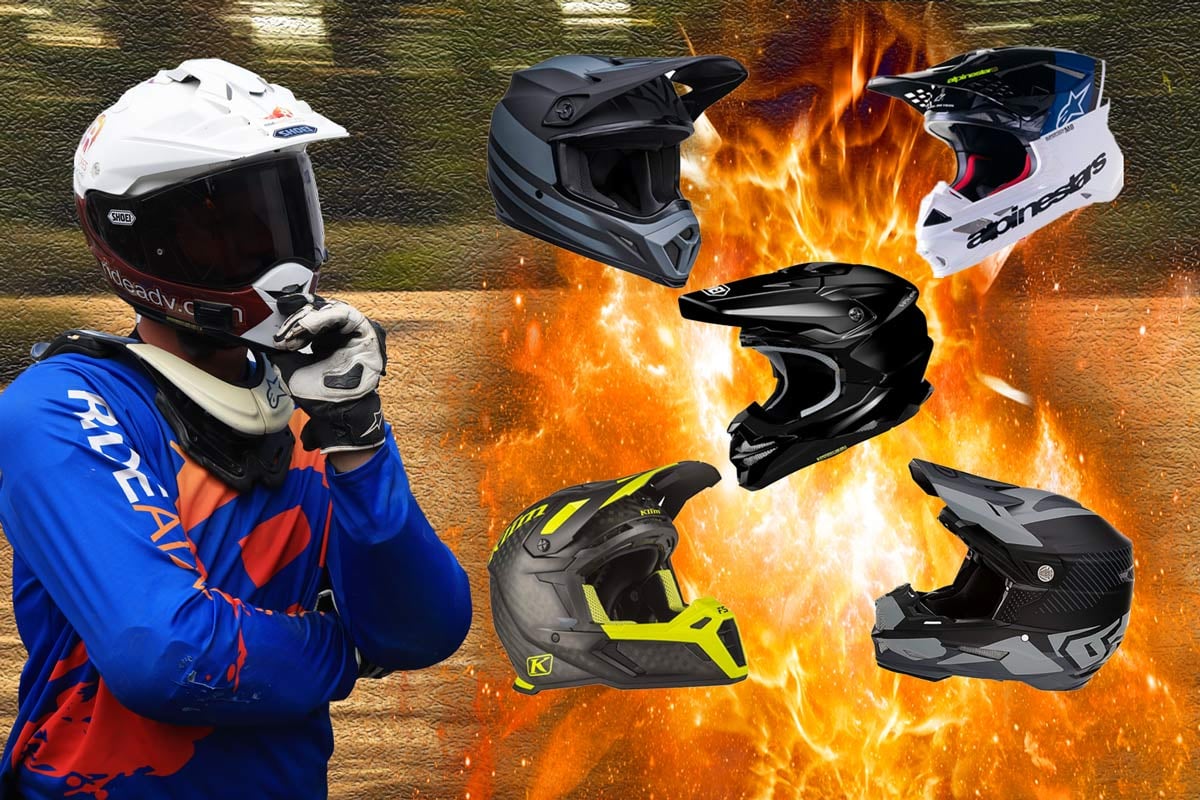 Disclosure: RIDE Adventures is a participant in the Amazon Services LLC Associates Program as well as other affiliate programs, designed to provide a means for us to earn fees by linking to Amazon and affiliated sites at no extra cost to you. Please see our Disclosure for more details.
Cool colors and sharp looks won't protect your skull when accidents happen. The best dirt bike helmets are a no-brainer for brain protection off-road.
Off-roading is sweaty work. Whether you're turning hot laps at your local motocross track or channeling your inner Jarvis on some tight singletrack, sweating profusely is about as guaranteed as death, taxes, and grey hair.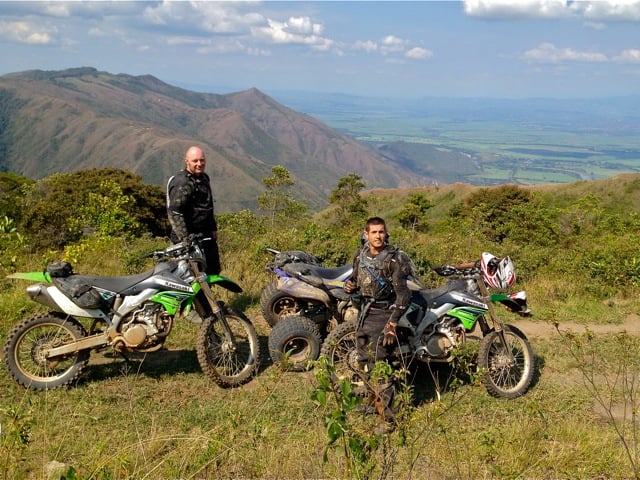 "Dirt biking is sweaty work. Let your helmet do the heavy lifting."
Luckily for us off-roaders, a good dirt bike helmet is the key to comfort, delivering lightweight protection and outrageous airflow when we're working hard at the bars.
They also happen to be the only thing standing between the cold hard ground and your warm squishy brain, so let's go over a few of the things that make any dirt bike helmet worth buying in the first place.
What to Look For in Dirt Bike Helmets
Dirt lids all look pretty similar: Big sun peak, long chin bar, and a giant eye port. Don't be fooled: There's a reason the best dirt bike helmets are worth the extra spend, especially if you value your skull and its precious cargo.
Here are the broad strokes on what to look for in your next helmet.
Safety First
We're going to go out on a limb and guess that your first reason for buying a helmet is to protect your head. In keeping with that assumption, the most important feature all the best dirt bike helmets share is elevated safety.
The single best indicator that a helmet delivers above-average protection nowadays is some form of rotational impact protection.
This technology first arrived on the scene in the form on a MIPS slip plane, which is highly effective and still used today, but brands like 6D and Shoei also have their own takes on this feature that work just as well if not better.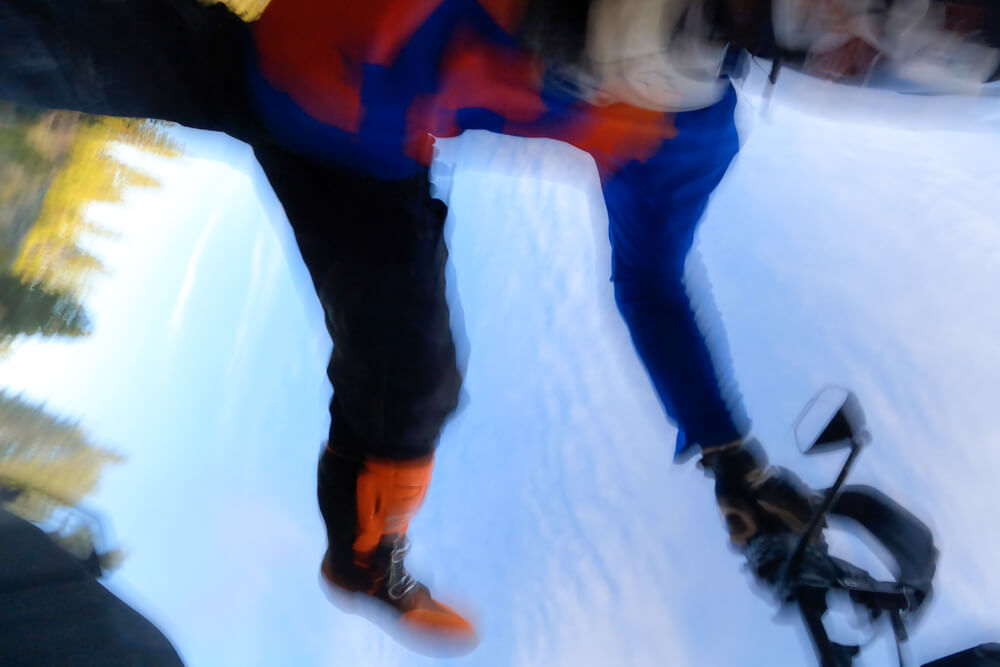 "If you're riding off-road, spills happen. The best dirt bike helmets are as protective as street lids if not moreso."
Aside from that, we tend to stick to the old standby of DOT/ECE/Snell certification.
Because dirt helmets aren't necessarily intended for "street" use, you may not see a DOT sticker on every one, but at least one (if not two) of the above mentioned certifications is a must-have in our book for peace of mind that the shell and impact liner have been proven to do their job.
Weight
One of the major benefits of choosing a dirt-specific lid over a street or even dual sport/ADV helmet is weight savings. A lighter helmet reduces fatigue over the course of a long day, and dirt helmets are the lightest full-face protection money can buy.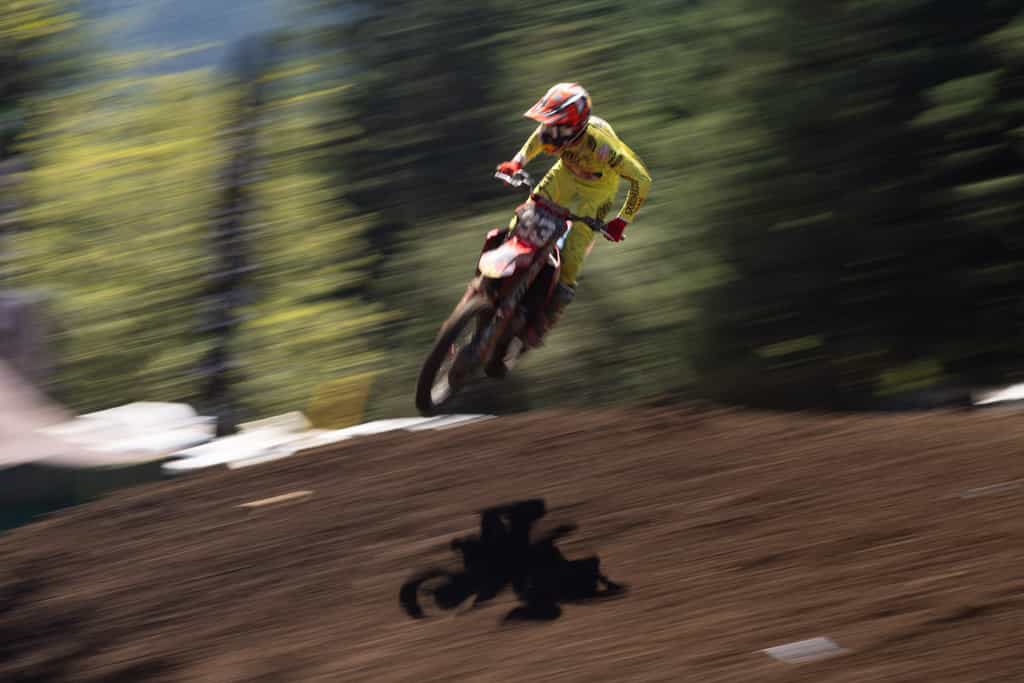 "Dirt bikes are great, but wind protection isn't one of their strong suits. Light helmets keep the fatigue to a minimum."
Our favorite dirt bike helmets weigh in below the three-pound mark, and no, that's not a typo. Achieving this milestone typically requires heavy use of carbon fiber, however, so be prepared to shell out some serious bucks if you want the lightest in the business.
There are plenty of great options out there using composite fiber blends for considerably less cash though, so don't think carbon is a must-have in this regard.
A solid fiberglass or even polycarb shell can still be impressively light if the rest of the helmet is thoughtfully designed, and we consider any dirt bike helmet under 3.5 pounds to be sufficiently "lightweight" for all-day use.
Ventilation
Last but not least, we have ventilation. Good airflow is a hallmark of any off-road lid worth having, and the best dirt bike helmets outclass even the most sophisticated street lids in this regard.
We chalk up part of that performance to the massive eyeports employed in dirt helmets, but you'll need much more than that to keep the sweat from pooling up in your lid.
At the time of this writing, Klim holds the record for the most vents total in a helmet with a whopping 26 openings in their flagship F5 helmet, but as a general rule of thumb, the more the merrier.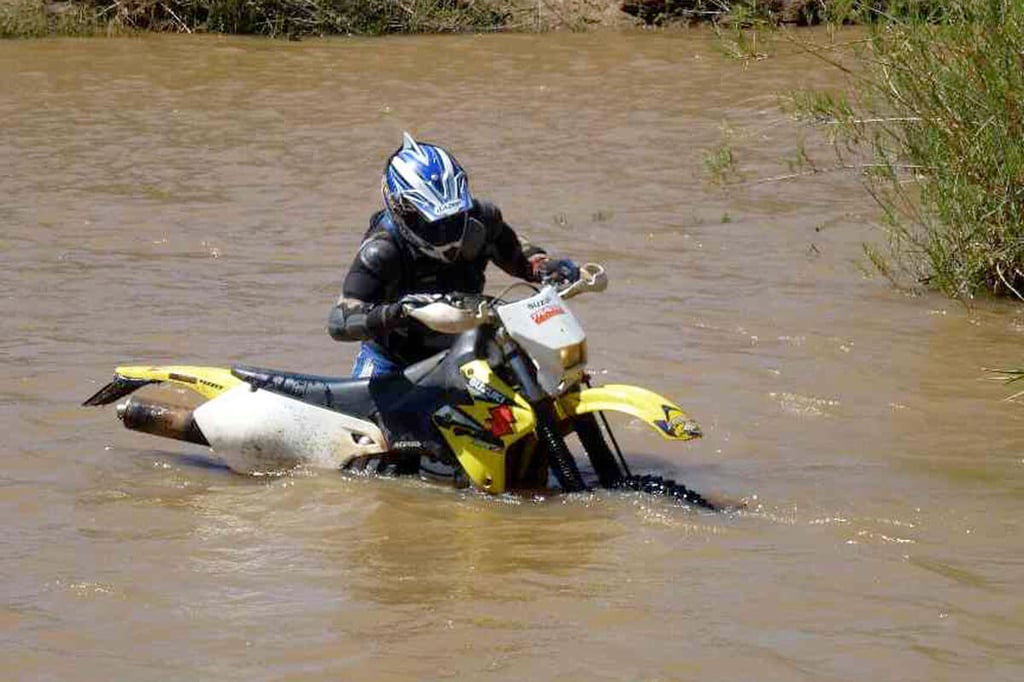 "Taking your dirtbike for a swim is a great way to cool down, but ventilation is nice to have when rivers aren't immediately available."
We will note that while most all dirt helmets include a healthy dose of large intake vents up front, you'll also want to be cognizant of the exhaust vent count/layout on your helmet of choice.
Exhaust vents are what give hot air and sweat a place to escape, any if your helmet doesn't include a functional exhaust layout, all the intakes in the world won't keep you from overheating.
Our Top Picks For Best Dirt Bike Helmets in 2023
Keeping the above features in mind, here are our 5 favorite picks out there today.
These are the dirtbike helmets we'd choose ourselves across the range of available price points, but they're all solid picks for any sort of off-road riding.
1. 6D ATR-2
If safety is your top priority, the 6D ATR-2 is arguably the best dirt bike helmet money can buy. 6D's proprietary ODS (omni-directional suspension) system is like nothing else on the market, and understanding how it works is key to understanding what makes 6D an industry leader in the field.
In a nutshell, ODS works by completely separating the outer shell of the helmet from the inner EPS layer using multiple elastic damping towers. These unique structures are capable of stretching in any direction for unmatched dissipation of impact and rotational forces alike.
What's even cooler is that should you happen to take a serious tumble on your dirtbike, 6D designed the ATR-2 to be completely rebuildable.
Simply ship the helmet back to them after a crash, and they'll completely replace the internals of the helmet, meaning you don't need to go out and buy a whole new lid after your first big hit.
We have zero complaints with the ATR-2: This helmet is super light, super safe, and essentially flawless in terms of fit and finish.
Truth be told the only downside here is the ATR-2's astounding $700+ asking price, but if you want the best for your brain, there's simply nothing else like it.
Pros:
Industry leading safety technology
Uncompromising material quality
Rebuildable after a crash
Cons: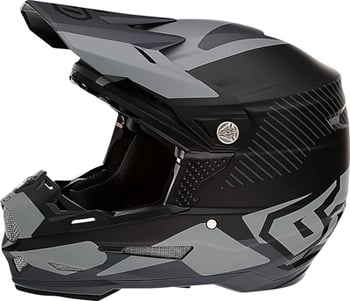 CHECK PRICE:
6D ATR-2

2. Shoei VFX-EVO
While we've long been fans of Shoei's outstanding Hornet ADV/dual sport helmet, riders looking for a pure dirt lid can expect the same level of performance and refinement from the VFX-EVO.
This is hands-down one of the best dirt bike helmets money can buy, which should come as no surprise coming from the folks at Shoei.
So what makes the VFX special? In a word, safety. The latest VFX-EVO carries Shoei's proprietary rotation abatement system called the M.E.D.S (Motion Energy Distribution System), which they claim reduces the transmission of rotational forces by a whopping 15%.
They've also included an emergency quick release system in the cheek pads for emergency medical personnel should things go sideways out on the track.
We'll also note that the VFX is one of the best dirt bike helmets out there in terms of fit. That's because Shoei splits their 6 available sizes (ranging from XS to 2XL) between four different shell sizes to ensure the helmet to padding ratio works for whatever shape noggin you happen to be working with.
This helmet is light, comfortable, and breathes extremely well, but our main complaint with it is that you'll have to cough up some serious coin for this level of refinement.
The solid colors alone run well over the $500 mark, but if you want to add graphics into the mix you'll have to add another $200 or so to the asking price, which seems a bit extreme to us...
Pros:
DOT and Snell safety certification
Four shell sizes for a custom tailored fit
Light, breathable, and damn good looking
Cons:
Expensive
Graphics are VERY expensive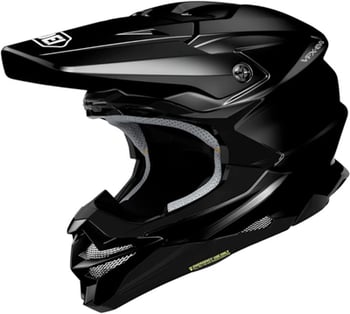 CHECK PRICE:
Shoei VFX EVO

3. Alpinestars Supertech M8
While Alpinestars' M10 is technically a better helmet than the Supertech M8, the only real difference between the two is that the M8 is made from a fiberglass composite shell rather a full carbon fiber layup. The total difference in weight, however, is only about 5 ounces, while the price difference between the two is well over $100.
For our money, we're going with the M8, as it's still an impressively light lid at just 3.1 pounds, and includes all the same tech and safety features that make the flagship M10 such a great helmet.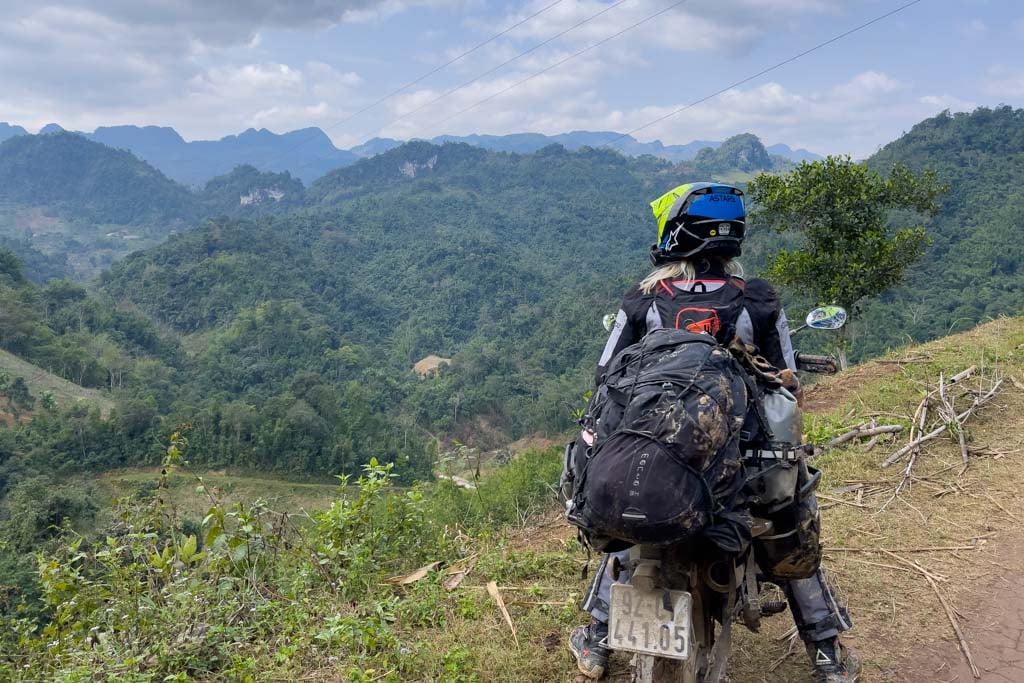 Chief among those is a massive amount of airlow from 16 separate intake vents, a second-generation MIPS liner to reduce rotational forces in a crash, and a specially designed base that's designed to aid in collarbone protection.
We'll also point out that the M8 gets the same innovative "A-Head" system as the M10, which allows you to custom tune how high or low the helmet sits on your head.
All that fancy tech combines to deliver a dirt bike helmet that's both DOT and ECE approved, and easily one of the most attractive offerings in the business.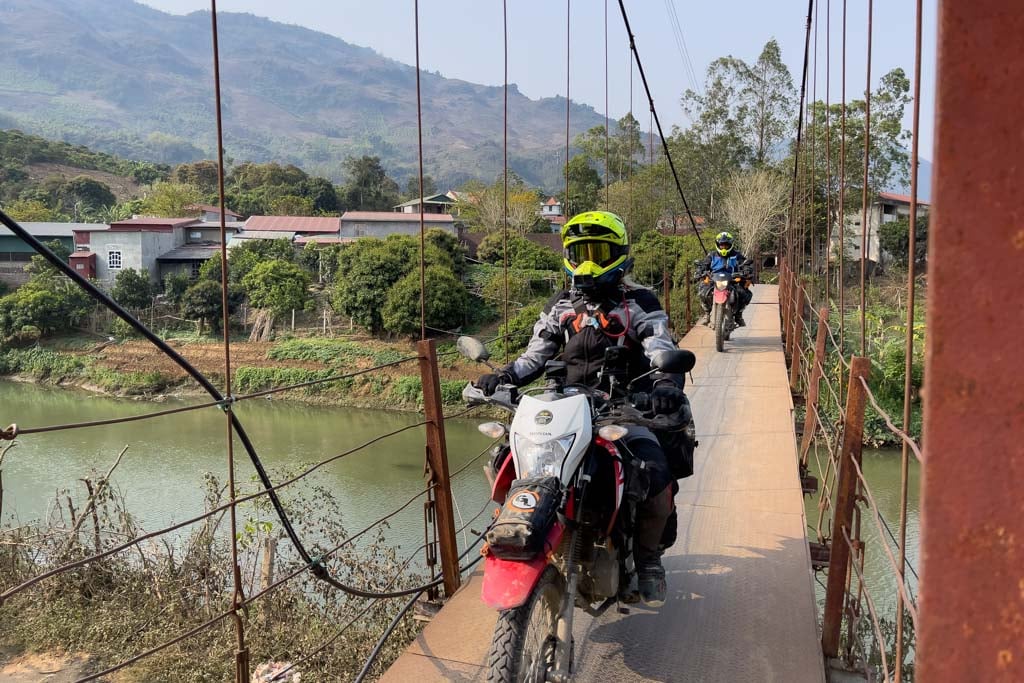 "Team riders testing out the Supertech M8 helmet on our Vietnam dual sport trip."
As far as drawbacks go, we only have two small gripes with the M8. The first is that the two vents at the top of the nose aren't backed with the same wire mesh as the rest of the helmet, which leaves room for dirt and debris and fly straight into the helmet.
Our other small complaint here is that there's no adjustability in the peak, although the aforementioned A-Head system achieves a similar outcome with a little extra effort.
Pros:
Flagship technology at a more affordable price
Outstanding safety features
Adjustable internal padding to fine-tune fit
Cons:
Slightly heavier than the all-carbon M10
Roost-prone at the top of the nose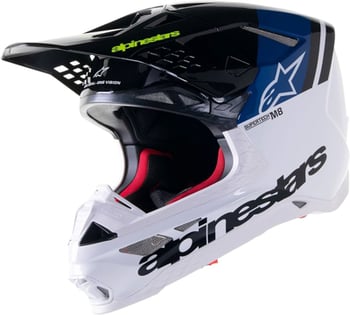 CHECK PRICE:
Alpinestars Supertech M8
4. Bell MX-9 Mips
If you've been following along with our blog or Youtube channel for the past few years, you'll know we're huge fans of the Bell MX-9 Adventure as our budget-friendly ADV helmet of choice. The same goes for the off-road only lid that the Adventure was based off, the Bell MX-9 Mips.
This is a damn good helmet for well under the $200 mark, a deal made even sweeter by the fact that the MX-9 is both DOT and ECE certified on the safety front. As the name suggests, it's also equipped with the first generation MIPS rotational protection liner, which adds serious value to an already affordable lid.
The MX-9 feels a bit spartan compared to the more premium helmets on our list, but its combination of outstanding airflow, quality construction, and safety make it a no-brainer from a bang-for-your-buck perspective.
We'll also note that the MX-9 weighs in a good 5 ounces less than Bell's flagship Moto-10 Spherical helmet, which makes it all-day comfortable on the track or trail.
Pros:
Outrageously affordable
Serious safety chops for the money
Lightweight and breathable
Cons:
Bare-bones feature set
Padding isn't as plush as more expensive options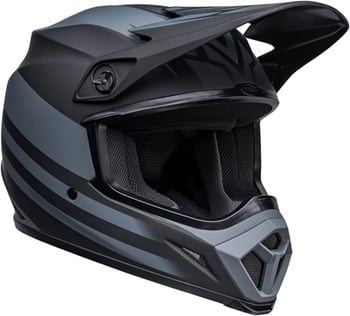 CHECK PRICE:
Bell MX-9 Mips
5. Klim F5 Koroyd
You know you can expect quality from the folks at Klim, and as their flagship dirtbike helmet, the F5 cuts no corners in terms of quality, technology, and protection. With an impressive ECE and DOT safety certification, this lid is as at home on the racetrack as it is pulling dual sport duty on pavement.
The first thing you'll notice when you slide the F5 on is its weight. This dirtbike helmet weighs in well under 3 pounds in a size large, which is pretty spectacular considering what lies beneath its full carbon shell.
Dual density EPS foam, Koroyd impact protection, and a MIPS liner all work in sync to deliver an incredibly safe and well designed helmet.
We'll also note that the K5's combination of Koroyd technology and a whopping 18 seperate air intake vents makes this the most well-ventilated helmet we've ever pulled over our heads.
As is often the case with flagship products, our only real complaint with the F5 is price, which has yet to drop below the $700 mark. If you want to experience the F5 for a bit less cash, you can also pick up a non-Koroyd equipped version for about $100 less, but you'll be adding about 6 ounces of weight into the mix as well.
Pros:
Insanely light
DOT & ECE certified
King of ventilation
Cons:
Expensive
Stiff competition at this price point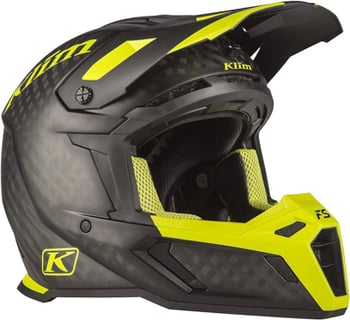 CHECK PRICE:
Klim F5 Koroyd

Closing Thoughts on the Best Dirt Bike Helmets…
We still remember the days when a dirt bike helmet was a fairly crude device, marked more by their uncomfortable padding and budget-built plastic shells than quality, comfort, or design.
Thankfully today's dirt lids rival the best street helmets on the market in terms of both comfort and safety, which seems like a no-brainer considering how much more common spills are when you're off pavement.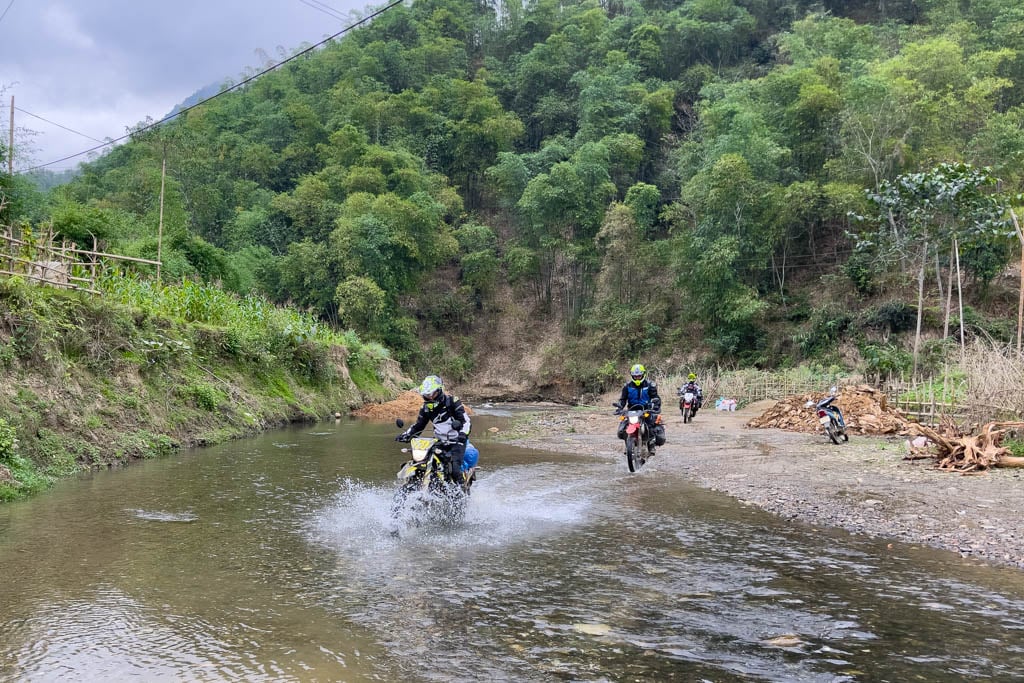 Our closing message here is to keep safety at the forefront when considering the best dirt bike helmet for your budget.
There's no shortage of manufacturers out there selling "good looking" dirt helmets for under $100, but just because a helmet looks the part doesn't mean it's the best way to avoid concussions or other head and neck injuries.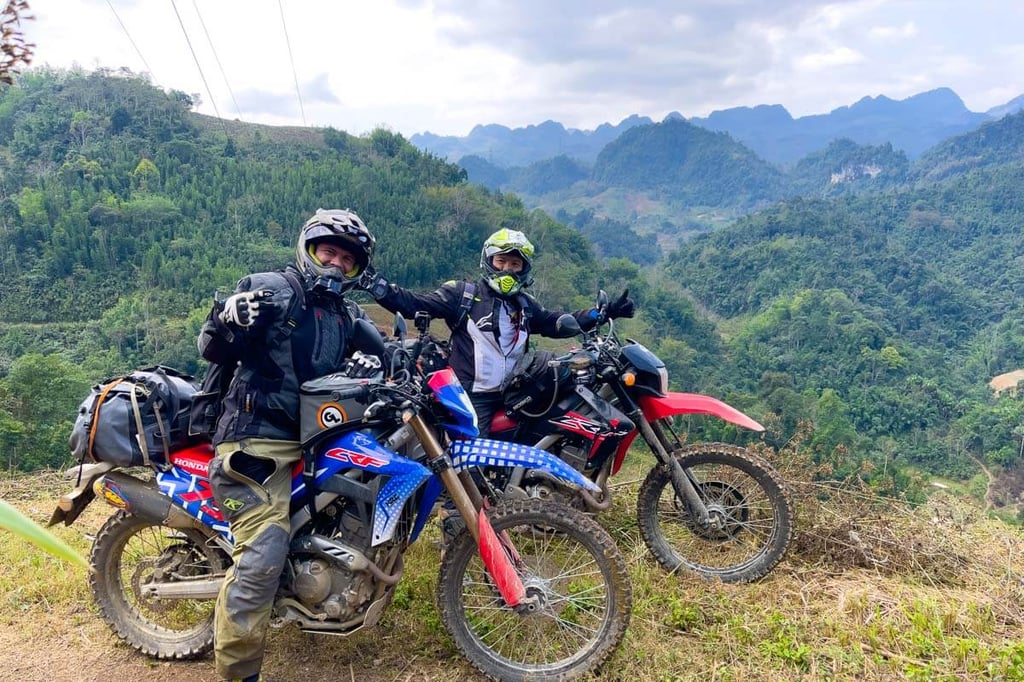 With proven options like the Bell MX9 coming in well under $200, we're of the opinion you can easily have your cake and eat it too in this regard.
Cool colors and a matching kit won't save your bacon when push comes to shove, and as any seasoned dirt bike rider will tell you, falling is just part of the process for pros and newcomers alike.
→Read More: 6 Best Dual Sport Helmets and The Shoei Hornet X2 Helmet Review.