Not going to lie here: The fact that people are choosing to "Ride the World" on Self-Guided Motorcycle Trips seem to be all the rage right now.
While we're very much still promoting our guided motorcycle tours, and there are definitely riders out there in the world who prefer having such ease of travel that comes with a guided tour, the overwhelming majority of our customers these days are opting for self-guided motorcycle rental packages and a "do it yourself" mindset. (See photo below of Ryan from South Africa. He and his riding friend, Andre decided to see Patagonia self-guided, and had such a great experience they're planning their next trip in the Andes Mountains already!)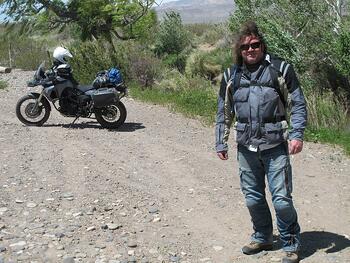 If you prefer to just ride solo or with your friends though, that's great, we're happy to help either way! Undoubtedly, there's something to be said about the "mystique" that comes with solo-type, unsupported motorcycle travel, right? What Charlie and Ewan did in "Long Way Round" almost a decade ago serves as a reminder to us about that pioneering feeling and exhileration that comes with throwing yourself, a motorcycle, and all caution into the wind. Well, Charlie and Ewan might not have exactly been unsupported (see my favorite mockumentary of this: Ewan & Thingy) but the spirit of adventure was captured in their voyage, and the same basic idea was forged: For some of us, the challenge is a large part of what makes an adventure.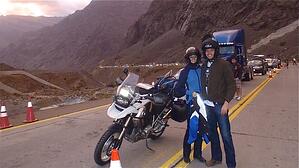 Please don't get me wrong, there's definitely still an advantage to our guided motorcycle tours, and we will continue to offer plenty of them If you're pressed for time though and just can't spare what it takes to research, plan, and execute a motorcycle trip, then a fully guided tour package is undoubtedly the way to go. Take for example our "Patagonia Experience" tour, which allows riders to simply show up in Chile, rent our motorcycles that are already there in Patagonia, and see the very best highlights available on their own schedule. The base guided tour price is $6,736 for this coming season with a BMW F650GS and shared hotel room with another rider. On the flipside, you ride the same route, see all the same mountains, lakes, rivers, and valleys with sites like Torres del Paine, the Perito Moreno Glacier and Mount Fitz Roy on your own for about half that price if you really want to! Just the bike rental with all necessary papers and one-way fees is only $1,880, so add your hotels or camping, food, flight, and fuel on top of that, and that's it. (Above, David and Juli from Texas agreed, their self-guided motorcycle trip in the Andes was the right way to do it!)
Again, I'm not trying to suggest that our guided motorcycle tours don't have their advantages. It's just that, the motorcycle guide, bike, hotels, food, fuel, salary, etc. plus the support truck drivers, hotel, truck usage, food, fuel, etc......that all adds up to quite an additional cost perhaps you'd like to do without. Benefits and conveniences? Definitely. Whether they are necessary or not though is up to you to decide, so we hope you'll Contact Us about what type of motorcycle travel you prefer in your mission to "Ride the World!"