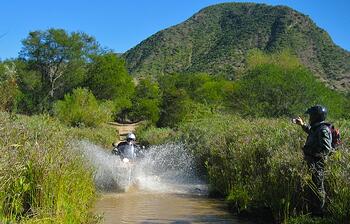 South Africa is an incredible and vibrant country that offers a premier traveling experience. For the motorcyclist, this experience is made even more rewarding by way of the journey. If you are looking for the best backdrop for your next adventure, here are five excellent reasons to explore South Africa on a motorcycle trip.

1. Rich in biodiversity
Despite South Africa covering less than one percent of the world's land surface, this country contains ten percent of all of the world's plant, fish, and bird species; in addition to including six percent of the world's known mammal and reptile species. Any ride taken throughout the winding roads of South Africa's bushveld and savannah regions will find a myriad of classic African species. For those especially eager to sight one of the famous Big Five's, the African elephant, Cape buffalo, lion, leopard and rhinoceros's, consider including a trip to Kruger National Park, a day's ride from Johannesburg. This park alone has herds of over 10,000 elephants, 20,000 buffaloes, and an estimated 2,000 lions. After a day spent capturing shots of these magnificent creatures, spend the night underneath the stars in a wilderness bush campsite, or bed down in comfort in one of the national park's more urban-minded, luxury lodges.
2. Modern delights
Of course you want an adventure, to see a side of Africa that is still wild and untamed. South Africa can boast the best of that, while also ensuring that no matter what road you take, you will always be a day away from first world infrastructure and modern amenities. Spend a day, a weekend, or even a week, meandering the streets of Cape Town. This beautiful harbor town is a collage of western influence with five star lodging and artisan shops lining the boulevards, while the streets are packed with friendly vendors hawking delicious African treats. From here to Johannesburg, all of South Africa's larger cities contain the entertainment, services, structures, and restaurants you might expect to find in any major European or American city.
Additionally, a huge South Africa selling point, especially for the motorcyclist eager to create his or her own tour, is the lack of a language barrier. There are eleven official languages in South Africa, and one of the most widely spoken of these is English. While this may seem like a footnote point, the effect is huge. Whether you want to stop off at a fishing wharf bar to have a chat with the locals, or order a new dish in a traditional African restaurant, if you speak English what could be a communication nightmare becomes an enjoyable and hassle-free experience. You will already have so many new sights, sounds, and tastes to experience, familiarizing yourself with a new language can be a burden to an otherwise delightful excursion.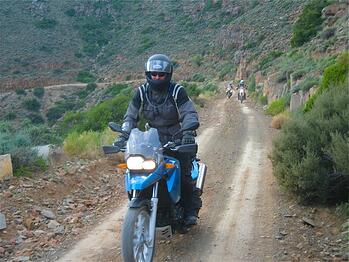 3. Ideal climate
Nothing can ruin a motorcycle tour faster than the onslaught of sudden and relentless rainfall. While she does have her rainy season, overall South Africa is considered a very sunny country, with most regions averaging over 300 days of sunshine per year. The Western Cape, where Cape Town and the Cape Peninsula is located, has a distinctive Mediterranean climate with hot, dry summers followed by more milder, albeit wet, winters. The country's interior is the most temperate, while the northeastern regions, where Kruger national Park and the economic capital Johannesburg are located, have sun-soaked, hazy summers. The most subtropical climate is found in the northeast region, home of South Africa's more exotic wildlife, with mild winters featuring cool mornings followed by warm and sunny afternoons.
This overall sunny and inviting climate is great for motorcyclists. Another great point not to be overlooked is South Africa's position in the southern hemisphere, where these seasons are reversed from the United States and Europe. Once the rain and sleet of the northern hemisphere's frigid autumn and winter months become intolerable, it becomes the perfect time to enjoy South Africa's dry winding roads beneath a warm summer sun.

4. Stunning landscapes
Few places in the world offer as many stunning landscapes in as constrained an area as South Africa. This is a country full of deserts, savannahs, mountains, valleys, and unparalleled beaches. Take the Baviaanskloof road along the Eastern Cape Province and experience the rugged beauty of Grootriver Gorge's sandstone cliffs, enjoy expansive views of the countryside atop the grassland plateau. Or, choose to meander along roads bordering the over 1,553 miles of Atlantic and Indian Ocean coastlines. If you enjoy winding mountain switchbacks and challenging morning hikes, head to the Drakensberg Mountains. This arresting mountain range defines the border between South Africa and the mountain kingdom of Lesotho.

5. Vibrant culture
South Africa has often been referred to as 'the rainbow nation', and with just cause. Its 11 official languages and inclusion of a diverse group of people and histories have forged together to create a unique and vibrant culture. On the streets of Cape Town you will find dishes covered with delicious Indian curries next to storefronts stocked full of racks lined with Dutch-perfected slow-cured bitlong. Across the country, fresh scones are served on plates brimming with tea, while street vendors peddle traditional hand-made African wood-carvings, paintings, and art. And, everywhere there is dancing performed beside local folk musicians.
If you are looking for a traditional African experience, take the road to Shakaland. Shakaland is a traditional Zulu homestead that pulsates with the dancing rhythm of assegaii-wielding warriors. Here, you can pay a visit to the African shaman or spiritualist known as a sangoma. Sangomas are a rich part of the South African cultural fabric with over 80 percent of the population visiting a sangoma more than three times every year.
Whether you are looking for a trip full of traditional African experiences or shots of varied landscapes and wildlife, a motorcycle tour through South Africa affords you the freedom to see it all. Why be trapped in a tour bus, when you can have the coastal Atlantic gusts on your face? By contacting RIDE Adventures you can have the best of motorcycle experiences, without the hassle of shipping your bike. Here, we provide you with a motorcycle to either create your own South African adventure, or to ride alongside an experienced local guide who will show you the best this multifaceted country has to offer.