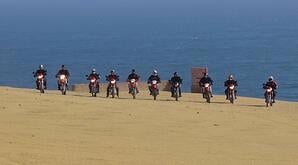 When people speak of traveling to Peru, their sights are generally focused on visiting the epic ruins of Machu Picchu. However, this exquisite South American country is ripe with many other opportunities and unique adventures; especially for those wandering by motorcycle and its afforded freedom. Whether you are traveling to Peru for the first time, or planning your fifth holiday retreat, consider this time making the exciting route up the Peruvian southern coast.
If you start at the southern end of Peru and head northbound on the Panamerican Sur highway, you will find yourself riding through an unrivaled stretch of exquisite desert scenery, until you reach the quaint port of Puerto Inca. This hidden beach resort was once an important coastal harbor of Inca Cuesco nobles.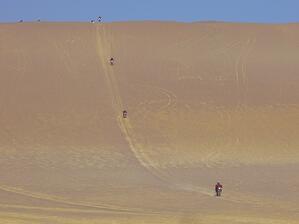 If you need a beverage and an escape from the southern sun, take a side trip into one of the Ica region's many wineries. This part of Peru is world known for its superb grapes, out of which they distil wine and pisco, a strong, amber colored liquor similar to tequila.
From here it's a short ride back to the coastline. The best time to do so is just before sunset, when the wind sculpted sand dunes are set alight and your surrounding landscape is afire with their golden yellows and rusty reds. Continue your ride across the blacktop onto Paracas, a gorgeous harbor town originally built up as a retreat for the wealthy Limenos. Rest your head at either at one of the more luxury beach-lined bungalows, or choose to camp beneath the stars on the bay's beautiful shoreline.
For those interested in Peru's interesting wildlife, spend some time exploring the nearby Paracas National Reserve. This unique ecological zone is abundant with an array of marine life including squid, whale, octopus, shark, marlin, and so much more. While dolphins can be seen frolicking in the surf, small desert foxes can be seen wandering through trumpeting harems of sea lions. For more wildlife, take a boat trip to the nearby Ballestas Islands. These islands are often compared to the Galapagos Islands. Their rocky beaches team with a flapping array of pelicans, terns, boobies, penguins, and Guanay cormorants.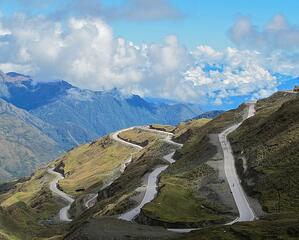 As you continue along the northbound route, take a quick inland jaunt on highway 24 and follow the raging Canete River into the picturesque Lunahuana Valley. Here, the motorcyclist will enjoy curvy riverside roads that are bordered by sweeping dry mountains. The green river valley will eventually open to the pleasant Lunahuana. This laid-back small town is rarely visited by foreign visitors, seeing instead a regular adventurous crowd from nearby metropolitan Lima. Off of your motorcycle, attractions include whitewater rafting, trout fishing, and great mountain treks into the towering, so-called foothills of the Andes.
When you are finally ready to leave the serenity of Peru's back country, from here it is a short ride to the beautiful capital of Lima. For those eager to experience this southern coast on their own,
just contact RIDE Adventures!
We will provide you with your own motorcycle, no need to ship your own. Peru's expansive landscapes offer you an unforgettable journey, it is up to you to choose which road to take.