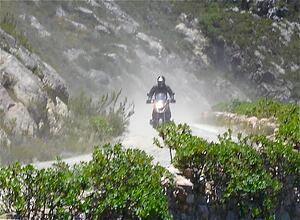 The best way to experience the uniqueness of South Africa is by the power of two wheels. This unforgettable country has all of the necessary ingredients - favorable climate, quality roads, expansive scenery - the traveling motorcyclist could want. For a trip complete with urban flair, sublime deserts, mountains, and rocky coastlines, take an extended holiday with one of our South Africa motorcycle rental options and travel the famed Garden Route.

Consider beginning your tour just north of Johannesburg in the capital city of Pretoria. From here, it's a delightful ride through the Orange Countryside and down into the Kingdom of Lesotho. Upon Lesotho's border crossing, make your way towards Katze Dam along some of the country's most exciting roads. Here, for 80km you will experience sharp curves with steep gradients and little to no traffic. A motorcycle riders' dream.

Next, ride through the Golden Gate National Park on winding roads bordered by sandstone cliffs and populated by antelope herds and screeching vervet monkeys. The park opens up to a day's ride through the Drankensberg mountains and onto South Africa's Indian Ocean coastline.
The coastal town of Knysna marks the official beginning of the world famous Garden Route. From Krysna to Oudtshooorn, this route includes plenty of mountains twists; its pavement sandwiched between the Outeniqua and Tsitsikamma Mountain ranges. The Garden Route gets its name from the verdant and ecologically diverse vegetation and wildlife. Almost 300 unique species of birds can be found chattering in the tress lining this unique roadway. In addition to mountains, the adventure motorcyclist will traverse through indigenous forests, along rugged coastlines, and pass hidden lagoons and bays where the endangered Southern Right Whale comes to calve. Just before Oudtshoorn, crawl the extensive system of underground tunnels and chambers at the Cango Caves.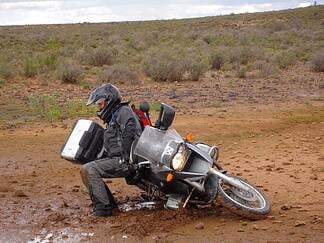 Oudtshoorn marks the official end of the Garden Tour, but motorcycle riders can continue on the winding Route 62 and onto Cape Agulhas, considered the southernmost tip of Africa. This road tears through the Swatberg Mountains and its picturesque valleys. Finish your tour with a ride to Cape Town, South Africa's Mother City. This farewell leg is often considered one of the country's most scenic highways. Here, twisting roads have been cut into the sea cliffs, so that on one side the rider is bordered by towering limestone and on the other the road drops into the crashing waves of the Atlantic Ocean.

This extended Garden Route passes through much of South Africa's most precious gems. Following this ride, you will have experienced the country's prolific wildlife, expansive landscapes, and inviting culture. For those interested in creating an unforgettable adventure, contact RIDE Adventures! We eliminate the hassle of traveling with a motorcycle by providing you with one of our own. Choose a locally guided tour, or create your own unique South African adventure with these motorcycle rental options.
*Please note: As you see publicity from RIDE Adventures, it often looks like we are always trying to promote the guided tour offerings in all these countries. In fact, only about 1 out of every 10 of our customers takes a guided tour, and the remaining 9 of you are just enjoying self-guided motorcycle trips. Whatever it is you like, we're here to make it happen for you!