Tourists from around the world travel to Cusco for the sole purpose of visiting the famed Machu Picchu, a renowned architectural site recently designated as one of the New 7 Wonders of the World. While a visit to these Incan ruins is great, the region around Cusco offers a great variety of geography that is ideal for any adventurer wanting a more unique and memorable
Peru motorcycle trip
that goes beyond the more traditional tourism opportunities.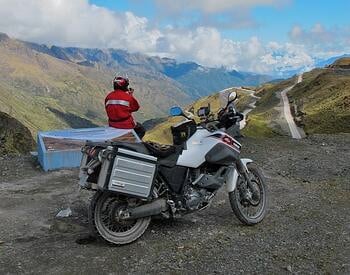 Cusco, a name that translates to "navel of the earth," was once the ancient capital of the Incas. Today, the city is considered Peru's leading tourist hub. Many people believe the city's ancient planners designed Cusco's layout to resemble the puma, one of their culture's most sacred animals. If so, head north from Cucso to visit what would be the city's ferocious head: the ruins of Sacsayhuaman. This walled complex once served as a military fortress and is lauded for having been the command center for ancient royalty and military elite.
From Sacsayhuaman, it is an exciting descent ride, you will be dropping about 600 meters in elevation, to the colorful village of Pisac. Along the way, consider stopping by Puca Pucara, another walled ruin, and Tombomacahy, an ancient bath that was once used as a purifying location for Inca royalty. Pisac boasts of the country's most diversified open air markets. Here, merchants come from across the country to sell their local food, handicrafts, and regional Alpaca wool clothing. On market days, it is as if every block opens and the whole city transforms into one massive, bustling market. Once you have stocked up for your travels, take the northeast road through the eastern portion of the Sacred Valley of the Incas and make way for the Lares Hot Springs.
Upon reaching one of the Sacred Valley's bordering towns, Calca, you will take a steep paved road high into the Andes. At about 4,000 meters above sea level there will be a quick respite before the motorcyclist is prompted to journey down a packed dirt road along a thrilling descent to the Lares Hot Springs.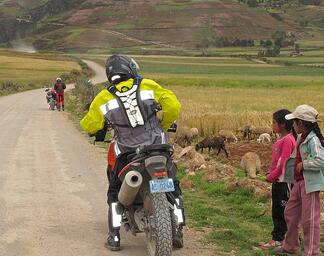 This Lares route traverses the spectacular Peruvian Andean mountain region. Along your way, you will glimpse an insider peak on what life in rural Peru is like. Thatched stone houses surrounded by alpaca and llama herds litter the sprawling valleys. The road itself is used primarily by public transport buses and sees little traffic, freeing up the motorcyclist to enjoy tight hairpin turns and uninterrupted mountainside views.
Upon reaching Lares, enjoy a much-earned reprieve in one, or all, of the six pools of the Lares Hot Springs park. These pools are set next to a raging set of rapids and offer spectacular views of the surrounding countryside.
From Lares, you will continue on some of Peru's most exciting and scenic back roads as you make your way towards Quillabamba, the City of the Eternal Summer. The journey begins with a challenging descent from the mountain highlands and into what the locals call the "jungle's eyebrow," where the land is a mixture of mountains and jungle. This region is rich with an abundance of wildlife and fauna. You will pass by waterfalls and natural fruit orchards where chattering birds flit around the canopies.
These back Peruvian roads offer a one-of-a-kind perspective of the region's beauty that is rarely enjoyed at its fullest. Most tourists choose to travel on crowded buses with limited stops and impeded views and routes. Choosing to traverse instead by motorcycle opens up a rich experience unavailable any other way.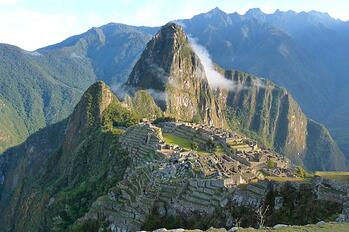 Unfortunately, or fortunately as the case can often be made, there are no roads leading directly to Machu Picchu. From Quillabama, enjoy a near 50 km route down hard packed dirt roads and through another portion of this region's jungle's eyebrow before reaching the more accessible town of Santa Teresa. Santa Teresa offers motorcycle and gear storage for travelers wishing to board the train to Aguas Callientas, Machu Piccu's trail head.
Set between two mountains, Machu Picchu offers an extraordinary glimpse into an ancient culture. The remarkably well hidden architectural wonder was not discovered until 1911 and remains largely well preserved to this day. The climb to the top of this mystical city is currently limited to 400 people and can be grueling, but the payoff is dramatic views and stunning Inca architectural ruins of the like that can be found no where else.
Once you have finished your tour of this amazing site, enjoy your the final leg of your backwoods Inca tour with an exciting day's ride back to Cusco. This motorcycle adventure includes a steep climb along winding roads before descending into the Sacred Valley of the Incas and onto Cusco.
With RIDE Adventurers and our local partners, the freedom of travel is up to you. We agree that for motorcyclist enthusiasts the best way to visit any country is under the power of two wheels. Of course, finding a way to do so with your own motorcycle can be strenuous and is often found to be too much of hassle. Which is why our company and our partners offer our guests access to our bikes for a
Peru motorcycle trip
at their pace and terms, or to opt for one of our highly rated guided tour along some of the best motorcycle routes Peru has to offer.