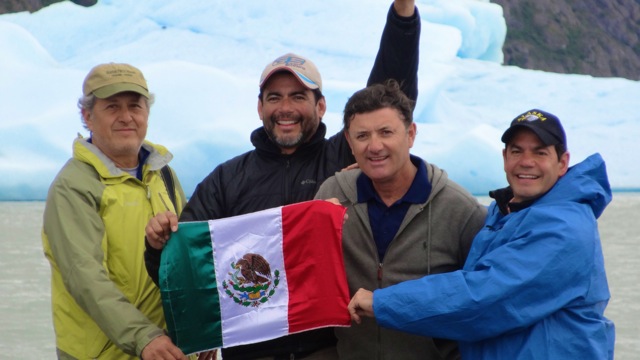 It's with great pleasure I can say we finished our February 17th private group tour of Patagonia on the BMW motorcycles with success! This trip was a request by a group of riding buddies from Mexico, who first contacted RIDE Adventures back in September 2013.
As we're always reminding folks, September is pretty late in the year to still get bikes and hotels together for peak-season Patagonia (which is October through March.) However, through some hard work by those supporting RIDE Adventures and our trusted partners in Patagonia, we pulled everything together for a great adventure ride. (Mario, Gustavo, Sigifredo, and Juan Carlos, 3 of the 8 Riders at Lago Grey above in Torres del Paine National Park.)
In particular, we had incredible luck on this trip with the weather! Whereas many riders in Patagonia had been reporting harsh rains earlier in the season, 16 Days we spent from Osorno to Ushuaia, and then back to Punta Arenas only came with a few minor showers here and there. Even the wind, which can often be over 100kph, never became a huge factor on this trip.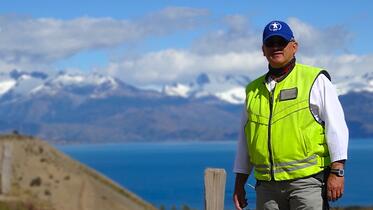 On the final night of the tour, I always like to toss the question about "which is the best motorcycle trip you've ever done?" Not trying to over-pump Patagonia, or speak too highly about our services here at RIDE Adventures, but the consensus once again was that this trip beats them all. (And this time it was from a group of guys who had done plenty of other trips.) In fact, talks are already underway for a few guys to return with friends and family members to do it all again. (To the right, Salvador "El Oso" enjoys the snow-capped Andes Mountains surrounding Lago General Carrera.)
RIDE Adventures is always supporting motorcycle travelers, whether they're looking for a full-service guided tour experience, or a "self-guided" trip where they just rent the motorcycles from us. There are benefits to both options of course, the latter saving some money overall. But the guided tours like the one we just finished sure do come with their advantages. When there's a flat tire, Thomas (support truck driver) and myself have it all fixed in 7-30 minutes, depending on if it's a tubed or tubeless tire. The customers just sit there and enjoy a snack while we work away. Likewise, we had a pretty serious crash with one rider, who did break his leg. Unfortunate as that is, with our satellite phone and local knowledge, we had an ambulance on the site within an hour (in a very remote region near Futaleufu) and the rider was taken care of swiftly and in comfort.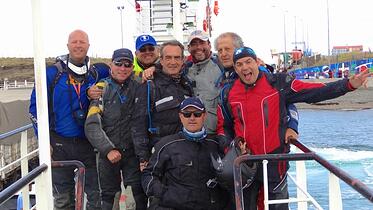 So, there are advantages to these guided/supported tours for sure! I always wish these tours didn't cost so much, so that more people could enjoy them. Once you take a look at the cost of everything down here in Patagonia (hotels, food, BMW's, trucks, etc.) it becomes quite clear why the pricing is as such.
More news and stories about that trip, soon. Still getting ready for the next trip, which starts tomorrow morning! You can see upcoming dates for this Patagonia trip on this link, and let us know when you're going to enjoy this incredible landscape personally.