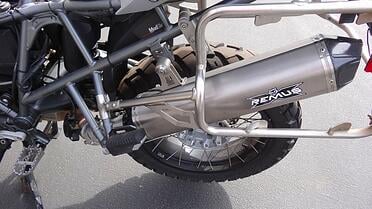 A situation developed on our "Patagonia, Tierra del Fuego & Ushuaia!" tour in February such that I needed the original muffler on my 2012 BMW R1200GS Adventure taken off the bike and sent down to us in Chile for use on another bike in the fleet.
Instead of replacing the stock muffler with another over-priced, heavy BMW original, I opted for the Remus Hexacone Slip On pipe from Max Moto in California. While shopping around online for my options, my muffler selection was made with 3 key goals in mind:
Weight Reduction - Whereas the original BMW muffler weighs 5.04 kg (11.11 pounds) the Remus Hexacone Titanium Slip On comes in at only 2.38 kg (5.25 pounds.) That's more than a 50% weight reduction for something that costs basically the same as the original from BMW! I know, a few kilograms on a bike that weighs so much shouldn't be a big deal, but as with many things, "every little bit counts." As a motorcycle riders, we know that just a few kilograms can make a world of difference, whether it be on the track or during an evasive move in a dangerous traffic situation. I'm not going to sit here and brag about how I can feel the difference in the weight, but just knowing that the bike now weighs less is satisfying enough.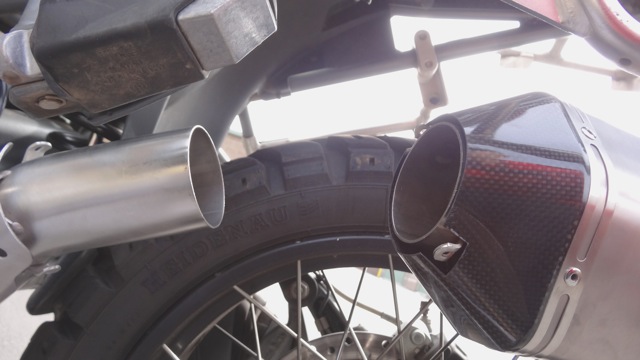 Similar, But "Sweeter" Sound While I love the roar of a finely tuned engine as much as rider, BMW's boxer engines are not known for having the growl that KTM's LC8's or other V-Twins boast. It's just a matter of degrees of separation between ignition that will forever have the boxer engines sounding fairly "golf cart-ish," as the muffler sends noise-cancelling pulses back toward the exhaust ports. While I wasn't expecting nor did I aspire to make my Beemer sound like a badass bike, the Remus Hexacone has added a nice "crackle" to my ride that serves as a good reminder of the considerable power and fun active beneath me. (Photo Right: The Remus Hexacone for the R1200GS literally just "slips" on in minutes with no gaskets, compounds or anything other than a few tools needed. You'll need to swap the original mounting bracket to the one the comes with the Hexacone, but other than that, it's a simple farkling process that anyone can handle.)
Aesthetics Upgrade - While at it, why not spark-up the looks of the bike a bit, right? Remus has made a sharp looking muffler in my opinion, and I much prefer the way it looks now vs. previously. Not that the original chrome pipe from BMW was bad looking, but in comparison...well, there is no comparison. With a snazzy titanium finish, a carbon fiber tip out the back, and the Remus logo, it further moves my BMW from "ordinary" to being a slick looking adventure bike.
As mentioned, the Remus Hexacone slipped on easily, taking about 25 minutes total after I had deliberately read the instructions, checked the clearance, and tightened everything. The result? I'm very happy with my selection, Max Moto was easy to deal with and punctual with regards to the shipping needs, and here's what the Remus Hexacone Titanium Slip On sounds like now on my bike!