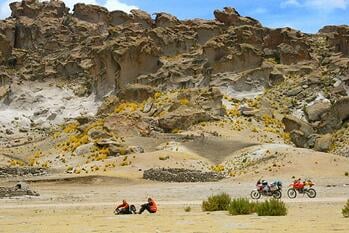 It was just a matter of time until the right connections were made and research was done. Folks, we're happy to announce that we now have motorcycle rentals & motorcycle touring options in Bolivia!
I'll never forget the first time I rode through Bolivia, as I swore it was the most gorgeous country in the world (as difficult as such a declaration may be.) In fact, some time after my first visit, I declared on my personal blog that the route from Uyuni to Potosi is one of the 3 greatest 1-day rides I had ever seen, and that remains my opinion to this day. Now entirely paved, that route is more like a half-day ride, but that route is absolutely stunning to ride.
So back to the new service offerings! It took a while to get a confirmed plan for Bolivia, as the laws surrounding rentals, border crossings, and everything else are somewhat complicated. Instead of getting into that though, let's just say "we've made it easy for you" through local contracts that you don't have to worry about. This means you can now book: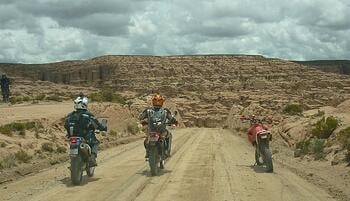 Motorcycle Rentals in Bolivia - Don't even think about shipping your motorcycle to Bolivia, as the complications of doing so will have most sensible riders cancelling their trip plans altogether out of pure frustration. (Not to mention the risk involved with shipping your motorcycle, and one such example shown on this link.)
Instead of shipping your motorcycle, use the Suzuki DR 650 and BMW F800GS Rentals that we offer now, based in the city of Cochabamba (CBB airport.) Just let us know your start/finish dates, which bike you want, and after the reservation process we'll have the motorcycle of your choice ready for when you arrive. Part of the service is making sure you know where you're going and offering some suggested routes. Bolivia is one very large country and there's lots to see, but we'll show you the absolute highlights!
The "Top 7 Highlights of Bolivia" - If you prefer the convenience of having guides translate for you, show the route, inform you of otherwise unnoticed discoveries, and just be there for riding companionship, a guided group tour like the Top 7 Highlights of Bolivia tour will be an excellent choice. That really is a primary difference to consider when choosing between a guided or self-guided motorcycle trip. These guided experience are just SO much easier to carry out, as we've already made the hotel reservations, we know where to go, and what to do when situations arise with 1 or 2 guides there supporting the group the entire way. Sure, a guided trip usually costs about 25% more by the time you're done, but it's just such a convenience that many riders shouldn't pass up on. (Not to mention, we tend to meet new people and often make great lifelong riding friends after traveling in groups like this.)
Custom & Private Group Bolivia Tours - Keep in mind, we'd be happy to host your private group and design the perfect custom tour that includes exactly the type of adventure riding you wish! It starts with a conversation and letting us know things like how many motorcycle riders you will have, which bikes you want to ride, any specific scenic points you want to experience, the duration of your trip, etc. Please keep in mind that private groups can be as small as 1 rider, or up to as many as you wish. The thing is, the more riders you have, the less expensive it is per person as the common costs of running the tour are spread across more people. (Common costs like the guides, support trucks, salaries, etc. have to be divided.)
Whether you want to focus on riding up in the "high and dry" plains region, focus on highlights like the "Road of Death" (the World's Most Dangerous stretch of road) or get down into the jungle where a winter riding getaway sure is more comfortable, your motorcycle trip in Bolivia starts with a conversation! Just use this form to Contact Us and let us know what your wish is. The more information you provide, the more precisely we can help you plan the exact riding adventure you've been craving. I guarantee you'll be amazed at the experience of riding in Bolivia!