As the original handlebar position on my latest bike just isn't tall enough for me, I've installed yet another pair of what I call a "no brainer" in the motorcycle parts & accessories world: Handlebar risers by Rox Speed FX.
This is the 3rd motorcycle I've installed Rox's risers on, and I'm sure it won't be the last, as they continue to make a truly versatile, high-quality, and dare I say "snazzy" looking pair of risers. In this case, on my 2014 KTM 690 Enduro R, I'm trying their new 2" Pivoting Anti-Vibe Bar risers for the first time.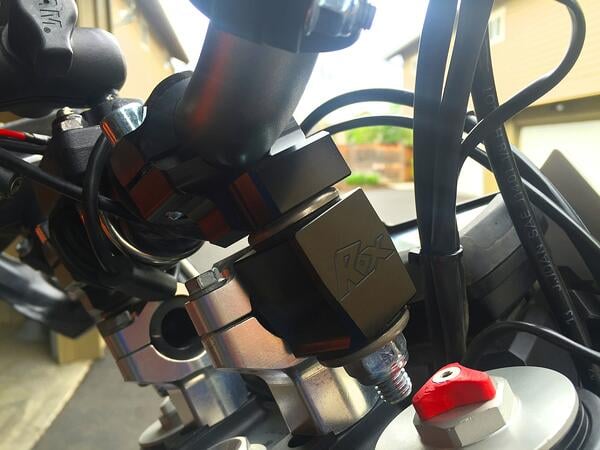 For those unfamiliar with Rox's risers, take a closer look at the 1st picture and you'll see how they're utilizing the original handlebar mounts to attach the risers, thereby moving the handlebars up into a 2nd set of clamps that are part of the risers themselves. This is such a great design because it allows you 2 pivot points instead of 1, making it easy to really custom fit the handlebars to exactly where you want them. All the "fore and aft" movement combines with bar rotation to put your handlebars in the perfect position.
What's more is that Rox now offers these "Anti-Vibration" risers, where as you can see if you look closely above, rubber spacers are built into the risers themselves. Using the large nut on the bottom, I can adjust the amount of pressure on those rubber blocks and either make the handlebars feel really soft and cushy, or tighten them up for a firmer feel. Bottom line is, it reduces the vibrations felt through a mono-cylinder engine like this, as well as any bumps and rocks I'm riding on. As these hands have seen so many thousands of miles in the past 7 years, any relief from the rigors of the road is much appreciated.
Installation: When installing almost any handlebar risers, cable/tube/wire length is something to consider, as you're essentially "going up" and away from their destination on the motorcycle. The cables/wires on this 2014 KTM 690 Enduro R were a little tight to just install a 2" riser straight away, but after a little searching around on the bike I found a couple of key points to gain some "relief."
-First, just under the front of the seat, a simple zip-tie was holding wires unnecessarily, such that I could remove just what I needed to from the cluster and create some slack in the 2 points shown below. (This helped the cluster going to the right hand controls.)
-Second, the clutch hose was tied together in this cluster of wiring on the left side of the bike, such that it was having to run some extra distance on the way up to the handlebar instead of going in more of a straight line. By removing the clutch hose from that cluster, it gave that little extra-slack that I needed to make sure I could turn the handlebars from lock to lock without putting too much tension on anything. As the hose was essentially resting up against the valve cover to begin with, simply letting it slide around more to the left side like this has meant no harm to the hose itself. In fact, it might be staying cooler now that it's not wadded up amongst the cluster.
If you're "going up" with your handlebars, no matter what motorcycle you're riding, give the Rox risers a close look, as I'm betting you'll find them to be your best option. (Especially when compared to simple "block" type risers that don't allow you such customization.) Again though, we don't sell these products we're reviewing, so this is just a sincere review to show you the best!