In January 2010, we found time to break away from the office work and head north from Santiago to Canela Baja, Chile and catch some of the Dakar Rally action! A couple of tents, cameras, and a bunch of anticipation were all on board and ready to see the Dakar pilots close-up.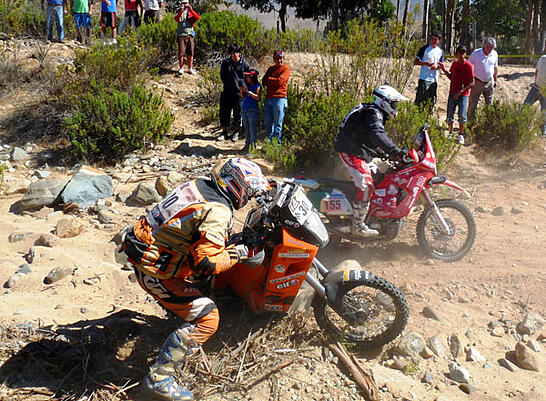 The original plan was to camp on a private beach we had access to, and then make it to the public viewing point for the "special" on Tuesday. Having learned that the road to Canela Baja would be shut down and all access stopped at 8am on Tuesday morning, the decision was made to camp right there, just 50 meters from where we´d be seeing the first riders come through early in the morning. Anybody planning on a motorcycle rental to follow the action will have to be careful about the "hours of access" at different points.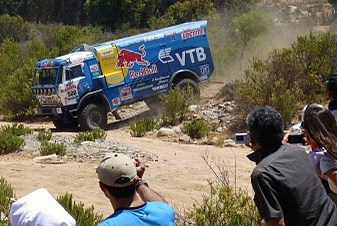 And that´s how it all started. At about 9am, still eating the "camper´s breakfast" the first Rally Bike came tearing through with that thunderous four-stroke sound. Followed by the eventual winner Cyril Despres and Francisco "Chaleco" Lopez, (the crowd favorite and native-Chilean) it sure is exciting to see the pros charging across the landscape!
Some of these pictures show how we can stand right there as these riders battle through the deep sand, rocks, and what at this point was their 12th day of riding since departure from Buenos Aires January 1st. It´s amazing to think they´re riding 17 days total this year, and the average day's ride is around 700 kilometers (usually around 500 of those being in the sand and rocks.)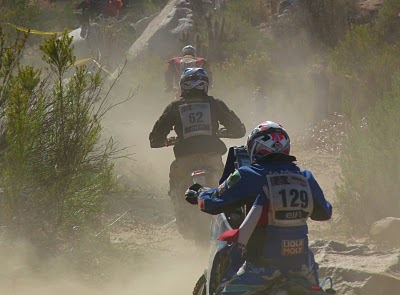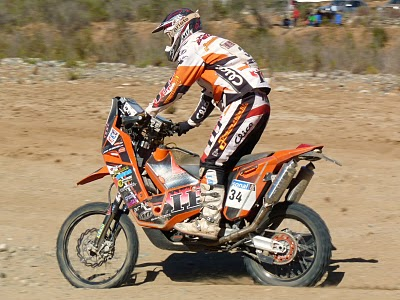 The Dakar Rally sure has brought excitement to Chile. With citizens that tend to think of themselves as "the forgotten" country in the world, an event so major as the Dakar sure has brought new life and attention to South America. It has been confirmed that the Rally will return again in January 2011 for it's 3rd consecutive year in South America. Want to come and see the action this time? Be sure to contact us about motorcycle rentals or tours allowing you to chase the Dakar Rally!