Travel enough by motorcycle, and you´re sure to meet other riders. It´s just something that happens naturally, be it because of our similar interests, curiosity about either other´s bikes, or the occasional need for help or advice.
Amongst the riders we meet, you´re bound to find a few that shipped their motorcycle internationally and now have either the most "unbelievable" or most "unfortunate" story to tell you. It goes something like this:
"Fourteen months! Fourteen months of planning went into this adventure I´ve been dreaming about for years. I researched every shipping company, customs agency, and read all the government websites. I saved up 2 years worth of vacation time so I could spend an entire month riding, NOT TO MENTION finally getting permission from my wife to leave for that amount of time. Sure enough, when I landed in (Lima, Santiago, Buenos Aires, Johannesburg, Milan) my motorcycle was there, but I spent the first week of my dream adventure in the customs offices before they would let me take my bike out!"
It happens, folks. Not just because the customs agents make mistakes; sometimes the owners of the motorcycle make the mistakes, too. There are stories of shipping companies mis-directing cargo, thefts of motorcycles while they´re waiting, damage to motorcycles while in transit, and crooked customs officials on ego-trips taking advantage of tourists that often don´t speak the local language.
On a trip in Patagonia early in 2010, we had the chance to meet Ryan Martin from Nelson, B.C., Canada who shares a similar story about how his adventure started: "After months of planning our motorcycle trip, we traveled to Lima to Peru to pick up our bikes out of the shipping warehouse only to discover that we would have to spend 9 full days there due to customs bureaucracy and a couple of errors. Needless to say, it ended up costing a lot of money and valuable time from our trip." (See picture below of Ryan and his riding partner waiting outside the Lima customs offices with their badges on, CLEARLY enjoying their time there instead of being out and riding their BMW´s.)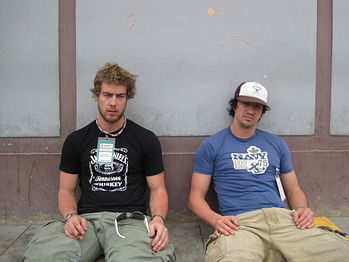 For people traveling a full year, 9 wasted days might not be such a tragedy. But if your dream of riding through Machu Picchu, Iguazu Falls, the Atacama Desert & Patagonia all the way to Ushuaia needs to be carried out in a compressed span of precious vacation time, imagine what losing 9 days might mean!
Our point in writing this post is basically what Ryan was suggesting: "You might be better off renting a motorcycle instead of shipping yours internationally."
This is exactly why RIDE Adventures exists. There are many motorcycle and ATV rental locations around the world that not only help you avoid issues with shipping your own motorcycle, but also help you avoid the extra mileage, wear-and-tear, and other issues that come to our motorcycles every time we ride. HOWEVER, not every rental center around the world is reputable, responsible, or trustworthy. So again, that is part of what RIDE Adventures offers: The opportunity to make your reservation with an American company that, through relationships and proven experiences arranges your motorcycle tours and rentals only with trusted, reliable companies around the world.
(One more picture of Ryan and Isaac, finally out in the Atacama Desert after such a long battle in the Peruvian customs offices.)