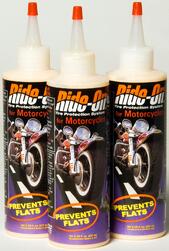 Continuing to write reviews on great motorcycle products I've discovered, in this case it's the Tire Protection System made by Ride-On®.
Following some minor damage to the front wheel of my KTM, I'd been having some issues getting it to balance properly. Just as claimed by Ride-On®, their product balanced it again perfectly!
I first learned about Ride-On® when I visited with Alex Plewniak the Dealer Expo in Indianapolis. Other similar products have been on the market for years, but Ride-On® distinguishes itself by offering these benefits:
Tire Sealing in the event of a puncture
Extended tire life
Elimination of road vibrations
Balancing of the tire & wheel
As mentioned, I've confirmed that balancing claim as being very accurate. After taking the wheel weights off my front rim and using Ride-On®, the bike immediately rode as if it were brand new again. Quite a relief to not have to buy a new front rim to fix this issue I'd been having (a major cost avoided!)
This product certainly could play a role in keeping motorcycle riders safe as well, in that it should prevent sudden loss of tire pressure in the event of a puncture. Rare as it may be, thoughts of a front tire blowout in particular should have all motorcycle riders seeking protection in anyway possible.
I'll be adding Ride-On® to my rear tire now as well, and following this blog post with more information when I actually have a puncture to test the sealing feature. (Watch some of their videos on www.ride-on.com, and I think you'll agree the sealing feature makes sense and should work.)
Easy to install and potentially bringing you multiple benefits, this product might be falling under that "must have" category. RIDE Adventures will be working with our motorcycle touring and renting partners to ensure the bike you could end up riding has this product installed!
(Below, Alex Plewniak was showing the differences between Ride-On® products and other makers of tire sealants. Anyone that reads up or watches the videos on this product will definitely understand why I'm recommending this one.)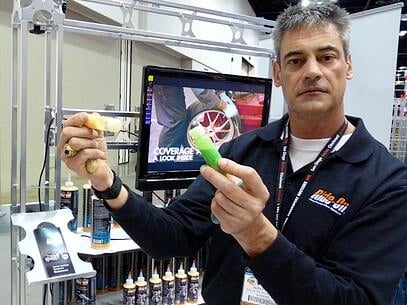 WHAT TO READ NEXT: Did you know that we offer 4x4 adventure travel packages? As a recent addition, you can now bring your non-riding friends and family along for these amazing expeditions to South America! Or, stick with two wheels and learn more about the motorcycle tours we offer around the world!