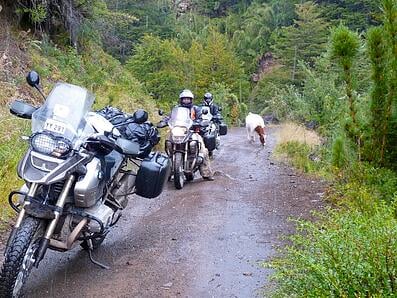 What are motorcycle tours and the terrain like in Patagonia?
Another video about motorcycle riding in Patagonia has been posted on YouTube, as the question seems to be coming up frequently: "What's it like riding in Patagonia?"
First, it's important to point out that photos, videos, and explanations of the experience simply cannot do it justice. As is the case with many destinations around the world, travelers tend to agree, "You need to see it to believe it."
The terrain we ride on can vary quite a bit, as dirt, gravel, rock, sand, mud, and of course pavement are all part of the typical day in the area. Very little of typical motorcycle tours are done on what could be considered "single track" or enduro/dual sport kind of trails; instead we stay on legal roads and highways. That is changing though, as more requests are coming in from riders who want to get off the "tourist trail" and just play in the dirt. (Not that the tourist trail has that much traffic in such a remote territory!) Important to note here is that custom motorcycle tours can be arranged for your private group, ensuring that your group's favorite type of riding is what we concentrate on.
Especially if you'll be riding both sides of the Andes Mountains (Patagonia stretches Argentina and Chile) riders can plan on fighting a combination of rain and/or stiff winds at some point. The air coming off the Pacific Ocean combines with the mountains and elevation to make for a wide range of climate possibilities. Temperature changes, sudden wind gusts, rain blasts, and even mid-summer snowfall (far enough south) are all possible…but sure do add to the fun!
In general, and no matter which type of terrain you happen to be on, Patagonia is an experience that people absolutely love. In fact, many of the most experienced world motorcycle travelers will still refer back to Patagonia as being the most perfect place to ride. Such variety…such remoteness…such beauty…it's such a perfect place.
Be sure to check out the video below for some helmet camera footage through various motorcycle tours in Patagonia. This doesn't even show the famous sites like Torres del Paine, Mt. Fitz Roy, or The Perito Moreno Glacier, but rest assured, those only make your adventure ride there more fantastic!