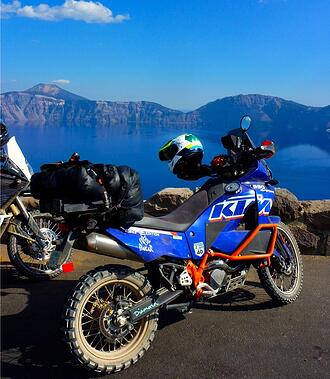 In late 2011, a
motorcycle tour through Patagonia
gave us the chance to meet Dave Diamond along with a great crew of other riders. This 18-day tour through the Andes Mountains of Chile and Argentina actually sparked new interest in dual sport riding for Dave, and he returned to Los Angeles and bought a new KTM 990 Adventure Dakar Special Edition to compliment his existing Ducati 998s. Dave rode the BMW F800GS in Patagonia, but for a handful of reasons, opted for the Orange option after doing his research.
After putting on the "dream farkle package" of skidplates, laser-etched custom levers, carbon fiber protectors, custom wheels from Woody's Wheel Works, and a shopping cart full of other goodies, Dave quickly dove into the subject of "MORE POWER" with the KTM, and has achieved over 12 horsepower gains through some basic steps outlined here:
The Bike: 2011 KTM 990 Adventure Dakar Special Edition
Location: Los Angeles, California
Altitude: 300 feet (important for power readings, right?)
1) Dave and his technician installed the FMF Q4 Titanium Exhaust (lightening up his bike by about 16 pounds!)
At that point, the dynamometer measured his KTM at 78.7 hp at the rear wheel and 50.6 ft/lbs of torque at 8000 rpm. (Important to remember: Most manufacturers brag about horsepower by measuring at the crankshaft of the engine, not the wheel, where it really matters most. KTM's marketing of the Dakar model was suggesting 115 horsepower, which if true, would undoubtedly be a measurement taken at the uninhibited crankshaft.)
2) Dave and his technician installed the DynoJet Power Commander 5 Fuel Injection Module
3) They downloaded the "factory" fuel mapping recommended to go with the Power Commander 5
This initial mapping showed the fuel mixture to be too lean under "initial heavy loads," (i.e. pinning the throttle and pounding through the gears.) So to power up those initial heavy load strokes, they richened the mixture a bit on those early RPM's.
RESULT: 91.1 hp and 57.6 ft/lbs at 7800 rpms - that's 12.4 horsepower or about a 15% gain in power on an already very powerful bike!
Dynamometer tests confirmed what KTM 990 Adventure owners already know: The most rapid increase in power happens between 4000 and 6600 rpms, where the power continues to increase, only at a more gradual rate.
So in summary: That already potent KTM 990 Adventure has room to become even more ferocious if you're willing to sink the money into it. For those of us who simply don't think that "too much power" is possible when it comes to motorcycles, we hope this report helps you make some shopping plans for your bike!