The BMW F800GS vs. KTM 990 Adventure: Which bike is better?
Following the success of our previous blog comparison of the KTM 990 Adventure vs. the BMW R1200GS, it only seems natural that we now share our un-biased opinion on how the reputable KTM stacks up against one of BMW's more recent designs: The F800GS.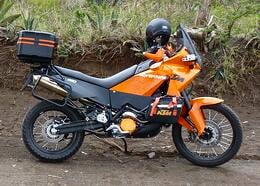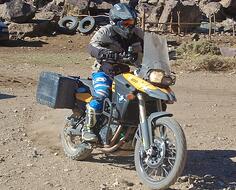 Introduced as the model year 2008, BMW's F800GS quickly gained popularity in the adventure-touring world as a lighter, more "athletic" option for BMW R1200GS enthusiasts. How does it stack up against the rival KTM though?
Overall Feel & Character
BMW F800GS – Smooth, tall, athletic…sounds like a James Bond 007 character, eh? That's how it is though, as the F800GS rises above many adventure-touring bikes in terms of agility and ability to conquer a variety of terrain. On pavement it'll feel sticky and "flickable" through the curves while giving you the option to turn down almost any dirt road or trail you come upon.
While the F800GS feels like a great bike for the most part, many riders have noted a strange shaking that occurs at highway speeds, even on smooth pavement. Although difficult to diagnose at first, this shaking, which feels like a bent front wheel or brake rotor, is actually wind hitting their shoulders in syncopation. It doesn't happen to everyone, but depending on how the original windscreen works with your body type and riding position, an upgrade or addition might best serve you.
FREE GUIDE
One other characteristic some riders find strange is the combination of a rear fuel tank (that sits basically under the seat) and the 21" front wheel and 17" rear. Exactly how this feels is difficult to put into text, but for the sake of simplicity: Let's just say it might feel a bit awkward at first. As fuel is used and you near the empty point, the slight feeling of "tail heaviness" naturally disappears. Fully fueled with sidecases and luggage strapped on though, this bike can definitely feel strangely balanced.
KTM 990 Adventure – As if the reigns of an Arabian horse are in your hands, the tall, athletic, and powerful machine beneath you just begs to be ridden…and ridden hard. Maybe it's the dashboard of this Dakar Rally-inspired bike that screams "ACTION" so clearly, or the fact that over 100 horsepower are at your command. Either way, the 990 Adventure's stature is comfortable on long days, and poised for aggressive riding when the need arises.
The KTM will feel stauncher than the F800GS, because it is. (Dry weights are 392 lbs. for the F800GS, and 460lbs for the KTM 990 Adventure.) This might be a something to consider for those who are already pushing their leg-limits aboard bikes with identical unladen seat heights of 88cm/34.6 inches.) Either way though, few riders find complaints about the way the KTM rides, and it's a die-hard bike that never seems to complain about being ridden.
The Engine
BMW F800GS – With smooth power delivery from the bottom on up, the parallel-twin 798cc power plant seems a perfect match for the rest of the bike. Using a joint system on the crankshaft instead of traditional counterbalancing systems, the engineering team designed one of the most vibration-free twin cylinder engines in the world today, even smoother than BMW's own parallel-twin boxer engines. With 85 fuel-injected horsepower, this should be more power than any rider ever needs.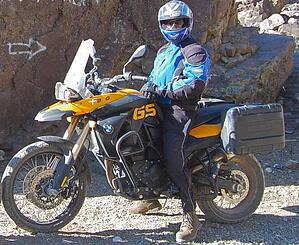 KTM 990 Adventure – When this bike was still the "950 Adventure" from 2003 to 2006, topped with two carburetors and minor internal differences, it wasn't the smooth power source that it is today. The 990 LC8 engine has also improved power delivery in the low revs, while it forcefully twists up to 9500 rpms and over 100hp at the crankshaft. (For tips on how to increase those numbers further, see our post about "Horsepower Gains on the KTM 990.") While it's plenty smooth and comfortable to command, the LC8 engine also offers a throaty growl and moderate pulsing that some riders prefer over the comparatively docile sounding F800GS.
In the Twisties and Turns
BMW F800GS – Bikes this tall with such suspension travel (9 inches/230mm front & 8.5 inches, 215mm rear) are generally not expected to dazzle us in the turns. Given what it is though, the F800GS will impress even sport bike riders as it flips from one side to the other on pavement, and it's 21-inch front wheel allows for similar east of guidance in the dirt.
KTM 990 Adventure – A bit "stiffer" feeling and hesitant to fold over around turns, the KTM will remind you that it was originally designed to be barreling through the desert at 90+ mph. Still, the bike offers agility from left to right, both in the dirt and on the pavement. Compare it to a GSXR 600 on the turns, and you'll be disappointed. Compare it to a Harley or Goldwing anywhere…and the KTM will feel like it was built for the track!
Wheels/Rims
BMW F800GS – As minor a subject as this might sound like, there's actually a major problem with the BMW: The wheels are a major disappointment. It's not uncommon for customers on our Patagonia, Bolivia, and other motorcycle tours, to sustain damage to the front wheel of the F800GS. Granted, we see some tough terrain, potholes, rocks, and ridges and can either swap out the wheel during the tour, or just ride with a minor dent no problem. But the pace we ride at on motorcycle tours is generally quite conservative, and shouldn't be causing such problems on an otherwise well built motorcycle. (BMW: Stop soaking up parts sales opportunities!)
KTM 990 Adventure – Set up with tough wheels from the start that work well on pavement or over obstacles, the KTM's shoes seem to match up with the rest of the outfit just perfectly. This combination of a 21" front and 18" rear seems to balance a bit better than the BMW's 21/17 combo, as your connection to the terrain below feels equal, secure, and dependable.

Brakes

BMW F800GS – With ABS automatically installed and functioning when you start the bike, some riders will quickly be turning it off for reasons of over-sensitivity. Seems that even slight bouncing of the front end over bumps on pavement will send that ABS-pulsing through to the front brake lever, making you wonder if you would have stopped faster without the ABS on.

The F800GS also comes equipped with floating discs (as many bikes do) but these seem to have a bit more "float" than other bikes. Expect to hear these discs knocking around in their float-space when you're riding off-road. Not a big deal…but most of us prefer engine noise to clanging brake sounds.
The KTM – There's nothing wrong with the KTM's brakes, and they're more than you need to stop quickly and safely. Both bikes come equipped with ABS these days, which statistically is improving motorcycle safety everywhere. If we had to declare a winner in this category, it's KTM because of the flaws in the BMW mentioned above.
Transmission & Shifting
The BMW – Overall feeling and ease of use here is similar to the KTM's fantastic six-speed transmission, and maybe the only glitch you'll find is trouble downshifting while at speed. A little "metering" of the clutch lever while kicking the shifter might be necessary sometimes to send the bike down through it's gears. Since you're unlikely to be racing this bike, this shouldn't matter so much…but it's still a factor that keeps it from being a great transmission.
The KTM – The KTM's transmission is for all intents and purposes, "flawless." With all the reliability we could ask for it seems as though just thinking about shifting is what it takes to do exactly that. Even while riding with full motocross boots, sitting or standing, KTM's wet-clutch transmission is as easy to ride as any we've ever tested.
Suspension
BMW F800GS – In our opinion, BMW got the suspension right here in terms of the F800GS's 9 inches/230mm front & 8.5 inches/215mm of travel rear offering. Other manufacturers that are trying to claim "adventure riding capability" have limited suspension travel so much that your "adventure" won't be on anything more than a smooth gravel road. (Which is okay, but some riders want more challenging terrain!)
The BMW's suspension sets up pretty well for most riders, but a lack of adjustability on the forks might have some riders concerned, as the original offering from BMW is quite soft, and street oriented. Standard pre-load and rebound adjustments in the rear allow you to work with your cargo situation a bit, but how this matches up with the forks might be an issue for aggressive riders on off road terrain.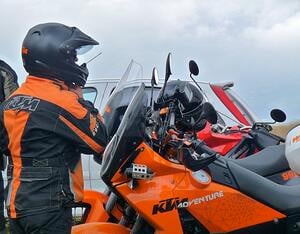 The KTM - The 990 Adventure's WP suspension sits atop 21/18-inch wheels that help the KTM roll over rough terrain in search of more. Actually coming up a little short of the F800GS at 210mm of travel front & rear, an almost identical amount of ground clearance makes rocks and obstacles a pleasure to glide over. With compression, preload and rebound adjustment options built in both front and rear, you can tune this bike to your liking and really make an off-road warrior out of it.
Clubs & Community
The BMW – An important part of motorcycle ownership is the connections you make with other people and experiences that stem from riding with them. BMW is the reigning king here with a wide range of clubs, group rides, and rallies worldwide. Bring along the BMW's Owner's Anonymous Book that helps us contact other owners in countries around the world, and you'll never feel alone in the case of a breakdown.
The KTM – While KTM ownership doesn't include as many club & networking opportunities, riders will still find themselves automatically connected to the wide world of racing. The undisputed king of enduro and rally racing across the globe, other KTM riders will instantly lend a hand to their non-racing friends donning orange.
Overall dependability
BMW F800GS – At the time of this posting, there are still some unanswered questions about why F800GS engines are quitting while riders are riding. Some speculation points to the voltage regulator, and the fact that it might be overheating, starving the fuel pump of voltage, and thereby shutting the engine down. Others are just saying it's fuel quality - or lack thereof. BMW has a great history of making very dependable machines, so let's hope they get this straightened out soon.
The KTM – Still a top-quality motorcycle across the setup, the only major issue we routinely hear about are the fuel pumps, especially in situations where the octane and quality are low. Previous reports from older models about the water pump seal failing seem to be fixed with updated parts from KTM, so as long as you take care of this bike, there's no saying how many miles you'll enjoy with it.
WHICH IS THE BETTER BIKE?
If you read to this point, you might be expecting an answer about which better, the BMW F800 GS or the KTM 990 Adventure?
Unlike our comparison of the R1200GS and the 990 Adventure, these bikes are much more similar in terms of how they ride and the type of riding they should be used for. It would seem that the short list of flaws on the BMW is just a little bit longer than on the KTM's at this point, but there's other factors we didn't address here like cost, availability, parts network, (3 categories where BMW would undoubtedly win.) But these are things you'll have to figure for yourself, based on your riding plans and buying market.
The hope is that you've enjoyed this post and find value in what we've pointed out. Both the KTM 990 Adventure and BMW F800GS are great bikes, so it's just a matter of finding the right one for your body type, riding style, travel plans, etc. Always keep in mind that your best means of test riding one of these bikes might be on one of our motorcycle tours or motorcycle rentals, so be sure to contact RIDE Adventures about reserving your next amazing adventure!