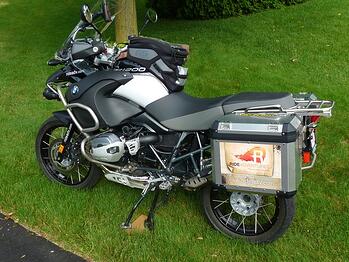 Anyone following our Facebook and Twitter feeds noticed that RIDE Adventures bought a new company vehicle recently!
Before there were even 200 miles on the new BMW R1200GS Adventure though, the oil cooler that sits below the headlights was already damaged by what must have been either a rock, or one very heavy bug. Not so bad that the oil cooler core was leaking, but those delicate fins were damaged badly enough to remind that the cooler needs to be properly protected.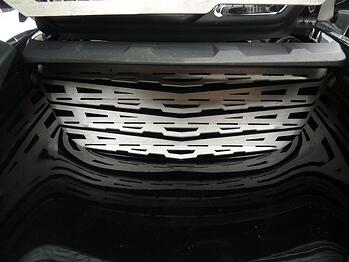 Having seen other designs of oil cooler protectors that didn't make a lot of sense (like ones that rest up against the very fins they're supposed to protect,) finding a piece that both protects and still lets air flow well was the goal. As it turns out, AltRider's oil cool guard not only lets air flow while protecting against damage, but it was easy to install and looks great, too! From an airflow standpoint, AltRider's guard is smartly designed with its protection protuding away from the cooler, instead of flush up against it.

At the same time, AltRider's Headlight Guard Kit was installed, and it was very easy to take the turn signals off the BMW and slide this great protection piece into place. Well built from stainless steel, maybe the best feature here is that you can quickly pop off the screen itself for cleaning or whatever the need. Wait...the best feature is that you no longer have to worry about cracking your headlight when one of your riding buddies roosts you!!!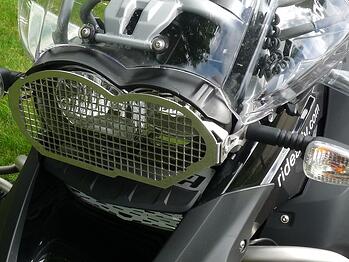 These are great accessories that are starting to be used on some of the fleet BMW's we use on our motorcycle tours in South America. Check out www.altrider.com to see their list of other offerings for your bike.