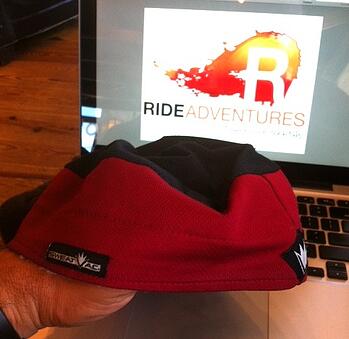 Your dual sport motorcycle helmet is probably going to stink eventually, which of course is considered "proof of adventure" for some.
It's not that big of a project, removing the padding and either hand or machine washing the helmet liner pieces. But why not spend $20 and maybe never have to do that again?
A year ago, I bought another brand new Shoei Hornet dual sport helmet, and at the same time, purchased SweatVac's Ventilator Cap to use as a helmet liner, and neither does my helmet stink yet, nor have I had to wash it! Keep in mind please, I ride a ton. That's 12 months, about 6 different countries, and probably 45,000 miles in temperatures ranging from 20 to 105 Fahrenheit. And I sweat like a chased pig.
Since I'm bald (half by choice, half by nature) I'm guessing that much of the helmet stink I used to endure came from dead skin embedding directly into the helmet's liner. Without hair there to act as a barrier, a helmet's liner I would assume is constantly exfoliating skin particles, which then sit there and rot in a humid situation.
Whether you're bald like me or donning a lion's mane like Fabio, the suggestion is that anyone could benefit fom this simple little item. I actually feel a bit cooler, as if it's wicking away moisture and keeping me cooler instead having all that perspiration acting as another heat trapping aspect. Warmer when I want it to be, and cooler in the heat.....maybe the best $20 a rider can spend!
WHAT TO READ NEXT: Learn more about packing and planning with this motorcycle tour checklist.