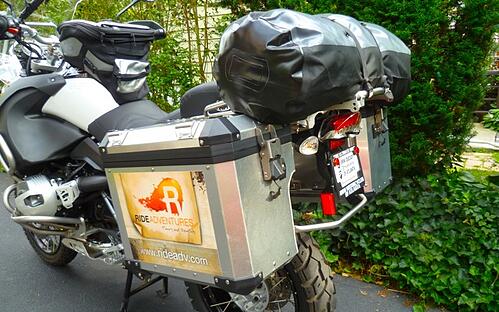 How should you pack? With a topcase or a waterproof bag strapped across the back?
Each rider might have his or her own preference, but in this writer's opinion, topcases are a thing of the past. Consider these points when you're prepping for your next motorcycle trip:
As with Ortleib's Dry Bag PS 490 shown here, this smaller 35 Liter option could have easily been a 109 liter bag as well. The beauty of the larger bag of course is that you simply cinch-down the any excess size you don't need, so buy one that's plenty big.
If your riding adventure will include any off-road terrain, a topcase might have the tendency to loosen up or actually pop off due to the constant shaking and bouncing. Their high position on a bike leaves their connecting points vulnerable to high stress levels, so are you sure your topcase will stay put?
Whereas most topcases are 35-45 Liters in size, that might not be enough storage space and you'll end up needing to add something like the Ortleib Dry Bag on the back of the seat anyway. The problem with this is, you'll be running out of space for anything else. Will you have a passenger? Or do you wear a hydration system like a Camelbak? Try to fit all this behind you and you'll see how tight things get.
A waterproof bag like the Ortleib can be locked, too! Get a simple cable lock with a key, and you've added about the same amount of security as a hard topcase offers. In either situation, any good thief will merely be slowed down by these locks.
Please refer to our How to Pack for Your Motorcycle Trip video series on YouTube, and hopefully this information will help you prepare for your next great international motorcycle rental!