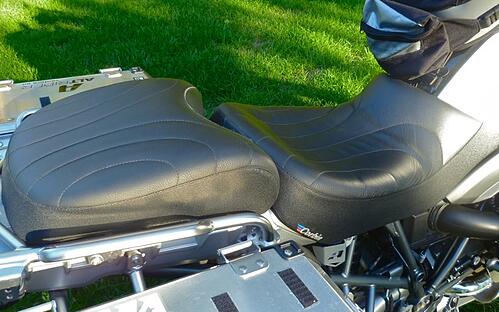 BMW made a pretty good bike in the R1200GS and GS Adventure, right?
If you're like most owners though, you've noticed the shortcomings on the R1200GS's, and one of those is the original seat the BMW gave us. Anyone that's ridden more than a couple of hours at a time on the BMW seat can probably relate.
Fortunately, the good folks at Corbin Motorcycle Seats have been making a better option for over 40 years now, and such is certainly true with their offering for the R1200GS. Easy to slip on in place of your original seat, far more rugged and durable, and incredibly comfortable compared to the BMW original seat, here's the breakdown:
Corbin Pro's
Firmer, wider, and therefore more comfortable - Have you ever felt the saddle of a competitive long distance bicycle rider? Those saddles certainly aren't "wide," but they're surprisingly firm (in some cases, merely a sheet of formed carbon fiber.) Instead of relying on all the soft tissues in your body to support your weight, use the pelvic framework more like we were meant to. This can be a strange adjustment the first couple of rides, but the eventual result with long distance riding is absolutely fantastic.
Connect with and Feel Your Bike - The Corbin saddle creates a feeling of being "connected" to your bike more. BMW tried impressing us with this "facade of comfort" and super-plush foam that feels so welcoming in the showroom. In this rider's opinion though, the painful pressure points BMW left us with don't respond as well as the Corbin to body position changes or offer the best feedback to riding situations.
Customize Your Bike - Corbin let's you choose from a list of possible color/material combinations to customize your bike. Care to stick with the original look, or spice things up a little?
Comfort in the Cold - Add the option of an electronically heated seat for those cold riding days, and both you and your passenger will be glad you upgraded.
Corbin Con's (and a bit of humor)

Forfeit your excuse that "I'm too sore from riding" when your significant other asks you to cut the lawn after a day ride
Spend more money on fuel now, because you're covering more distance on each ride
Probably wear out your motorcycle sooner than you would have with the BMW original seat (cause now you can stand to ride for more than 2 hours at a time)
Greatly reduce your chances of a modeling career with Preparation H®
Seriously, there aren't really any Con's! Think about it from a motorcycle safety standpoint, too: If you're tired and awkwardly wiggling on your seat trying to regain comfort, are you focused on the road or ready to react? Start ordering your Corbin Seat for the BMW R1200GS or GS Adventure, and prepare to laugh at yourself for not doing so sooner. You'll love this seat so much, you'll want to take it along on your next motorcycle tour with us! (Which you're more than welcome to do.)