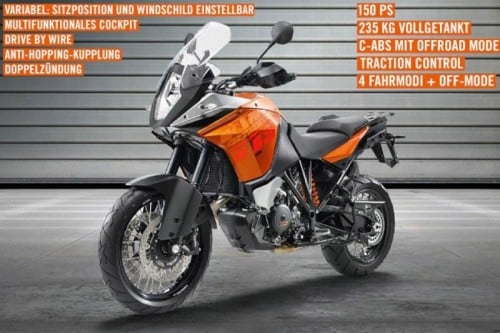 (Photos courtesy of motorcycle.com and ktm.com/se)
The Adventure Motorcycle world is trembling with anticipation right now about the new 2013 KTM Adventure 1190. Finally, we get to see what the Austrian motorcycle giant has given us in their latest orange whip-some-butt machine!
As details about this new motorcycle come out, there are some points of interest that might revitalize KTM's stance in the Adventure Bike market after almost a decade with the previous 950/990 cc models:
First and foremost, we'll have 150 horsepower between our knees? As if the previous models weren't ferocious enough, KTM has decided to put an end to the discussion about power in the Adventure Bike category.
Weight: Still only 230kg/518lbs with a full fuel tank? Combined with that 1190cc torque monster, this should work out to be a class-leading power-to-weight ratio
Programmable and adjustable Electronic Suspension, BOSCH-ABS, and BOSCH Traction Control? While most of us quiver at the thought of more electronics on our bikes, KTM has started a staring contest with us over these features, claiming they have it figured out.
Single-sided exhaust, ditching the dual pipe versions of the past
Adjustable seat, footrests, handlebar, and windshield (like a Goldwing?)
FINALLY, tubeless rims! Bye bye, tubes and tire irons...
The standard 1190 Adventure comes with 19/17" front/rear wheels, while the "R" model, which has always been taller with greater suspension travel and ground clearance, remains a 21/18" wheel set. This might be the most fantastic decision KTM has made! Riders will typically lean toward the dirt if they're choosing the taller "R" model, so this way they have the more dirt-oriented wheel set to begin with. The standard version, with all that power and 19/17 wheels, might be a true challenger to the BMW GS and Triumph 1200 Explorer market.

Especially

in the paved twisties.
(Details as understood from ktm.com/se)
We'll be following up as more news unravels about this bike, and certainly a test ride & review is in the future. Sad as it may be to say goodbye to that traditional old KTM Adventure look and mystique, it appears the folks in Mattighofen are looking to the future of the dual sport touring market and admitting that the old KTM had "a face only a true adventure rider could love."