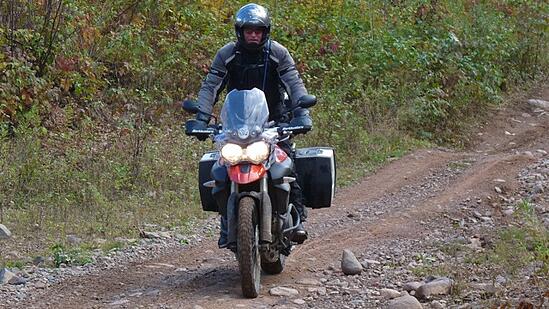 From time to time, we're asking riders we know to chime and offer us a "behind the scenes" look at their motorcycles, products, and riding gear. This particular post comes from Damon Bourne of Madison, Wisconsin, following his first trip on the Trans Wisconsin Adventure Trail this past weekend:
2012 Triumph Tiger 800xc Review
by Damon Bourne, TWAT veteran
Some thoughts on my 2012 Triumph Tiger 800xc, especially after taking part in the inaugural Trans Wisconsin Adventure Trail Tour:
I just bought this bike in April of this year replacing my 5 year old Triumph Tiger 1050. I loved that bike and it was hard to see it go. However, I knew I wanted to do a little off-road stuff after taking a Dual Sport Riding Course at the BMW Driving School in South Carolina last fall. Naturally, the BMW R1200GS and F800GS were top contenders for my choice, but I had such a great experience with my Triumph in terms of the dealer, service, reliability, that I thought I'd check out the 800xc. The bike looked great, the folks at Team Triumph in Janesville were super to work with and with my past experience with Triumph it was an easy call to make.
Since then I've put on about 7000 miles, with more than a few miles on gravel, dirt, and sandy roads.
Despite the engine being a bit smaller than my 1050, I can't say that I really miss the extra power. For the bulk of my putzing around town, the middle-weight bike is more than adequate. It's got a tall stance, I've got great visibility in traffic, and it's got plenty of grunt to get through traffic. The best part about this bike that I think ismuch better than the Tiger 1050 is the transmission. The shifting is butter. Love it.
I'm sure a really good bike handler might be able pick apart some of the Tiger's limitations, but for me, the limitations are clearly mine! If you were prone to dropping the bike in sand, like me, you might consider replacing the hand guards with something a bit sturdier so as not to bend the clutch like I did on an earlier ride. I installed some Barkbusters as well as a foldable shifter by Touratech before the TWAT to prevent any further damage. Oh, and if you are going to go off road, you have to replace the Battlewing tires. I put on Heidenau Scouts after about 500 miles. They have 6500 on them now and will definitely get another 5000 at least before I have to change them.
Another concern I have is for the hard bags. While they did prove to be waterproof on this trip, I'd be a bit worried if they took any more than a minor hit. I already broke one of the support pieces on the luggage rack off on an earlier off road ride so I was extra careful this trip.
ABS is switchable, which for a ride like the TWAT, is very important. However, the scrolling through menus to shut it off is a bit cumbersome. Once the ABS is off, it stays off until you turn the bike off. If you kill the engine but don't cycle the key off and on, ABS stays off. It's not a big deal, but a button would have been nice.
All in all, I love the bike. In terms of on-road capability, it's so similar to the 1050 that I don't miss the bigger bike at all. The 800 revs higher for sure and doesn't have quite as much power, but the engine is super smooth. Off road, it's more than adequate for me, a fair-to-middling off-roader.
Feel free to shoot me some questions and comments below.
Damon Bourne
Madison, WI