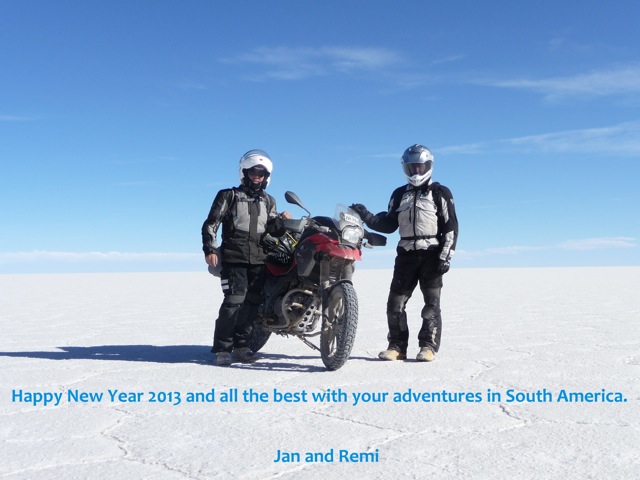 (Above, a postcard from Jan and Remi from Canada, who spent 1 month on BMW motorcycle rentals we provided about a year ago. Chile, Argentina, Peru, and Bolivia, all in 1 amazing trip! Shown here in the Uyuni Salt Flats of Bolivia. - Below, Emily and Johann from Michigan, overlooking the Perito Moreno Glacier near El Calafate, Argentina.)
Another fantastic year has come and gone in the motorcycle travel business!
RIDE Adventures had substantial growth in 2012 and many happy customers to show for it. My personal thanks go out to everyone who relied on the free motorcycle travel information we provide and our reservation services for their riding vacation needs. Just as a reminder, you're now qualified for our Repeat Customer Discount program which will help you get your motorcycle rentals at reduced rates.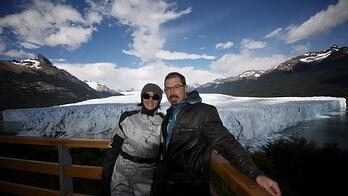 Another thanks goes out to the growing list of motorcycle touring and renting operators who have not only supported RIDE Adventures and our customers, but who have actually arranged for RIDE Adventures, LLC to be their "U.S.A. Office." While we still do run our own motorcycle tours, we've also formed alliances with select touring and rental companies in South America, The Caribbean, and Australia to coordinate their bookings. Most motorcycle travelers seem to enjoy having a local contact here in North America, and don't want to have to deal with international calls, timezones, etc., so acting as a "motorcycle travel agency" has been working very well.
All signs point to 2013 being a better year still with the motorcycle travel community growing all the time. In particular, female riders from all around the world are making their debut on the riding scene, and reports from the United Kingdom and other countries are that "adventure bikes" are now surpassing sport bike sales for the first time! Undoubtedly, folks are realizing that if you're going to have just 1 motorcycle, we might as well have the 1 motorcycle that does everything.
Please be sure to stay in touch with us, write a testimonial about the service we've provided you or share some stories or pictures for our RIDE Adventures Facebook page. While this company was founded on the notion that "more people need to see this," the connections we make with riders like Jan, Remi, Emily, and Johann are the motivating force behind this motorcycle travel and reservations service!
Best wishes in 2013,
Eric Lange
RIDE Adventures, LLC