Adventure Riders are gearing up and getting ready for motorcycle rental trips in Patagonia. Some riders will be guided and don't need to think about logistics, timing, and borders, but those Lone Wolves who will be renting and riding alone have many questions. We're glad to be answering those questions and sharing some of them with you here: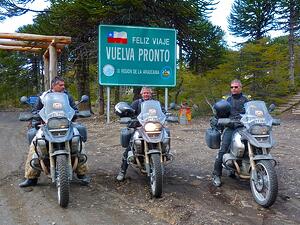 Q: If we opt to do the Seven Lakes Route, how much distance and time will that add to the first day from Osorno? And at what towns should we plan on fueling up?
A: 7 Lakes Route from Osorno: This is a huge day, about 10-12 total hours of riding plus border crossings, fuel, etc. Plenty of fuel options exist in Pucon, San Martin, Junin de los Andes, Villa La Angostura, all the way to Bariloche. Interesting side note: This might turn out to be necessary, as the border crossing at Paso Samore (the one you're scheduled to use directly to Bariloche) just had a fire, and they are shut down for the next few weeks. It should be open again by mid-January this year no problem.
Q: We're concerned about the need for extra fuel in canisters/bottles. Can we buy such canisters/bottles in Chile and, if so, how do we best carry them?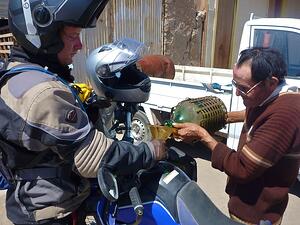 A: Extra Fuel: We merely recommend carrying extra as a precaution, though might not be necessary. There continues to be issues with key points along Ruta 40 not having fuel available, and with only about 250-300km range on the BMW's, we're suggesting you plan ahead. Bringing some bungee cords or tie down straps is recommended (easier than buying them in Chile/Argentina) and buying a couple of simple plastic fuel cans once you're there is easy at almost any gas station. It might turn out that you don't need them...but again, our effort here is to prepare you in the event that you do. Riders typically keep emptying the extra bottles along the way, so that it's not bouncing around on the back of the bike.
Q: On the morning that after we spent the night in Futaleufu, we were thinking of doing the a whitewater rafting trip. But that tour, which starts at 9:30 a.m., lasts about 4 hours. Given that we would not be back on the bikes until 2:00 p.m. or so, and have to be on the dock for the trip to Puyuhuapi Lodge by no later than 7:30 p.m., do we still have time to make the run up to Chaiten? Between rafting or making the motorcycle run up to Chaiten – which would you recommend?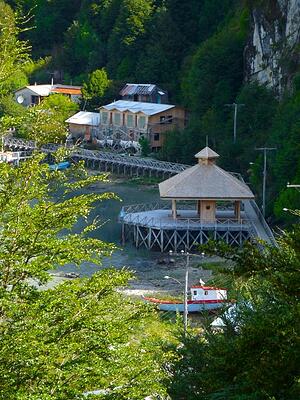 A: Chaiten before Puyuhuapi: We recommend the rafting, but then heading immediately to the pier for the last Puyuhuapi boat. The route to Chaiten is excellent, but not that different from what you'll enjoy the coming few days after Futaleufu. If you try to do Chaiten and rafting, it's too risky that you'll miss the last boat to Puyuhuapi.
Q: On our rest day in Puerto Bertrand, it was suggested that we make the run down to Caleta Tortel. How far is that and where do you recommend that we fuel up? Also, how easy is it to take the ferry across the lake to continue down the Carreterra Austral to Villa O'Higgins (since we have the full day to mess around, it looked like it might be fun). Is it a good ride and fun to do?
A: Caleta Tortel & Villa O'Higgins: From Puerto Bertrand figure about an 8-10 hour round trip to see and have lunch in the fascinating town of Caleta Tortel. Fuel in Cochrane going both ways, or first detour 10 minutes to Puerto Guadal if there have been fuel issues in Puerto Tranquilo. --- Villa O'Higgins unfortunately does not allow the passage of vehicles into Argentina, so it'll definitely be necessary to do the original plan, riding to Chile Chico, Perito Moreno (the city) etc.