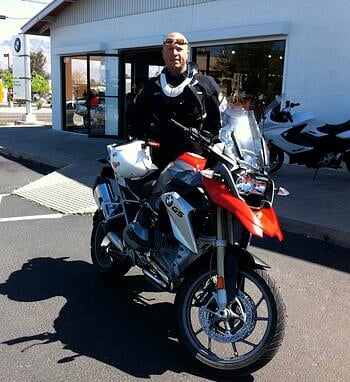 If you enjoy surprises as much as I do, then a "thanks" goes out to BMW Motorrad for what they've done with the new liquid cooled 2013 R1200GS.
When Iron Horse Motorcycles of Tucson offered me a test ride earlier this week, I admit, I didn't really jump at the opportunity. The way I figured, BMW added liquid cooling, a wet clutch, some electronic gizmos and a few ponies more, so what would the big deal be? At first glance the bike looked pretty much the same as it has since it became the "1200" back in model year 2005, and I had no major expectations for improvement.
Once I sat on the bike though, it was clear that BMW addressed a key issue riders have had with the famous BMW boxer engine: Leg room. Whereas previous models offered up a mere inch or 2 of clearance for longer legged riders, repositioning of the throttle bodies to the top of the cylinders has added about 4 times as much space to help us avoid banging our shins on the backside of the engine.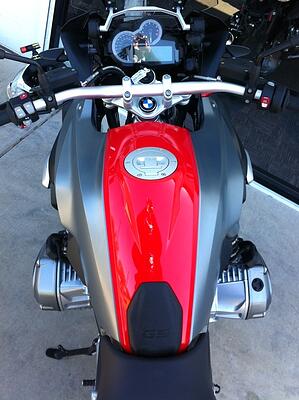 Legroom wasn't only improved upon moving forward, but between the knees as well. Previously known as bike of considerable girth, the water cooled version of the R1200GS now feels taller with a more narrow "dirt-bike-like" physique, inviting us to attempt some more aggressive riding techniques and terrains. - Interesting to note is how BMW has moved their flagship bike more toward being "dirt worthy," while early reports of the upcoming KTM 1190 Adventure have that bike stepping away from being recognized as the "King of the Dirt" amongst the big adventure bikes.
Aside from the overall feeling of the liquid cooled BMW, consider these other changes BMW made, both good and bad:
Air Intake: Finally, an adventure bike fit to handle real river crossings! Now instead of having to think twice about axle-height puddles and streams, we should be able to charge through water much deeper with air intakes that are almost headlight-high. It would make sense that the ram-air style intakes both left and right will assist in horsepower and fuel economy, as the boxer engine can breathe more freely from up there.
Handlebar controls have changed, but not all for the better. While some might appreciate typical 1-button turn signal operation, the flashing dual hazard lights are now more difficult to initiate. As a motorcycle tour guide, I use the hazard lights quite frequently to alert riders of situations ahead, so this is a change for the worse. (Please note: Even non-guiding riders can surely benefit from quick-access hazard lights.) - Also, I had noticed the blue high beam light was flashing on and off quite a bit as I was riding. As it turned out, the squeegee on the forefinger of my glove had been activating it inadvertently, suggesting that the switch is too close to the left hand.
An Ex-KTM rider myself, the new liquid cooled R1200GS makes me realize how much I've missed having a wet clutch. (I've been exclusively on the 2012 R1200GS Adventure the past year.) The stink of burning clutch plates is a thing of the past now, and nothing but smooth, buttery clutch engagement awaits us on the new BMW. Of course with the wet clutch comes a rather "clunky" engagement from Neutral to 1st, but provided the transmission will hold up, it's not too bad.
BMW is boasting 125 horsepower on the first version of the liquid cooled GS, but that felt like that was a bit of an understatement. Still pulling with that torquey, low-end power we all love and then roaring to life with incredible new zeal over 4000 rpms, the bike is now feels smoother and stronger.
With custom fitting options for the windshield, seat, and suspension coming standard, riders can really fine-tune the new R1200GS with the list of electronic suspension, traction control, and other high-tech functions available as well. Too many to list here, let's just these "options" end up being "safety features" for those moments of rider error.
The liquid R1200GS holds itself 8mm higher in terms of ground clearance, but at least by the specs, the seat position is not any higher. While 8mm might not sound like a huge deal, it sure could be when ground swells or obstacles are grazing your skidplate! This is something BMW needed to change in my opinion, so at least they moved the bike in the right direction.
Something to watch with the new liquid cooled R1200GS is that the compression ratio is now up at 12.5 : 1. A change that is undoubtedly part of the horsepower increase, it'll be interesting to see how the engine will handle mid and low octane fuels. While the liquid cooling system will help control cylinder head temperatures, the connection between compression ratios, octane, and pre-ignition is a slightly different story. BMW intends for this to be the 'world traveler' of adventure bikes and as such it will be depended upon by riders from Bolivia to Mongolia where the octane ratings of fuel are a bit, shall we say..."lacking." Will such a high compression ratio be an issue?
From this first test ride though, I'd like to reiterate that I was quite impressed with the evolution of the BMW and it's new liquid cooled engine. As the 2011 and '12 BMW's are phased out of the motorcycle rental fleets, the new 2013 R1200GS should take over where the others left off. In fact, if your local dealer doesn't let you take the test drive you want to take, please keep in mind you'll be able to rent BMW motorcycles through us and put them to a real test in places like Patagonia!