Mark and Joe's Patagonia Motorcycle Trip Report Continues below! (Day 7 was actually written back on March 2nd this year, although we are posting it now.)
If you missed the first 2 postings see Day 1-3 here, and Day 4-6 here and please note that they were on a Self-Guided version of our "Patagonia, Tierra del Fuego & Ushuaia!" motorcycle tour. As we'll start to see below, there are absolutely benefits to joining one of the guided Patagonia tours that include a bi-lingual guide, support truck, greater depth of tools and of course some spare parts. Fortunately, Mark's Spanish is pretty good and his spirit for adventure is excellent, as a self-guided motorcycle tour can test both thoroughly. Patagonia by nature is very remote, under-supplied with motorcycle parts & service and should only be ridden through by adventure riders ready for a challenge! Enjoy.
RIDE Adventures, LLC
See Day 1, 2, & 3 Here
See Day 4, 5, & 6 Here
--------------------------
DAY 7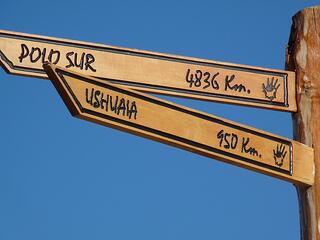 "'Hell Day' was, fortunately, completely anti-climactic. Great weather, no wind of consequence, no fuel issues and far more pavement than we anticipated. Still, it was a very long day. I topped out at over 800 kms and Joe at 635 kms. Some key lessons learned: (1) As a couple of locals advised us, it is best to stop at the tourist information office in Perito Moreno to ask if they have gas available in Bajo Caracoles and Tres Lagos. We did and the very nice ladies there made a couple of calls and confirmed that gas was available in both places; (2) Do as the locals do and, to the maximum extent possible, use the paved sections of Ruta 40 even when are marked as "construction zones" or have marked detours off on to the ripio. We avoided over 100-150 miles of ripio that way, all with the explicit or implicit blessing of the construction crews. With that technique in mind, virtually the entire route from Perito Moreno to Bajo Caracoles is paved. Similarly, virtually the entire route from Gobernador Gregores to the intersection with the road to Tres Lagos is paved; (3) Ruta 40 and the Carreterra Austral are much different. Ruta 40 is generally much wider and has many more sections of high-speed dirt/gravel. The sight lines are better on Ruta 40 and the risk of a collision with oncoming traffic is relatively low.
On the other hand, Ruta 40 has lots of ongoing construction and the many detours are more problematic than the main road itself. Both the road and detours are made of packed clay, with varying -- or non-existent -- layers of gravel. The word on the street is that the clay is impassable when wet. It is a good thing it doesn't rain much on this side of the Andes. In any case, we had no problems with the roads, either paved or ripio, and made it to Tres Lagos in good time. Shortly thereafter, after we first saw Mount Fitz Roy in the distance, I decided I needed to see it from close up. While Joe made a beeline to our hosteria in El Calafate, I deviated from the course and made a (very) high-speed run to El Chalten to see Fitz Roy. It was a spectacular sight the whole way in and worth the effort. But by the time I pulled into El Calafate at the end of the day, I was beat, and beat up. I'm glad to get the big transit day behind us and gear up for Perito Moreno Glacier and Torres del Paine. And I'm thrilled that our remarkable good luck with weather conditions continues . . . .
DAY 8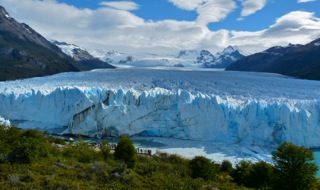 Into every life, some rain must fall. As we prepared to head out this morning for the run to Los Glaciares National Park and Perito Moreno Glacier, we discovered that, somehow, one of the ends of the tie-down straps for the extra gas tank had come loose and gotten wrapped up around the axel between the rear brake disc and the rear differential of the shaft drive. We couldn't tell how deep the strap was embedded, but trimmed what we could and headed out to the park.
At the first stop in the park, we noticed some significant oil leakage and realized we had a potential problem. Complicating things was that it was a Sunday and would be hard to find an available mechanic in El Calafate. But, in the meantime, we decided to enjoy Perito Moreno Glacier as long as we were there. First, the road from the entrance to the park to the glacier itself was a blast to ride. One curve after another, on very good tarmac, and if you can make the run when there isn't much tourist traffic, it is one undulating delight. Second, the glacier itself is simply awesome. Massive in size and constantly calving, with rifle shots sounding every few minutes with some new section falling off of the glacial face. We also met two young woman, one from LA and one from Tasmania, who were near the tail end of solo rides from the US to Tierra del Fuego. Joe and I were stunned at the moxie such a trip would require.
Once we returned to El Calafate, the mechanical adventure really began. We stumbled upon a local decked out in BMW gear who happened to know someone who knew El Mono, the best motorcycle mechanic in town. That commenced an afternoon of waiting, joining other locals in drives around town looking for El Mono and more waiting. Ultimately, Joe and I decided that it was better to spend an extra night in El Calafate than to risk the ride to Torres del Paine, 300-400 kms to the south. We got a good deal at the Xelena Hotel on the waterfront and settled in for the night, not knowing what mechanical issues we would have to deal with the following day."
-Mark Larson
--------------
What would be the fate of Mark and his R1200GS? If you haven't already, sign up to follow the RIDE Adventures blog on the top/right of this page or subscribe to our eNewsletters here. While Mark and Joe had clearly enjoyed some fantastic riding and Patagonia scenery up to this point, much of the route still ahead might qualify as the most remarkable on the trip!