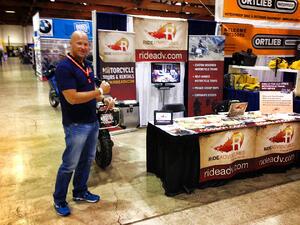 The BMW MOA 2013 Rally this past week was a blast, but riders who stopped by the RIDE Adventures booth weren't only asking about the motorcycle travel and vacation options we offer. Questions about "the best dual sport tire" came up frequently.
My personal bike that stays here in the U.S. was with me at the booth (see pic to the right, with the bike behind me) so specifically, riders were asking about the Heidenau K60 Scout. Especially compared to some other big-bike dual sport tires on the market, I told them that the Heidenau stands out as being the best value for a dual sport tire out there. A few reasons why:
Longevity & Durability: I neither want to pay for tires more often than I need to, nor have to deal with the installation/disposal of them. As such, the 10-12,000 miles myself and other riders are getting out of the K60 Scout rear tire is quite impressive (please note that's the rear tire. The matching front will see around 20,000 miles before changing.) A rear motorcycle tire getting 10,000+ miles isn't that rare, but given the Heidenau's extremely aggressive and off-road capable tread pattern, it's simply remarkable that these tires last so long.
On & Off-Road Grip: Continuing on that thought, the flexibility I have to cover long highway stretches or head down any dirt road is much appreciated. In fact, our Trans Wisconsin Adventure Trail tour was a perfect example of this need last year, when the deep mud we ended up with on Day 1 just wouldn't have been possible on more of an "80/20" street/dirt type of tire. Classify it however you will, but I'll say the Heidenau K60 Scout is a perfectly balanced 50/50 tire. On many of the tours we offer, we're switching from smoothly paved twisties to gravel and back and forth, and the Heidenau offers all the grip I need in each case. Granted, this is adventure bike riding, and I'm not trying to drag a knee with Moto GP racers on my tail or cut through a berm after clearing a triple. For typical adventure riding needs though, the K60's performance is more than sufficient.
Pricing & Value: As indicated earlier, the fact that this tire is right on par with most of the other big-bike dual sport tires on the market, and that you can get such fantastic mileage out of it means it's the tire I'll continue to ride for a while. It's the only tire we use on "The Patagonia Experience" tour, and the only tire we use on the "Patagonia, Tierra del Fuego & Ushuaia!" tour. On those routes through the Andes Mountains we encounter every type of dirt, gravel, sand, asphalt, mud, and "washboard," and the Heidenau stomps over it all without traction issues being reported by anyone.
So the bottom line is: Riders of BMW GS models, Triumph Tiger & Explorer, KTM Adventures, and other "big-bike" type dual sport models will appreciate the Heidenau K60 Scout. It's a great value with all the performance and durability you could ask for in such a "capable" tire. Click here if you want to find a dealer near you, happy riding, and "keep the Heidenau side down."