The latest from the Garmin 600 Montana series, released in the summer of 2015, was the GPS giant's upgraded lineup of outdoor handheld devices. In this Garmin Montana 680t review, we'll discuss how the top of the range GPS system has been treated to a new 'ruggedized' shell, specifically designed to take off-road adventures to new heights, depths, and through all the twisty bits in between.
Disclosure: Ride Adventures is a participant in the Amazon Services LLC Associates Program as well as other affiliate programs, designed to provide a means for us to earn fees by linking to Amazon and affiliated sites at no extra cost to you. Please see our Disclosure for more details.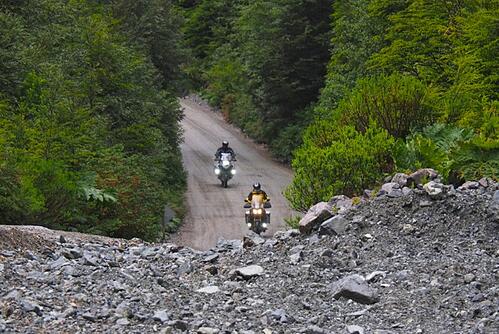 According to the company's PR information at the time, they aimed the 600's squarely at boaters, backcountry hikers and people "out cruising on your ATV."
Now I know cryogenically preserved PR persons are only brought out at product launch time but have you ever seen anyone cruising on an ATV?
Anyway, I digress, what you want to know is, what's all this got to do with me?
Well, simply this, in my humble opinion, the 680t has the potential to be one of the best adventure bike sat navs on the market.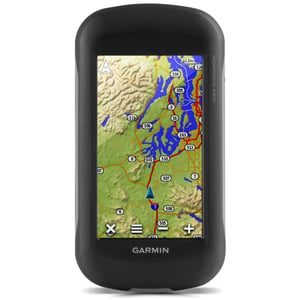 With a 4'' high-resolution screen that is also sunlight friendly, the Garmin is approximately the same size as a large smartphone. Turn it side-on though, and it is considerably chunkier, but for an excellent reason.
Waterproof
Apart from the 'ruggedization' of the casing which gives it an IPX7 waterproof rating, by flipping the phone over, twisting the D-ring and pulling the cover off all is revealed. Not only do you get a rechargeable lithium-ion battery, but also underneath is space to fit three AA batteries.
The additional battery capacity bumps up the available working time from 16 to 22 hours, as well as being an excellent emergency power back up. (Plenty of time to explore on our Guided Group Motorcycle Tour in Bolivia, as seen in the photo below.)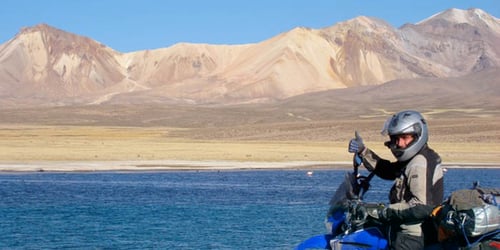 While we've got the hood up, this is also where the micro SD card lives. The 680t has 8GB of onboard memory as standard (double the capacity of the previous model). But why would you need the extra memory? Well, I'm glad you asked.
Firstly, they've upgraded the onboard camera to 8mp, so you're free to snap away safe in the knowledge that only a circumnavigation of the globe is going to bother the storage facility.
Perhaps more importantly… Should your adventure take you to some far-flung land, whether you're riding there or renting a bike when you arrive using the micro SD card, further detailed mapping can be loaded, so now you are good to go.
Garmin lists over 200 additional maps on their site covering everywhere from Norway to New Zealand and that doesn't even touch many other independent map and data software producers.
Geotagging
The combination of these two features also means that you can you record the map data of your trip. Also, every time you take a photo, its location coordinates are geotagged.
So, what this translates to is the ability to record detailed routing of your trip, and with the photographs you have taken along the way, download the whole lot (photo from our Alps Moto Explorer Motorcycle Trip Package.)

You can then produce a map of your journey, with topographic and 3D view features, together with the photos, embedded in the map.
Alternatively, you can also pull up a photo on your screen, hit the 'Find' button, and this will take you back to your photograph's geotagged location. You can even use the photos as waypoints, which you can then share.
And talking of waypoints, this unit has been independently tested for its accuracy in returning to a selected point, repeatedly putting the operator within 40 inches of the original spot.
Dual Satellite Coverage
This feature is, of course, down to the 680t's dual satellite coverage which employs both GPS and the Russian GLONASS systems. It also boasts WAAS and Hotfix, which means it picks up a signal very quickly and maintains it.
The dual coverage also ensures that whether you're amongst giant redwoods or downtown skyscrapers, you won't lose your position.
Two other features that are a real bonus are the inclusion of TOPO 100k maps and a one-year subscription to Birdseye satellite imagery. Used in conjunction with the free Basecamp software, the features certainly do take the Garmin's mapping capability to another level.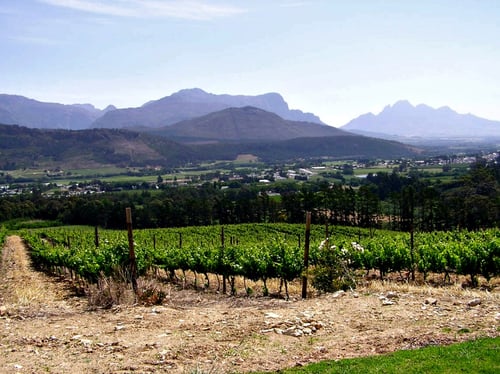 Software
The software provides the link between the sat nav and your computer, allowing you to add an incredible amount of customization to your route planning, and, facilitate the downloading of maps and information from both TOPO and Birdseye.
Just make a mental note that if you leave the downloads on your computer within the Basecamp software, you will lose the ability to load it onto your sat nav once the one-year subscription is up. Load them on to the 680t's SD card, however, and they're yours for keeps.
The Garmin Montana 680t is primarily aimed, according to Garmin, at the hiker/hunter/inshore waterway boating crowd, but I think they've missed out on a golden opportunity.
In the last five years, the adventure bike market has doubled in size. Furthermore, according to industry surveys, adventure bike riders spend more on bikes and accessories than any other segment of the motorcycling community.
And if that really is the case, a top of the range sat nav is neither out of the adventure biker's remit, or price range.
So, let's consider these facts: The sat nav is waterproof, dual orientation, and its simple to operate functions and maps are glove friendly.
Also on Garmin's accessory list is their 'rugged' motorcycle mount.
Mounting Dock
This mounting dock comes with a wiring harness that allows the sat nav to re-charge from your bike's battery. It also has an audio-out jack, which gives you turn-by-turn instructions via headphones. You will, however, have to buy a RAM mount as well to connect the dock to the handlebar.
Also, the Garmin Montana 680t is highly configurable meaning that you can rig it up for one-touch operations, giving you more time to enjoy sights like this one (as seen during our Guided Group Motorcycle Tour: "The Southern Africa Experience")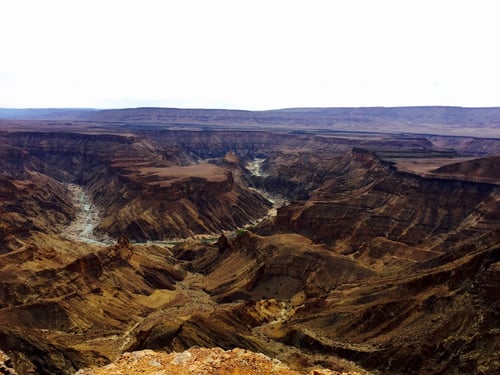 So, when you've completed your trail section and are heading back to the tarmac, one gloved finger is all you need to flick from topographically detailed trail map to street-by-street guide.
Adventure riders are just that; we are adventurous by nature and open to the possibilities of what lies before us. Although we may need detailed information about what's between A and B, the adventure is what happens in-between.
Encounter some breathtaking scenery and you can un-click the 680t and snap one off knowing the location is tagged.
Take time out of the saddle along the way to enjoy the scenery on foot, and the Garmin is just as happy as a handheld device, giving you trail and elevation information and a three-axis compass.
This ability to perform well on and off the bike, is for me, what makes the 680t so compatible with the adventure biker. Obviously, it's not perfect. There's no Bluetooth, or MP3, and on top of the base price of the sat nav, you'd need to shell out on the 'rugged' mount plus a RAM handlebar kit, all of which loads the price.
But, as they say; like everything in life, you get what you pay for at the end of the day.
Happy trails.
WHAT TO READ NEXT: Take a look at another one of our motorcycle gear reviews.