Giant Loop Great Basin Saddlebag and Fandango Tank bag review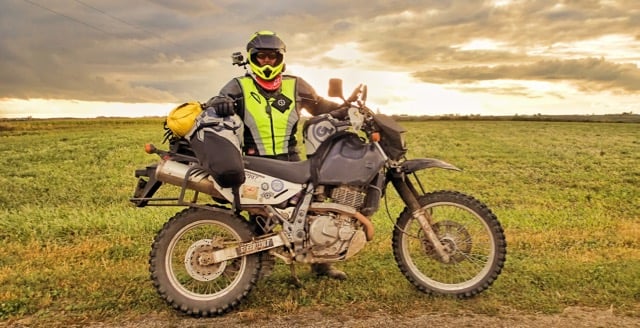 As a tour guide and avid motorcycle traveler, I'm always looking for the perfect motorcycle luggage setup. My demands for a luggage system are that it has to be versatile and be able to work on a variety of motorcycles and payloads, and of course it has to be durable and weatherproof. Like most serious riders, I'm willing to invest into gear that won't let me down in the field since that can turn a good ride into bad one, or possibly even a dangerous situation.
Giant Loop from Bend, Oregon has been designing adventure motorcycle luggage since 2008 and with a motto of "Go Light, Go far, Go Fast" I knew that I had to take a look at them for my luggage needs. Giant Loop designs their products to be lightweight and durable, but also to minimize the effects that the weight of luggage causes by keeping the load closer to the motorcycles center.
Since most of my rides involve camping or are longer in duration, I decided to go with Giant Loop's largest Saddlebag, the 60 liter Great Basin and their Fandango Tank bag.
The Great Basin Saddlebag
The Great Basin is an ingenious and simple design that takes three common bags (Duffel bag and saddlebags) and combines them into one horseshoe shaped bag that sits on the passenger seat of the bike and hangs off the sides. The bag includes five attachment points to securely fasten the bag to your motorcycle. This 60-liter bag is made out of heavy duty waterproof material and reinforced with ballistic nylon on the ends of the bag. A unique "Beavertail" and compression straps allow mounting additional gear (like a tent) to the top of the bag.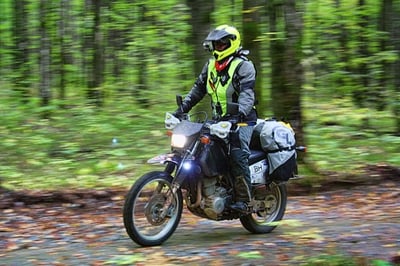 The Great Basin bag includes three waterproof roll top Dry Pods, which are essentially dry bags that are shaped to fit perfectly into the Great Basin. A heavy duty YKK zipper makes getting in and out of the bag easy, and a storm flap keeps water away from the zipper. The legs of the bag also have compression straps to help keep your gear secure. A cable lock pass through allows you to lock the bag to your bike to keep someone from cutting the straps and running off with the bag.
I have used the Great Basin bag on many different bikes; everything from KTM Adventures down to Honda CRF250's and it has worked equally as well on all of the bikes. Mounting the bag to the bike can require a bit of experimenting to get it positioned properly and I have found that it is easier to mount when the bag has a bit of gear in it. One strap on each side attaches the bag to the passenger footrest mounts and there are three straps on the rear of the bag to attach it to the rear rack or subframe. I usually get all of the straps attached loosely, and then I tighten up the rear straps to position the bag where it is close to me, but not interfering when I stand up. Then, I tighten the two lower straps to make it rock solid. Mounting typically only takes a few minutes; most of that time is spent tidying up the mounting straps. Since this bag comes with the removable Dry Pods, the bag is meant to stay on the bike once you reach your destination.
Since the sides of the bags hang down, they usually come in contact with the bodywork of the bike, so I typically put a static cling vinyl protective film on the body work to keep them looking nice. A nice Hot Springs heat shield is included and can be mounted on your exhaust if the bag comes close to it, or if it presses the bodywork of the bike within melting distance of the exhaust.
Fandango Tank Bag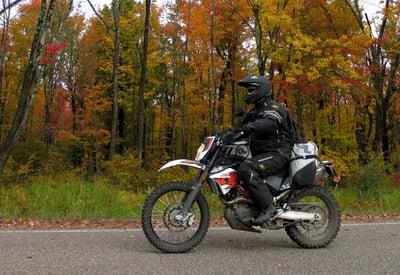 Tank bags come in all kinds of sizes and different mounting systems, but many of them aren't designed for Dual Sport and Adventure bikes and the punishing they will receive. Giant Loops Fandango tank bag was made specifically for these bikes and works extremely well. This 8 liter bag has a 3 strap mounting harness with a cutout for the fuel cap and dual attachment zippers which allow you unzip one side and lay the bag over. This is a huge improvement over bags that require you to unstrap the front strap, which always seems to fall down and requires you to dig for it once you are done filling up with fuel.
Another nice fuel related feature to the bag is that it has an arched front, which provides room for vented gas caps. The harness also has D-rings that allow you to add Giant Loop's Pannier Pockets to the side of your fuel tanks.
The Fandango tank bag is made with the same heavy duty construction as the Great Basin bag and includes a waterproof Dry Pod to keep your contents dry. The bag itself is not waterproof, but adding some seam sealer will make it pretty weatherproof. A clear map pocket on the top of the bag is accessed from the inside, so you need to open it up to change maps, a minor inconvenience. The inside of the bag is lined with high visibility nylon and has a removable divider, which helps separate and organize the contents of the bag.
So, how well does this setup work?
Well, I have had these bags for quite a while now and they have logged thousands of miles in some pretty terrible conditions. We have subjected them to thunderstorms and miles of muddy trails and my gear has always stayed dry and safe. The sizes of the bags are about perfect and even when they are stuffed full you can barely tell they are there. Usually, the bigger of capacity you have just means you will bring more stuff with, so this setup requires you to think a bit more about what you need to bring. While this may sound like a negative, it isn't. Packing less stuff is always better than carrying around things you will never use. If I need a little extra capacity, I will strap a small dry bag under the Beavertail, and since the bag sits on the passenger seat, I still have my rear rack free.
After using these bags on many different bikes and different types of trips, I really can't find much to complain about. They work extremely well and have held up great. These bags certainly aren't inexpensive, but they are priced competitively with other luggage systems, and once you figure out that you don't need to buy any heavy metal racks, they are actually a pretty decent bargain.
You can check out Giant Loop's gear here:
The Great Basin Saddlebag sells for $450
http://giantloopmoto.com/product/great-basin-saddlebag/
The Fandango Standard Tank bag sells for $190
http://giantloopmoto.com/product/fandango-tank-bag-standard/
Pannier Pockets are $95.00
http://giantloopmoto.com/product/pannier-pockets/
Now that you've explored some gear, explore some of our motorcycle tours in Europe. (And remember, the self-guided tours are our most affordable option!) As an added bonus, we've put together an entire guide on adventure motorcycle packing.