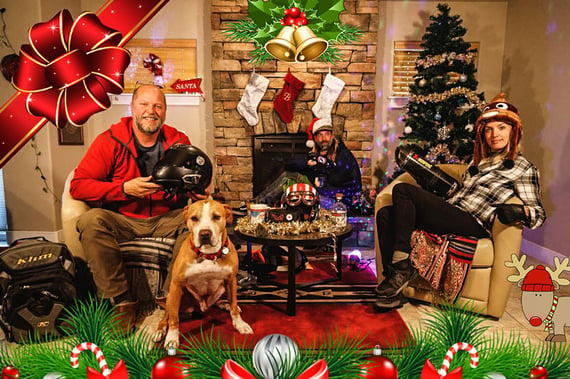 Disclosure: RIDE Adventures is a participant in the Amazon Services LLC Associates Program as well as other affiliate programs, designed to provide a means for us to earn fees by linking to Amazon and affiliated sites at no extra cost to you. Please see our Disclosure for more details.
Whether your buddy rides an adventure bike, a Harley, a sportbike, or a cafe racer, we've got something they're sure to appreciate.
Great Gifts For Motorcyclists Of Any Description
Ok, these are your gift candidates for literally anyone on two wheels.
Harley folks will love anything below just as much as motocross racers. These gifts are all great decisions if you're not quite sure what kind of rider you're shopping for.
Go Pro 10
If you've never seen one of Go Pro's action cameras, they're pretty impressive.
The camera records in full 5.3K quality at up to 60 frames per second, and can even do 4k slow motion at 120 frames per second. It's also got a sweet full-color touchscreen, a smartphone app for editing video, AND it's fully waterproof to 33ft!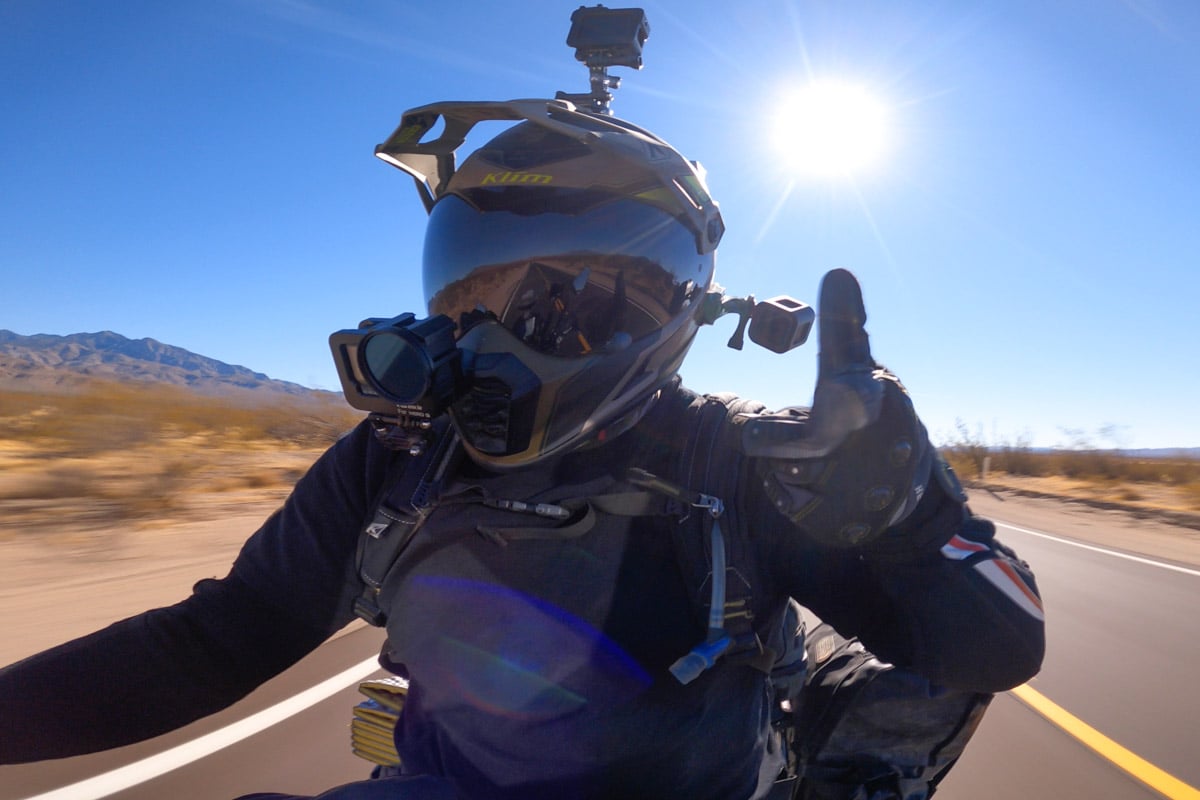 "Garrett blazing through the Southern California desert on his way to Mexico on our "Baja on Down" Trip Package"
On top of all that, Go Pro can take pictures at 23 megapixels. That's the same as my big bulky DSLR.
All things considered, it's a really sweet piece of tech that doubles as your go-to action camera for everything else from family vacations to high-resolution selfies.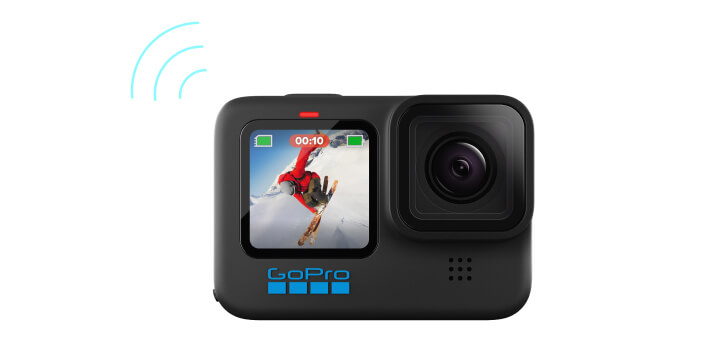 CHECK PRICE:
Garrett's (our video dude) suggested accessories to get shots like the ones on our YouTube Channel:
RAM Mount Handlebar U-bolt Base
Cardo Packtalk Motorcycle Headsets
When it comes to helmet coms, Cardo has pretty much cornered the market with their Packtalk line of wireless headsets.
These innovative units allow the rider to both make and receive calls, listen to music, and connect with and talk to other riders in real time. Each headset features a full mile of range, and they aren't just limited to rider and passenger communication either.
Cardo headsets double as signal extenders, meaning every rider you add to your network extends your potential range, up to five miles. Cardo's full-featured models connect up to 15 riders at a time, making them perfect for larger group rides as well.

Their two best options currently are the Packtalk Slim and Packtalk Bold. Both share premium features like JBL speakers, smart audio mixing, and a super user-friendly smartphone app. Really the only difference between the two is the Packtalk Slim is a much more streamlined unit that splits the device into two smaller pieces, and the Packtalk Bold is a larger, simpler, all-in-one device. You can't go wrong with either, honestly.

CHECK PRICE:
Packtalk Slim REVZILLA | AMAZON
Packtalk Bold - REVZILLA | AMAZON
Handlebar Phone Mount
Installing a dedicated phone mount on your motorcycle is a game changer for navigation, music, and bluetooth connectivity to other electronics.
There are a ton of choices out there, but we have two main brands we keep going back to that hold up to all kinds of abuse.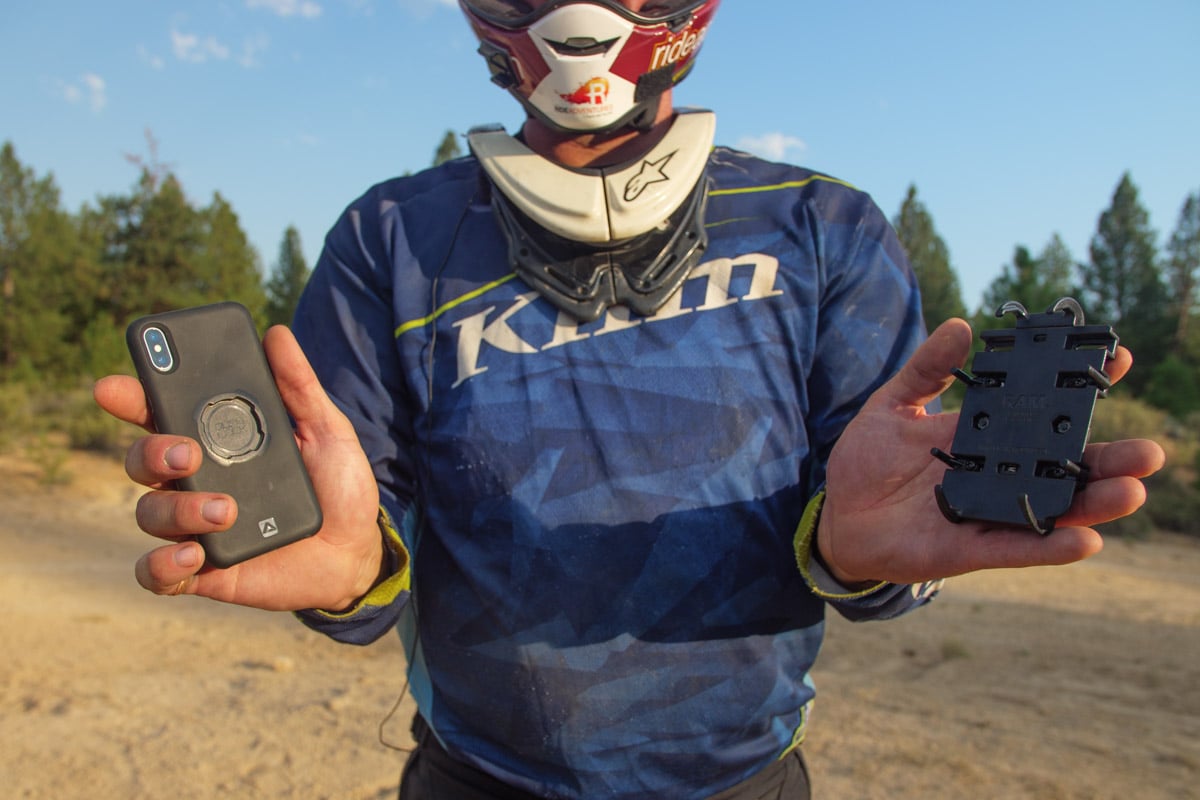 "Eric out on the YouTube set explaining the pros and cons of each mounting system: Watch our youtube video on the subject "Quad Lock VS Ram Quick Grip"
The first favorite is the Quad Lock mounting system, which is one of the most reliable mounts on the market. We've had customers report that even in the event of some gnarlier crashes both on and off road, the Quadlock system has kept their phones in place. However, we highly suggest you add on the vibration dampener for newer phones due to the potential for camera damage due to vibrations.
Also Note: This system requires both a Quad Lock phone case and the mount itself. The good news is that Quadlock makes mounts for cars, bicycles, and runners too, so once you've got the case there are some more easy gift ideas waiting in the future.
Our second favorite is the Ram Quick Grip, which is a great option if the motorcyclist in your life is already a fan of RAM's other rugged mounting products. The Quick Grip comes with everything you need to mount your phone to your bike, and uses the same universal hardware as other RAM products, so you can mix and match components as needed.
If you are looking for that general overall gift for motorcycle riders that will be a sure bet to please, this is it.

CHECK PRICE:
Quad Lock -QUAD LOCK WEBSITE
RAM Mount Quick Grip* - AMAZON | REVZILLA
*Be aware that there is a small phone version and large phone version.
Motorcycle Cleaning/Detailing Kit
High quality detailing kits are perfect gifts for motorcyclists, regardless of what they ride.
Sure we all take 'em out and hose 'em down from time to time, but a full wash, wax, and polish job is pretty much always overdue.
Consider picking up an all-in-one gift like the Meguiars 7-piece motorcycle care kit. I like the Meguiars kit because it has a cleaner for every surface including metal, plastic, and leather, and also includes a microfiber towel to boot.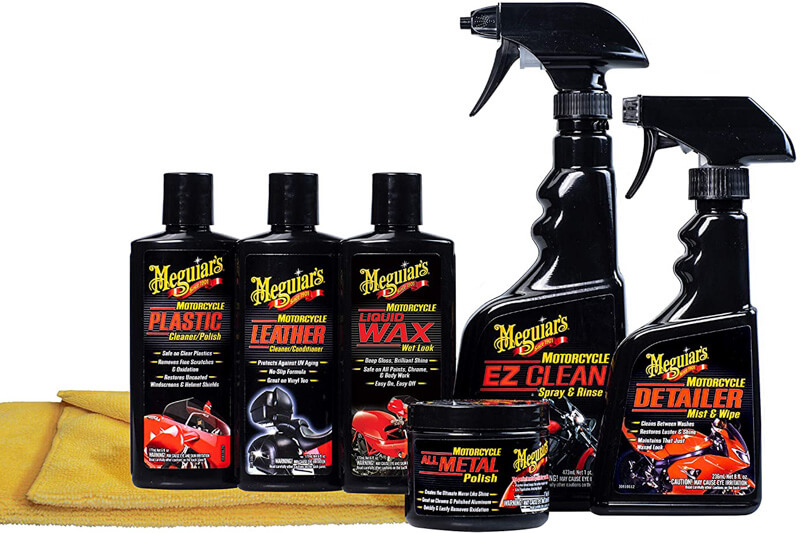 CHECK PRICE:
Meguiar's Motorcycle Care Kit
For the biker in a hurry, I'd also consider a one step spray clean and polish like Maxima Speed Wax. There are a million brands making similar products out there, but Maxima's stuff is all top-notch, and this one-stop spray works on everything from chrome to plastic.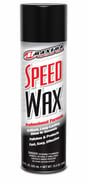 CHECK PRICE:
Maxima's Speed Wax
Akrapovic Slip-On Exhaust
Add a little hp and a meaner tone to that Motorcycle with the Akrapovic Slip-on Exhaust.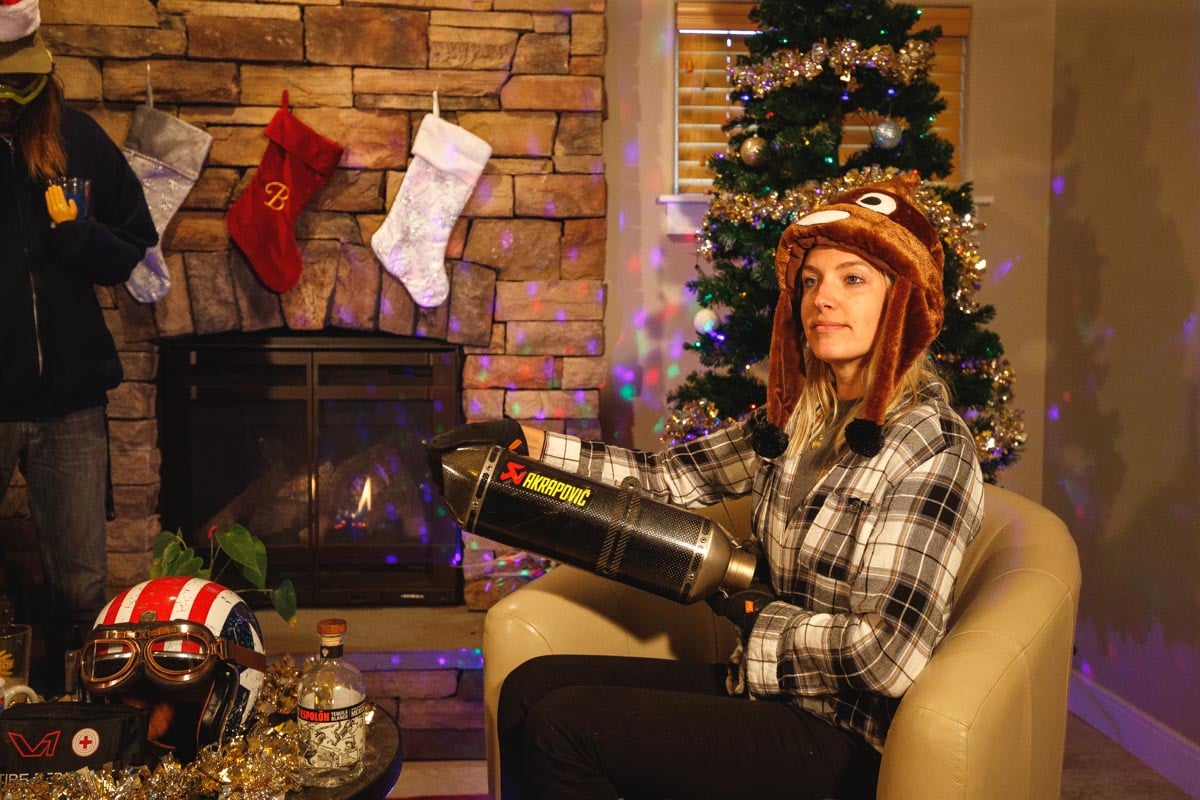 "Our newest teammate Grace modeling the Akrapovic Exhaust in our gifts for motorcycle riders holiday video"
Know to be a high-quality engineered exhaust, Akrapovic delivers that maximum value between price and performance.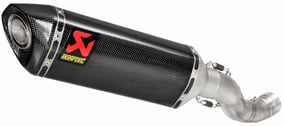 CHECK PRICE:
Akrapovic Slip-on Exhaust*
*Exhausts are bike specific so verify fitment before purchase
Revzilla Gift Cards
How do you buy a gift for the motorcyclist that has everything? Easy: Let them pick it out.
Sure, any old Visa gift card would do the trick, but a Revzilla card says "I want you to spend it ALL on motorcycle stuff."
Revzilla has everything from helmets and gloves to tires and oil, so you know every dollar will go toward something useful.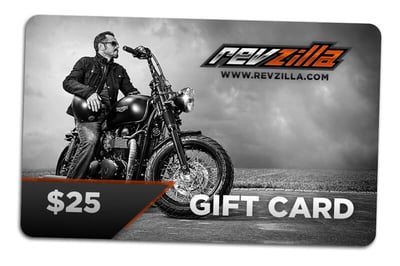 BUY A GIFT CARD:
Gifts For Motorcyclists: Dual Sport And Adventure
Ok, time to dive into our rider-specific camps.
If you've got anyone on your shopping list that likes to ride forest service roads, go motorcycle camping, or take extended adventure tours like our 14-day epic through Chile and Argentina, we've got a few suggestions we know they'll appreciate.
Seal Savers
Dual sport and adventure motorcycles live a tough life because they (should) spend a lot of time in dirty, dusty, and muddy conditions.
All that grit and grime finds its way into a motorcycle's suspension over time and gums up the works, hurting performance and eventually leading to outright suspension failure.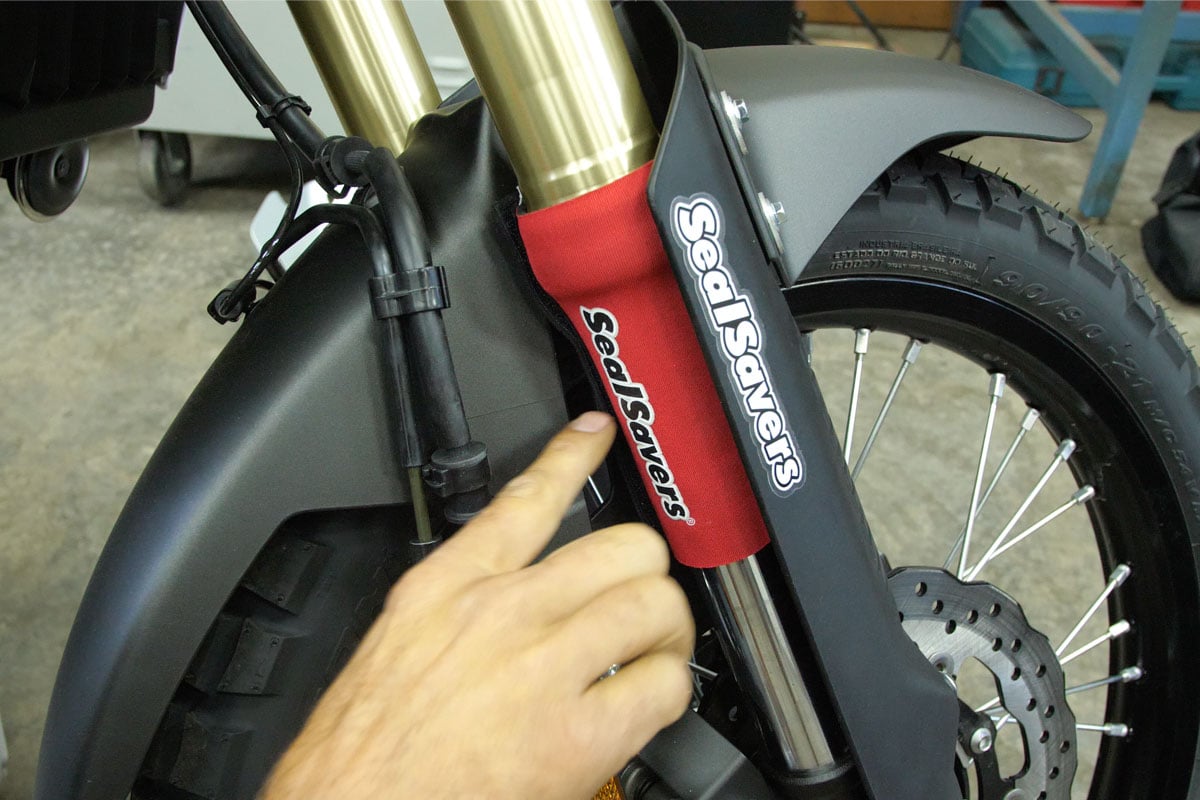 Seal Savers are a simple solution to the suspension gunk problem, and work by attaching to a motorcycle's front forks and protecting the exposed portions of the suspension from dirt and debris.
We particularly like the new Zip-On SealSavers for their easy installation and removal for clearing, and their improved compatibility with conventional "upside down" forks.
CHECK PRICE:
Sealsavers*
*Sealsavers come in a variety of sizes so verify fitment before purchase
Outback Motortek Crash Protection
Outback Motortek manufactures some of the burliest motorcycle protection out there for dual sport and adventure bikes. As far as gifts for motorcyclists go, this one knocks it out of the park.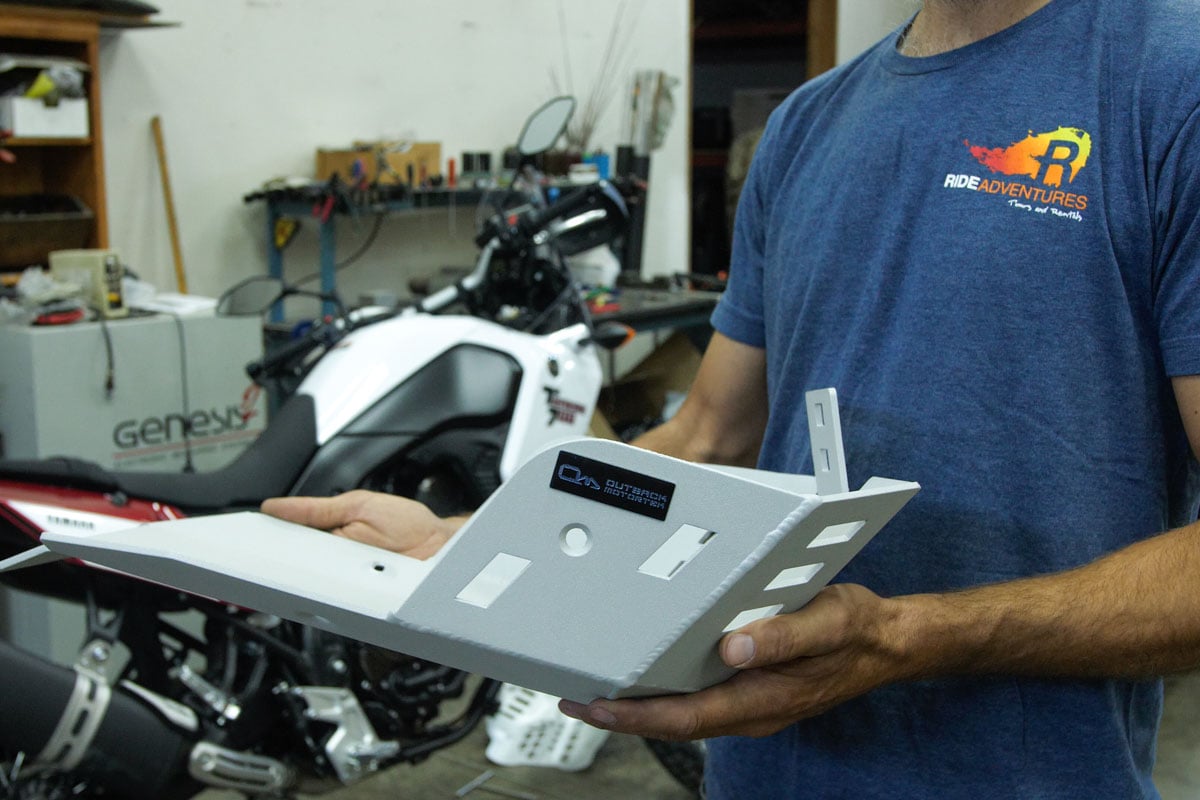 "Tour Guide Tyler, installing Outback Motortek's Skid plate on all our Ténéré 700's in our North American Fleet"
Outback offers skid plates, crashbars, and engine guards for just about every popular adventure motorcycle currently on the market.
They also sell combo kits with all three bike-specific products at a serious discount, so make sure to check out all your options before pulling the trigger on just one if the bike you're shopping for lacks any protection.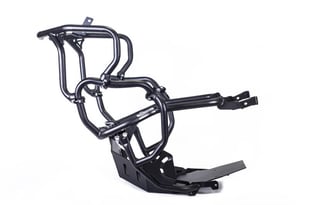 CHECK PRICE:
Outback Motortek Crash Protection
Klim Viper Off-Road Goggles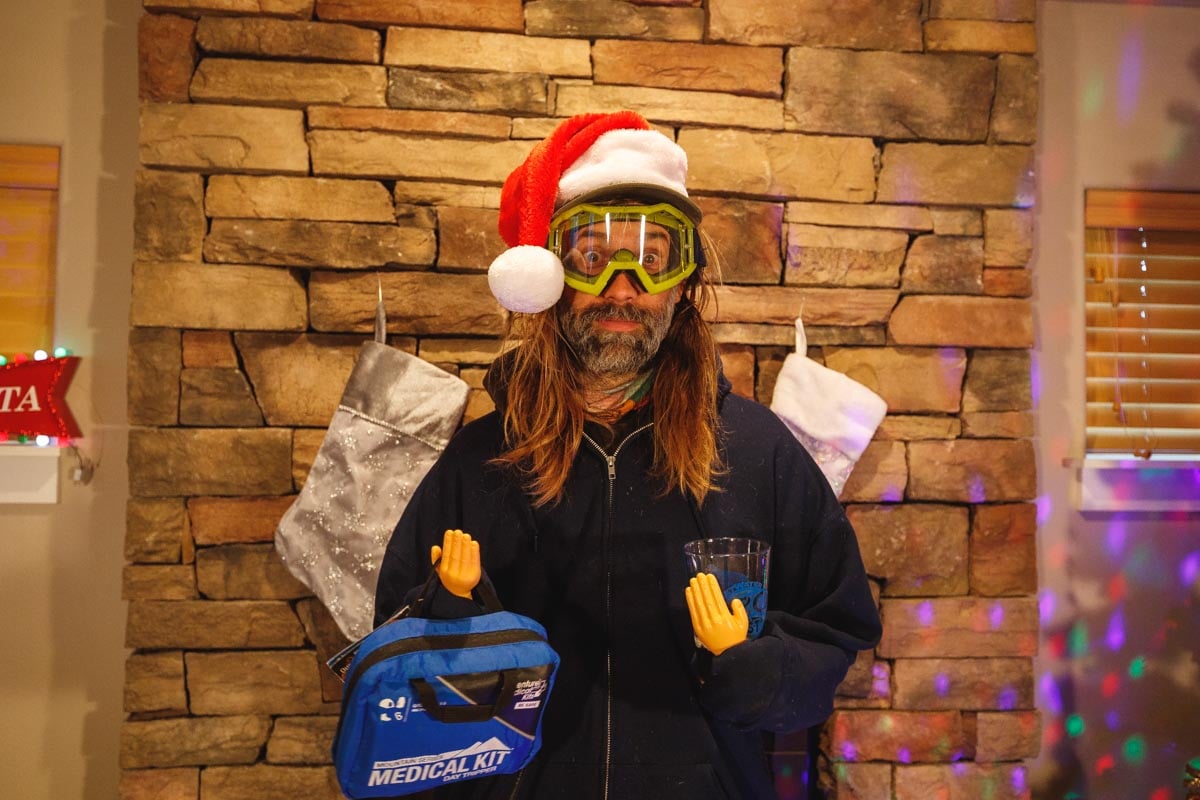 "Tour Guide Tyler showing off Klim's Viper goggles for the gifts for motorcyclists holiday video"
All the protection and ventilation a rider will need. If you have a loved one that enjoys offroad more than on-road this will be the perfect gift for them. Even ask Tyler the angry offroading elf :P
CHECK PRICE:
Klim Viper Offroad Goggles
Get Them An Adventure Motorcycle Tour in Baja!
Of course this one takes some planning, but what better gift for the motorcyclist that has everything than an experience they'll never forget! We offer fully guided tours and handle everything from motorcycle rentals to providing meals to booking the best accommodations around.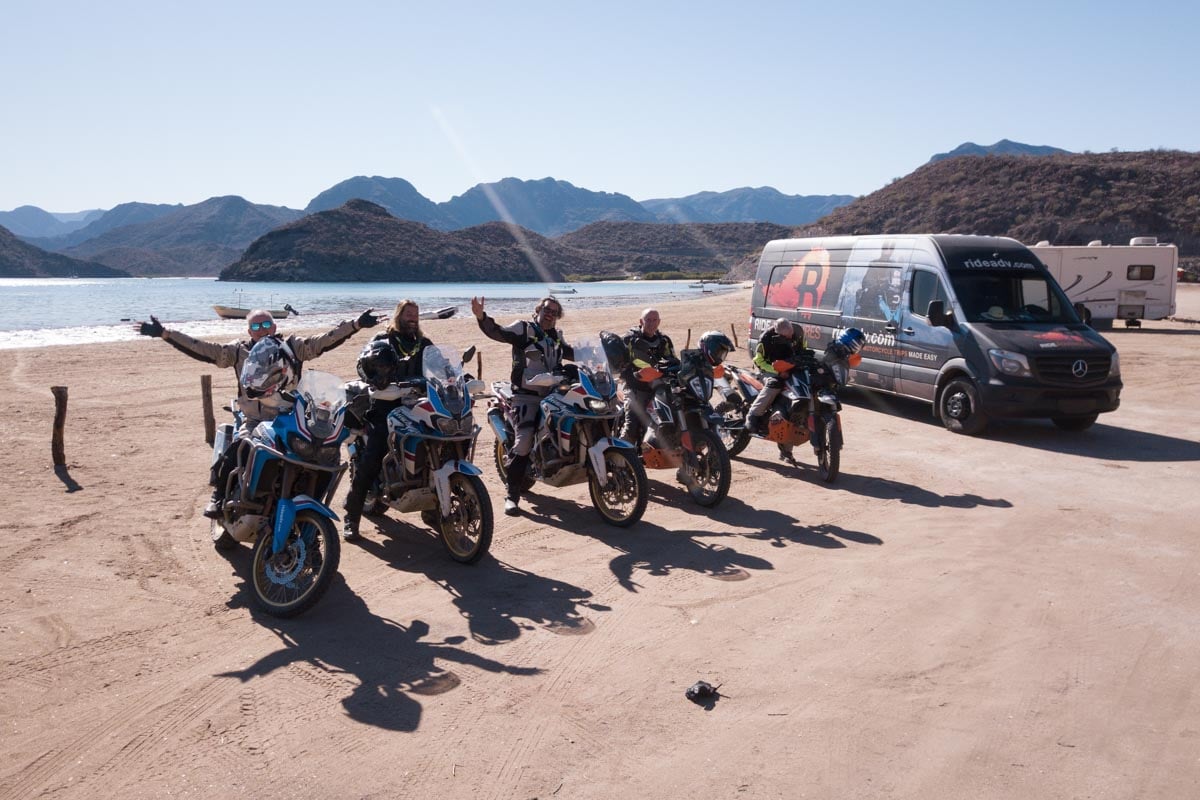 Interested in another destination? We guide tours both at home and abroad, so check out our current tour options or just give us a call if you're interested in setting up a custom adventure!
Gifts For Motorcyclists: Cafe Racers
If there's a motorcycle in your garage with heat-wrapped exhaust, a brown leather seat, or a seriously vintage vibe, these suggestions are for its owner.
Dainese Blackjack Gloves
The cafe racer crowd tends to be a little more fashion-forward, and these premium Italian leather gloves are the perfect complement to the whole cafe aesthetic.
They're made from premium goatskin leather, which means they're both super comfortable and highly abrasion resistant. They've also got additional padding and reinforcements in key areas for added safety that doesn't cramp their style.
And, speaking of style, the Blackjack also comes in both classic black leather and a rich brown version, so you'll be able to match it to that sleek cafe-style leather jacket as well.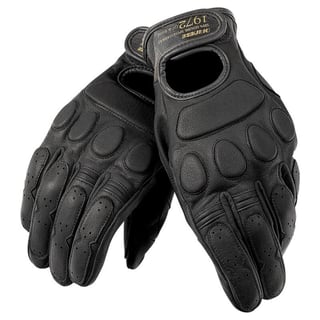 CHECK PRICE:
Dainese Blackjack Gloves
Retro Style Helmet
Nothing says "I love bespoke coffee shops and craft beer" like a retro-inspired helmet.
There are two models currently available I think would make a great gift for the cafe crowd: The Bell Bullit and Bell Moto-3.
The Bell Bullit is styled after classic road racing helmets of the 1970s, but throws in a ton of extra refinement and modern safety features. The little leather and chrome trim accents are impossible to miss and really add to the cafe vibe.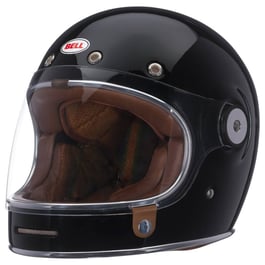 CHECK PRICE:
Bell Bullitt
The Bell Moto-3 adds a touch of vintage motocross style to the mix with a detachable visor and extended chin bar, making it the perfect fit for the scrambler/desert sled riders out there. The Fasthouse version with checkered print gets extra cool points in my book, but there are several solid color options as well.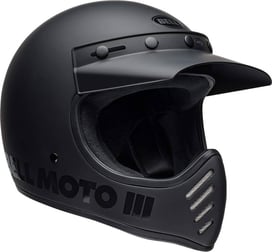 CHECK PRICE:
Bell Moto 3
Gifts For Motorcyclists: Harleys/Cruisers
Shopping for someone that loves a big honkin' V-twin, black leather, and FREEDOM? You're in the right place.
The Perfect Motorcycle Backpack
Stylish, functional, and waterproof. That's how I'd describe the perfect motorcycle backpack for cruiser lovers.
The Givi Gravel-T, for instance, is fully waterproof, holds up to 25 liters of gear, has a separate tool compartment, and looks as good on your back as it does strapped down to your sissy bar. It's also got a rugged MOLLE strap system that's perfect for lashing on extra luggage or a fuel bottle.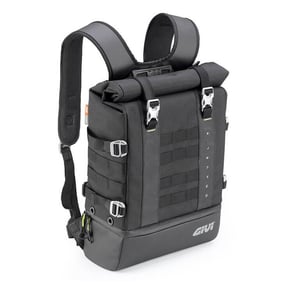 CHECK PRICE:
Givi Gravel-T
Garage Decorations
Anywhere a motorcycle is parked needs motorcycle stuff hung on the walls, and no garage is complete without at least one huge flag or banner.
If you're a Harley fan, you'll find no shortage of HD branded flags out there like this one sporting the original black-and-orange shield.
CHECK PRICE:
Harley Banner - AMAZON
Gifts For Motorcycle Riders: Dirt Bikers
Does your motorcyclist love knobby tires and big jumps? Do you often catch them leaving the house wearing goggles, colorful jerseys, and knee-high boots? If so, consider the following:
Klotz 2-Stroke Scented Candle
No, I'm not kidding. It's an actual candle that smells exactly like two-stroke oil.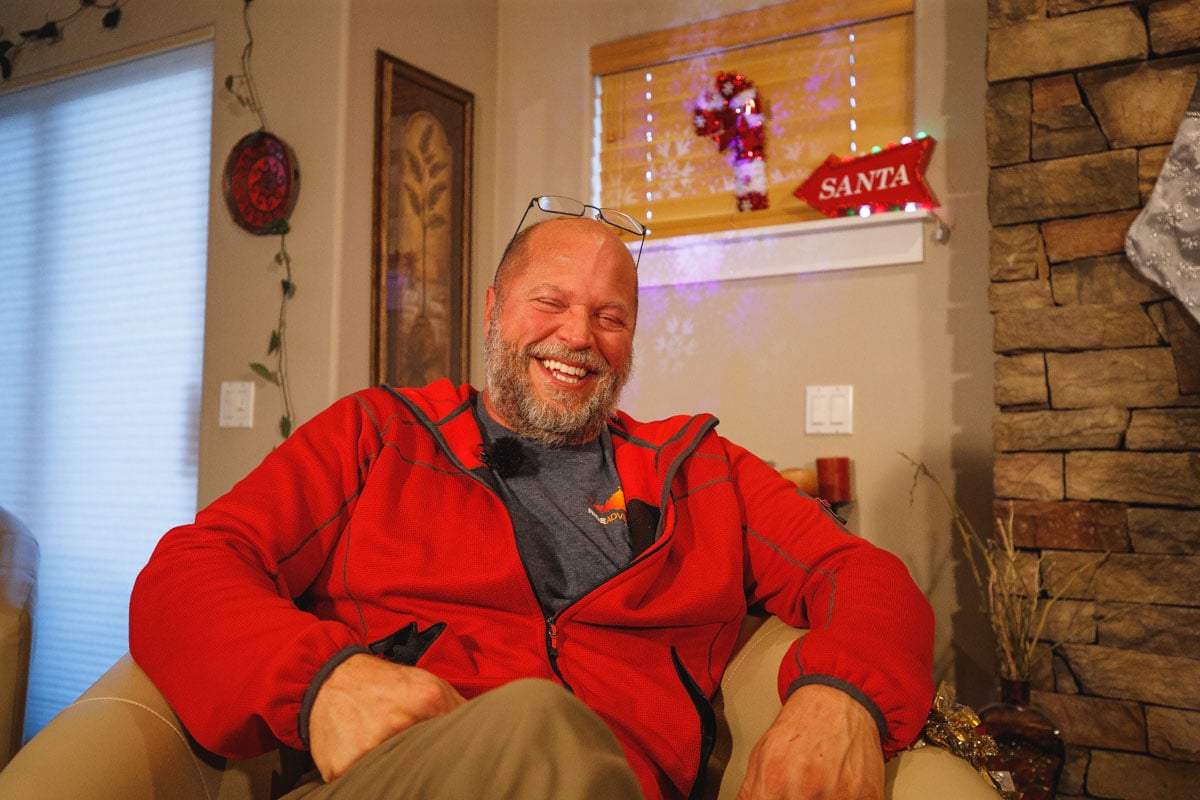 If you've got a die-hard two stroke dirt bike lover in your life (like Eric above), they'll get a huge kick out of this. Whether they're allowed to burn it inside the house, on the other hand, is up to you.
The good news is it lasts for up to 30 hours of burn time, which should be enough to keep any dirt bike rider's spirits up in the off season. This is probably one of the funniest gifts for motorcycle riders that you'll find. So if your loved one likes a good laugh, definitely consider this one.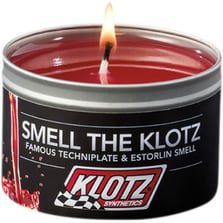 CHECK PRICE:
Klotz 2-Stroke Candle
Trailside Tool Kit
A nice trailside tool kit is the perfect gift for any motorcyclist who spends time riding in the woods or off the beaten path.
We like the CruzTools Speedkit because they make super-compact, high-quality kits that are put together for specific types of bikes. Whether a motorcycle is standard, metric, or European, there's a Speedkit available with all the common tools you'll need.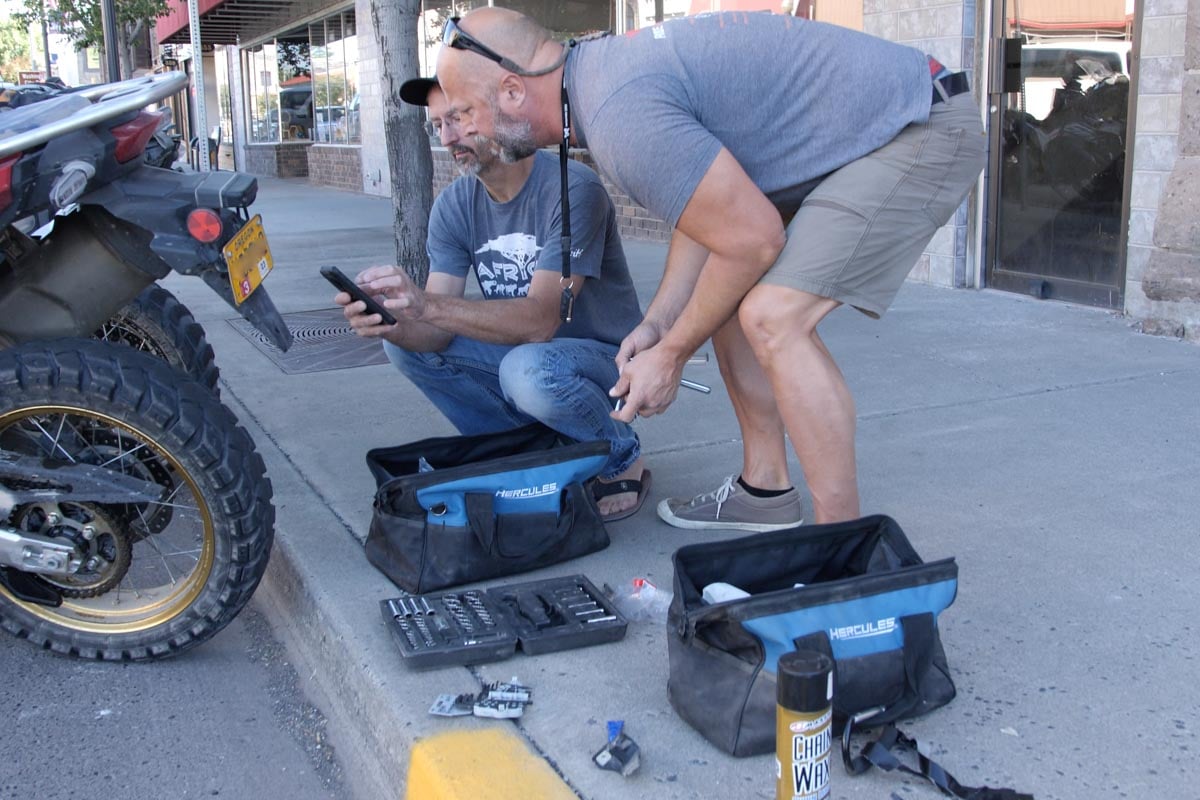 Their off-road focused kit is the one you want for dirt bikes, and gets bonus points for coming in a camouflage case. Because hell yea, brother.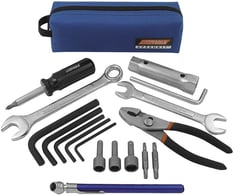 CHECK PRICE:
CruzTools Speedkit -REVZILLA
Bike Specific - AMAZON
Gifts For Motorcyclists: Sport Bike Riders
Got a rider in your life that spends time at the track, burns through knee pucks on the weekends, and enjoys collecting speeding tickets? Well look no further, here's what they're missing:
Fender Eliminator Kit
For some reason, most sport bikes are still made with gigantic, bulky rear fenders from the factory.
They look bad, weigh a ton, and ruin that nice clean rear profile we love on sport bikes.
If your sport rider (or any biker really) is still running a stock fender and turn signals, a fender eliminator kit is the perfect gift for them, and one that won't break the bank.
I particularly like the kits from Competition Werkes, which are made in the USA from rugged, corrosion-resistant 304 stainless steel. Competition Werkes makes every kit specific to the bike it's being installed on, so all you'll need to ensure the perfect fit is the year, make, and model of the bike you're shopping for.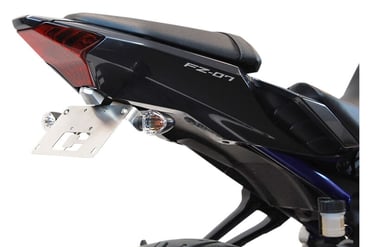 CHECK PRICE:
Competition Werkes Fender Eliminator kit*
*This is a bike-specific Modification so make sure you purchase the correct item for the bike.
Frame Protectors
Although sport bikes aren't supposed to go down as often as off road motorcycles, most of them suffer at least one low speed drop at some point in their lives.
A good set of frame protectors attaches to the outermost points of the bike, and provides a surface for the motorcycle to slide on in the event of a crash. They'll save the rider from having to replace expensive plastics or potentially totaling the bike by damaging the frame.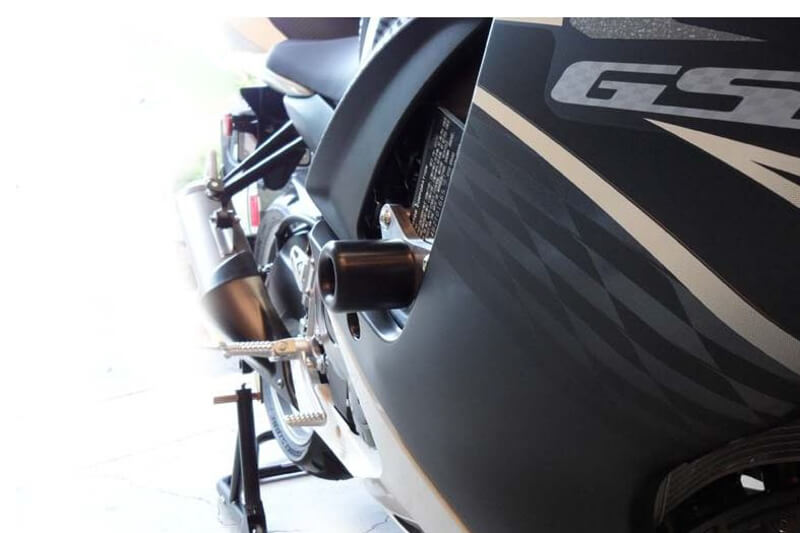 For my money I've always gone with Shogun products for my sport bikes, although there are other quality brands out there no doubt. Shogun sliders are the ones I've crash tested more times than I care to admit, and they've always held up commendably.
I also give Shogun props for selling comprehensive kits that cover all three slide-prone areas of the bike: The bar ends, the widest part of the frame, and the rear swingarm.
As an added bonus, Shogun's swingarm sliders double as swingarm spools. Gifts for motorcyclists that look great AND add a little utility are always appreciated.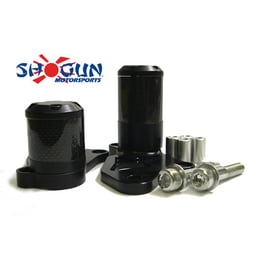 CHECK PRICE:
Shogun Frame Protectors*
* Bike specific so please make sure to double-check fitment before purchase