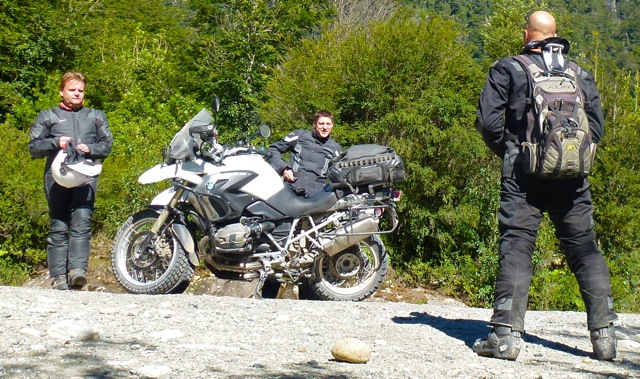 Sitting here on my last flight before arriving in northern Patagonia, I'm reminded once again what it might be like for any first-time motorcycle rider about to embark on their first journey through southern Chile & Argentina. Despite having been riding and living part time down here in South America each year since 2009, I can still can get that warm rush of excitement that comes with knowing the road ahead for the next few weeks. Or perhaps it's the unknown outcomes and new discoveries that come with each guided tour that really gets me going.
For some of you, as noted in your Customer Testimonials, this dream of experiencing Patagonia goes back to a 4th Grade Geography class or some early exposure to these untouched landscapes. Maybe you learned about the territorial battles between Chile and Argentina for locations like the famous Mt. Fitz Roy, and photos of its peaks have been burned in your mind ever since. As Arden Kysley pointed out in his article in Rider Magazine about our "Patagonia Experience" tour back in 2013, for him, it was seeing a photo of "Los Cuernos," or the famous "Horns" of Torres del Paine National Park that inspired a life-long wanting to experience Patagonia in person. Hey, whatever it is that first gets you motivated to finally explore the region, you and I share a similar zest for adventure.
This "zest for adventure" has been part of our motivation to now offer more self-guided motorcycle trip options in Patagonia, and in other countries and regions than ever before. Now in our 6th year of operations, we've recognized that, not every rider wants to, or was meant to ride amongst a group, and in fact many of you just purely want to rent a motorcycle and ride solo. At the same time, we understand there's a certain comfort that comes with not being completely alone out there (it's generally safer to have other riders with you) so we've created packages like our "Self-Guided, Truck Supported Full Patagonia Adventure." With this trip format, each rider essentially has the freedom to do what they want to, when they want to during the day (taking advantage of our suggestions and advice in their tankbag, and a preset hotel destination to arrive at each day.) At the same time, one of our experienced, Bi-Lingual Guides will be following in the Support Truck with everyone's luggage, tools, spare parts, tires, etc. Sort of a "hybrid" between a Fully Guided tour and just being completely Self-Guided, riders will get to enjoy the feeling of freedom, the smaller financial burden than a Fully Guided Tour, yet with the benefits of having our staff along for the trip, while not being obligated to ride at any particular speed or among the rest of the group at anytime. Plus, the "Full Patagonia Adventure" route covers every reasonable highlight from Pucon in the northernmost edges of Patagonia to the "End of the World!" in Ushuaia, Argentina. Unlike with some other tour operations, we've arranged for everyone to just finish and celebrate there in Ushuaia, instead of having to waste time backtracking 1-2 days to the Chilean side of the border. Again, the ultimate in convenience combined with the ultimate in adventure!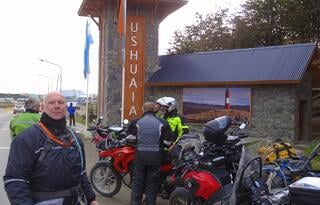 I guess where I'm going with this is, that we're still doing everything we can to cultivate and make a reality that adventurous spirit in motorcycle riders from around the world. Don't get me wrong, myself and my fellow Lead Guides still very much want to be here with you when you first gaze out over the Perito Moreno Glacier, or the first time you set eyes on Lago General Carrera, or Torres del Paine National Park. The reactions we get from "I can't believe I never did this before!" to simply sentiments like "I don't want to leave" are quite common, and still our favorite reason to be in this line of work. We love knowing that you're completely swept away by Patagonia, especially in this day and age where it can be so difficult to be impressed by anything anymore. We love it.
Well, just about to land now, I'm glad I got a window seat on the left side of the plane again. Between keystrokes, I've enjoyed farmlands of Chile below, while a bit further to our left, a view of the Andes Mountains the entire time, finishing with the nearly-perfectly-symmetrical Volcano Villarrica near Pucon, where the Full Patagonia Adventure begins and the worries, hassles, and concerns of everyday life is left behind. Gotta run. Time to get ready to RIDE down to Ushuaia.

(Written 3 weeks ago…..posted after all the tour action is over finally!)