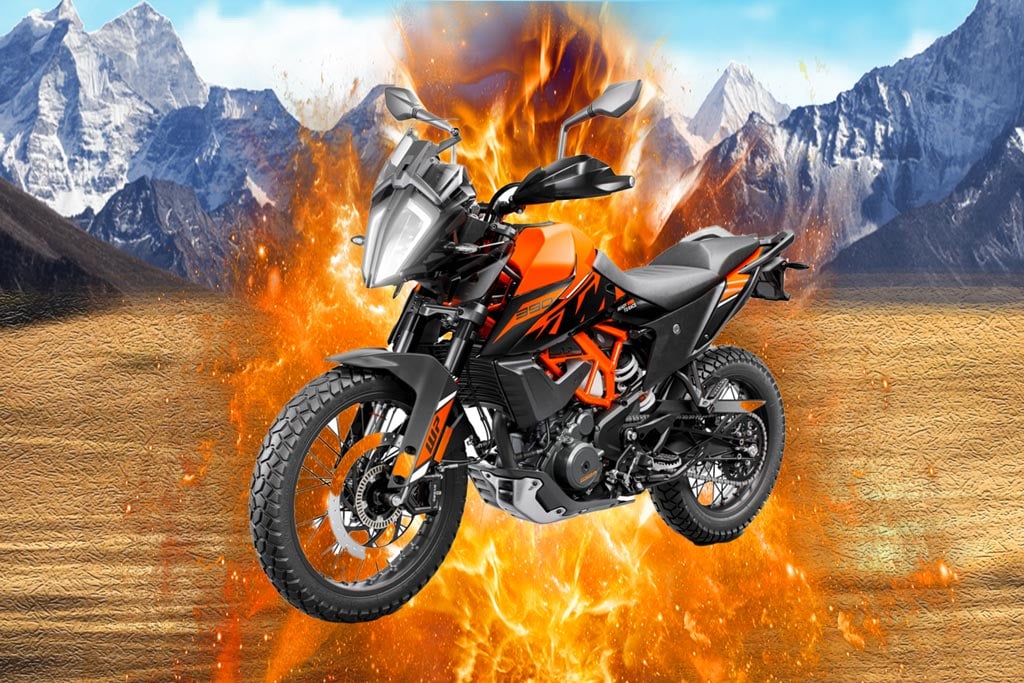 We've had no shortage of fun aboard KTM's 790, 890, and 1290 adventure bikes, but where does the littlest ADV, the KTM Adventure 390, fit into the mix? Here's our take on Big Orange's entry-level ADV.
If KTM is known for one thing above all else, it's their commitment to building high-performance motorcycles straight out of the box. As their "race ready" slogan suggests, KTM's machines have a reputation for delivering high-power engines, highly-capable suspension, and highly-advanced electronics straight from the factory, with little to no farkling necessary to get out and hit the road (or the dirt) as hard as you want.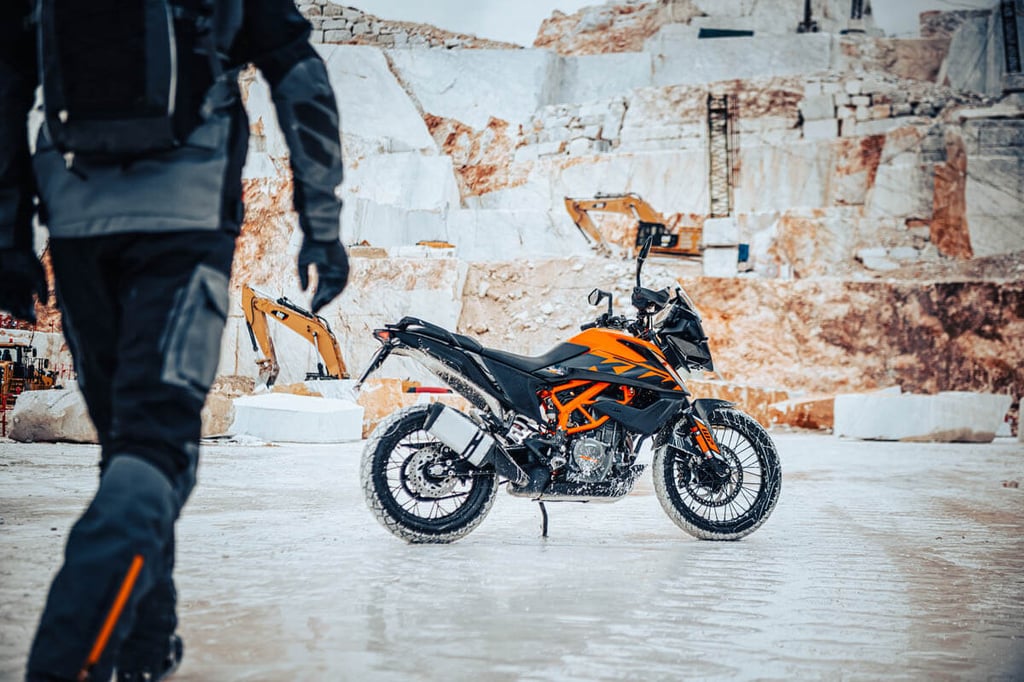 That's certainly been the case in our experience, and from a performance standpoint, we've been genuinely impressed with every KTM we've ridden to date from their trail-taming 450 enduros to their mile-munching adventure touring rigs. So how does an entry-level motorcycle like the KTM Adventure 390 fit into the brand's go-fast ethos?
Long story short, better than you might expect.
But First: Can Small Bikes Actually Do Adventure Riding?
Historically the adventure motorcycle segment has been defined by extra large and extra powerful machines. BMW's massive 1200cc+ GS will be the first to come to mind for many, while bikes like KTM's 1290 Adventure and Honda's 1084cc Africa Twin won't be far behind.
Yet over the last few years, we've been witnessing a redefinition of what the ideal adventure bike should be. The "middleweight" segment is white hot, and bikes like the Yamaha T7, KTM 890 Adventure, and Ducati Desert X continue to sell out as fast as manufacturers can build them.
But how small is too small? As far as we're concerned, there's no such thing.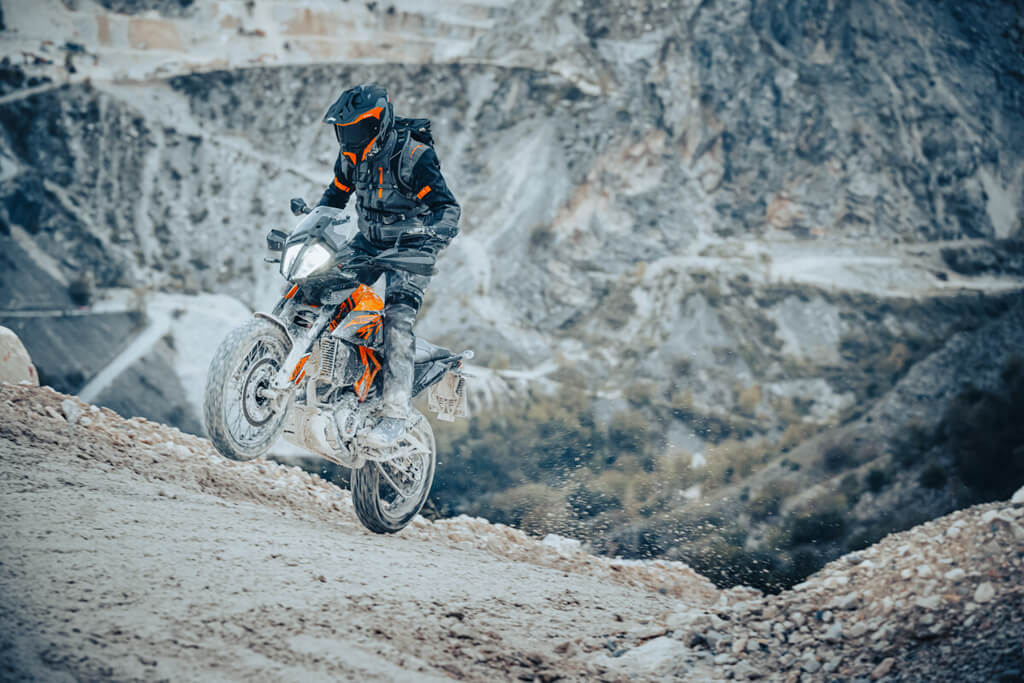 "Small bikes like the KTM Adventure 390 can deliver big thrills in the right hands."
Naturally, that statement comes with a few caveats. A proper adventure bike should be equal parts long-distance touring and off-road exploring, and for a small bike like the 390 to earn that adventure title, it needs to do a few specific things well.
As far as the touring bit goes, we want a low-displacement ADV bike to comfortably pull a respectable 70 mph cruise on the highway. Comfortably is the important word here, because while most mini-motos can fight their way to 70 mph, many of them vibrate so intensely at that speed that they'll shake your fillings loose long before you get to your destination.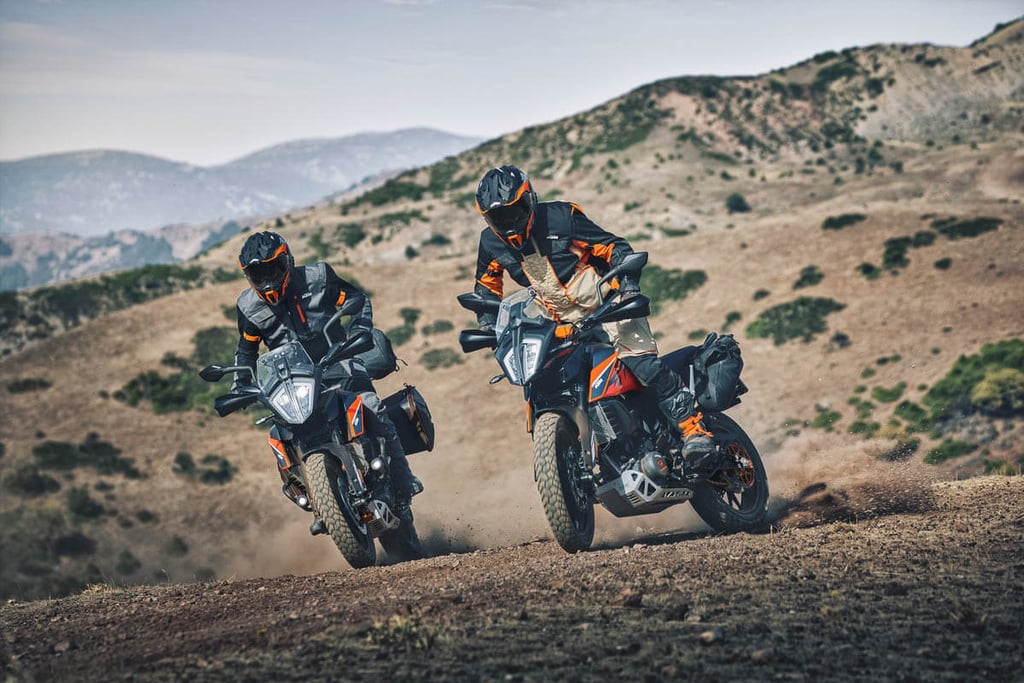 When it comes to the off-road piece, while we generally have lower expectations for smaller displacement bikes, that doesn't give them a free pass. Even the littlest ADVs should still be able to confidently navigate gravel paths and dirt forest roads without feeling overworked or under-sprung.
To that end we say a small ADV should have at least six inches of suspension travel, off-road capable tires (at least an 80/20 style tire, although 50/50 is preferable), and ideally some degree of impact protection like a skid plate, engine guards, and hand guards.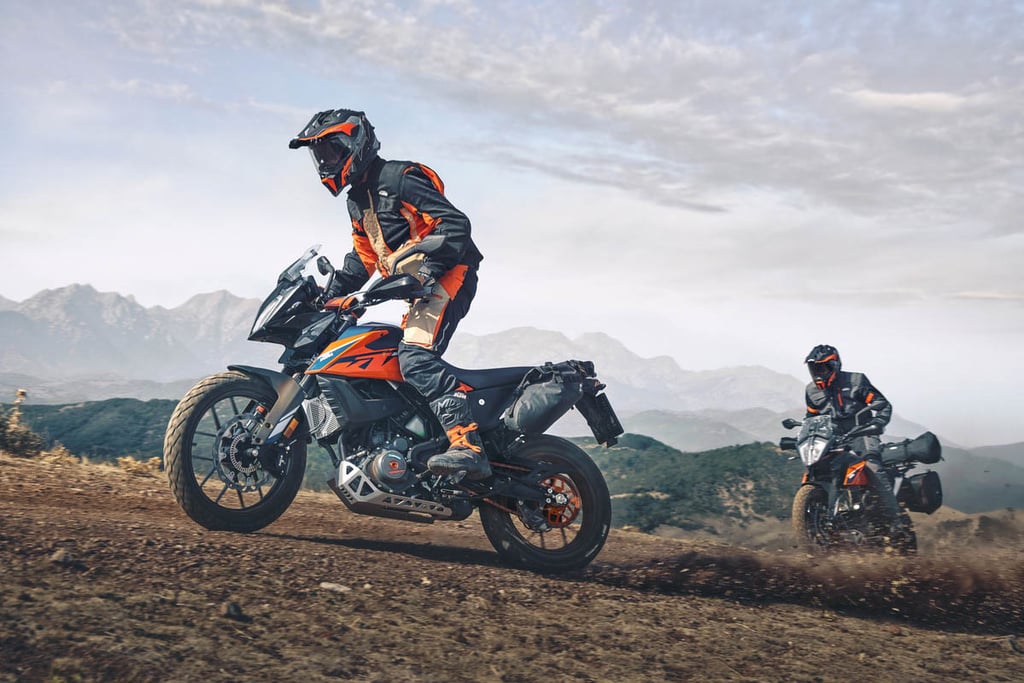 "Small frame may have you looking like a hunchback if you are built tall."
Last but not least, one of the major issues we've found with some smaller adventure bikes is that they're simply not comfortable to stand up on.
Granted, smaller engines will often have smaller frames by default, but there should be enough room in the rider triangle to stand comfortably on the pegs for proper off-road work.
Ideally, you should be able to grip the bike with your legs for added stability and control as well, whether that's at the front of seat or somewhere on the gas tank.
Now, with those features in mind, let's take a look at how the KTM Adventure 390 stacks up to its larger cousins.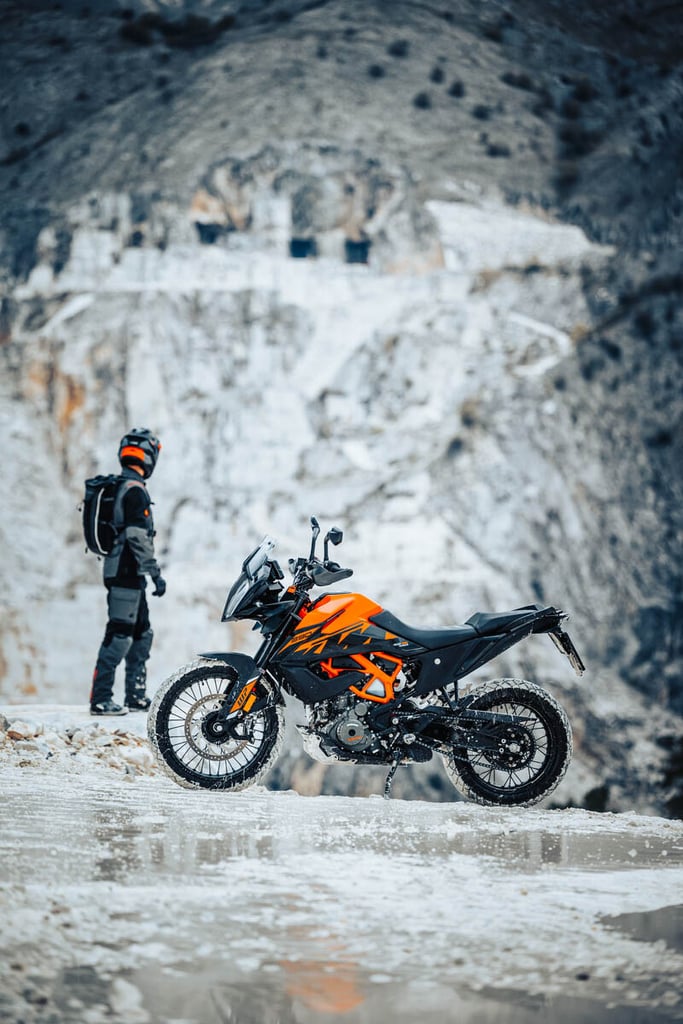 2023 KTM Adventure 390 Specs
MSRP: $7,399
Engine
Engine: Four-stroke single cylinder, 4 valve head
Displacement: 373cc
Bore x stroke: 89mm x 60mm
Compression: 12.6:1
Transmission: 6 speed manual
Final drive: Chain
Horsepower: 44hp @ 9,000rpm
Torque: 27.2 lb-ft @ 7,000rpm
Fueling: Electronic injection
Clutch: Wet/slipper
Chassis, Suspension, and Brakes
Frame: Powder-coated steel trellis
Front suspension: 43mm WP Apex, compression and rebound adjustable
Front travel: 6.7"
Rear suspension: WP Apex, rebound and preload adjustable
Rear travel: 7.0"
Front brakes: Single 320mm disk, 4 piston caliper
Rear brakes: Single 320mm disc, 2 piston caliper
ABS: Street & cornering ABS with available off-road setting
Wheels: 19/17", wire spoke or cast
Tires: 100/90/19 front, 130/80/17 rear, Continental TKC 70
Dimensions/Capacities
Rake: 63.5 degrees
Trail: 3.8"
Wheelbase: 56.3"
Seat height: 32.6"
Ground clearance: 7.8"
Fuel capacity: 3.8 gal.
Weight: 379 lbs
Our Take on the 2023 KTM Adventure 390
It's not every day you get an entry-level bike that's built to a premium spec.
Sure, there may be a few cheaper beginner bikes out there with similarly adventurous intentions. Still, where other brand's entry-level bikes often look and feel built to a budget (both in terms of performance and finish), KTM gives us a truly handsome offering that just so happens to be beginner friendly.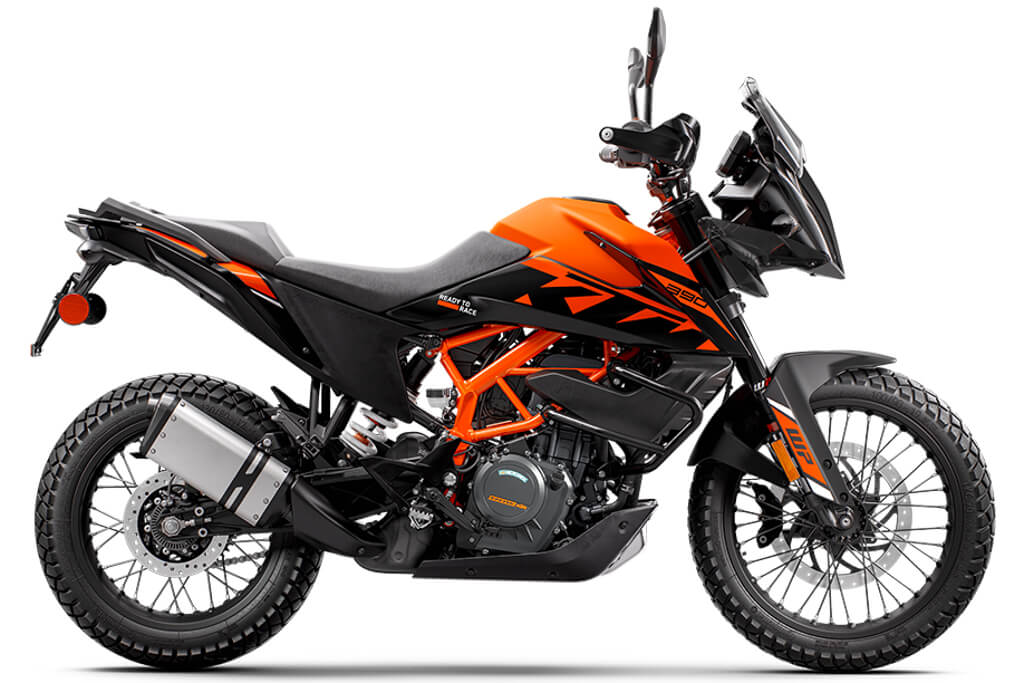 With well sorted suspension, a fairly legit electronics suite, a small-yet-performance focused engine, and a smattering of adventure-focused features straight from the factory, this little bike drives a hard bargain to pony up a bit more cash for a bit more refinement.
It is not without its faults, of course, but as a first bike that can do literally anything reasonably well from long-distance sport touring to off-road exploration, it's one of the most well-rounded small displacement bikes money can buy.
Pros
Low seat height
Fun yet manageable engine
Premium suspension
Adventure-focused build components
Spoked wheels now available
The first thing that got our attention with the KTM Adventure 390 was its fit and finish. Entry-level bikes are typically marred by acres of cheap plastic, basic components, and simplified instruments, but more or less every inch of the 390 looks and feels like a scaled-down version of its larger cousins.
There's the distinctive split LED headlight, the full-color TFT dash, the skeletonized swingarm, and, in the case of the 2023 model, the wire-spoked tubeless wheels. Throw a leg over the seat and you'll also be pleasantly surprised to find that pretty much anyone can flat-foot this little ADV at a stoplight, which bodes well for the new ADV riders it's aiming at.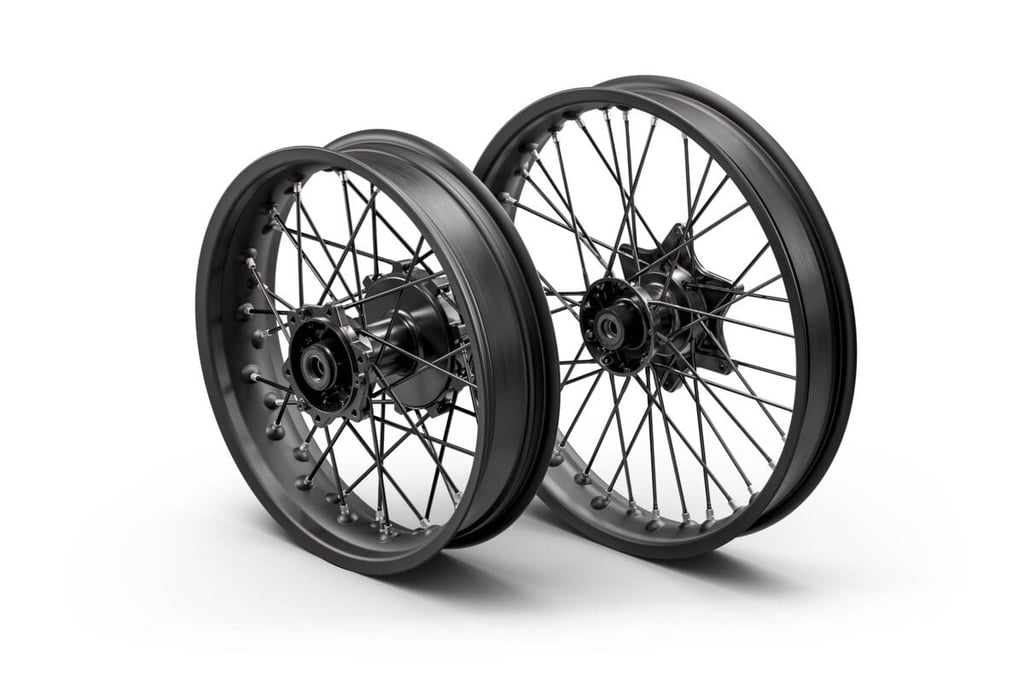 Once you get the 390 rolling, you'll only find more to love here. Despite its relatively small 370cc displacement, KTM built this engine to entertain, and while it's by no means aggressive or even particularly fast, it's miles ahead of your typical lightweight adventure machine.
We found the little single's 44 horses more than sufficient to deliver the requisite 70mph cruise, and unlike most bikes this size, you can actually run the 390 up over 90mph if you've got a little patience and don't mind the vibrations.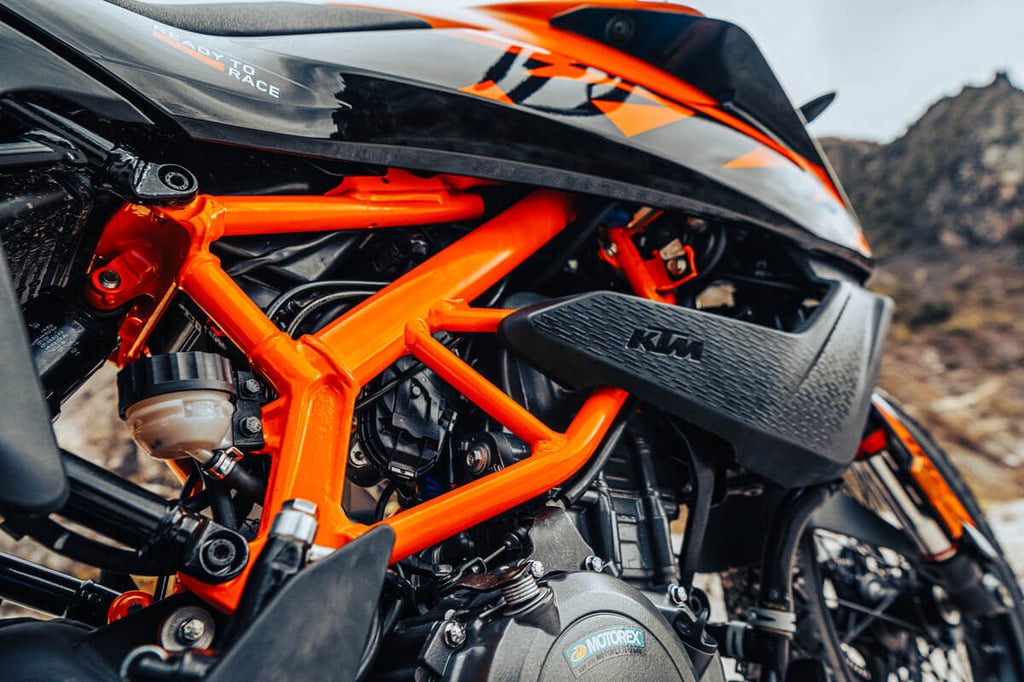 To put this engine into perspective, our beloved Suzuki DR650 only makes 43 horses despite its 250cc+ displacement advantage, and while the big dually has the KTM beat on torque, the two machines are within 10 pounds of each other weight-wise.
The other major selling point of the KTM Adventure 390 for us is that sweet WP Apex suspension. For a little over $7,000, you're getting the same diameter fork found on our last KTM 790 Adventure, and while the travel is a little over an inch shorter, you're still getting a toolless adjustment for both compression and rebound, which is practically unheard of in an entry-level motorcycle.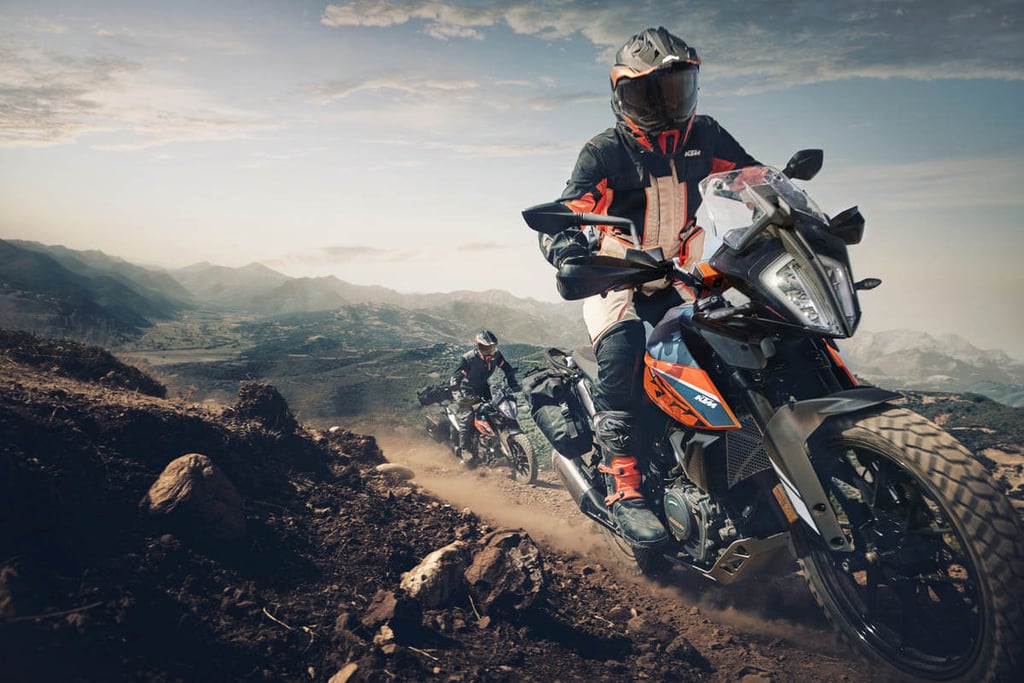 A few other highlights to note here include the KTM's commendable electronics suite, which for 2023 now includes both cornering-sensitive ABS as well as multiple ride modes for on and off-road.
The off-road setting allows you to switch the rear ABS off entirely for slips and slides, but still keeps the front wheel in check, which comes in handy for steep descents over loose terrain.
We'll also note that the 390 gets the most impressive complement of off-road focused protection features from the factory out of any entry-level ADV (and even some middleweights). These include factory engine guards, which are a godsend for new riders, as well as hand guards, and a "light" skid plate which, again, is no small feat at this price.
Cons
Quality suspension, but limited travel
Ergonomics aren't ideal for standing
Middling ground clearance
Expensive for an entry-level bike
All things considered, we're convinced you'd be hard-pressed to find a comparable entry-level bike for the money, and believe KTM has delivered a seriously competitive package in the little 390.
With that being said, this bike isn't without its faults, so here are a few things to take into consideration if you're thinking of picking one up yourself.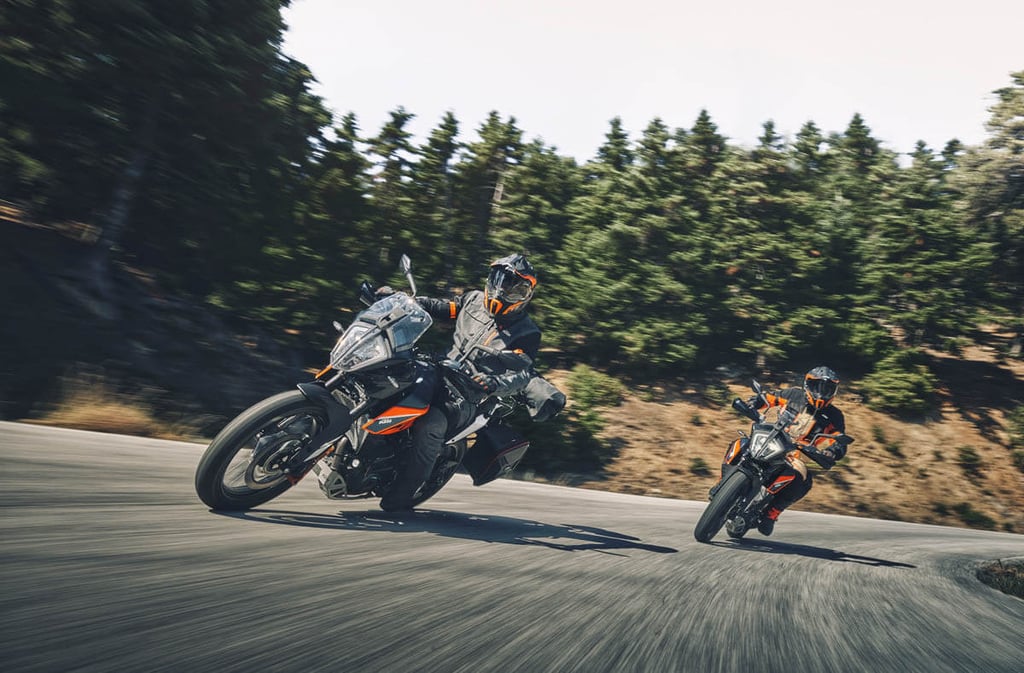 Our first gripe with the 390 is that at over $7,000, it's an expensive proposition for a small displacement machine. The Kawasaki Versys 300, Suzuki DR/DRZ, and even the Honda CB500X can be had for less money, so depending on exactly what sort of adventure you're after, there may be better alternatives from a value standpoint.
We'll also note that although the KTM's WP suspension is easily the most sophisticated and well damped in the segment, its practical offroad use is limited both by travel and ground clearance.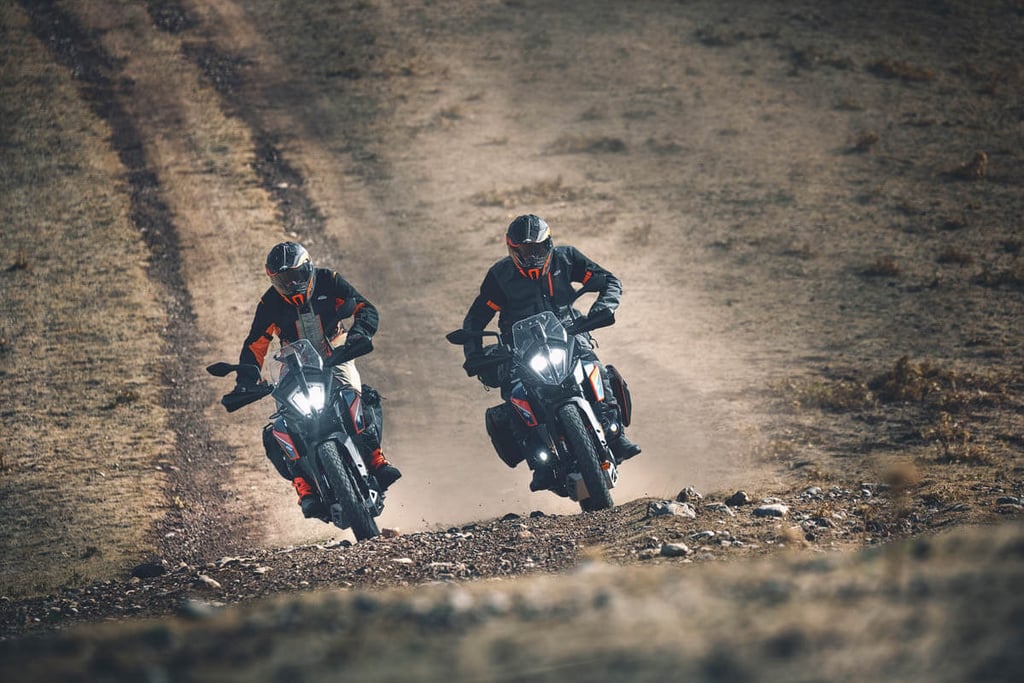 Don't get us wrong, with over 6 inches of squish on tap, the KTM is more than capable of handling just about any dirt or gravel road on the planet, but things like bigger hits, ruts, and logs are bound to give it some trouble.
Lastly, standing up on the KTM Adventure 390 simply isn't ideal. The footpegs sit at a forward angle and are much too close to the handlebar for comfort when standing, which makes balancing tricky and leaves you perched precariously far over the front of the bike.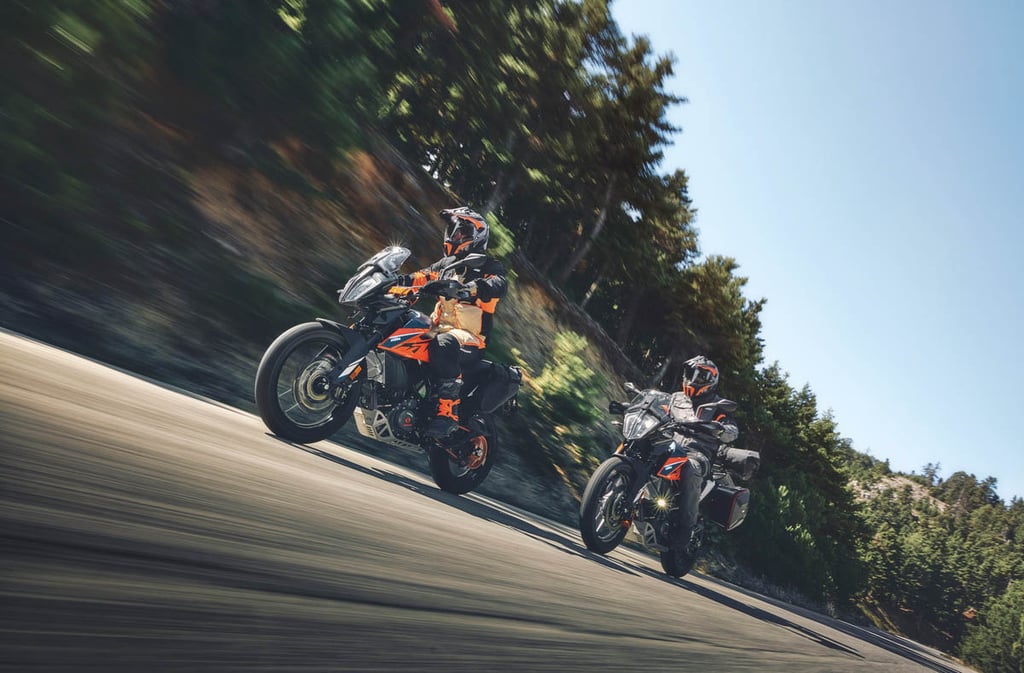 This isn't the ideal position for off-road, and while getting your weight over the bars is great for keeping traction on the front tire, being constantly "pushed" over the front end isn't exactly confidence inspiring.
Hard braking has a tendency to "lurch" the rider over the windshield, which may make some rider's first taste of the dirt more literally than they'd like.
Final Thoughts On the 2023 KTM Adventure 390
Ultimately we found the KTM Adventure 390 to be everything its name implies: It's low and compact enough to be truly beginner friendly, capable enough on the open road for proper long-range adventures, and, because it wears the KTM badge, it's got impressive engine performance and refined suspension to match.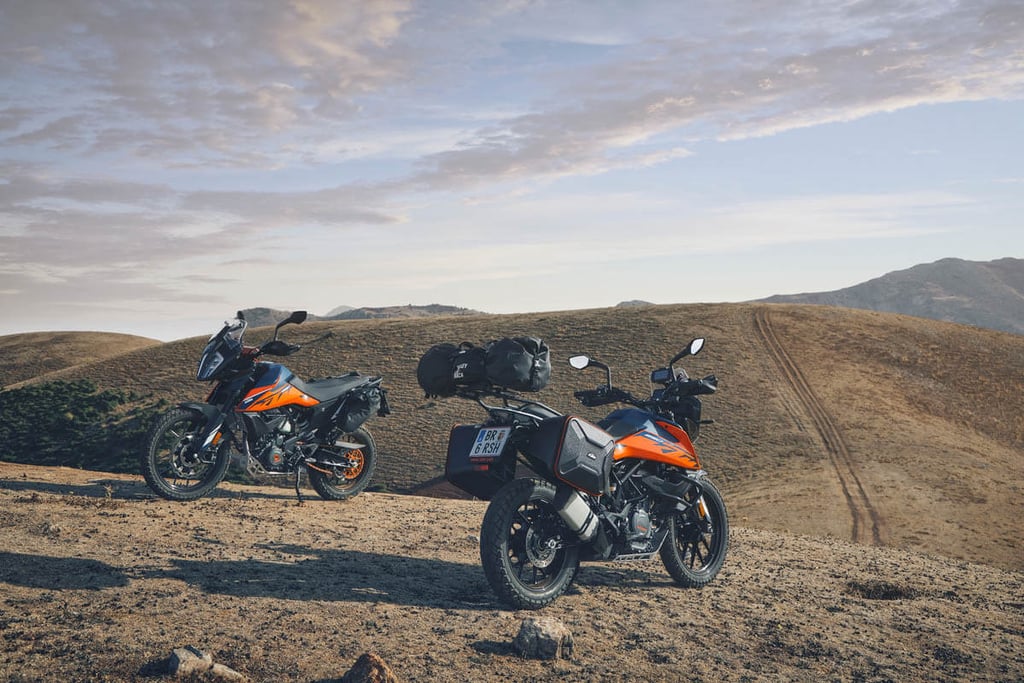 The 390 wouldn't be our first choice for off-road focused adventure work, as something like the long-travel Honda CRF300L Rally would likely make a better candidate for less money, but as an all-rounder with some true off-road capability, the sum total of this machine is tough to match.
Despite its shortcomings, we still believe this is arguably the best adventure bike out there for beginners who are looking to put some miles under their belt in style while also getting their first taste of off-road riding.
The bike is a joy to ride on any surface, and while the ergonomics can be a little awkward in the dirt, there are plenty of inexpensive aftermarket solutions out there for folks who want to spend more time off-road.
→READ MORE: 2021 Yamaha Tenere 700 Review: The Good and the Bad and The best (and Worst) Times to be Standing on a Motorcycle.