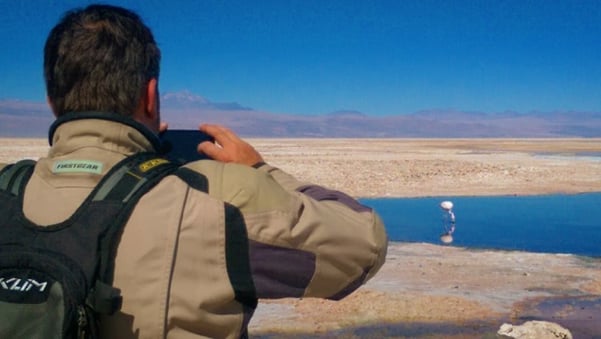 (Continued from the Day 1 blog post on this link.)
Day 2
We had a little change of plans today: Instead of going east and over the Andes Mountains into Argentina, our "scouting" group rode to the west. Across the Atacama Desert and over the "Cordillera de la Sal," the Pacific Ocean and coastal city of Antofagasta, Chile became our target. This gives us the chance to ride past small lagoons that are often populated with pink Andean Flamingos and other local birds. That's right: The World's Driest Desert also has pink flamingos in it!
The continuation of amazing landscapes, rock formations, ground textures, and bluest skies in the world are all part of crossing the flat salts and routes the Atacama Desert. With volcanic lava flows still visible in the distance, it's a reminder of what an amazing place on earth, my home country is.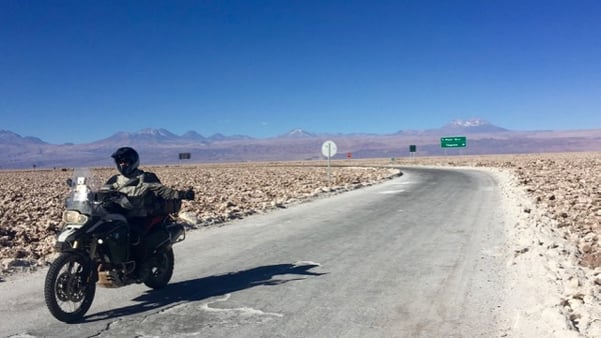 Above all, perhaps it's the feeling of freedom that comes with riding dual sport adventure motorcycles. That feeling of knowing we can see a road, wonder "where does it go," and then just "GO!" is definitely a treasured part of these motorcycle rides. Especially in such remote places like we are in, the mixed terrain, lack of signs telling us what to do, etc. is just a pleasure.


Fresh seafood awaited us for dinner after we checked into our hotel in Antofagasta (I had octopus.) Being back down at sea level makes temperatures a bit warmer, although the cool Pacific breezes keep temperatures under control.
This town also has a casino which is fun, and is home to much of the mining industry that is active in northern Chile. With some of the largest copper reserves in the world and a world constantly using more and more electronics, this is a busy town.
More news on the rest of the ride soon! We have these adventure bikes positioned here in Antofagasta, Chile now so that it's an easier starting point for riders wanting to explore the Atacama Desert, Pacific Coast, Andes Mountains, and more. They even had a Formula 1 car from the RedBull racing team here recently in the small town of Purmamarca, Argentina. Too bad we missed it!