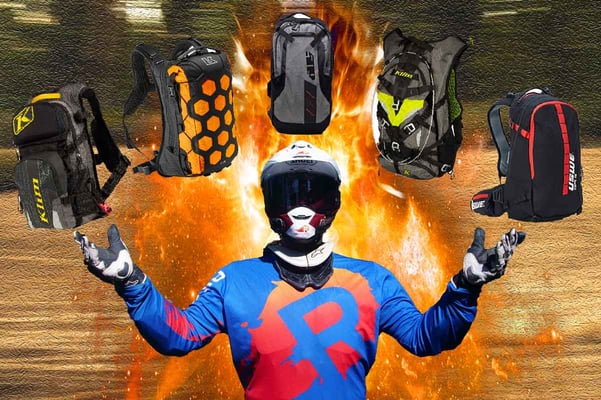 Disclosure: RIDE Adventures is a participant in the Amazon Services LLC Associates Program as well as other affiliate programs, designed to provide a means for us to earn fees by linking to Amazon and affiliated sites at no extra cost to you. Please see our Disclosure for more details.
You'll find plenty of bags out there nowadays being sold as motorcycle backpacks, but only a select few have any business going for a ride. Truth be told, most of the moto packs on the market are more or less just casual backpacks with moto-specific brand names printed on them, and where there are brand names, outrageous price gouging is sure to follow.
As far as we're concerned, a proper motorcycle backpack comes with some very specific moto-centric features. Packs worthy of adventure riding require an even more particular set of skills, and if you're buying anything else, you're almost certainly being taken by the hype.
Below you'll find the key features we look for in any motorcycle backpack worth buying, as well as a few of the packs that have served us well in our tours over the years.

What To Look For in Motorcycle Backpacks for ADV Riders
The first (and arguably most important) feature is fit. Because adventure riding is an active activity, you want a bag that's form-fitting and secure without being overly restrictive. For that reason, we prefer motorcycle backpacks with pivoting central sternum harnesses (which allow for some flex as you move without letting the bag shift around on your body).
After fit, our top priority is durability. A good motorcycle backpack is typically a pretty serious investment, so if it isn't built to last for years of abuse, the other features won't matter much. Look for bags made from tough materials like Cordura or heavy-denier nylon/polyester, and if possible, verify that the zippers come from reputable manufacturers like YKK.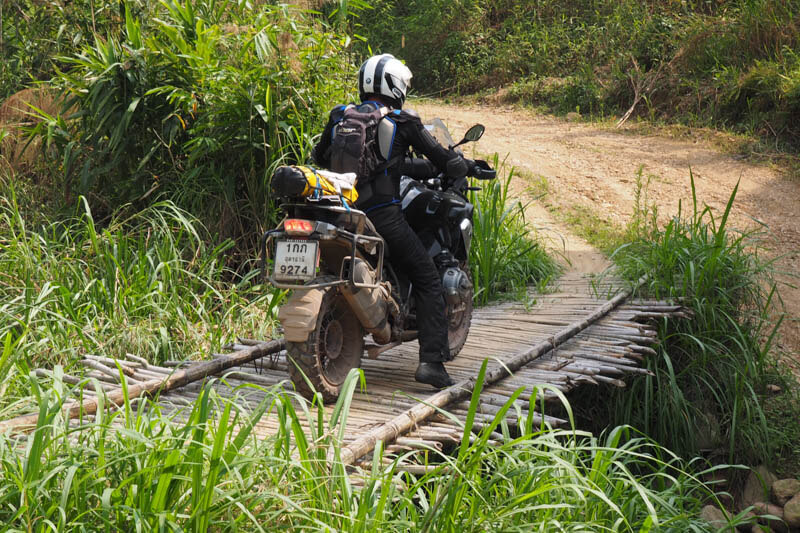 "With how hot it is on our Thailand Tour, having a fitted backpack with a water bladder is essential"
From there, the best bags distinguish themselves with ADV-friendly features. Hydration bladder compatibility is always a plus, and if a bag actually includes a bladder in its price (which is shockingly hard to come by these days, as you'll read below), that's icing on the cake. Other important features to consider include protective goggle pockets, storage on the shoulders/hips for quick access items (cell phone, GPS systems, snacks, etc), and integrated tool storage for your roadside essentials like wrenches, screwdrivers, and tire irons.
1. Klim Nac Pak Hydropack: Best All-Rounder
While we're fans of every bag on this list, we've spent more time with the Klim Nac Pak than any other, and both past and current iterations are favorites of our crew. Some of us are still rocking OG Nac Paks from 5+ years ago (if it ain't broke…), but the latest version is arguably the best yet.
As far as features go, the Nac Pak is a ton of bag for the money. It's got a fleece-lined hardshell goggle pocket, a removable water-resistant tool pak, sternum-lock shoulder straps, and a hydration pocket that stores up to 3 liters of water. Storage is great as well, and the Nac Pak's 13 liters of internal space combined with dual shoulder pockets is plenty for stashing the essentials without adding undue bulk.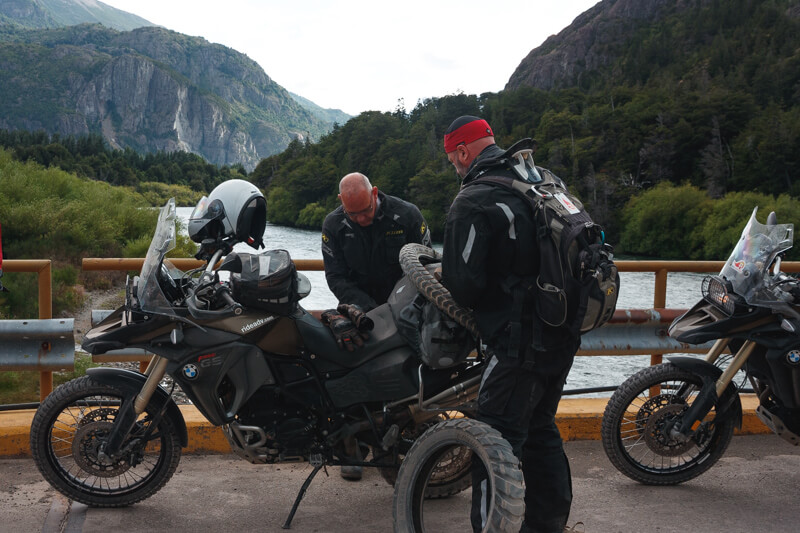 "Eric guiding our Patagonia Tour with an older version of Klim Nak Pak"
The Nac Pak also gets high marks for durability, with a heavy-duty all-nylon construction and equally tough YKK zippers throughout. The back panel is another notable perk here, delivering firm support and ample ventilation through its 3D-molded foam. The same goes for the over-sized zipper pulls, which are easily operated with or without gloves.
It's tough to complain about a bag this good at a price this fair, but we'll give it our best shot: We have one instance where the included water bladder didn't last very long before it sprung a leak. Perhaps buying the lower priced non-hydropak version and adding a more heavy duty bladder would be a smarter choice.
This motorcycle backpack is also designed to accommodate a medium sized laptop, which will be perk for some in terms of versatility, but we would prefer a more compact layout if given the option.
Pros:
Great price point
Secure sternum harness
Loaded with moto-friendly features
Cons:
Wide back panel
Included water bladder is a little too thin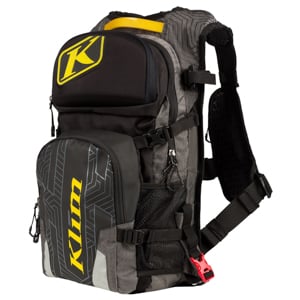 CHECK PRICE:
Klim Nak Pak Hydro

2. USWE Core 16 Off-Road Daypack:

Best Off-Road Option
If you've ever spent time hanging around hard enduro or hare-scramble events, you'll know that USWE packs are by far the bag of choice for serious off-road riding. Their Core series is the latest addition to their line of motorcycle backpacks, and it's easily our favorite USWE to date.
The single greatest advantage of the USWE Core 16 is its fit system, which combines the brand's trademark dynamic harness with an integrated hip belt and a fully adjustable backplate. The backplate system works similarly to a sophisticated hiking pack, allowing the rider to adjust the length of the pack to match their torso for ideal load distribution.
We're also fans of the Core's storage and organization features. Each pack comes with a removable shoulder pocket that's ideal for stashing a cell phone or GPS unit, as well as MOLLE webbing along the shoulder straps that's perfect for mounting a radio. There's also a dedicated hydration bladder pocket, a fleece-lined goggle pouch, and a hard-shell tool case integrated into every pack.
Our main nit-pick with the USWE Core is that it's a bit pricey, and somehow doesn't manage to include a hydration bladder for the money. We'll also mention that while we love the hip belt (and its two zippered pockets) for the added storage and stability, it comes at the cost of some simplicity: Because the belt shares the same elastic straps as the shoulder harness, it can take awhile to get everything dialed in, but once it's dialed, there's nothing else quite like it.
Pros:
Best fit system on the market
Excellent storage and organization features
Supportive padding and outstanding ventilation
Cons:
Expensive
Sophisticated fit system takes some time to dial in
Hydration bladder sold separately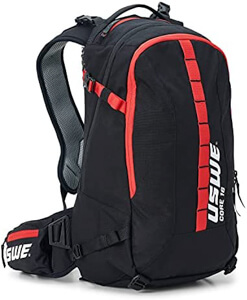 CHECK PRICE:
USWE Core 16 Offroad Day Pack
3. Klim Tek Pak: Best Storage Capacity
If you're looking for a high-quality motorcycle backpack but want a little more storage than your standard fare, check out the Klim Tek Pack. With 21 liters of space on offer, the Tek Pak leads the charge on outright roominess, and its abundance of pockets include laptop storage, hydration storage, zippered access from every conceivable direction (there's even an opening on the bottom) and, of course, a fleece-lined goggle pocket.
This is more than just a fat sack for storing extra souvineers though: The Tek Pak includes the same sternum harness system as the Nac Pak above, but adds D30 armor into the straps with enough coverage area to function as a bonafide roost guard.
The other unique feature of this motorcycle backpack is its integrated cable lock. Klim ships the Tek Pak with a ⅛" steel cable wound through a lattice of exterior nylon anchors. This allows you to easily secure the bag to your bike, and there's plenty of length left over to lock down anything else you'd rather not walk around with like your helmet and/or jacket.
As far as drawback go, although the cablelock is a unique feature, it only secures the backpack itself. That means all the zippers (and therefore your stuff) are essentially unprotected. It also doesn't actually include a physical lock, so you'll have to supply your own padlock to put it to work. We also feel that the Tek Pak's 21 liters of storage is overkill for most adventure riders, especially those who carry the bulk of their gear in panniers and only use motorcycle backpacks for the essentials. Still, it's a damn nice (and damn tough) pack with some sweeet features, and the fact that it costs a few bucks less than other premium options makes it well worth a closer look.
Pros:
Sternum harness
Integrated D30 chest protector
Integrated cable lock for security
Cons:
21 liter size is overkill for most
Cable lock secures the pack, not your stuff
Surprise, surprise: Bladder sold separately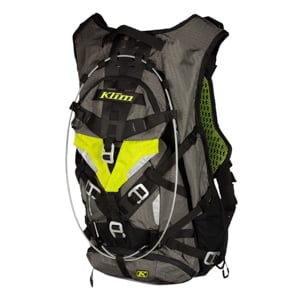 CHECK PRICE:
Klim Tek Pak
4.

Kriega Trail 18: Most Rugged
Kriega motorcycle backpacks are widely considered some of the highest quality on the market, and the brand's flagship adventure pack, the Trail 18, may be their toughest pack yet.
Durability is a high mark here, even by Kriega standards. The bulk of the pack is made from high-strength 420D Cordura, the exterior net is made from Hypalon (a virtually indestructible synthetic rubber), the quadlock sternum buckles are utterly bombproof, and all of the zippers are heavy duty YKK units. It'll take an act of god to put a dent in this thing, but should you somehow manage the feat, we also love that the Trail is covered by Kreiga's outstanding 10-year warranty.
Aside from durability, the big selling point for us here is the Kriega Trail's waterproof storage. Of the 18 total liters of space available, 11 liters worth of pockets are 100% waterproof thanks to a roll-top main storage compartment and a secondary electronics storage pocket, both of which feature fully seam-taped waterproof liners.
A standard 7-liter zippered compartment handles the rest of the hauling duties, and there's also that exterior netting we mentioned earlier, which is ideal for stashing bulky layers or air-drying wet gear.
Kriega motorcycle backpacks have definitely earned their reputation for quality, but as you might have heard, they've also earned a reputation for their price. The Trail 18 is no exception in that regard, going toe-to-toe with the most expensive bags on our list.
10 years of hard use is a smart investment any way you look at it, but we'll also remind you that the Trail doesn't include a goggle pocket, dedicated tool storage, or a hydration bladder. Many will find the outright quality and waterproof storage of the Kriega a welcome tradeoff though, and if you've got the money to blow, you can always add accessory tool storage and shoulder pockets later on.
Pros:
Roll-top closures for waterproof storage
Secure Quadlock harness system
Bulletproof materials throughout
Cons:
Expensive
Mediocre padding and ventilation
Hydration bladder sold separately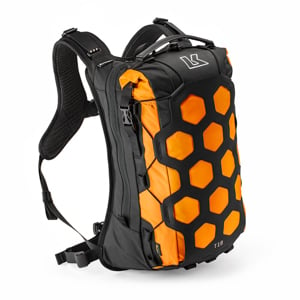 CHECK PRICE:
Kriega Trail 18
5. 509 Melee Trail Pack: Best On A Budget
If you're not familiar with 509, don't sweat it, but we think you should be. 509 is an apparel company that specializes in snowmobile and offroad riding gear, and they fall under the umbrella of Polaris Inc., the very same company that produces the Klim gear we all know and love.
As such, it should come as no surprise that 509's most budget-friendly motorcycle backpack, the Melee Trail, shares a commendable amount of features with our Klim favorites above. Chief among them is the sternum harness design, albeit with the unique touch of a Fidlock buckle mechanism like the one you'll find on some Klim helmets.
Fidlock is generally considered a "premium" feature, which makes this backpack's budget-friendly price point (it's just north of $100) that much sweeter. The same can be said for its fleece-lined goggle pocket, comfortable and well-ventilated padding, 3L hydration bladder pocket, and roomy shoulder-strap storage.
Your main tradeoff here for the killer price tag is durability. Granted, the fabrics on the 509 Melee feel decently tough, and there's a respectable amount of reinforced stitching in higher-stress areas, but the pack doesn't feel quite as bulletproof as the other options on this list.
We'll also point out that the internal organization is a bit simpler than more premium options and you're limited to 10 liters of storage with the Melee. Still, if you prefer to keep your pack light, this is a standout option that outclasses countless other so-called "motorcycle backpacks" for a fraction of the cost.
Pros:
Budget-friendly
Secure Fidlock sternum-buckle system
Fleece goggle pocket included
Cons:
10 liter size on the smaller side
Organization is a little basic
Doesn't feel quite as "bombproof" as more expensive options
CHECK PRICE:
509 Melee Trail Pack
Thanks for reading! We hope this article helped you decide which motorcycle backpack is the right one for you. Let us know in the comments below which one you went with!
→Read More: 8 Important Motorcycle Accessories for Long Rides and Best Dual Sport Tires for Serious Off-Road Riders.