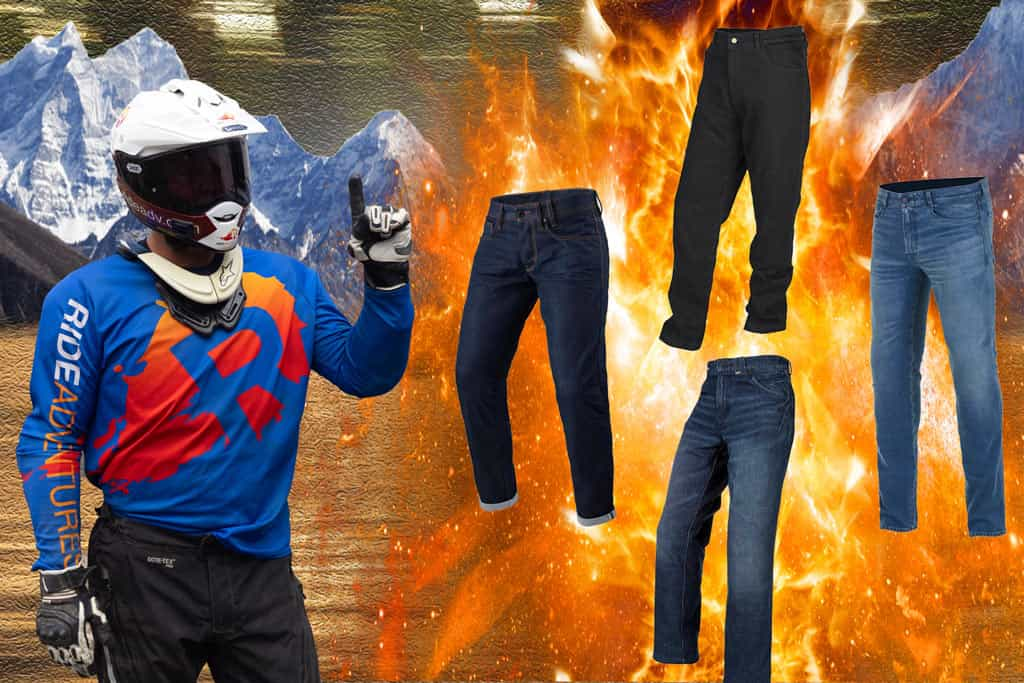 Disclosure: RIDE Adventures is a participant in the Amazon Services LLC Associates Program as well as other affiliate programs, designed to provide a means for us to earn fees by linking to Amazon and affiliated sites at no extra cost to you. Please see our Disclosure for more details.
Motorcycle jeans have come a long way in recent years. Today's options look better, fit better, and protect better than ever before: You've officially run out of excuses to ride in street clothes.
Look, we get it: Showing up to a social gathering in full riding gear can look and feel ridiculous. At times like these, the temptation to throw on a pair of sneakers and your favorite pair of parachute pants can be unbearable, but with the refinements made in motorcycle jeans over the last few years, there's really no reason to anymore.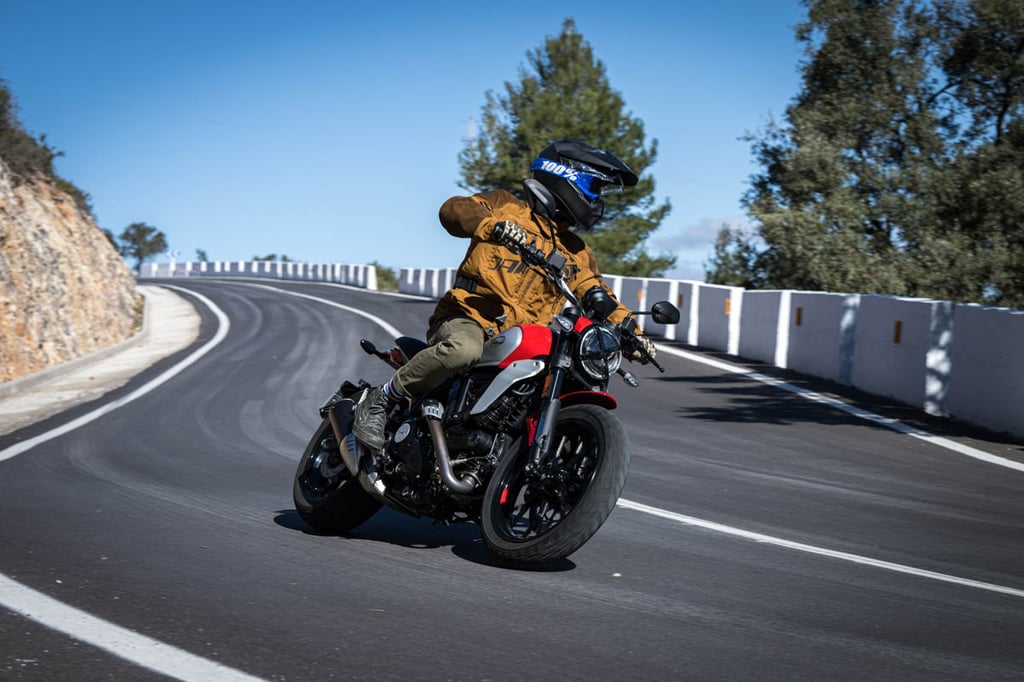 "Photo credit: Daniese"
Today's moto denim looks good, fits well, and delivers a shocking degree of protection for such casual-looking garments.
The sky is the limit nowadays with some pairs offering as much as AAA+ certified protection, which means you can look good on and off the bike without the guilt trip of riding in street clothes.
What to Look For in Motorcycle Jeans
So what should you look for when shopping for a modern pair of riding jeans?
We have a few specific criteria we look for when choosing a pair ourselves, so here's what we recommend focusing on to ensure you're buying a quality garment.
Safety Certification
Ask anyone who's ever crashed their bike wearing jeans and they'll tell you: It doesn't matter how thick, expensive, or well made they are, casual jeans or even heavy duty work wear aren't going to save your hide from asphalt.
That's because they're missing a few crucial elements. Cheif among those are abrasion resistant fabric, burst resistant stitching, and impact absorbing armor.

"Look for any variation of this logo to see if your jeans are CE certified"
It takes a combination of all three elements to achieve a CE safety certification, which is why we generally consider CE ratings to be the gold standard when evaluating a garment's two-wheel worthiness.
CE ratings for motorcycle pants come in three tiers, all of which represent their effectiveness for motorcycle crashes at a given speed. The first tier, level A, means a pair of motorcycle jeans will protect you at speeds up to about 30 mph, which is generally considered the "urban/around town" rating for safety gear.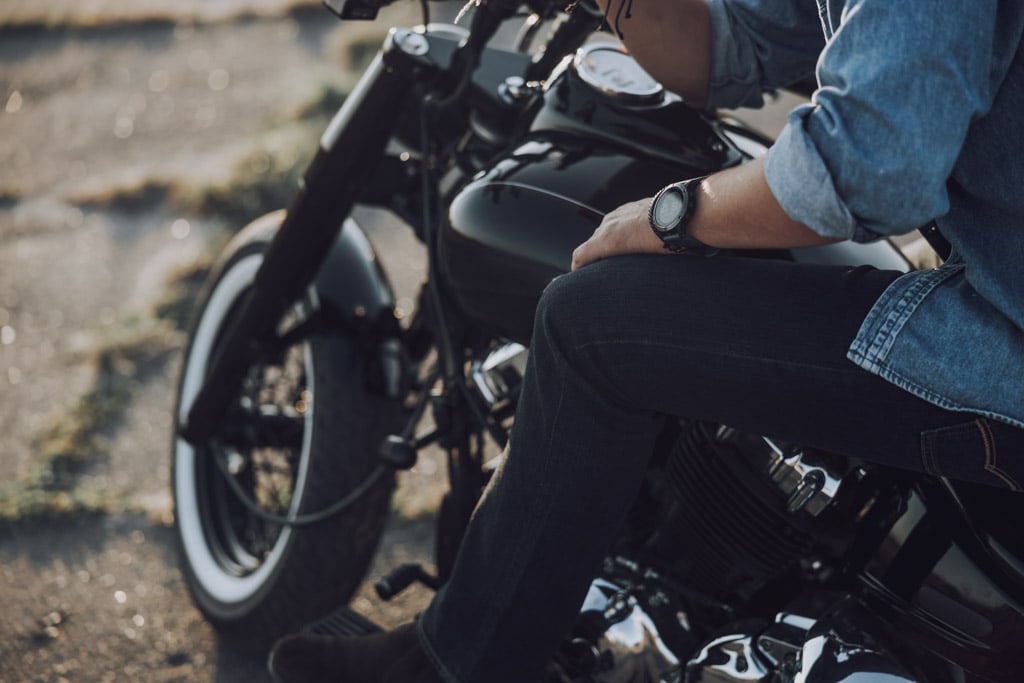 "Gone are the days where being well protected meant looking like a momma's boy. With today's tech, we are seeing some stylish cuts being highly protective"
From there the speeds increase, with AA rated motorcycle jeans handling speeds up to just over 40 mph, and AAA rated jeans protecting up to around 75 mph.
We'll also note that AAA rated garmets may also be protective at higher speeds as well, but for testing purposes 75mph is the top speed motorcycle jeans are subjected to.
Lastly, we'll also note that not all motorcycle jeans carry CE certification, and that's not necessarily a deal breaker. For garments like the popular Klim K Fifty 1 jeans, you'll find no CE rating present although the pants are undoubtedly built to impressively high standards.
Because Klim doesn't sell these pants in European markets, they aren't required to subject them to CE testing regulations to sell them as protective apparel.
These tests are costly to manufacturers, so while Klim didn't shell out the $$$ to have their jeans tested, we have no doubt they'd pass with flying colors.
Single v. Double Layer Construction
Another common feature to look out for in any pair of motorcycle jeans is whether they're made up of a single layer of fabric or rely on a second protective layer to achieve their abrasion resistance. Both styles have their pros and cons, so let's touch on each briefly.
Single layer motorcycle jeans are generally considered the more premium option of the two as they weave abrasion resistant materials like Kevlar and Dyneema directly into the denim itself.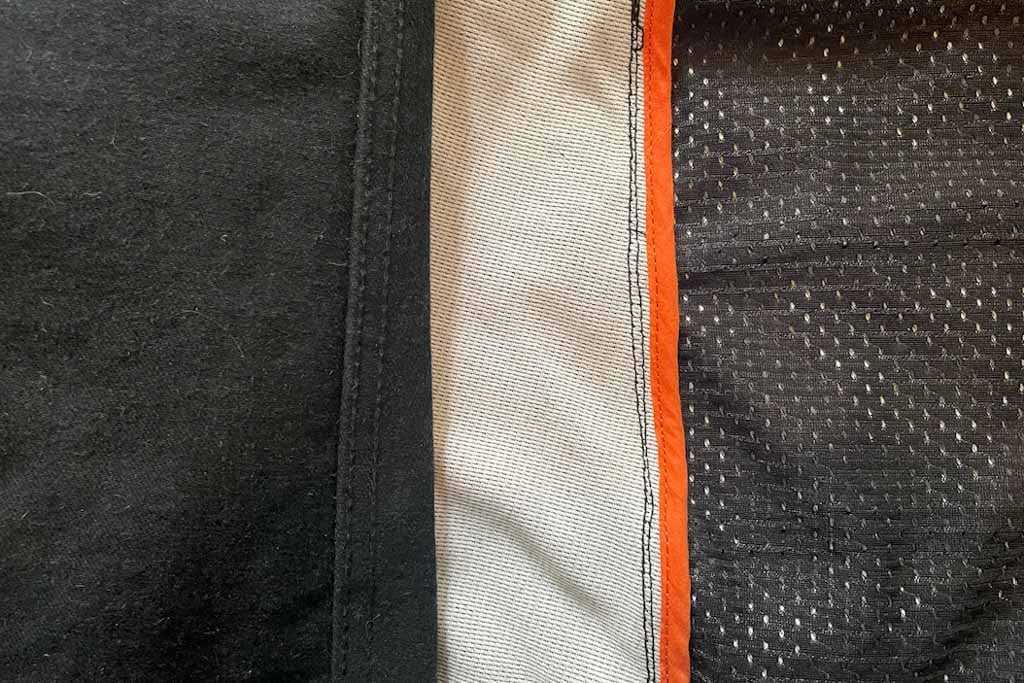 "As an example: left is an unlined cotton/nylon fabric. Center: unlined cotton/polyethylene blend. And then the right is a lined cotton/polyethylene blend"
Many riders prefer this as it reduces bulk for a more streamlined look and feel, but this advanced fabric is often more expensive than double layer designs as well, so you'll want to bare that in mind.
Double layer motorcycle jeans, on the other hand, take a more simplified approach of using denim on the outside and then reinforcing slide-prone zones like the seat and knees of the garment with more abrasion resistant fabric.
Sometimes these designs are more bulky, less breathable, and require more unsightly exposed seams than single layer construction, but there are always exceptions to the rule as you'll see below.
Armor
Last but not least, a quick word about armor. Most moto-denim nowadays features pockets for CE rated armor in both the knees and hips of the garment.
Our favorite options come with armor already installed in both areas, but at minimum, we want to have the option to add armor later in any pair we're considering.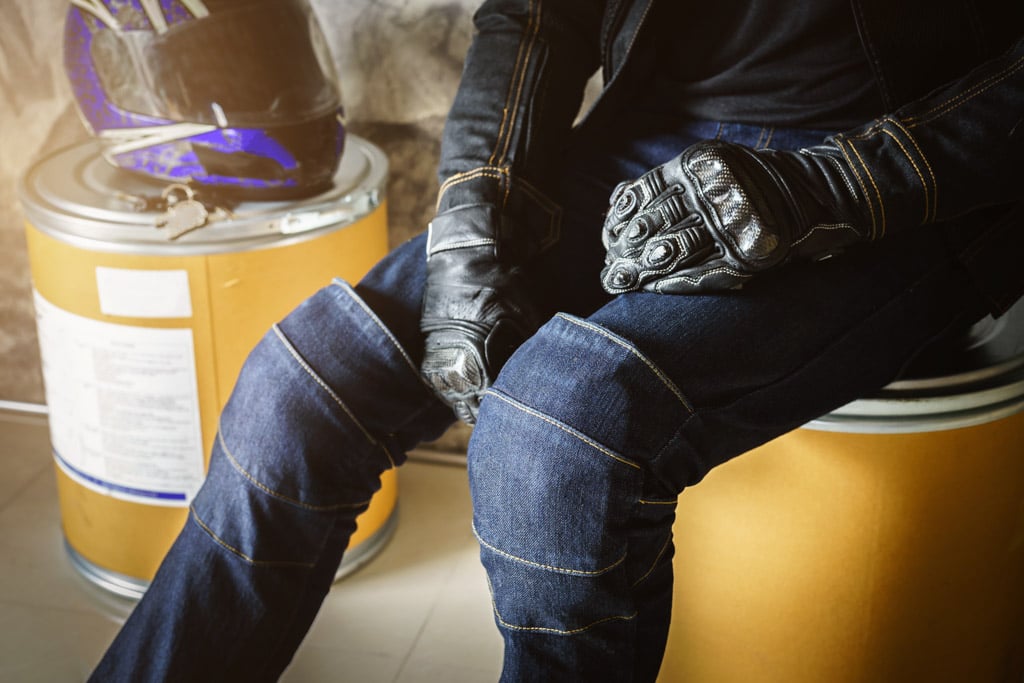 "Not all armor is created equal"
We'll also note that the type of armor included in your jeans makes a huge difference both in safety and comfort.
Modern motorcycle armor like SAS-TECH or Alpinestar's BioFlex is both incredibly thin and flexible while still offering CE certified protection from impacts.
We always prefer to see motorcycle jeans with CE-2 rated armor installed, but CE-1 armor is better than nothing and is typically sufficient for around-town use.
Our Top Picks for Motorcycle Jeans
Keeping those things in mind, we've selected seven of our favorite pairs of jeans currently on the market. These are some of the most protective, comfortable, and handsome britches around, and you can't go wrong with any of them.
1. Pando Moto Boss DYN 01 Riding Jeans
If you don't mind spending the money on a thoroughly premium product, the Moto Boss DYN01 may be the most impressive pair of motorcycle jeans on the market.
At over $300, they certainly ain't cheap, but one look at their spec sheet and you'll know exactly where your money's going.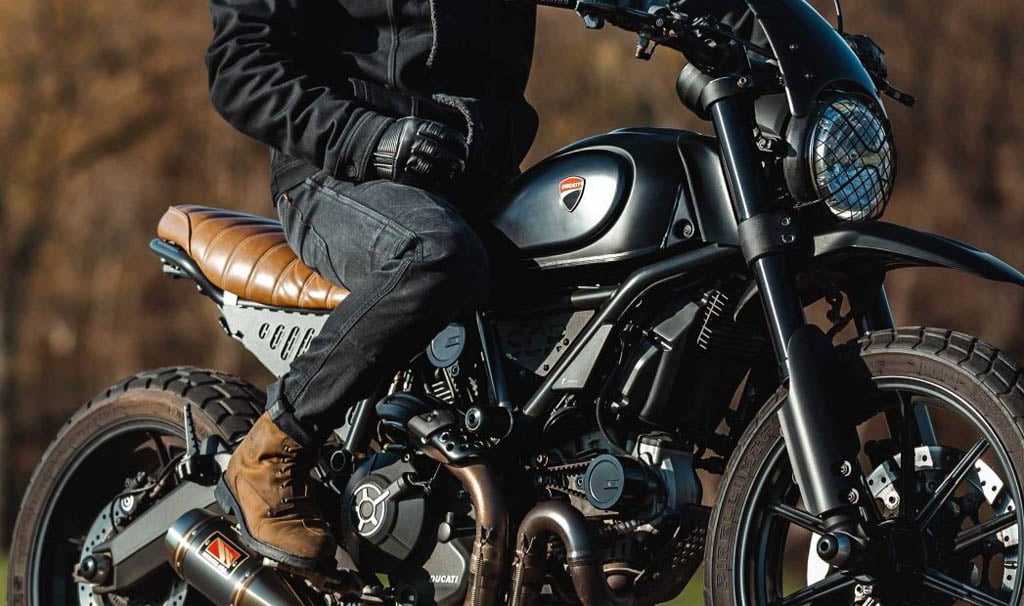 "With the Moto Boss, no shortcuts were taken"
For instance, the Moto Boss jeans are the only pair on our list with a full AAA safety rating, which is typically reserved for top-tier touring gear.
Pando archives this using a combination of Dyneema reinforcement panels, SAS-TEC knee and hip armor, and triple-stiched seams.
We also love that despite their multi-layered construction, these jeans run much cooler than you'd expect.
Pando even includes a mesh "CoolMax" liner above the knees to aid with airflow, and the impact is significant.
Pros:
Knee and hip armor included
Stretch Cordura with a CoolMax liner
Industry-leading AAA safety certification
Cons:
Expensive
Strange back pockets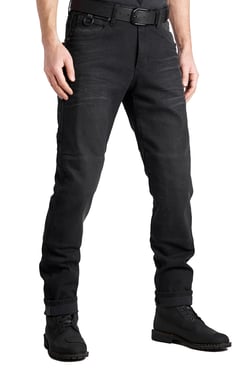 CHECK PRICE:
Pando Moto Boss DYN01
2. Alpinestars Copper v2 Motorcycle Jeans
The Copper V2 from Alpinestars is one of our favorite all-rounders on the market. They look good, they fit well, and they're packed with plenty of safety tech to boot.
We've found the Copper V2s to be extremely comfortable on and off the bike, thanks largely to their two-layer combination of super stretchy denim with Kevlar backing panels in slide-prone zones.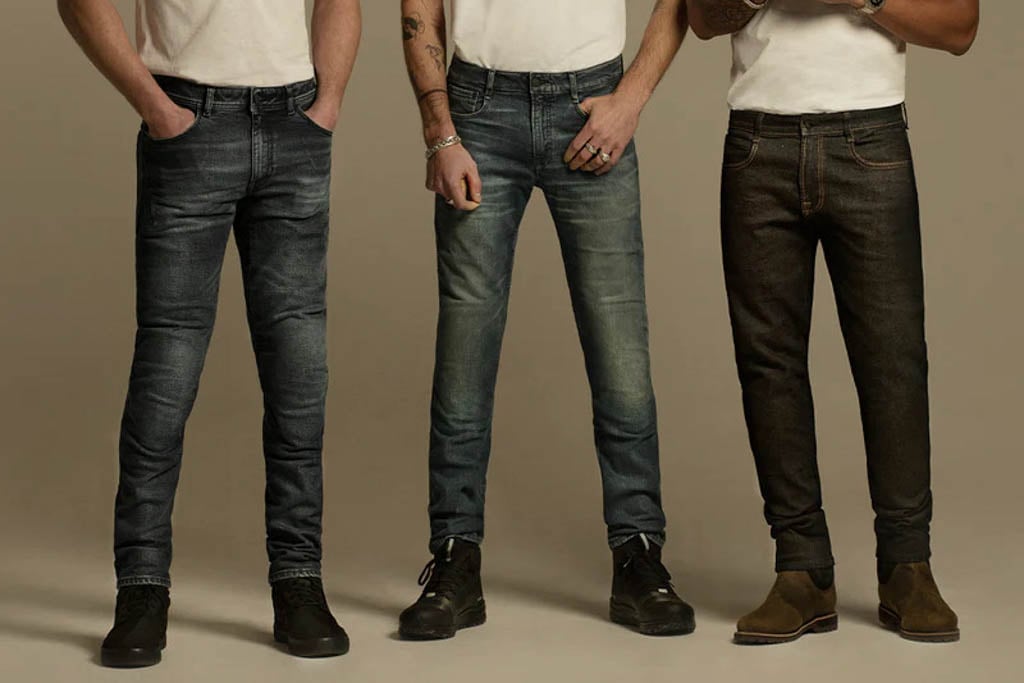 You'll also get a set of Alpinestars' thin and flexible Bio Flex knee armor included for the money, which is thin and malleable while still delivering a full CE level II safety rating.
Our main complaint here is that although these jeans come in above the $200 mark, they don't actually include hip armor, just pockets so you can add your own later.
Personally we'd rather throw a super-thin set of SAS-TECH armor in them anyways, but if you don't mind spending an extra $20, Alpinestars also offers a "fully armored" version in the Copper V2 Plus.
Pros:
CE II safety certification
Knee armor included
Tough yet comfortable with stretch and Kevlar panels
Cons:
Bit pricey
Hip armor not included

CHECK PRICE:
Alpinestars Copper V2 Motorcycle Jeans
3. Cortech Ventura Riding Jeans
If you're looking to get into a well-made pair of motorcycle jeans but aren't looking to make a big investment, Cortech delivers in a major way with their Ventura riding jeans.
We're fans of the Ventura because they double down on safety with an outer layer of Dyneema-infused denim and an additional Kevlar liner that stretches uninterrupted all the way from the waist to the shin.
The Venturas are also one of the more comfortable pairs of riding jeans out there thanks to their combination of a relaxed fit, mid-rise waist, and stretchy outer fabric.
While there's no denying you're getting some serious bang for your buck here at well under $200, our biggest complaint with the Ventura is that there's no armor included in these jeans.
Cortech does include armor pockets at both the knee and hip, which are designed to accept Safe-Tech armor, but you'll have to buy it separately if you want to step up your protection.
Truth be told Safe-Tech armor is a bit dated and hard to come by nowadays though, so we'd much rather have the option of slotting something thinner and softer into the pockets anyways.
All things considered, the Venturas are a smart "a-la-carte" pair of motorcycle jeans, especially for riders who don't do well in slim fit cuts.
Pros:
Super affordable
Tough as nails
Comfortable and stretchy
Cons:

Fit is a bit baggy for some
Armor pockets, but no armor included
No CE rating due to market/armor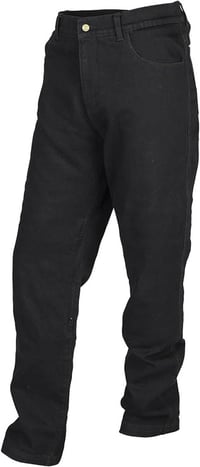 CHECK PRICE:
Cortech Ventura Riding Jeans

4. Dainese Denim Regular Tex Jeans
When it comes to style, you've gotta hand it to Dainese: They do a great job of combining protection with good looks, and their Regular Tex motorcycle jeans are one of our favorite examples.
We love these pants because they're virtually indistinguishable from streetwear, yet still deliver a city-worthy "A" safety rating under EN17092 standards.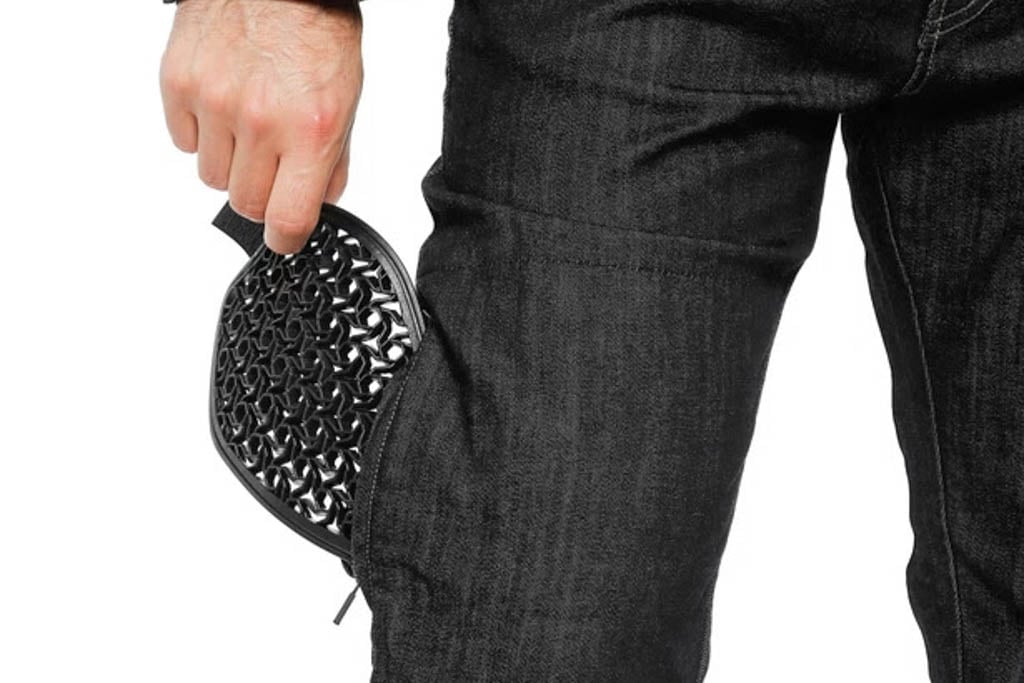 There are no extra seams or exposed external stitching, and thanks to the light and flexible Pro-Shape 2.0 knee armor, you can't even tell they're padded.
A word to the wise: Dainese's cuts are extremely European, which means they don't exactly make "relaxed fit" garments. If you want a nice slim look without extra bulk, go with the regular, not the slim.
Slim-cut Dainese pants have been aggressively skin-tight in our experience, which some people like, but we've never found to be comfortable on or off the bike.
Pros:
Knee armor included
"A" safety certification rated
Stretchy single-layer fabric
Cons:
No hip protection included
Fabric isn't as tough as Kevlar/Dyneema etc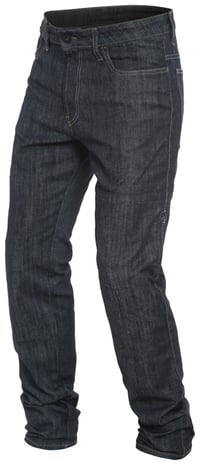 CHECK PRICE:
Dainese Denim Regular Tex
5. Klim K Fifty 1 Motorcycle Jeans
Klim's K Fifty 1 denim is arguably the best-selling pair of motorcycle jeans of all time, and for good reason: They're comfortable, discreet, and impressively protective.
Protection-wise, the K Fifty 1 is made in typical Klim fashion with no expense spared on material quality.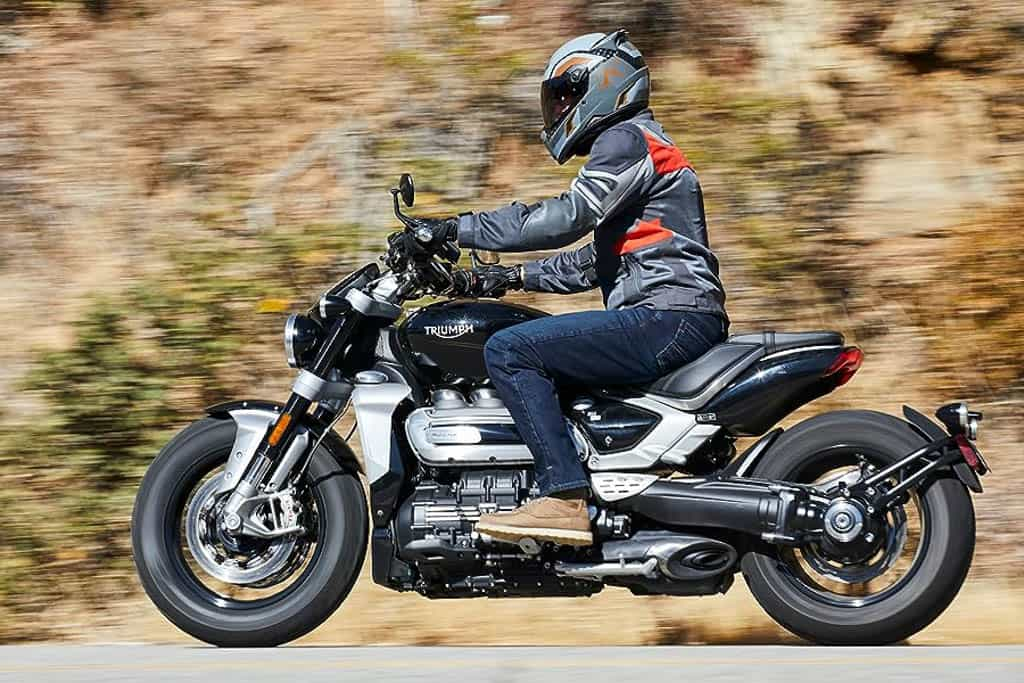 "A good option for those that appreciate a relaxed cut instead of slim fits"
D3O armor is included in the knees and hips, the denim itself is a Cordura blend for added protection, and additional Kevlar panels are included in slide-prone zones.
The fit is comfortable and relaxed, leaving plenty of room for freedom of movement without the need for added stretch.
Some folks may find the fit a bit too reminiscent of the jeans their dads wore growing up, but if slim fits aren't your bag, we'll wager you'll have no issue with the K Fifty 1's relaxed cut.
Pros:
Impressive list of safety features
Knee and hip armor included
Casual, relaxed fit
Cons:
Fit may be too relaxed/baggy for some
Not the cheapest
Not CE certified due to market


CHECK PRICE:
Klim K Fifty 1 Motorcycle Jeans

6. Rev'It Lewis Selvedge Jeans
This one is for all the denim-obsessed out there who like them as dark as humanly possible and only wash their jeans about once a year.
The Rev'It Lewis Selvedge are among the best-looking, least conspicuous pair of motorcycle jeans out there, having more in common with your favorite pair of Naked & Famous raw denim than your typical moto-fare.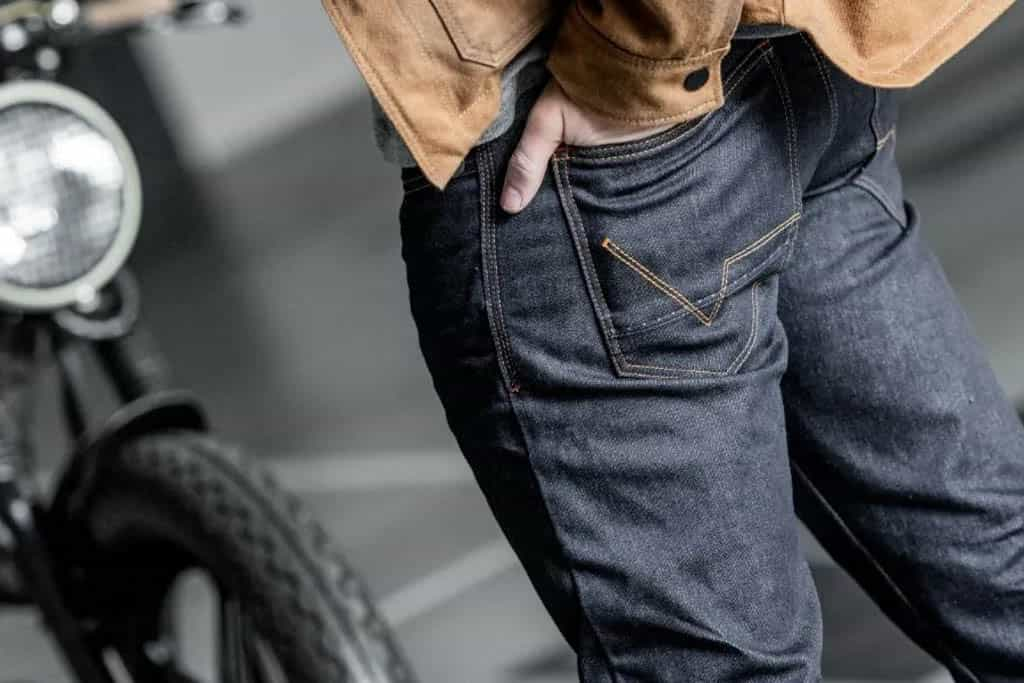 "For a perfect fit and style, these are simply the best"
In addition to their clean lines, dark wash, and selvedge construction, we also love these pants because they don't sacrifice on safety or comfort.
Rev'It builds these jeans with a combination of single-layer Cordura-infused denim and slim armor panels in the knee and hip, giving them a solid AA safety rating.
They're a bit more expensive than most options out there, and they taper down a bit slim from the knee to the ankle, making them one of the slimmer fits on our list without being overly tight.
We'll also note that the single-layer material includes a decent amount of stretch, so although these are on the snug side, they don't feel constrictive on the bike.
Pros:
Look damn good
Single-layer construction + slim armor included
Solid AA safety rating
Cons:
Not the most budget-friendly
Bit snug from the knee down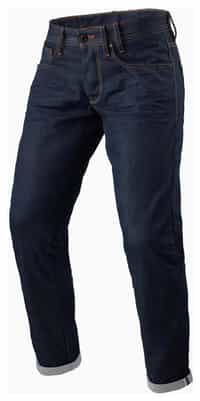 CHECK PRICE:
Rev'it Lewis Selvedge
7. Saint Engineered Motorcycle Jeans
The folks at Saint are known for one thing over all-else: They make incredibly expensive motorcycle jeans.
A pair of their flagship dual-layer "Unbreakable" denim will set you back nearly $500, and while they're arguably the most abrasion-resistant jeans on the market, they don't even include armor.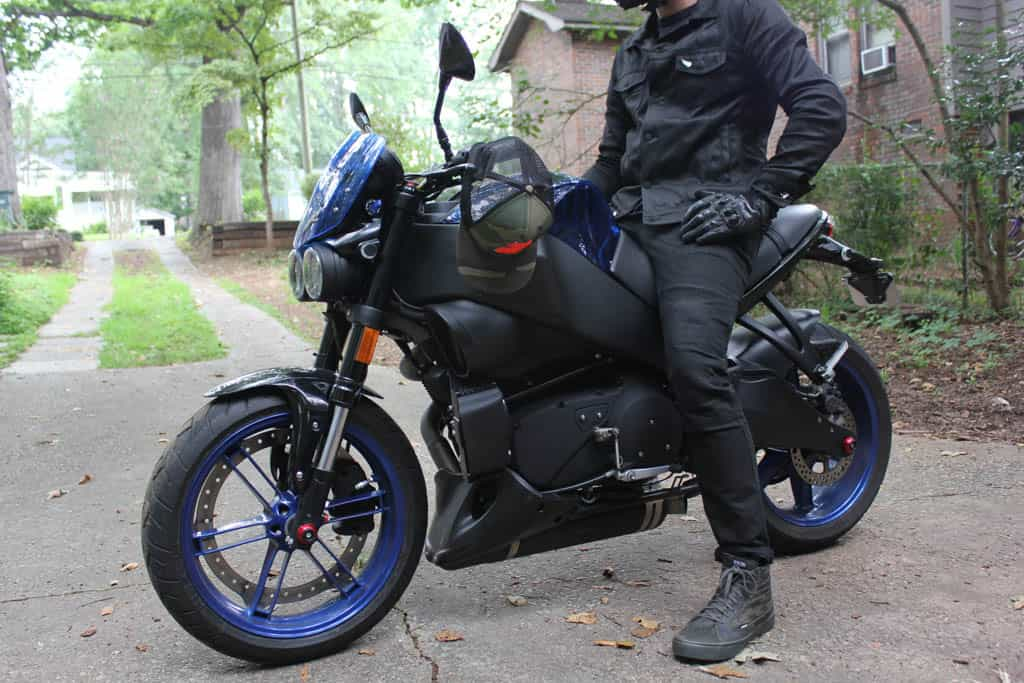 Suffice it to say we were pleasantly surprised when Saint launched their latest creation, the Engineered jean, which are both impressively protective and impressively affordable at just $200.
We've been testing the Saint Engineered for the last few months, and we're of the opinion this may be the best deal going at the moment for motorcycle jeans.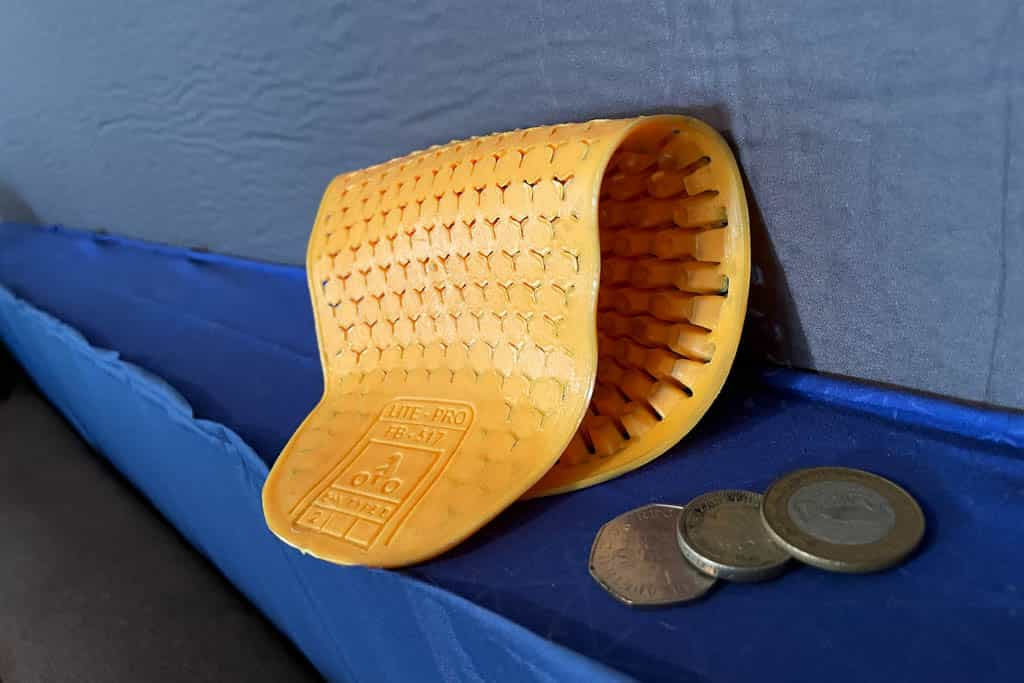 "Boasting an impressive AA safety rating, this armor is remarkably thin & light"
Single-layer construction, knee and hip armor, and a solid fit all delivered on a budget, and the Engineered even boast an impressive AA safety rating.
Our only gripe with these jeans so far has been that the single-layer material isn't the most breathable and tends to run a bit hot.
It is stretchy and soft to the touch, however, and we suspect these will be our favorite cool-weather riding jeans as we head into Fall.
Pros:
AA protection on a budget
Thin and flexible knee and hip armor included
Single-layer fabric with added stretch
Cons:

Run a bit warm
Slim cut is way too skinny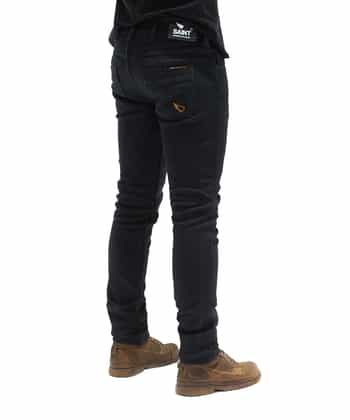 CHECK PRICE:
Saint Engineered
Closing Thoughts on Motorcycle Jeans…
Riding jeans have come a long way since we stepped into our first pair. Gone are the ludicrously baggy and overly-ornamental designs of the past, and in their place is a wide variety of low-profile and highly-protective garments for the decerning rider.
In our experience, once we find a pair of motorcycle jeans we truly enjoy wearing, they quickly become our most commonly used piece of gear.
They aren't the kind of thing we'd wear on an adventure tour or for a fast-paced canyon run, but for just about every other application (running errands, commuting to work, cruising around town) they're the most convenient way to ride safe every time you get on the bike.
→Read More: 5 Best Motorcycle Sunglasses for any Style and ADV Offroad & Street Training.