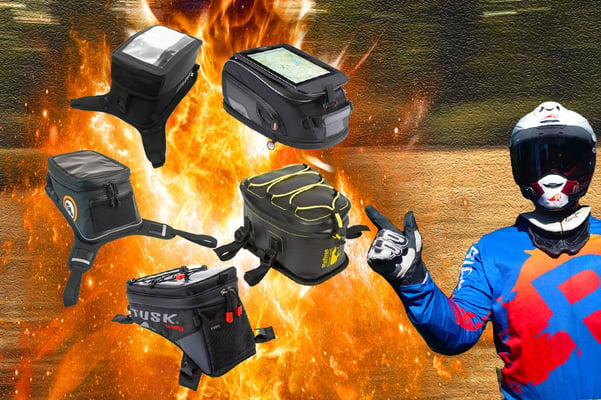 Disclosure: RIDE Adventures is a participant in the Amazon Services LLC Associates Program as well as other affiliate programs, designed to provide a means for us to earn fees by linking to Amazon and affiliated sites at no extra cost to you. Please see our Disclosure for more details.
There's nothing like a motorcycle tank bag for stashing your quick-access essentials. Gloves, smartphones, and maps are all popular choices, as are large stacks of cash for our friends riding certain European models that need not be named.
Regardless of what you keep in yours, there's just no denying the utility and convenience of a good tank bag. In the article below we go over what makes a tank bag worth buying, how to choose the right bag for your bike, and all of our favorite options we've used over the years.
First things first though: Let's narrow down your search by covering a few common features you'll want to look for in any good motorcycle tank bag.
Which Motorcycle Tank Bag Mounting Option Is Right For You?
If you're shopping for motorcycle tank bags, you've got three main mounting types to choose from: Magnetic, strap-mounted, and tank ring bags.
As always, which one is right for you will depend on what you ride, how you ride, and how much you're willing to spend, so here are the main advantages and disadvantages of each option.
Magnetic
The easiest tank bags to mount are magnetic ones, which work just like your favorite souvenir magnet on the fridge at home: Stick it to your tank, then go about your business.
These bags have some unique perks. They come off as easy as they go on, which means you can move them between bikes in seconds without any additional straps or hardware. That also means you can preserve a "clean" look to your bike when you want it, rather than having a leftover bra sitting on your tank at all times.
Magnetic bags work fine for casual use, but they've also got some clear shortcomings. First, some magnetic bags have a habit of creeping backward as you ride, especially at higher speeds on bikes with little wind protection.
Second, these bags only work if you've got an exposed metal tank, so if your bike has a plastic tank or plastic covers over a metal tank, you're out of luck.
We'll also note that these bags are the easiest to steal, as literally anyone can just walk up and snatch it off your tank. We've had this happen a few times in parking lots, so we generally don't recommend these for serious travelers.
Strap Mounted
Strap mounted motorcycle tank bags are by far the most popular option, and the main one we use ourselves. We like strap mounted bags because they're secure at speed over any terrain, are more likely to work with a wider number of motorcycles, and they don't care whether your tank is made of metal, plastic, or is entirely for show.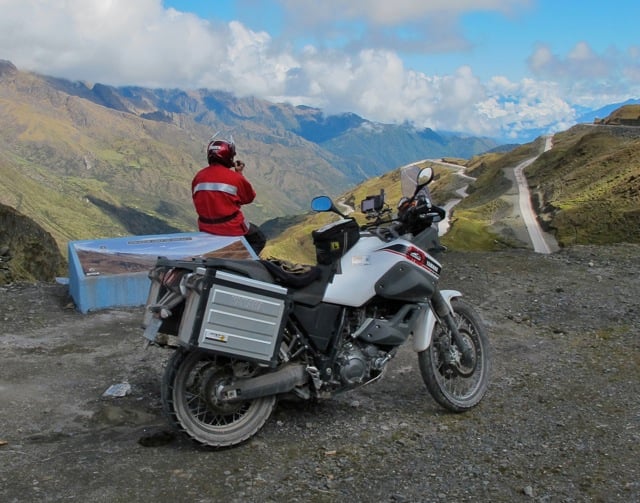 "Strap mounts can be the most secure option out there."
Problems with strap mounted bags vary pretty widely depending on the model of tank bag and the bike you're using it with. One universal complaint is that they take a bit longer to install and remove, which makes them less convenient to swap between bikes.
Strap mounted bags can also be a bit awkward when refueling, depending on how they line up with your gas tank. Some can be unzipped entirely, others can be partially removed and folded to the side, but they all take a bit of finessing, assuming your fuel cap is in the traditional location.
Tank Ring Mounted Bags
Tank ring mounted motorcycle tank bags are the latest option on the market, and many would argue they're the best of both worlds between strap-mounted and magnetic tank bags. Like a strap-mounted bag, they're completely secure and will stay put over rough roads, high speeds, crashes, or whatever else you throw at them.
The quick-connect hardware of these bags also makes them just as quick and easy to take on and off the bike as a magnetic bag. You'll also have the option of moving them effortlessly between motorcycles by simply installing another mounting ring on any additional bikes you own.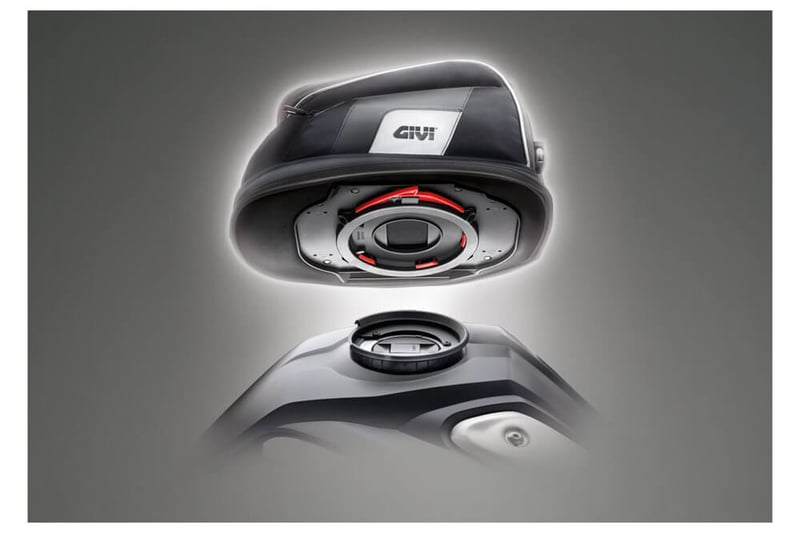 As is often the case for the latest and greatest gear, the main issue with tank ring bags is that they're typically more expensive than their strap or magnet-mounted cousins.
They can also sit a bit awkwardly on your bike depending on where your factory gas cap is, so you'll want to factor that into the equation before pulling the trigger on one.
Important Motorcycle Tank Bag Features to Consider
How you mount your motorcycle tank bag to your bike is important, but it's not the only important part of the equation. Here are the most important features we consider when choosing a tank bag for one of the bikes in our fleet.
Size and Shape
We'll wager we don't need to do too much explaining on size: Go too big, and your tank bag gets in the way. Go too small, and you can't carry much more than your phone and a pair of gloves inside it. Decide what you want to carry in it, figure out how many liters you need, and go from there.
Shape, on the other hand, requires a bit more nuance. The ideal shape of your motorcycle tank bag will depend largely on the shape of your tank itself. Our goal here is to get as much bag as we need size-wise, without interfering with our riding ergonomics when we're sitting or standing.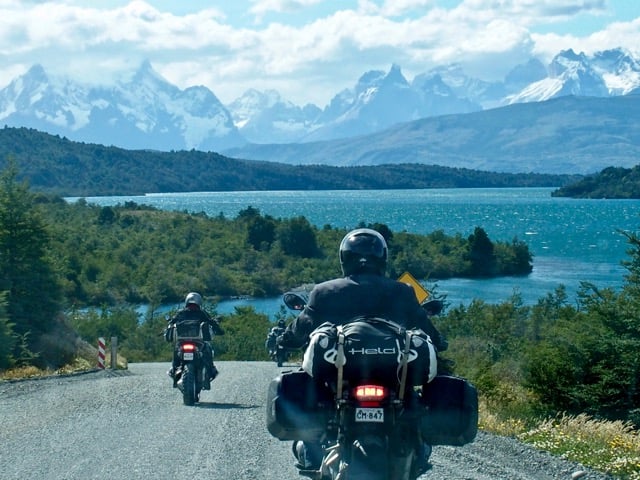 "The actual tank size of your bike matters when choosing a tank bag."
For larger ADV bikes with long, sloping gas tanks, this usually means you'll want a tank bag with a tapered shape like the Giant Loop Diablo or Nelson Rigg Trail.
Go with a larger, more square option like your typical touring or sport bike tank bag instead, and you'll likely find it in your way when you're trying to move your weight toward the bars.
Map/Phone Viewing
Most motorcycle tank bags come with a clear top layer to give you visibility of a phone and/or map while you're riding. While most riders nowadays prefer to mount their phones and/or navigation to their handlebars or dashboard, these map pockets can still come in handy.
The possibility of any electronic device failing is never zero, which is why many riders still opt to carry paper maps for backup when exploring new places.
These map pockets also add an extra degree of protection from rain, so if you prefer not to leave your phone or GPS out in the elements while riding, you can stash them here without losing your ability to navigate.
Hydration Compatibility
Many manufacturers have started incorporating hydration bladder functionality into their tank bags, and it's a super convenient way to stay hydrated on long rides. This is a particularly smart option for anyone who hates riding with a backpack, and therefore doesn't keep a standard hydration pack within arms reach.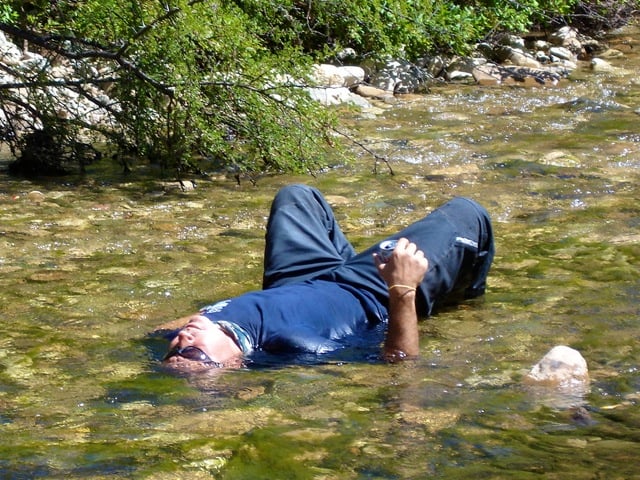 "Instead of getting your water through osmosis try getting a tank bag with water bladder compatibility"
Most motorcycle tank bags won't actually include a hydration bladder, but we've found pretty much any of the smaller bladders (1-1.5L) will work just fine including the rectangular "lumbar" bladders from brands like USWE, Leatt, Klim, and Camelbak.
That means there's a good chance you already own a bladder that will work with your tank bag, which adds value and versatility to the equation.
Waterproofing
Tank bag waterproofing generally comes in two flavors: Those made entirely from waterproof materials, and those with rain covers. In our experience both options will get the job done, but motorcycle tank bags with integrated waterproofing are certainly our preferred choice.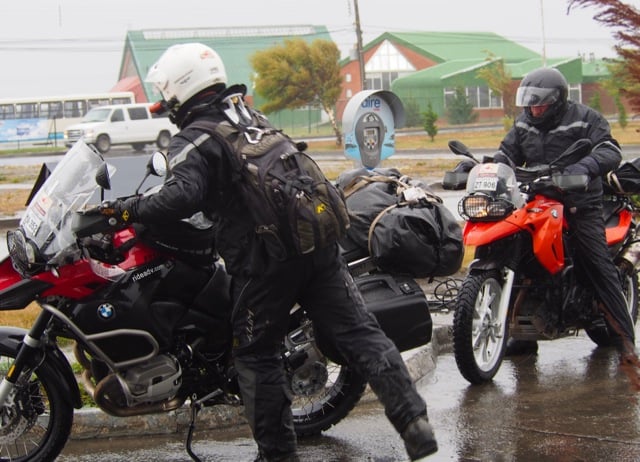 "Can't have rainbows without a little rain. Eric guiding one of our famous Patagonia expeditions."
Granted, bags that rely on rain covers typically deliver a bit more "bang for your buck," but you'll have to pull over to put them on every time it starts raining, which is a drag.
Some brands like Giant Loop and Altrider offer a happy medium between the two by including a second "dry bag" layer inside the main compartment that preserves access to the outside pockets of the pack.
Our Favorite Options for Motorcycle Tank Bags
Alright, enough preamble. Now that you've got a better idea of what you should be looking for in a tank bag, let's take a look at top picks from a few of our favorite brands.
1. Giant Loop Diablo Tank Bag: Best Overall
The Giant Loop Diablo has always been one of our go-to options for a motorcycle tank bag, but after the team at Giant Loop gave it a complete redesign in 2021, it might just be the best bag out there.
The new version carries over all the features we love about the outgoing model including Giant Loop's bulletproof "Bomb Shell" fabric, reliable weatherproofing, and a ¾ zipper attachment that makes for quick and easy removal or access to the gas tank.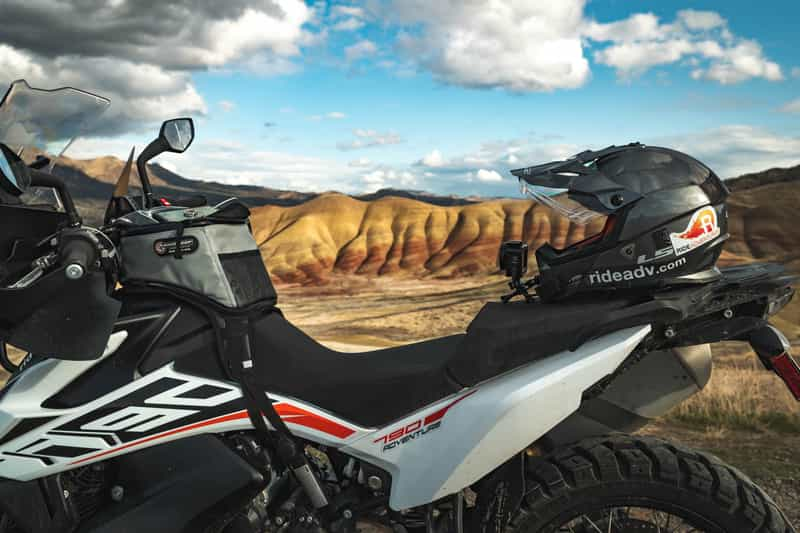 "The Diablo tank bag is a perfect fit on these larger ADV motorcycles."
The biggest perk of the redesign is that the Diablo now sports a more tapered shape, which stays up and out of the way on big adventure bikes and light dual sports alike while still providing a respectable 6L of capacity. The strap mount system is also easier to install, genuinely universal for all bikes, and includes stash loops for hiding any excess webbing as well.
The main issue with the Diablo is its price, which is definitely on the higher end of the spectrum for motorcycle tank bags. Aside from that, our only nitpicks with this option are that (a) you have to use the included inner dry bag for 100% weatherproofing, and (b) the webbing straps are prone to scuffing paint over time, which means you'll want to install some protective film if you care about that sort of thing.
Pros:
Bombproof construction
Universal fit/easy install
Streamlined shape stays out of your way
Cons:
Expensive
Straps can scuff paint
Inner bag required for 100% protection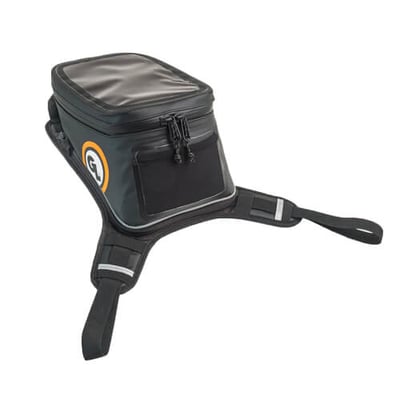 CHECK PRICE:
Giant Loop Diablo Tank Bag

2. Altrider Hemisphere Motorcycle Tank Bag
Altrider products have a well deserved reputation for quality and durability, and their Hemisphere motorcycle tank bag is no exception. Everything about this bag feels tough as nails: The main compartment is made from 1050D ballistic nylon, the map pocket is marine-grade (and UV-resistant) clear vinyl, and all the buckles are made from durable Delrin polymer.
We've been using this bag for years, and while we had some complaints with the previous model, Altrider recently updated it to address all the common issues. The biggest two changes here are that the drybag liner is now removable (previous versions were sewn in) and the old snap-button closure has been replaced with a proper buckle/webbing system.
It's still got the same 11L capacity, which will be the ideal middle ground for most riders, and it still fits pretty much any bike well thanks to the deep cutout for extra adjustability around the gas cap. We're also thankful that Altrider's map pocket is only accessible from inside the bag, which beefs up the weather protection for your phone or other electronics you may want to store inside.
As far as drawbacks go, price is a major one here, although you're getting more bag for your money than most capacity-wise. You should also know that there are still a few of the older style Hemisphere tank bags floating around out there, so we recommend calling ahead to confirm you're getting a bag with the buckle closure rather than the older snap design, as the old version had a habit of popping open in a crash situation.
Pros:
Goldilocks 11L capacity
Works with wide range of tank shapes
Waterproofing and security issues have been addressed
Cons:
Expensive
Beware the old stock!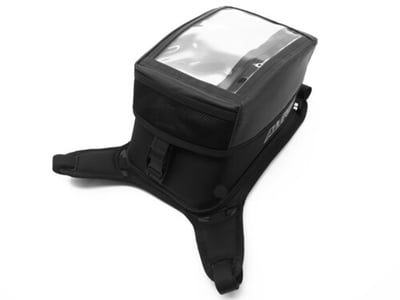 CHECK PRICE:
Altrider Hemisphere Tank Bag
3. Tusk Olympus Adventure Tank Bag: Best On A Budget
If you've been keeping up with any of our recent articles on motorcycle luggage, you'll know we've put putting some serious miles on Tusk equipment and the results have been overwhelmingly positive.
We added the Tusk Olympus tank bag to our loadout on a run of the WABDR this season, and found it just as impressive as their hard and soft panniers.
The Olympus, like most Tusk products, impresses in two ways: First with its quality, craftsmanship, and features, and then again when you realize how little you have to spend for the aforementioned quality.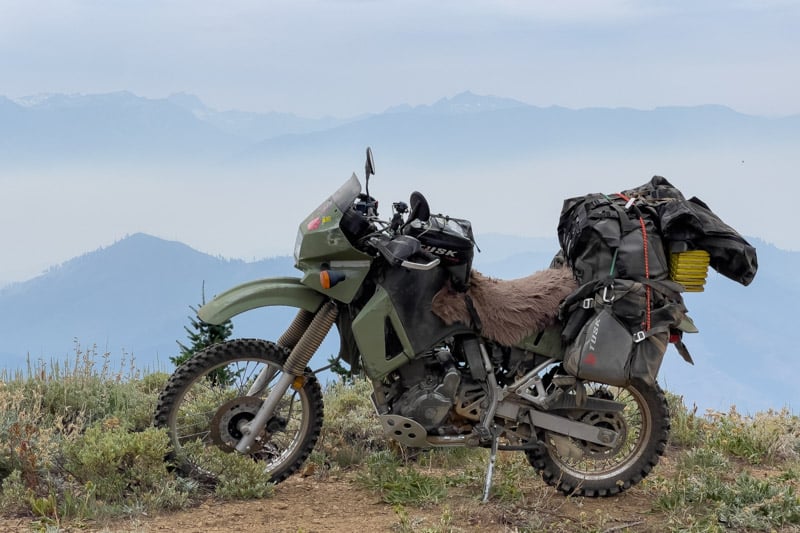 "Garrett's KLR 650 with the Tusk Olympus attached high in the mountains on WABDR"
For about $100, you're getting a hella-tough 1680D nylon fabric construction with heavy-duty YKK zippers, a universal strap mount system, Duraflex buckles, and two sizes to choose from (6 & 8 liters) depending on the size of your bike. All the usual suspects are here as well including a clear map pocket, modular interior organization, and pass-though ports for running wires inside the bag.
All things considered we've been loving the Olympus this year, but there are two main things you'll be sacrificing in the name of value. The first is the Olympus' waterproofing, which uses a separate external cover to protect your gear (it works, but it ain't pretty).
The second is that the Tusk doesn't have a zippered base system like more premium options, so you'll have to unhook the buckles every time you get fuel or take the bag off the bike.
Pros:
Outstanding quality and features for the money
Tough materials throughout
Two sizes to choose from for large and small bikes.
Cons:
Basic external rain cover waterproofing
Basic clip-in harness system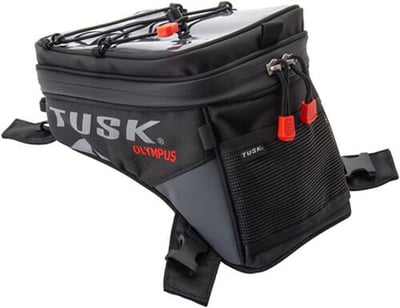 CHECK PRICE:
Tusk Olympus Adventure Tank Bag
4. Givi XS307 XStream Tanklock 15L: Best Tank Ring Option
If you're considering a ring-mounted motorcycle tank bag, the Givi XS307 XStream gets the nod from us. These bags maintain the quality and attention to detail that Givi is known for (30+ years in the luggage business will do that), and although they aren't specifically designed for adventure bikes, they work great for ADV duty.
That's because unlike most tank ring bags, the XS307 uses a five-position mounting system, giving riders a full four inches of forward/backward adjustment around the fuel cap. This allows you to maximize your available space on the tank and (hopefully) maintain enough room to stand up and move around on the bike.
We say "hopefully" because we know all bikes (and their gas tanks) differ model to model. At the end of the day, this bag is on the larger end of the spectrum (it's 11 liters, but expands to 15 when unzipped), and smaller bikes/tanks may struggle to accommodate it.
Aside from that unpleasant truth, we have zero complaints with this bag. The tank ring system is completely secure and luxuriously convenient, the dual-waterproofing system (internal bag and optional external bag) is dead reliable, and Givi even includes a modular shoulder strap attachment so you can carry the bag around with you hands-free when you're off the bike.
Pros:
5-position mounting adjustability
Ultra-secure without the straps
Expands from 11-15L as needed
Cons:
Size may interfere with standing position
Won't work with most aftermarket tanks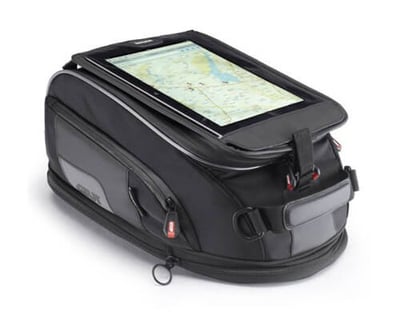 CHECK PRICE:
Givi XS307 XStream Tanklock 15L
5. Wolfman Enduro Tank Bag WP: Best For Dual Sports
Next on our list is the Wolfman Enduro WP, which is hands-down our favorite tank bag for off-road focused dual-sports like the Suzuki DR/DRZ, KTM EXC, and Yahama WR. If you're familiar with Wolfman products, you know they make some of the highest-quality soft luggage on the market, and the Enduro is no exception.
Just like Wolfman's popular duffel bags and tail bags, the Enduro tank bag is 100% waterproof thanks to its TPU laminated fabric, sonic welded seams, and YKK Aquaguard Zippers. That means there's no need for any external rain cover, and no need to worry about a second internal compartment.
In addition to the top-notch weatherproofing and rugged material quality, we also love that Wolfman incorporates both a removable map pocket and a removable internal pocket that converts into a fanny-pack (or waist pack, if you wanna be all macho about it) whenever you need it.
This is ideal for enduro riders who typically have no pockets to spare, as is the Wolfman Enduro's clever design which leaves the gas cap and vent hose of aftermarket dual sport tanks accessible with the bag in place.
The main drawback of the Wolfman Enduro is that its capacity is matched to the bikes it's intended for, which is our way of saying it's on the smaller side at just 4L.
We'll also point out that despite its smaller size, it's one of the more expensive bags in the lineup, although it's definitely got the materials and craftsmanship to warrant its price tag.
Pros:
Fully waterproof construction
Removable waist pack and map pocket included
Leaves gas cap/vent hose open on aftermarket tanks
Cons:
Not enough storage for some riders
Expensive for a 4L bag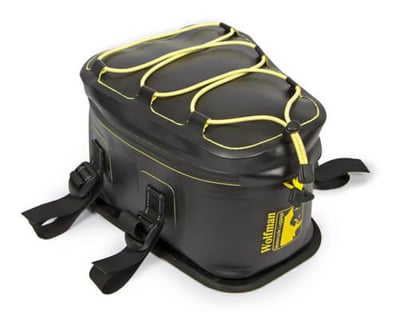 CHECK PRICE:
Wolfman Enduro Tank Bag WP
6. Nelson Rigg Trails End: For ADVs On A Budget
Nelson Rigg is another solid option for budget-friendly luggage, and their Trails End motorcycle tank bag delivers value-added storage for larger adventure bikes.
We say larger bikes because Nelson Rigg specifically shaped this tank bag to accommodate the long sloping tanks of bikes like the Africa Twin and KTM 1290 Super Adventure, so while it won't work with everything, it's a great choice for bigger bikes.
It's a bit of a specialist pick, but we love that the Trails End takes full advantage of all that extra real estate on the tanks of large ADV machines. The unique shape allows the Trails End to deliver a whopping 16.5 liters of space, but it also zips down into a more streamlined 12-liter size as needed.
Aside from that, the Trails End is the same story as most of Nelson Rigg's products: It's a tough bag that nails all the basics without many frills. It's also covered by the same lifetime warranty as the rest of Nelson Rigg's products, so peace of mind is baked into the price as well.
So what don't we like about this bag? The biggest issue we have is that it isn't waterproof or even particularly water resistant, which means you'll definitely want to keep the included rain cover handy at all times.
The Trails End also uses the same basic snap-in style harness as the Tusk bag above, so you'll be popping buckles every time you stop for fuel.
Pros:
Ideal shape for larger ADV bikes
Adjustable capacity up to 16.5 liters
Inexpensive + lifetime warranty = win-win
Cons:
External rain cover only
Basic clip-in harness system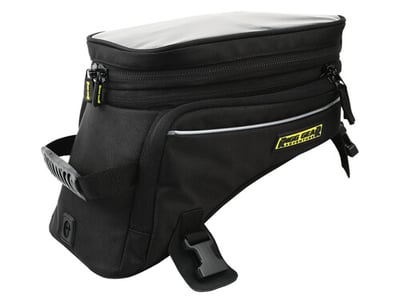 CHECK PRICE:
Nelson Rigg Trails End Tank Bag
Final Thoughts On Motorcycle Tank Bags
Who doesn't appreciate a good tank bag? It's the least expensive piece of luggage on your motorcycle, yet it's also the one you'll use the most.
We think that's an important aspect to keep in mind when choosing a bag. Yes, some of the bags on the list above are clearly more expensive than others, but there's no question that you'll get your money's work out of any of the bags above.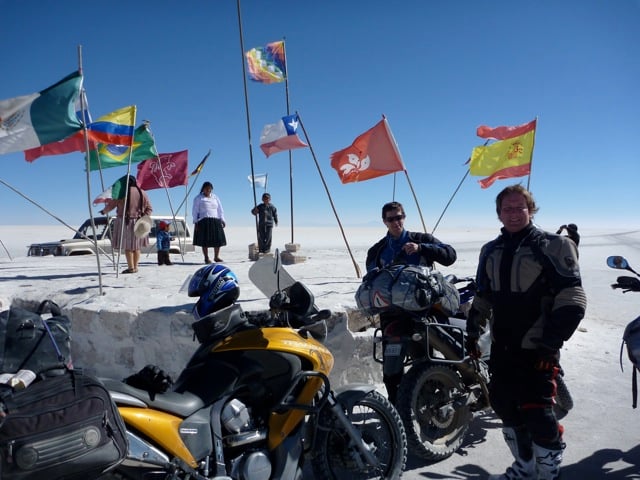 Your tank bag will live on the bike for damn near every mile you ride, whether it's errands around town or laps around your local trails. Panniers often stay behind… Duffels come and go… But the convenience of a motorcycle tank bag earns it a permanent spot on your bike, so, you know… Treat yourself.