"Hey, Honda....what took you so long?"
If my opening question is toned with tenderness, a bit of emotion is for good reason. Such a long wait for the motorcycle giant to re-enter the booming Adventure Riding & Dual Sport category sure was a test for Honda enthusiasts.
Clinging to scraps of a "better late than never" sentiment, a recent roadside pee-break opportunity between motorcycle tours in Patagonia seemed like the right moment to make this video and share some thoughts about Honda's latest adventure bike. RIDE Adventures is now in our 2nd season of offering the Africa Twin as a motorcycle rental in Patagonia, with largely positive feedback from our Customers and those of us who guide these motorcycle trips. Categorically speaking:
Parallel-Twin Engine - The heart and soul of any bike, right? Honda nailed it here with 1000cc's of steady pulling power just panting like a bull beneath your wrist. As hinted at in the video, engines that are too smooth or lacking power at low RPMS tend to make me yawn, but Honda got it right with this one. The pulsations, vibrations, and frequencies emanating from this powerplant are spot-on, giving me the type of feedback and responsiveness I want out of an engine. Nice and throaty by sound, pulling strong from the low rev's, all the way on up to redline, I can't think of a single bad thing to say about this engine (other than yes, I would always be happy with a little more power : ) Neither lone wolf adventure riders, nor couples riding 2-up will ever "need" more power with this bike though.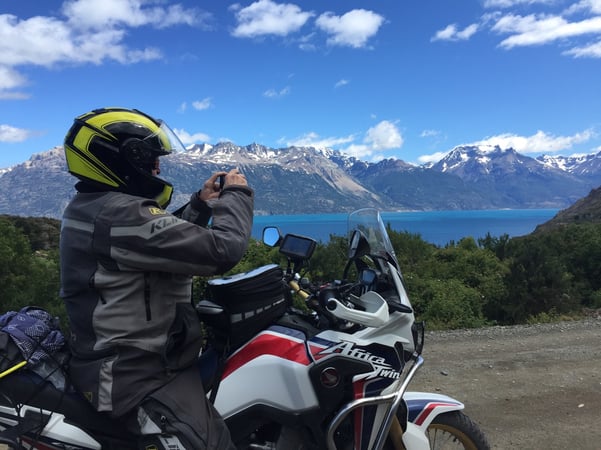 Transmission - As requests poured in for traditional 6-Speed gearboxes instead of the Dual Clutch Transmission (DCT) Honda now offers, all the AT's we're offering for rentals have the standard manual wet clutch gearboxes. Perhaps some of you can comment on whether this DCT situation is a good one or not? I've ridden other bikes with similar shifting options, but like many of you, tend to prefer the symphony of hand and footwork that comes with a traditional manual transmission. Please comment below if you enjoy your DCT transmissions? Any problems with them?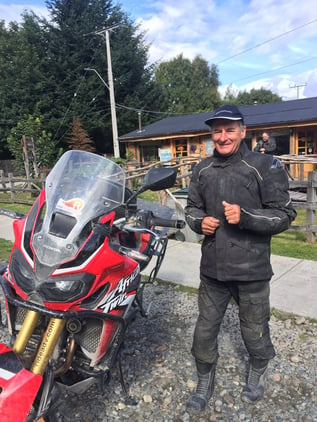 Suspension & Handling - Suspension is a tough one to comment on, as my suited-up +/- 260lbs isn't what the original suspension was built for on any stock bike. Still, cranking up the adjustable pre-load on the Showa forks and rear shock keep the Africa Twin's posture about where it geometrically should be, and while I haven't spent much time with the bike fully-loaded with luggage yet (we have Support Trucks on our Group tours) We've had dozens of Customers do multi-week adventures fully-packed though, and nobody has mentioned an overpacking issue. --- Handling is fantastic though. In the video, I'm mentioning the AT's likeness to KTM's old 950/990 Adventure or BMW's F800GS in that I enjoy the overall size, weight, and girth of this motorcycle. Whereas some bigger adventure bikes can be a bit "tubby" at times (R1200GS Regular and Adventure, Triumph Explorer 1200, Yamaha Super Tenere, etc.) the Africa Twin's overall stature puts it right about in the middle of the size/weight/shape spectrum that I'd consider for bikes in this category. The AT will bounce between rugged off-road terrain and smooth pavement with ease, and plenty of reasons to smile in any situation. Single-track in the woods? Okay, it might be a bit of a boat for dodging between trees, but much better than a Goldwing : )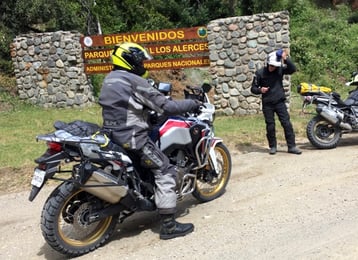 Shortcomings and Mistakes? - Not many on this bike. As was mentioned in the video, just a few strangely-early fork seal leaks have been discovered so far after 2 rental seasons in Patagonia. We've had a couple of electrical gremlins with Check Engine lights that sporadically come on, without symptoms though. Aside from that, I simply can't imagine why heated grips, a 12v charging outlet, or a center stand aren't standard included items on a "world adventure travel bike," but those are parts that can be found aftermarket or through Honda now. --- Maybe worth mentioning is that the Africa Twin's fuel capacity at just under 5 gallons is perhaps a bit slight, given the market's demands for greater fuel range. Apparently a new higher-capacity version of the Africa Twin is on it's way, but on a recent tour that involved fuel tanks like the Honda CB500X, a Regular BMW R1200GS and a few other bikes, the Africa Twin was the first to run out of fuel, typically around 180m/290km's. Sometimes the winds we get in Patagonia can make the typical range drop by 25-30%, but of course all the bikes are affected similarly.
In Summary - Honda, welcome back to the big adventure bike scene, and "nice job" re-introducing the legendary Africa Twin. I'm still gnawing at you about the fact that the XR650R isn't back into production yet to compete with KTM, but hey, one bike at a time if that's the way you want it. The AT has been a good experience for us so far with our rental motorcycles in Peru and the fleet we offer in Chile, and we hope to keep growing our stock of reliable bikes accordingly. That's a crucial part of our business as one may imagine; routinely unreliable bikes are just not something we are willing to work with.
Riders, please comment: Are you enjoying your Africa Twin? DCT or manual? Other comments?