Riders, it's Baldy here with another reminder: Motorcycle adventures for peak season need to be booked as far in advance as possible!
Pardon the urgency, but we've gotten to this point each season for 8 years in a row now. Riders from around the world have been inquiring about trips all year long, and yes, many of you have confirmed reservations and are excited to start your trips. But so many Riders who have waited to commit are now being told that the dates they wanted for their Self-Guided motorcycle tours are sold out, and it's as frustrating to us as it may be to them! In this example, I'm referring to the peak riding months in Patagonia and the routes we've designed in southern Africa. It's right now that springtime arrives in October, and the riding temperatures and conditions remain their best through April or so.
Sometimes it's not an issue just changing your requested travel dates. Or maybe your trip will need to be run in the reverse order (say from Punta Arenas, Chile up to Osorno, or from Cape Town up to Victoria Falls.) With so many different starting & finishing points, we can often suggest alterations to make your trip possible. However, not if all the bikes are already reserved for the dates you want to RIDE.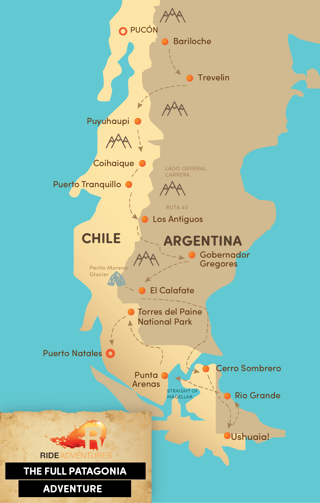 This map helps explain some of the challenges we face in coordinating all your motorcycle trips in a region like Patagonia. While this map isn't quite to scale ... see where Pucon and Puerto Natales are? Punta Arenas and Ushuaia? Between all these points, we have mountains, fjords, lakes, rivers, the Straight of Magellan, ferry services, international border crossings, and laws surrounding the use of rental vehicles in Chile and Argentina. While yes, that amounts to some of the most stunning adventure riding terrain anywhere in the world (as has been confirmed in many of our Customer Testimonials) it also means that so many logistical considerations make for limitations to our rental motorcycle availability.
Once again today, we've had to reject more riders who waited too long to reserve. Some of these initial inquiries for bookings get started over 1 year in advance, when our response is typically "yes, we have bikes available." These guys I'm referring to checked in with us about once per month over the past year though, asking "still available, still available?" and getting a "yes" response ... until today when they were finally ready to book! Yes, we understand that sometimes travelers just can't make commitments that far out, but it's just heartbreaking sometimes to inform riders that they will now need to wait another year for their dream adventure ride to come true.
Particularly in the case of Patagonia, many Riders want to get down to southern Chile & Argentina as soon as possible, as we've been reporting how much new pavement is being installed. The pavement is coming (and has been by about 10% per year since I started riding there in 2009) which means the natural dirt/gravel or "ripio" riding terrain is disappearing, and the purest form of adventure riding in Patagonia is disappearing along with it. The region will still be spectacular for years to come, but with more pavement comes more cars, more hotels, restaurants, etc....and a different experience for those wanting pure remoteness and tranquility. (That said, we are decades from having anything that's even close to a "hustled tourist atmosphere" in Patagonia. This is still a very, very remote and untouched region, and a real chance to get away into nature at its best.)
For motorcycle tours in southern Africa, we not only face the issue of having a limited number of rental motorcycles available, but also the extreme demand for hotels and accommodations. The world has long known that travel throughout Namibia, South Africa, Botswana and that region is not only stunning and beautiful, but can be done perfectly safely as well. As such, we now compete with Safari groups and other adventure travelers for the same accommodations, so reserving through us well in advance remains necessary there, too.
Let's think of it this way: Wouldn't you rather spend a year waiting, prepping, and bragging to everyone you meet that "I'm going on a motorcycle trip in Africa" instead of having only a few months to do so? If that's all the lead-time you have, so be it. But please, keep in mind ... it's more fun to have a motorcycle rental reservation with your name on it, than it is to receive an email from us saying "sorry, we're SOLD OUT!"