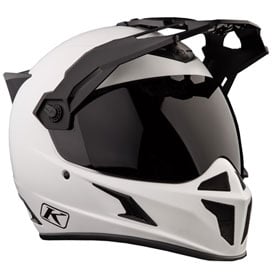 That I'm still a fan of Klim and their riding gear is no secret at all. Perhaps it's more their fault than mine though ... they still make great products for adventure riders.
I picked up the Klim Krios Karbon Adventure helmet just before our recent scouting trip to Thailand and Laos, and in doing so, went against a very obvious and basic rule I've said before: Always take the time to actually ride with a helmet and check fitting before any big trip. Waiting until you're a couple of days into an international adventure to discover that the fitting is wrong may result in a headache worse than that time you said "I'll take the cheapest tequila you've got." Once you're in the destination country, finding a replacement helmet will be an unnecessary and expensive challenge, and since the non-fitting helmet will definitely "used" by then, it'll be worth very little in terms of possible exchange or sale to another rider.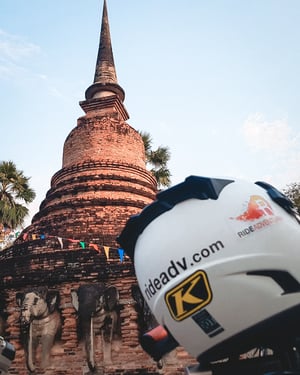 Nonetheless, I set out on this research trip we did with a brand new helmet, and did so based on the fact that the Krios fit me perfectly from the first time I slipped it on. I've been wearing Shoei Hornets almost exclusively since even before RIDE Adventures was born back in 2010, but the way the Krios slipped on, I knew there wouldn't be any issues with sore spots against my bald melon.
Sizing & Feel: I'm a Large in both the Hornet and the Krios, and any difference in how they slide over my head would be difficult to differentiate, except for one point: Klim used a nice, smooth, almost "velvet-like" liner they call Klimatek™ Fabric that literally slides over my skin more easily than the more gritty/coarse material used in the Shoei. This might not sound like a big deal, but as you also may have noticed, a helmet comes on and off as many as 10-15 times per riding day, and that can add-up to ear and skin irritation as all is being repeatedly tugged on by a well-fitting helmet. On previous trips where I've been careless or hurried too much, my ears have felt like they were being torn off after a week or so, so this velvety interior Klim chose sure does make it stand out from the Shoei.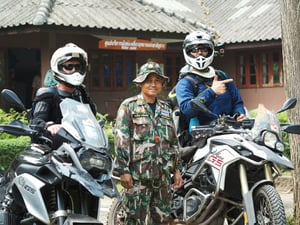 Wind/Noise/Weight: Read the details and specs about construction yourself on Klim's site, but the Krios was built in a way that feels solid, and substantial. Unlike other helmets I've felt that seem to be focused on being so extremely lightweight, the Krios is still very light by comparison (under 1500 grams for the U.S. model) while still not feeling "hollow and cheap." To me, that translates into being quieter than some other lightweight helmets I've tried, although once I put my earplugs in, noise isn't an issue in any helmet, really. Noise reduction tip: Proper fit is of course a crucial point in a helmet's impact performance, but also, the more snugly a helmet fits, I think you'll find the quieter it is.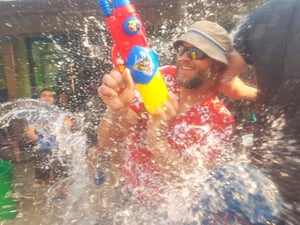 Hot/Cold/Airflow: Our trip was in April with the intent of experiencing Songkran, the Thai New Year celebration, and what could be described as the world's largest & longest water fight. This tradition of dousing each other with water at every opportunity to help keep each other cool and peaceful during the hottest month of the year translated into 3 solid days of laughter and smiles. But on those days where people weren't dousing me in the daily 100F+ heat, I still felt the airflow was significant enough to keep cool. Sweating like a pig is unavoidable when the humidity and temps are so high, but the Krios quickly utilized airflow through its vents to keep me comfortable.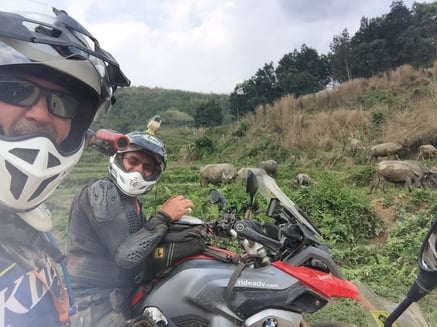 In short: The Krios is a great option. Even the pivot action of the face-shield is smooth and certain, so I literally have nothing bad to say about this helmet. Remember that the peak/visor may be a factor with how the air flows off your windscreen, all depending on your bike, speed, torso length, and a great many factors, so don't just assume that it'll work okay for you. But again, I really like this helmet. We don't sell riding gear, but you can read more about it on Klim's website, or check out the first Asian motorcycle trip packages we've now made available your riding pleasure.