It sure did take us a while to make the announcement, but in case you didn't notice, we have another great dual sport motorcycle trip opportunity for you to check out. This time, it's in southern Africa!
Late in 2015, a group of friends & customers of RIDE Adventures set out on a mission to explore and conquer some popular routes in Zimbabwe, Botswana, Namibia, and South Africa. The result: our new "Southern Africa Experience" motorcycle tour package represents the absolute highlights to be enjoyed in this region.
Our research, as you can imagine, is crucial to our success with these motorcycle tours, and a large part of why RIDE Adventures continues to grow now in its 6th year of operations. We start as we did with this Africa project by reading what experienced riders are saying, listening to what our local partners recommend, and by seeing what some other companies are doing, before setting out to confirm what we want the tour of the region to look like. Customers of RIDE Adventures have come to trust that our recommended routes will focus on the best riding "moments," and have the highest percentage of peak-level scenery, riding, and overall experience possible.
Our methodology sure did prove useful in Africa, as we discovered early on that the riding in Botswana isn't anything we'd want riders to spend their time or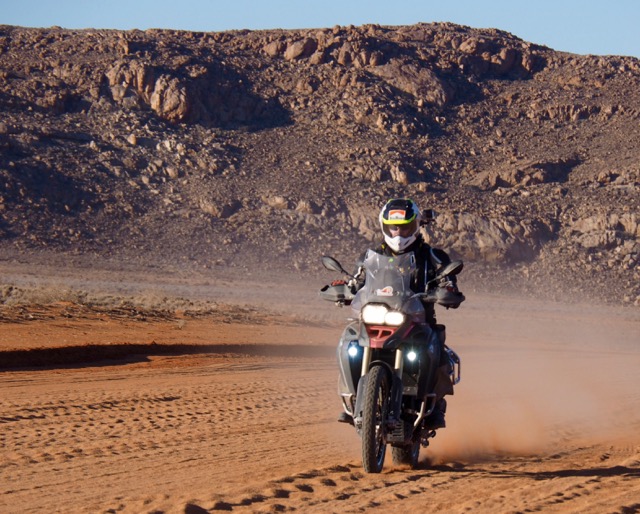 money on. We started this trip by flying into Johannesburg, and then up to Victoria Falls for exploration of this stunning area and some whitewater rafting on the Zambezi River. Those are definitely highlights that you'll see available as an Add-On package to our Southern Africa Experience tour. What followed though, as we started riding west through Botswana, was not what we deemed to be "great riding" by any stretch of the imagination. Yes, Chobe National Park and all the wildlife was fantastic, and the people of Botswana were very friendly, and we had lots of great dining and service experiences. But spending 2-3 days basically just riding "straight" on dead-flat roads ... with the occasional curve every few hours ... was not the type of riding we figured that YOU, our customer, would be interested in. (Especially the part in Makgadikgadi Pans National Park, where speed traps by local police forced us to ride 30mph/50kph for a long, boring stretch.)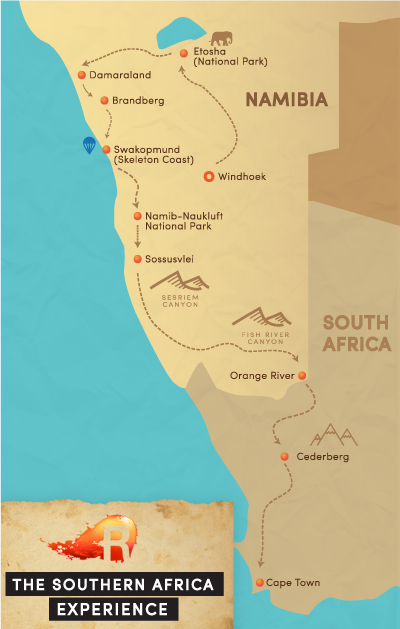 Instead, we've designed the Southern Africa Experience tour such that our starting point of Windhoek, Namibia gives us immediate all the wildlife viewing and scenery possible in Etosha National Park. Amongst the larger animals in Africa, up close experiences with lions, leopards, elephants, rhinos, giraffes, wildebeests, cheetahs, hyenas, zebras, springbok, kudus, gemsbok and eland are all possible. Then on to the smaller animals, it's quite possible to see jackals, bat-eared foxes, warthogs, honey badgers and ground squirrels. So again, if you miss Chobe National Park on your first trip to Africa, don't think there won't be plenty of other great wildlife viewing opportunities.
As the map of our Southern Africa Experience tour shows, following our rest day in Etosha, we ride through Damaraland and Brandberg to the Skeleton Coast along the Atlantic Ocean, and eventually to the "Adventure Capital of Namibia," known as Swakopmund. Rest Days, as you've no doubt learned from our other routes on other continents, are definitely needed for that combination of "rest" and further excitement! Once there in Swakopmund, you can explore the Namib Desert by ATV or dune buggy, try paragliding, hot air balooning, sand boarding, deep sea fishing, and lots of other activities.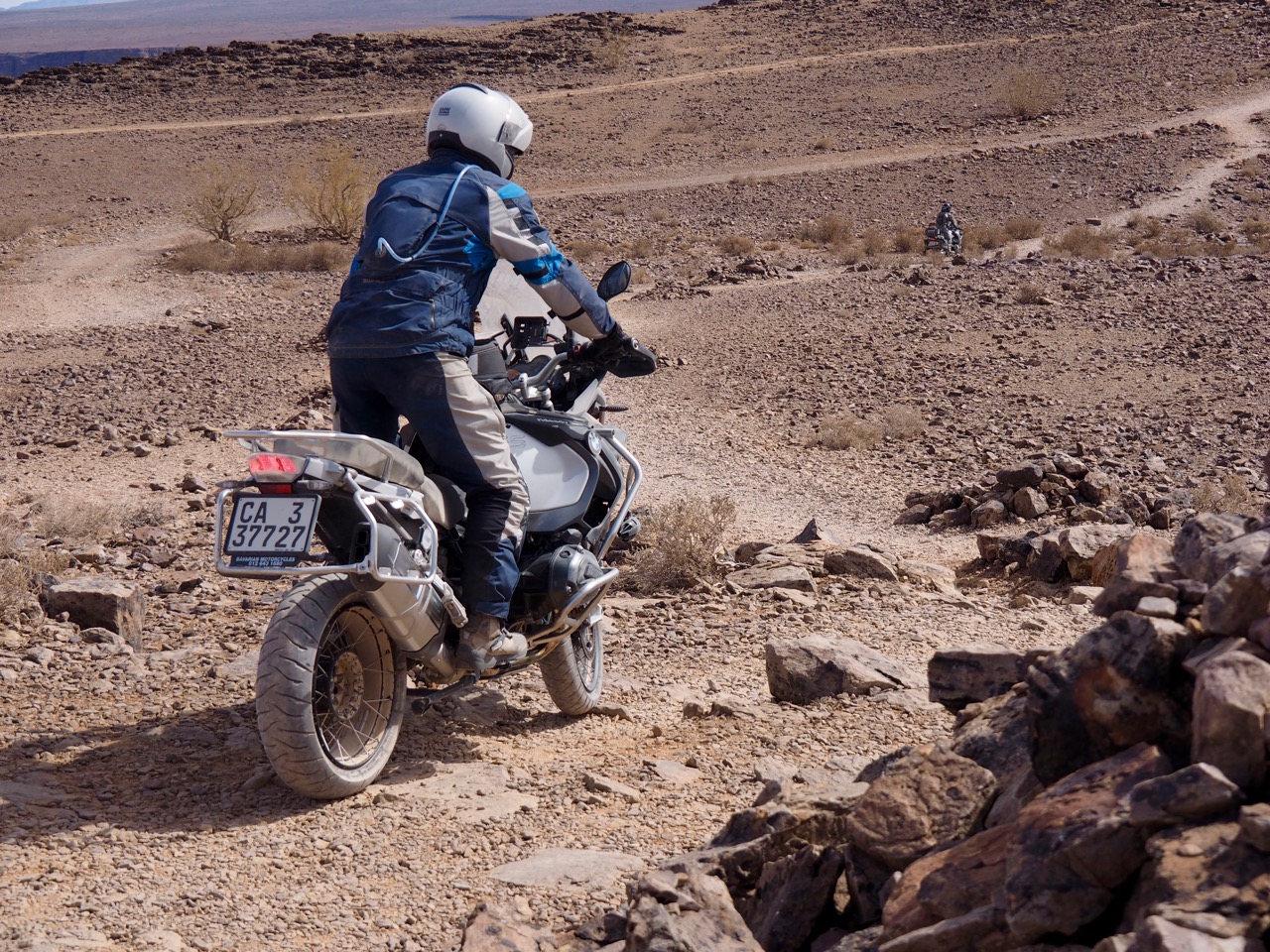 Continuing down the Skeleton Coast, you'll see why riders from around the world have raved over Namibia, and the Namib Desert. Remote distances and huge landscapes with colorful rock formations and ... some potentially gnarly riding terrain. That's right, this is yet another tour we're offering that is only meant for experienced, confident, and capable off-pavement riders who are not concerned with encountering some sand on their journey. The "C Roads" and "D Roads" in Namibia can change with time, wind, and weather, such that we never know for sure which will be the best path toward Cape Town. Regardless, the ride must continue ... in hopes that nobody needs help from the Support Truck getting through what might be a few very tough riding sections.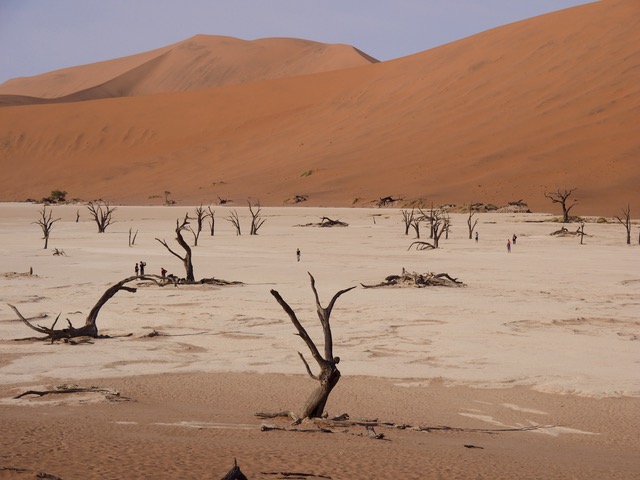 The final stages of this trip might be an example of a motorcycle trip getting better, and better.....and BETTER as things roll along. The Rest Day in Sossusvlei and Sesriem Canyon will undoubtedly remind you of famous travel photos you've seen over the years. Early morning starts are important to catch the "golden hour" of photography before you climb up Dune #45 and capture your own shots in an area where great pictures are easy to take.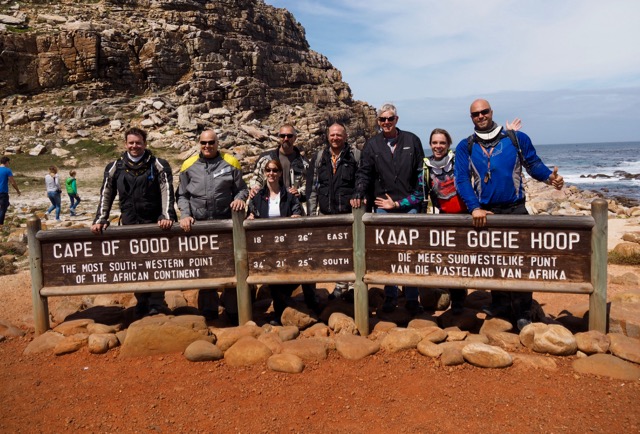 In the interest of keeping this blog post a reasonable length, let's just save the finish of this trip for your own interpretation of the overall experience. As if riding down through South Africa and through Cedarberg Wilderness Area to finish in Cape Town isn't enough, the final riding day of this tour means riding the Cape Peninsula to the Cape of Good Hope, and then being able to enjoy the fantastic city of Cape Town for as long as you can stay.
Riders, simply put, this is a tour route that we are VERY PROUD to present to you! Again, by focusing on the highest percentage of "peak moments" possible, we've designed a Southern Africa Experience that we know you'll be excited and satisfied by. Our first running of this trip for public participation is set for September 18 to October 2 this year. Spaces are limited though, so if you're wanting to join, please don't wait to sign up!