'Tis the season for new motorcycles for the rental fleets in Chile and Peru!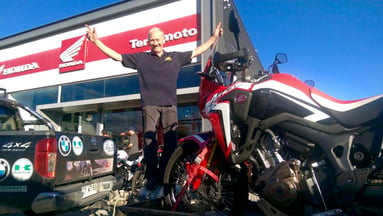 Part of keeping such touring and renting options running smoothly is thereplacement of bikes. While they all get regular inspection and maintenance between Customers, there comes a time and financial juncture when it just makes sense to replace each bike with a new one. Of course we need to break-in these bikes a bit and get them through their initial 1,000km's before they go through a first revision and inspection; and well ... somebody needs to put those first 1,000km's on them. Riding virgin bikes is still one of those simple pleasures that will never get old. I mean, they even smell new!
This season in particular is an exciting one, as we're finally able to offer the much-anticipated Honda Africa Twin into the Andes Mountains for some first rides. This updated version of the classic adventure bike has gotten excellent reviews from lots of qualified riders, and while I haven't personally had the chance to give it a rip yet, I have little doubt that it'll become a new favorite in the rental business. Andres and Ulli had the Honda out for a test ride a couple of months ago, and were both very impressed, saying it'll likely be their first choice now for riding as a Lead Guide bike. By fitting into that mid-to-upper end of pricing, size, weight, horsepower, etc. across all the adventure bike options, we expect these Hondas will be taking a significant market share away from the BMW's while creating more competition for KTM, Suzuki, Kawasaki, Triumph, Ducati, and Yamaha to go up against.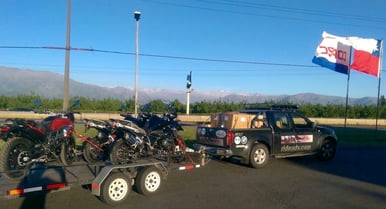 More new BMW GS bikes are being delivered also, as the BMW's still make up over 90% of all the bikes we offer around the world. After all this time, we've got a great rhythm in place for parts, accessories, and service to these bikes, and riders are still more than happy with the performance of the GS machines. Shown in the truck picture above is more inventory of sidecases and tankbags and such that are included with the rental bikes in Patagonia.
Peru and Bolivia remain a great compliment to the Patagonia riding season. While they all are technically in their 'summertime' riding season from about October through April, the rainy season in the altiplano (high plains) of Peru & Bolivia means we actually do most of the touring there from April through November or so. Keeping these nice new bikes off the salt, and then saltwater surfaces of the Uyuni Salt Flats in the rainy season is essential to keeping them running well and looking good. Anyone recall seeing what happens to the Dakar Rally riders when they charge across the open flats? Saltwater is like kryptonite to a running motorcycle, so we keep these bikes away from such conditions, and ready for your arrival for a RIDE in the Andes Mountains!