Just when we thought "all tire irons are pretty much the same", the folks at Motion Pro® showed us something different. This became clear as we set out on tour with a pair of their Bead Pro's back in February, and needed them on the 3rd day of riding into the heart of Patagonia.
We were headed down the west side of the Andes Mountains, leaving the famous whitewater rafting and fly fishing town of Futaleufú on our way to the Carretera Austral, when one of the BMW R1200GS rider's rear tires went flat. Yes, the occasional flat tire can be a nuisance, but let's be clear about something: If you're going to get a flat tire, this route descending from
Futaleufú
is
one
fine
place
to have it happen. Beautiful valley walls like curtains around us with lush, green forestry all around, and the bright blue "Fu" rushing it's clean flow below. No traffic. No signs. No cellular signal. It's a
great
place to spend some time on a flat tire.
With a tubeless tire, it's typically a quick "plug & pump," and we can be back riding in just 10-15 minutes or so. In this case though, the tire had been sliced by something sharp, leaving about a 3-inch hole for us to deal with. This meant the tire had to come completely off the rim, and be replaced by a spare that was in the Support Truck. (As side note: If anyone is wondering about the benefits of
Guided Motorcycle Tours
vs.
Self-Guided Motorcycle Tours
... here's pretty good example.)
Shown in action below during the
"Patagonia, Tierra del Fuego & Ushuaia!" guided motorcycle trip
, I might have failed to capture the moment on video, but was amazed at how quickly and easily the Bead Pro's worked. At first glance,
Motion Pro's Bead Pro's
sure don't look as though they have enough "action" or bite to break the bead of a motorcycle tire. As we quickly disovered though, by interlacing these 2 levers and positioning them between the edge of the tire and the rim, a simple move of "closing" of the levers together instantly pops the bead, and what is sometimes the toughest part of removing a tire is instantly done. Turn the tools around then, and they're a lightweight, extremely strong pair of tire levers allowing you to finish the job with ease.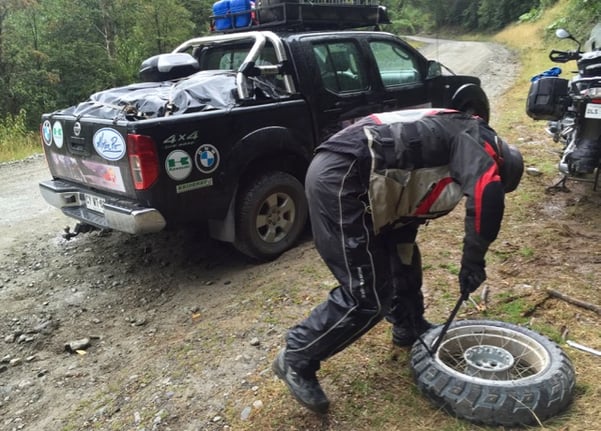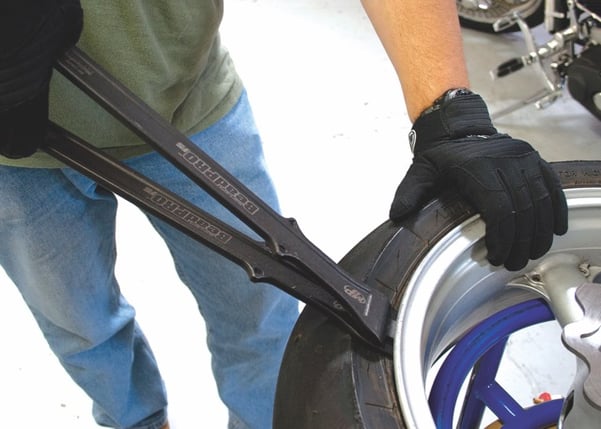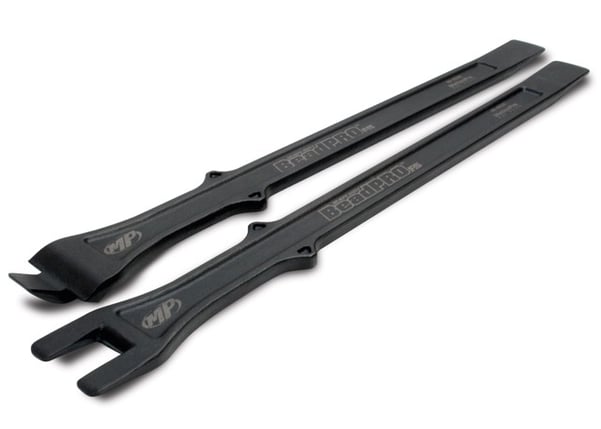 When I first saw the Bead Pro's, I just couldn't figure how those small "teeth" with so little movement would be enough to break a bead. We've been using a more traditional C-clamp-type of bead breaker for a few years now with some success. It's always been a bit cumbersome, and heavy....taking a little while to get the clamp into the right position on the tire, and then putzing with tools and turning the spindle to perform the clamping action. That old bead breaker became more of a challenge recently though, with the new Liquid Cooled BMW R1200GS's having a 170mm rear tire standard. Our old bead breaker was good for a tire up to about 150mm, making it a real challenge for the new wider tires.
Anyway, I wanted to give mention about these
Motion Pro Bead Pro's
, as they're an absolute no brainer for us to have in the Support Truck, and are something any rider can easily carry.
The story above should also be a reminder to riders that ... just because we have tubeless tires, doesn't mean a tire won't occasionally
need
to come off the rim. Tubeless riders should consider carrying something like the Bead Pro's, instead of just a plug kit. Plus, anyone who's ever dented a tubeless rim but has a tube handy sure can appreciate the need for a good bead breaker and tire irons :)