This important question comes up routinely in our line of business, aswe help adventure riders from around the world choose their trip plans: "What type of riding skills are needed for riding a motorcycle in Patagonia?"
The answer of course varies, as the Patagonia landscape is home to a wide variety of riding surfaces, temperatures, weather conditions, and of course wind.
Ultimately, it's up to each individual to do their own research and see if they can match-up with what Patagonia has in store for them. A rider's research might involve a Q & A with our staff, which we are always happy to help with. Research can also be done by reading around the various forums, or of course by talking with friends who have experienced Patagonia personally.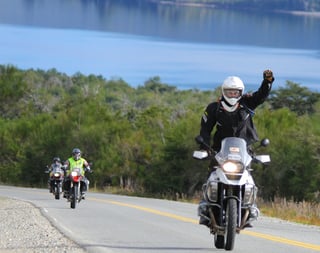 In the end, it remains each individual's responsibility to make sure they're not "getting in over their heads" with regards to the riding demands of any motorcycle trip they take. While all this may seem a bit overwhelming, the text below is very helpful in describing the demands of Patagonia, such that many inquiring riders are able to see this, and immediately decide "yes or no" if these routes are right for them. This description is one that we encourage riders to read & watch-through at least a couple of times before deciding on one's answer to the question above. The best way to know for sure is of course to be there in person, but getting to that point involves a significant financial and scheduling commitment, such that we strive to always help riders know for sure in advance:
---
Are you ready for the mixed Patagonia Terrain, Weather, and Wind Conditions?


Please note: A) The routes we take people through or recommend don't include the rocky section at 1:20 of the video footage, or the part at the end with the cows. But the rest of the video should help explain that Patagonia riding can at times be on hard-packed gravel, but also on softer, deeper, more challenging loose terrain that is difficult to capture on camera. B) a rider should never make any of the dual sport tours or rental trips we offer their 1st attempt at off-pavement riding. Patagonia, nor any of the regions we operate in are appropriate places for a rider to "learn" how to ride off-pavement.
Types of Terrain and Conditions to Be Ready For on a Patagonia Motorcycle Ride:
1) "Soft & Soupy":
There will inevitably be sections of these routes in Patagonia where the terrain can be soft and "soupy," like if some fresh gravel was just added by construction crews to maintain the road, or if some sand has blown-in to some areas. So it's very important to know how these 400+lb motorcycles behave when the front wheel has an opportunity to sink-down a bit, and the right riding techniques to navigate such terrain successfully. Most likely, the "soft & soupy" type of terrain only makes up a very, very small percentage (like 1-3%) of the total off-pavement terrain on a given route. The absolute majority of non-paved terrain in Patagonia could be considered "hard-packed dirt & gravel" for many years now.
2) Pace of Travel:
3) Patagonia Winds:
4) Other:
No matter what, other variations and challenges not described herein are inevitable in Patagonia, so if you have questions about this, be sure to inquire with your RIDE Adventures representative further, as it's essential that all riders are comfortable in such conditions before committing to or embarking on any adventure ride. We will gladly talk through your riding experience, skills, confidence, and comfort levels to help ensure that you're choosing an appropriate trip package.
PLEASE REMEMBER:
It remains entirely the responsibility of each individual to ensure they are not purchasing or participating in a travel package that is above their skill or riding comfort level, or forcing themselves into riding situations they are not comfortable with or capable of handling safely. Motorcycle riding is inherently a fun, but dangerous activity, and RIDE Adventures, LLC is ultimately not responsible for the status or conditions of roads & driving hazards you may encounter in any situation.