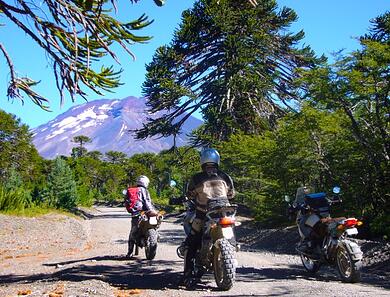 We've been receiving lots of questions following our eNewsletter that went out recently about our Patagonia tours, so perhaps an explanation of our 3 most popular tours is in order.
Without a doubt, it can be quite a challenge to choose the best motorcycle trip possible in Chile & Argentina unless you've spent time previously out riding all the routes and researching all the options. Even with our new website, we haven't bothered putting a Shopping Cart function into it, as motorcycle trip package is typically not the type of vacation we'd expect anyone to just "click and buy." In fact, we really need to spend some time talking/typing with each rider to confirm that your riding skills and interests are appropriate for each route offered. A trip through Patagonia takes us into very, very remote territories with mixed dual-sport terrain, so it's essential that we confirm your riding skills are appropriate (both for safety reasons, and your enjoyment.)
So in summary, the 3 main tours: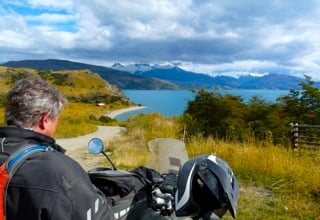 The "Patagonia, Tierra del Fuego & Ushuaia!" Tour
As the name implies, this is the most comprehensive tour package that we offer through the stunning terrain of southern Chile and Argentina. Starting in Osorno, Chile, the trip takes us across the Andes Mountains 4 times, running southbound essentially along these majestic peaks the entire trip, before eventually flattening out just before the Strait of Magellan. A local ferry operation then allows us to ride our motorcycles aboard for a quick ride across the Strait (usually with Magellanic Dolphins following us) and on to the "Land of Fire," or "Tierra del Fuego." After battling what is usually very strong winds that come barreling across the open pampas or "plains," the final day of the trip takes us to the southernmost city that we can ride motorcycles to, there in Ushuaia at "The End of the World."
Important to note is that we offer this trip differently than other tour operators for a few key reasons: 1) We don't force our customers to spend 1-2 days backtracking after they've arrived in Ushuaia, but instead, the excitement of our tour package allows everyone to just finish right there at the "End of the World!" (Other companies still force everyone essentially repeat the final couple of days of riding by tracking backwards over the same terrain so they can terminate the motorcycle rental aspect of the trip on the Chilean side of the border. These couple of "backtracking days" we should point out is definitely not the most 'interesting' or scenic part of the trip.) 2) Our hotel and meal standards make our tour more of a "boutique" package, maintaining a 4-Star average with very unique accommodations and dining establishments. 3) Our tour guides either do live, or have lived in the Patagonia region, and therefore are very well-informed about the route, how to fix problems, and full of local information to share. We don't have to train new guides each year, and so we are each very well prepared to put the best service possible forward on these trips.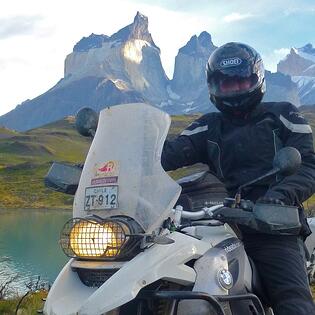 The Patagonia Experience Tour
This guided Patagonia motorcycle tour is essentially the exact same route, dates, guides, etc. as the "Patagonia, Tierra del Fuego & Ushuaia!" tour, only it stops just short of (along side of) Tierra del Fuego in Punta Arenas, Chile, instead of continuing that last day to Ushuaia. There are a couple of main reasons we offer this "shorter" version of the Patagonia tour still:
First, not everyone is interested in riding through Tierra del Fuego, again because it's not quite as scenic as the more northern parts of Patagonia, and can be quite a challenge to ride through in the first place because of the fiercely strong winds. Second, we recognize that there's quite a cost difference in adding this one extra day to get to Ushuaia (as we take on very significant logistics costs returning all the motorcycles to Chile without your help riding them back.) Some riders might not be as interested in finishing the entire route as they are saving some money, so skipping this last day of riding sure helps keep the costs down. Still, the main point in offering this version of our tour is that it has been thrilling our happy customers since we started this company back in 2010, and will continue to do so into the future!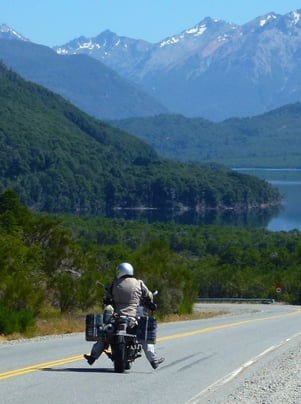 The Best of Northern Patagonia
This incredible route was just added in 2013, as some riders don't have the time needed to cover Patagonia from top to bottom. The idea is that, it still covers some absolutely stunning viewpoints of Patagonia on routes that are very fun to ride, but again, is consolidated into an overall "shorter" trip time than the tours that go to the south. We are very fortunate to have so many great places to ride in Patagonia, such that this very different route from our traditional tours is still pleasing people and amazing riders from around the world. Like the others, it's best to read a description of the route on the tour page to help decide if it's something you'd like to try.
We're adding other great routes in Patagonia, as quite a few of our customers have enjoyed this region so much that they want to come back a 2nd or 3rd time. So as mentioned above, if one or more of these route descriptions appears to be the type of riding that would make the perfect motorcycle trip experience for you, just Contact Us and let us know when you want to come and RIDE motorcycles in Patagonia!