Disclosure: RIDE Adventures is a participant in the Amazon Services LLC Associates Program as well as other affiliate programs, designed to provide a means for us to earn fees by linking to Amazon and affiliated sites at no extra cost to you. Please see our Disclosure for more details.
If you're gonna ride in the cold, be smart about it. From cozy base layers to heated gloves, the right winter motorcycle gear keeps you riding year-round.
Some people ride in the cold for pleasure, while others do it out of necessity. A very select few do it because they'd rather freeze to death than be caught dead in that crusty 1994 Toyota Corolla their grandma left them, and we totally respect that.
These three purely hypothetical people clearly have their differences, but they also share one thing in common: They desperately need winter motorcycle gear to get from A to B.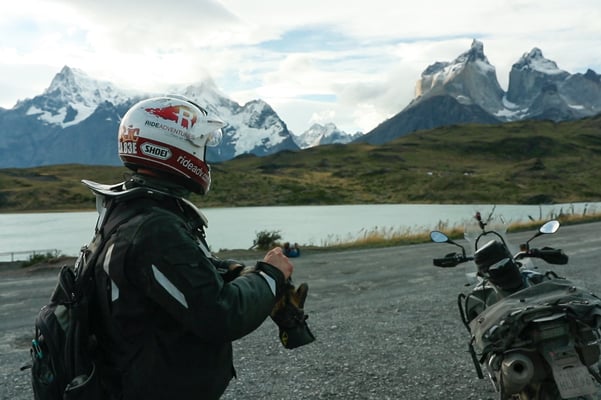 "Bundled up Eric guiding on one of our Patagonia Tours"
Cold weather riding gear is a head-to-toe endeavor, and as such, it comes in many forms. In the article below we'll highlight a few of the pieces that have kept us safe and comfortable in the gnarliest conditions, but first, a word on winter gear in general...
What To Look For In Winter Motorcycle Gear
The name of the game for any piece of winter motorcycle gear is keeping you as warm, dry, and safe as possible. That's a tall enough order three seasons of the year, but when you add in the 20-degree windchill that accompanies highway speeds on a two-wheeler, protection from the elements becomes more important than ever.
We chalk a good set of winter motorcycle gear up to three main factors: Waterproofing, windproofing, and insulation. We also consider upgrades and creature comforts for your motorcycle itself as part of the bigger picture, but for now let's focus on what makes winter gear for your body worth buying.
Weatherproofing
If ever there were a time to make damn sure your jacket, pants, and gloves are fully waterproof and windproof, it's wintertime. Being wet and miserable on a motorcycle is bad enough: Add near-freezing or below-freezing temps into the equation, and you start to risk much more than just a bad time.
As always, our preferred method of weatherproofing is a name-brand GoreTex liner of some kind, whether it's a simpler and more affordable two-layer system or the latest and greatest 3-layer Pro shell.
Cold weather riding also demands that your winter motorcycle gear be either completely wind-proof or highly wind-resistant, so either a three-season or four-season jacket is a must.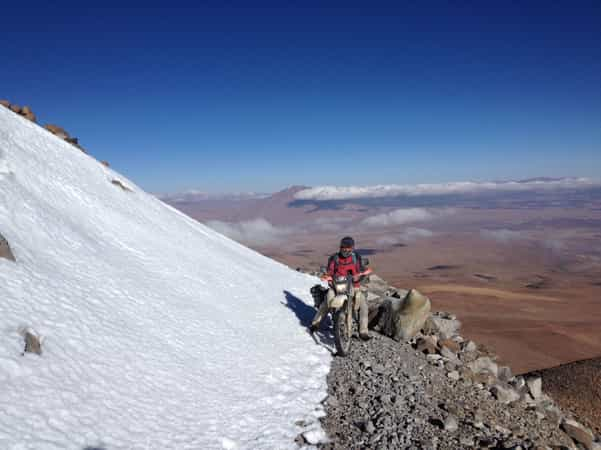 "Be prepared for high elevation when coming with us on our Bolivia routes"
If your jacket isn't GoreTex, it's not a deal breaker, but make sure it includes some form of waterproof/breathable layer in its construction if you're going to wear it in the cold.
We've had good results from Alpinestar's DryStar, Rev'It's Hydratex, and Dainese's D-Dry layers, but nothing can quite compete with GoreTex when it comes to breathability.
Layering and Insulation
Cold weather riding is an outdoor sport, and you should treat it as such when choosing winter motorcycle gear. We typically ride with the same water and windproof shell year-round, but what you wear underneath it makes all the difference in the cold.
You'll want to start with a full set of base layers (both a long-sleeve top and full-length bottom), and then go from there. Personally we prefer base layers made from merino wool or a merino/synthetic blend, but full-synthetic layers can get the job done as well.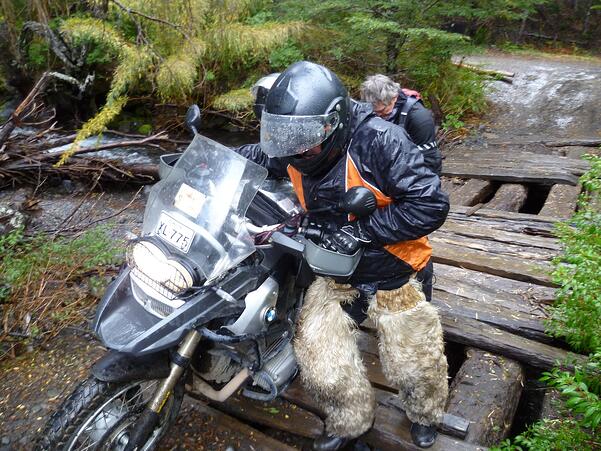 "Taking no chances in Patagonia, well other than this rickety looking bridge 😂"
What you wear between those base layers and your waterproof/windproof riding jacket will change with the weather, but we recommend the same "active outdoors" approach here as well.
Personally, we prefer a lightweight and packable "puffy" jacket of some kind, whether it's insulated with synthetic fibers or down feathers.
You can also opt for a good old-fashioned fleece mid-layer, or even bring both along if temps are going to drop particularly low. Just make sure you're leaving enough room inside your shell for any armor or padding you'll be wearing as well.
Heated Gear Isn't Cheating!
Some folks insist on turning their nose up at heated gear. More power to them if suffering in silence is their thing, but personally, we'll take all the help we can get to keep the cold at bay.
Heated gear comes in two main types nowadays: There's the "old school" 12V gear, which plugs directly into your motorcycle's wiring harness for unlimited power (so long as the bike is running), and then there's the "new school" gear that runs off rechargeable batteries.
Both have their pros and cons, so let's briefly touch on those while we're here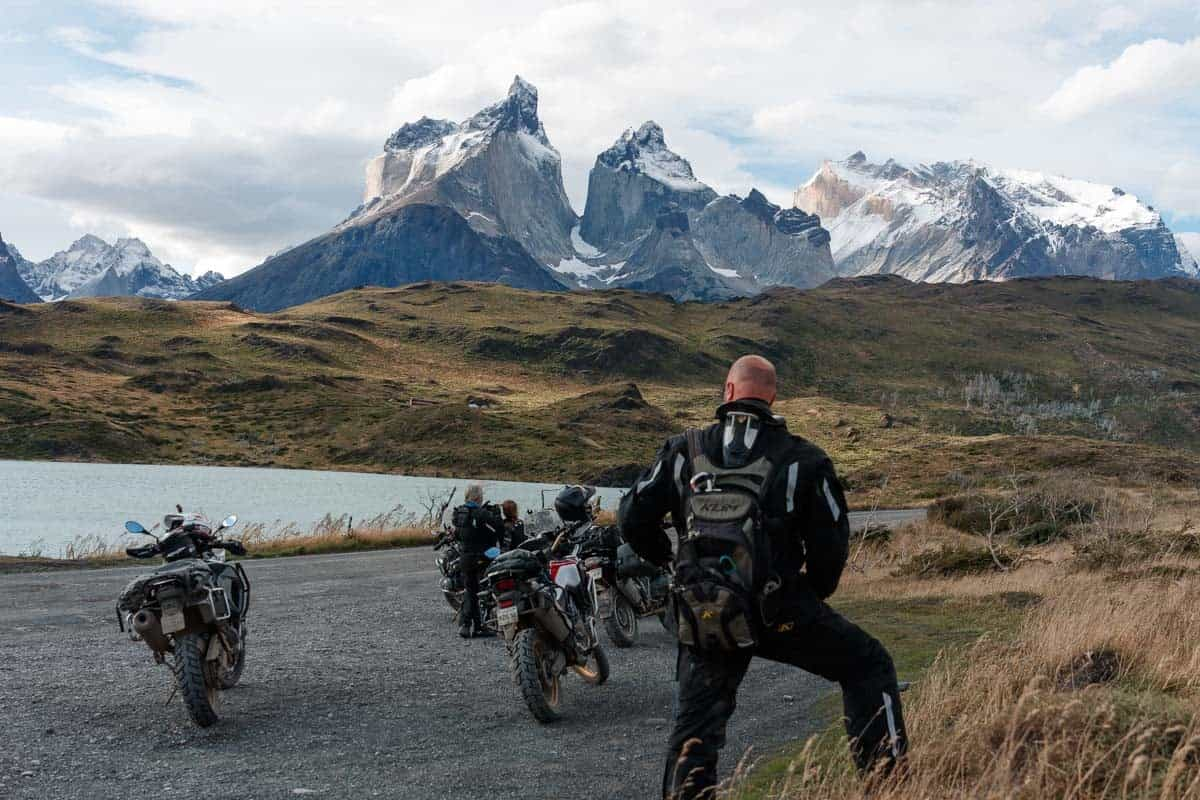 "Eric taking a moment at Torres del Paine down in Patagonia"
The main benefit of plug-in 12V heated gear is that it isn't limited by battery life. As long as your bike is running and your electrical system is properly sorted, your gear can pump as much heat as you need for as long as you need it.
This means plug-in gear also typically runs warmer and covers more overall surface area than battery-powered gear. Our main gripe with this type of heated gear is all the wires.
There's the connection to your bike, which we can all but guarantee you'll forget about every other time you stop for gas, and then there are all the extra wires to account for if you're running anything other than a typical heated jacket/jacket liner.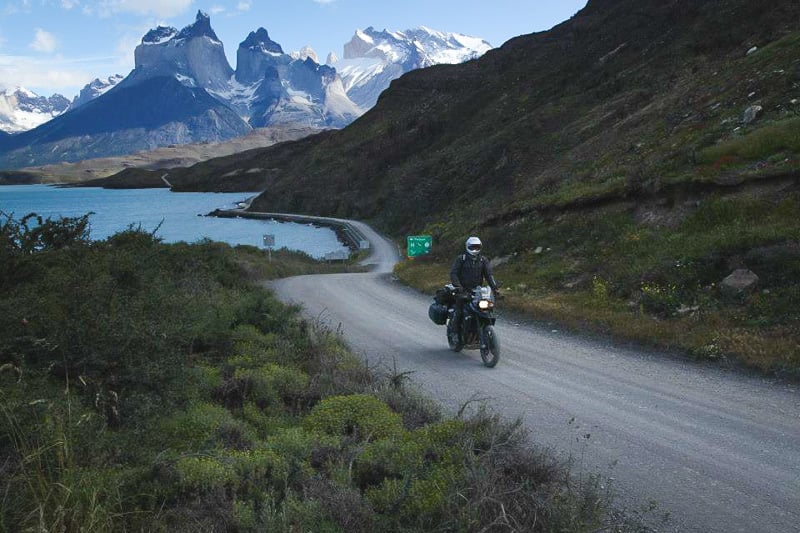 "Patagonia can have some pretty harsh weather so being prepare is critical to your successful arrival to Ushuaia"
Battery-powered gear, on the other hand, requires no connection to your motorcycle, and the only wire you have to worry about is the one connecting the jacket/glove/pants etc. to their integrated battery. Even the most advanced battery systems typically only last about 8 hours between charges though (and that's on the lowest setting), so they aren't ideal for folks who want full-blast heat all day long.
Our Favorite Winter Motorcycle Gear
Taking all the above into consideration, we've got a few favorite pieces of winter motorcycle gear to recommend that we've picked up over the years. The list that follows includes both gear for your body and gear for your bike, so whether you're a true all-year rider or just someone looking to extend the riding season a few extra weeks, you'll find something useful down below.
1. Klim Hardanger HTD Long Glove
When it comes to winter motorcycle gear, there's nothing quite as luxurious as a pair of heated gloves. Our favorite option currently is the Klim Hardanger HTD, which delivers both safety and comfort in equal measure.
On the safety side, the Hardanger HTD is CE-certified thanks to its hard knuckle protection and full goat leather underside. Klim also beefs up impact protection at the palm and knuckles with 5mm panels of XRD foam padding.
As for comfort, the star of the show here is the Hardanger HTD's three-level heating system, which delivers up to 8 hours of cozy warmth on a single charge of its lithium-ion batteries, no 12V connection required.
We also appreciate that these winter gloves are still fully functional should you run out of juice thanks to 100g of 3M Thinsulate insulation on the back of the glove combined with GoreTex waterproofing.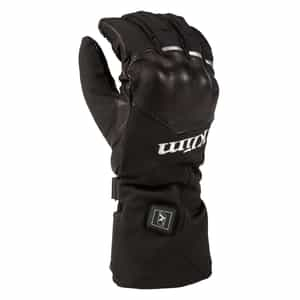 CHECK PRICE:
Klim Hardanger HTD Gloves

2. FXR Endeavor Merino Hybrid Pants
Keeping comfortable in the cold is all about layering up, and when it comes to base layers, merino wool is king. The FXR Endeavor is our favorite option out there for motorcycling, and its 50/50 blend of natural merino wool and stretchy polyester is warm, durable, and super comfortable against the skin.
We appreciate the Endeavor's slim cut and flat-lock seams, which maximize their ability to wick moisture while also keeping that bulky layered-up feel to a minimum.
It's also worth noting that while merino is often on the pricier side, the FXR Endeavor is impressively budget-friendly, so you'll have plenty of cash left over for more exciting bits of winter motorcycle gear like heated gloves and Pinlock lenses.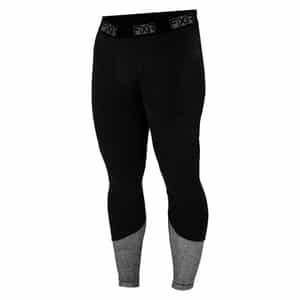 CHECK PRICE:
FXR Merino Hybrid Base Layer
3. Klim Arctic Balaclava
Most of us know Klim for their high-quality adventure gear, but the company actually cut its teeth making technical winter gear for ski patrol and competitive snowmobiling.
Their cold-weather prowess is clear to see in the Arctic Balaclava, a no-compromise piece of winter motorcycle gear that's designed for the most extreme climates on the planet.
This balaclava is built around heavy-duty Windstopper fleece, which Klim stitches together in variable-thickness sections for optimized heat retention and comfort under your helmet.
A super stretchy lycra/fleece blend is sewn into the side panels, which keeps your ears comfortable while also allowing the Arctic Balaclava to stretch to fit any head size.
We're also fans of the Arctic's neoprene nose panel, which maximizes facial coverage while also serving as a breath deflector to keep your helmet from fogging.
An extra long and wide skirt finishes out the design, giving you plenty of material to tuck under your jacket and insulating layers for an air-tight fit.
CHECK PRICE:
Klim Arctic Balaclava

4. Gerbing 12V Heated Jacket Liner
We like to think of heated jackets as the crown jewel of winter motorcycle gear.
Heated jackets on the market today are powered by either a direct connection to 12V power or by rechargeable batteries, and the Gerbing 12V jacket liner is our favorite of the plug-in variety.
We're fans of Gerbing's heated gear for two main reasons. First, Gerbing uses their own proprietary stainless steel "Microwire" heating implements instead of the copper wire found in most brands, which gives them a major advantage in durability.
Second, Gerbing includes seven separate heating zones in this liner which cover the chest, back, collar, and arms.
This 12V jacket liner is just the first step for many motorcyclists, who add additional plug-in accessories like heated pants from there.
The only drawback of the system is that Gerbing sells the required controller unit for the heat separately, but if you're interested in building a full set of heated gear, it's well worth the investment.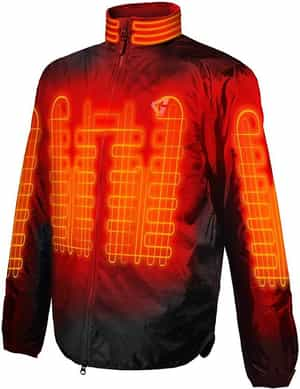 CHECK PRICE:
Gerbing 12V Heated Jacket Liner
5. Klim Torrent Storm Collar
Your waterproof shell is only as strong as its weakest link, and heavy rain loves to creep into your personal space between the gap in your helmet and jacket.
Klim's Torrent Storm Collar is designed to fill that very gap, and we've had excellent results using it to keep the cold rains of Patagonia at bay.
The Storm Collar is brilliant in its simplicity: Stretch it over the collar of your jacket, then tuck it into the opening of your helmet. Just like that, your jacket is a proverbial fortress against the cold and wet.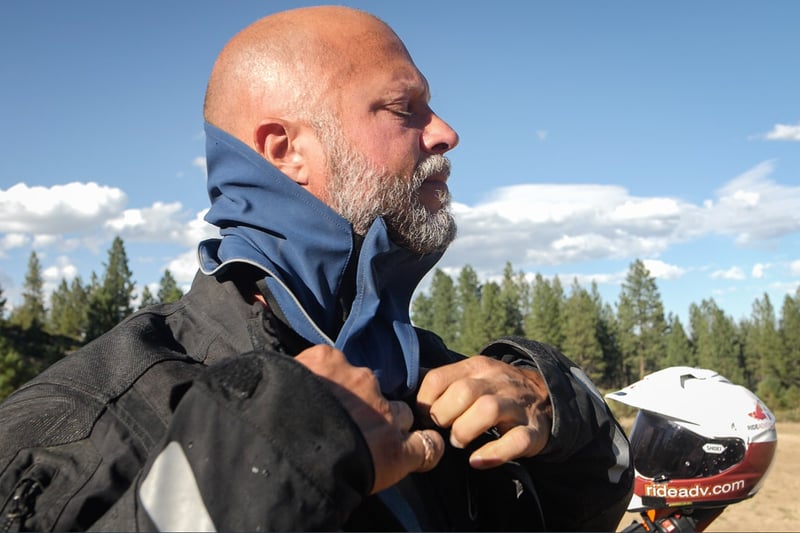 "Eric suits up with Klim's Storm Collar for a chilly winter ride."
The Storm Collar isn't limited to wet weather use though. Thanks to the windproof shell fabric and cozy brushed inner liner, the Storm Collar is also a great piece of winter motorcycle gear for folks who want to keep cold air off their necks but don't like the feeling of a full-face balaclava.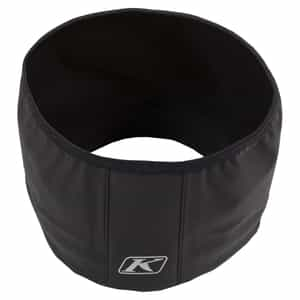 CHECK PRICE:
Klim Torrent Storm Collar

6. Tourmaster Defender Rain Suit
If you're looking to ride in cold weather but don't want to splurge on high-dollar riding suit, we're fans of the Tourmaster Defender Rain Suit as a budget-friendly solution.
This two-piece rain suit is pretty much always available for around $100 (that's both a jacket and pants), and its versatility is worth every penny.
That's because Tourmaster's 100% waterproof/windproof polyurethane-backed-nylon fabric not only keeps cold air and rain out, but it also helps trap heat in.
It's a great addition over three-season gear on the colder days, but it also packs down relatively small when not in use, so you can keep in your motorcycle luggage 24/7.
We're also fans of the Defender suit's overall coverage: The jacket has a wind and waterproof hood that stows away in the collar, and the pants include removable suspenders and stirrups to help keep everything in place.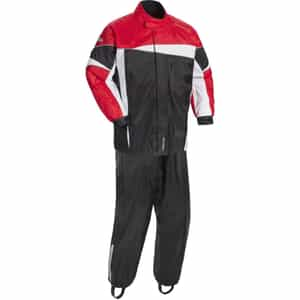 CHECK PRICE:
Tourmaster Defender Rainsuit

7. Pinlock Face Shields
Most helmets nowadays ship "Pinlock ready" but for whatever reason, most riders don't take advantage of the Pinlock system. That's a damn shame, because Pinlock inserts are the perfect solution to the persistent visor fogging we experience in the winter.
Installing a Pinlock insert takes all of five minutes: Pop off your visor, clean it, then clip the interior lens into place. Once your Pinlock visor is in place, fogging becomes an utter non-issue.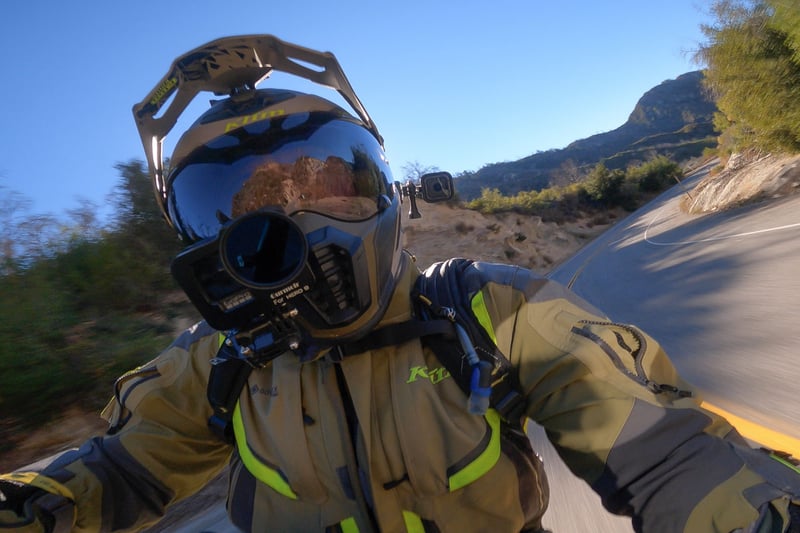 "Transitions visor + Pinlock lens = Match made in heaven."
We've been particularly fond of the Pinlock system on our Klim Krios Pro helmet's photochromatic visor.
These two are a match made in heaven, and together deliver a helmet that delivers a clear view with the perfect amount of brightness in any weather any time of day.
CHECK PRICE:
Pinlock Face Shield
*Do note Pinlock Face Shields are visor specific

8. Darn Tough Function 5 OTC Socks
Outdoor enthusiasts will recognize Darn Tough as the first name in performance merino socks, but these lifetime-guaranteed wonders aren't just for hiking and snowsports. Their Function 5 happens to be our favorite winter riding sock, and for good reason.
These midweight socks use a comfortable blend of 66% merino wool and 31% nylon for the ideal balance of temperature regulation, longevity, and anti-microbial protection.
A medium level of cushioning makes them all-day comfortable underfoot, while their outstanding moisture-wicking and and fast-drying properties keep your feet happy and odor-free.
Darn Tough also knits these socks to be 100% seam free, which means there's no annoying strip of material over the toe to bother you when you're shifting.
Like all Darn Tough socks, the Function 5 is also covered by the companies' no-questions-asked replacement policy, so if you ever manage to wear a hole in them, you'll get a new pair sent to your door at no charge.
CHECK PRICE:
Darn Tough Function 5 OTC Socks
8. Heidenau K60 CC Tires
Heidenau's 50/50 K60 Scout tire has a well-deserved reputation for performance and longevity, but that long-wearing rubber compound has one major flaw: It struggles to grip when the temperature drops.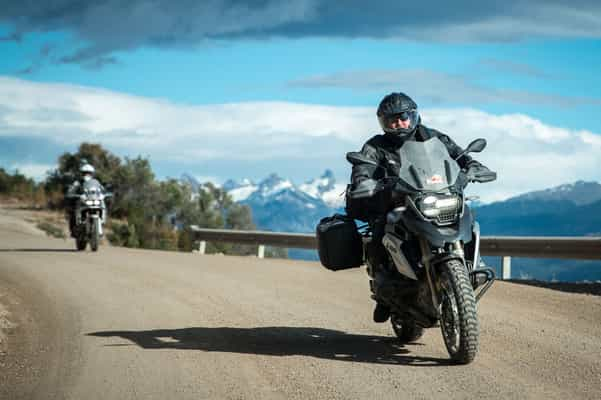 "The K60 Scout CC in action while on tour in Patagonia"
Lucky for us, Heidenau listens to their fanbase, and designed the K60 CC (that's short for cold climate, btw) with a softer compound for improved handling in the cold and wet.
The new weather compound delivers roughly 10% less mileage than the standard K60 Scout, but considering the original often lasted over 10,000 miles a set, we really can't complain here.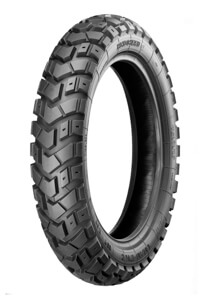 CHECK PRICE:
Heidenau K60 CC Tires

9. Tourmaster Elite Motorcycle Cover
While "not riding motorcycles" isn't anyone's favorite topic here at RideADV, it happens to the best of us in the winter. No judgement here, sometimes it's just too damn cold to get on the bike, and no amount of winter motorcycle gear is going to change that.
A good motorcycle cover is always a smart idea for bikes that'll be sitting for a few weeks (or more) at a time, and our favorite winter storage cover is currently the Tourmaster Elite.
We love the Tourmaster Elite because it's got all the essentials you want in a good cover (waterproof, durable, vented, and lockable), but delivers the goods at an affordable price.
We also appreciate that Tourmaster includes panels of soft non-scratch fabric at the windshield and tail section areas, so you've got one less thing to sit and worry about while you're busy not riding your motorcycle.
They also throw in heat-resistant panels along the interior of the cover, so you can throw it on most bikes right after a ride without burning anything.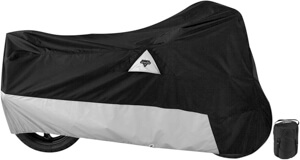 CHECK PRICE:
Tourmaster Elite Motorcycle Cover

10. Battery Tender Junior Selectable Charger
You're probably familiar with Battery Tender's line of plug and play battery maintainers, but if you're still using one of those clunky big-box chargers for winter storage, we recommend giving Battery Tender's latest Junior 800 charger a look.
The Junior 800 stands out fror two reasons. First, as the name implies, this thing is impressively compact, yet houses a full suite of automatic monitoring systems including an automatic shut off and smart maintenance programming to prevent overcharging.
What really makes the Junior 800 stand out for us, however, is it's selectable dual-mode system, which allows the unit to safely charge both tradtional batteries and lightweight lithium-ion cells.
We'll also point out that you can pick up the Junior 800 for under $50 just about anywhere, so all that tech comes with serious value to boot.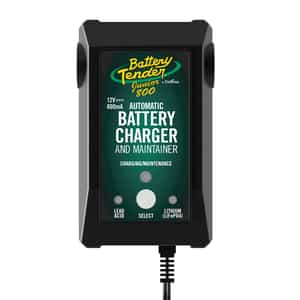 CHECK PRICE:
Battery Tender Junior Selectable Charger
Closing Thoughts On Winter Motorcycle Gear
While riding in the winter certainly isn't for everyone, there's a special feeling that comes with being "that crazy guy/gal" who's out riding their motorcycle when there's snow in the forecast.
Speaking from experience, our rides through places like Patagonia and Ushuaia always feel a bit more "adventurous" when we spend some time "braving the elements" along the way, and the warm fire waiting for us at the end of the night feels that much sweeter.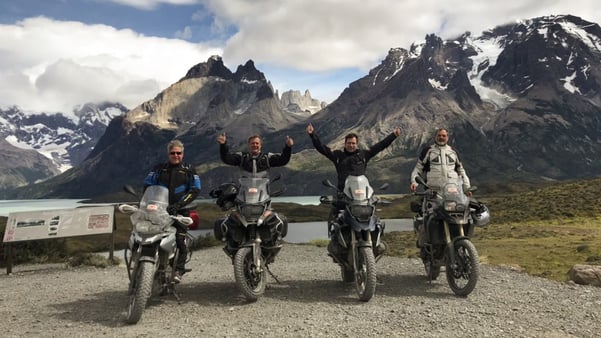 "Snow-filled views like these are worth every hard-earned mile."
All things considered, we think everyone should give cold weather riding a shot.
The right winter motorcycle gear can absolutely make or break the experience though, so prepare for the worst, dress in layers, and when in doubt, add some heated gear into the equation!
→Read More: 5 Soft Luggage Bag Set Ups For Your Next Trip and 4 Best Adventure Motorcycle 50/50 Tires in 2023.